This sweet potato casserole with pecan crumble will be your new favorite Thanksgiving side dish! Buttery sweet potatoes are topped with a homemade salty sweet pecan crumble for an irresistible casserole. You will be fighting for seconds!
I've talked about this before in some of my other Thanksgiving recipe posts, but sweet potato casserole was yet another Thanksgiving favorite that I didn't like growing up.
I couldn't stand the bland sweet potatoes drowned in mini marshmallows and it was just too much sweet for me!
This sweet potato casserole with pecan crumble is NOTHING like the bland sweet potato casseroles of the past.
It is buttery, spiced perfectly, and topped with the most amazing salty sweet pecan crumble that makes my mouth water just thinking about it.
When you have something sweet like the classic favorite sweet potato casserole, you absolutely need some salt in there to help counteract all the sweetness.
This is a mistake that a lot of sweet potato casseroles make.
While this is definitely sweet, it is contrasted by the saltiness of the topping and the flavors coincide perfectly in your mouth with each bite.
The crumble is made using ground up pecans (think flour texture) mixed with melted butter, brown sugar, and the ever important salt (don't omit this!)
We made this last week so that I could photograph it for the blog and I cannot wait to have it again this Thanksgiving!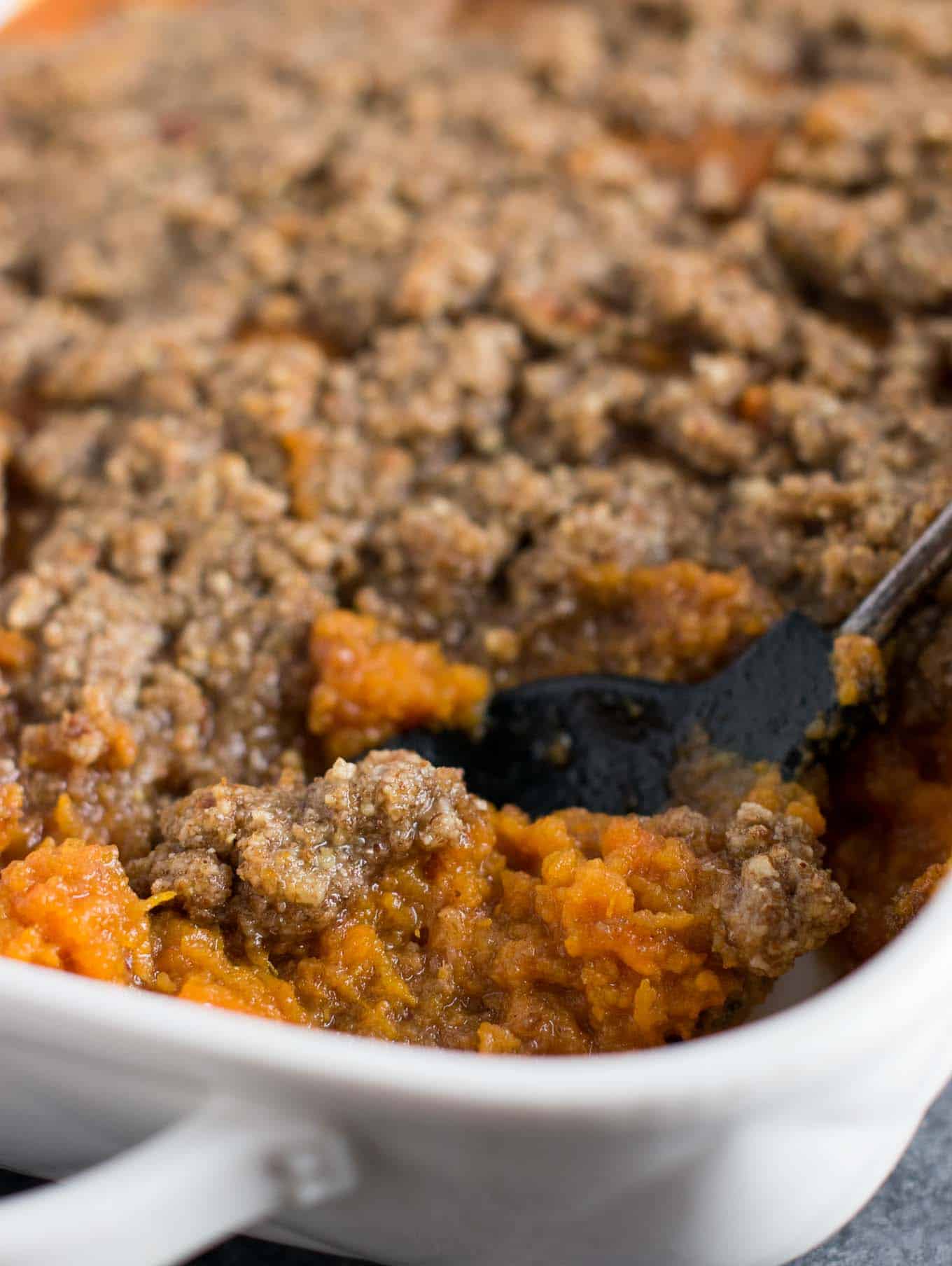 I definitely wouldn't call this a healthy casserole, but man is it packed full of flavor!
Sweet potato casserole went from a no-thank-you to a non negotiable part of my Thanksgiving table each year!
Seriously y'all, if you've never tried a sweet potato casserole that you liked then try this one!
It's irresistibly delicious. I bet you'll be fighting your relatives to get seconds.
Looking for more Thanksgiving recipes? Here's some more you might like: vegan mashed potatoes, vegan stuffing, 3 ingredient cranberry sauce, best ever vegetarian gravy.
Pin this Sweet Potato Casserole with Pecan Crumble:
Sweet Potato Casserole With Pecan Crumble
This sweet potato casserole with pecan crumble is the BEST side for your Thanksgiving table! Melt in your mouth buttery sweet potatoes are topped with a salty sweet gluten free pecan crumble. You will be fighting for seconds!
Ingredients
5 cups mashed sweet potato (around 3-4 large sweet potatoes)
1/2 cup butter, melted
1/3 cup 2% milk
1/4 cup pure grade a maple syrup
2/3 cup brown sugar
1 teaspoon vanilla extract
1/2 teaspoon cinnamon
1/2 teaspoon sea salt
For the Pecan Crumble
3 tablespoons butter, melted
1 1/4 cups pecan crumbs (see notes)
1/2 cup brown sugar
1/2 teaspoon sea salt
Directions
Measure mashed sweet potato into a bowl (I cooked mine the day before for ease of prep work)
To the sweet potatoes, add butter, milk, maple syrup, brown sugar, vanilla, cinnamon, and salt and stir well
Transfer to a 9 by 13 casserole dish
Add pecan crumbs, butter, brown sugar, and salt to a bowl and mix with a rubber spatula to combine. The crumble should resemble wet sand
Spread crumble evenly over the top of the sweet potatoes
Bake at 350 degrees for 30 minutes, or until bubbly
Recipe Notes
Use a food processor or blender to grind up the pecans into flour texture
Loading nutrition data...