This sweet potato casserole with pecan crumble is a classic favorite Thanksgiving recipe that everyone will love. Buttery sweet potatoes are topped with a homemade salty sweet pecan crumble for an irresistible casserole!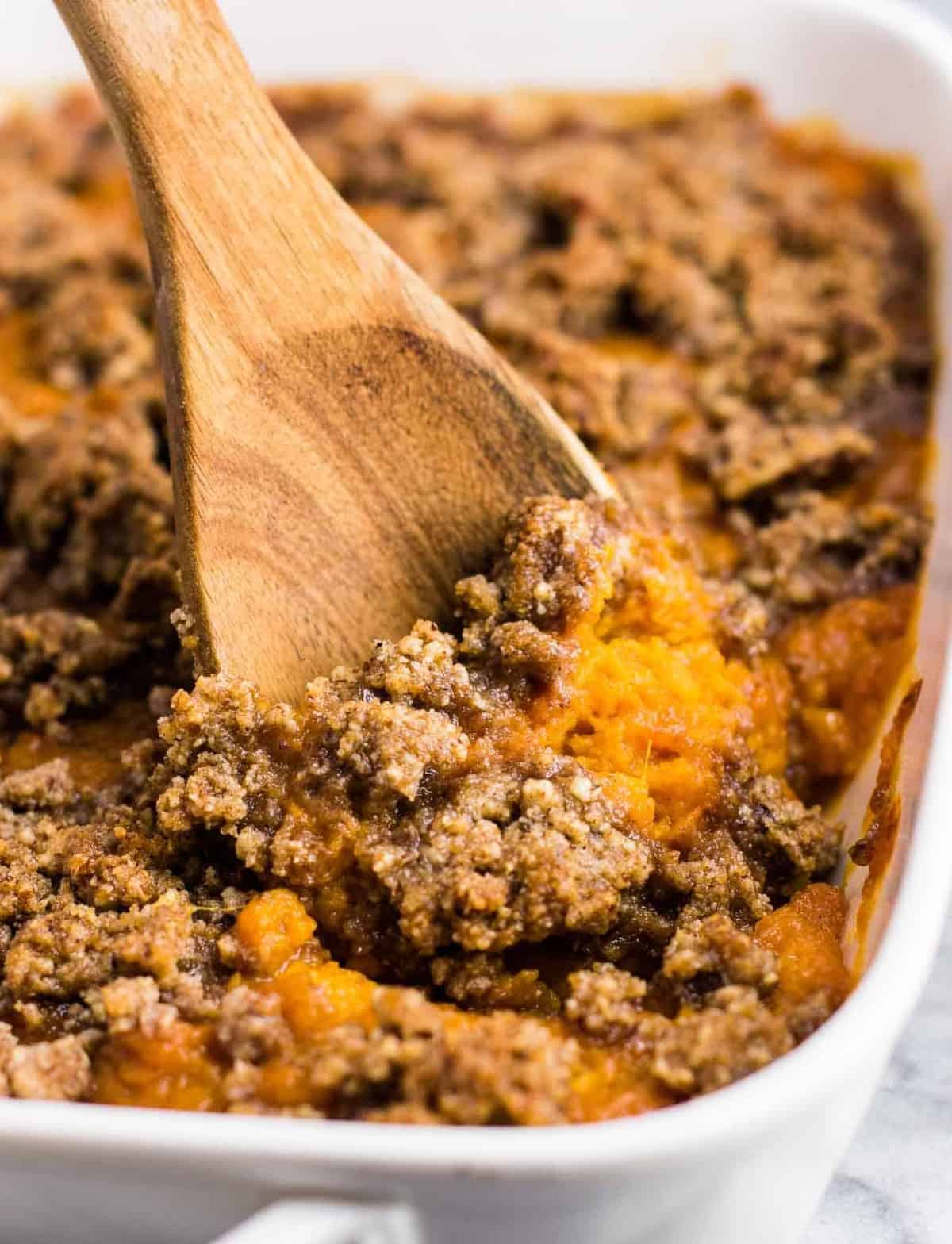 Sweet potato casserole was a Thanksgiving favorite that I didn't like growing up.
I couldn't stand the bland sweet potatoes drowned in mini marshmallows and it was just too much sweet for me!
It was probably part of the reason why I never ate sweet potatoes as a child.
Years later as an adult, sweet potatoes are one of my favorite vegetables!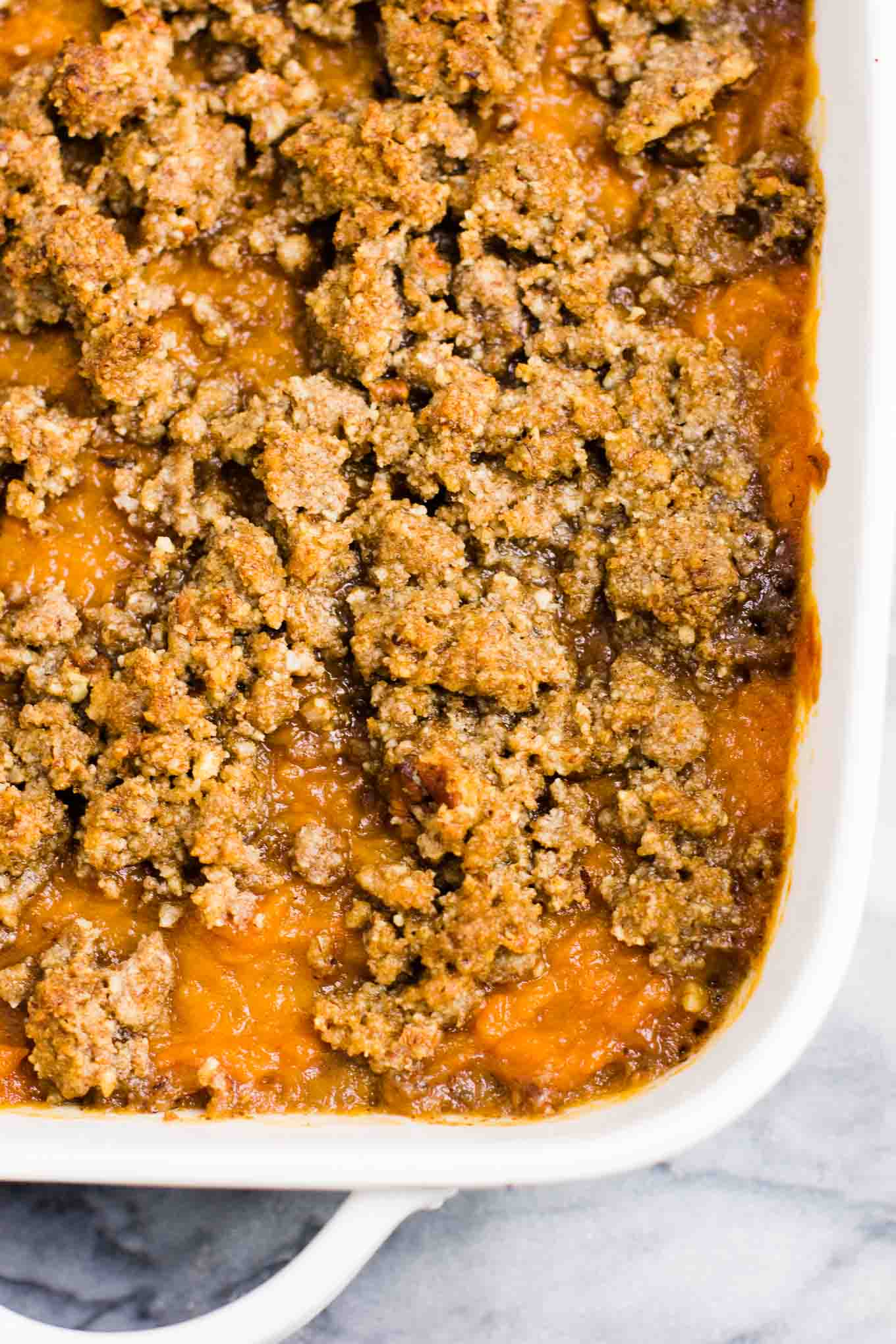 This sweet potato casserole with pecan crumble is NOTHING like the bland sweet potato casseroles of the past.
It is buttery, spiced perfectly, and topped with the most amazing salty sweet pecan crumble that makes my mouth water just thinking about it.
Everyone who tries it can't get enough!
It's also one we included in our 17 best vegetarian thanksgiving recipes!
How to make Sweet Potato Casserole with Pecan Crumble
First, you will need 5 cups of mashed cooked sweet potato.
Since I'm always finding ways to make Thanksgiving day faster, I often will boil my sweet potatoes the day before Thanksgiving and put them in the fridge.
This makes the casserole a cinch to throw together!
Add the mashed sweet potato, butter, milk, maple syrup, brown sugar, vanilla, cinnamon, and salt to a bowl and stir to combine.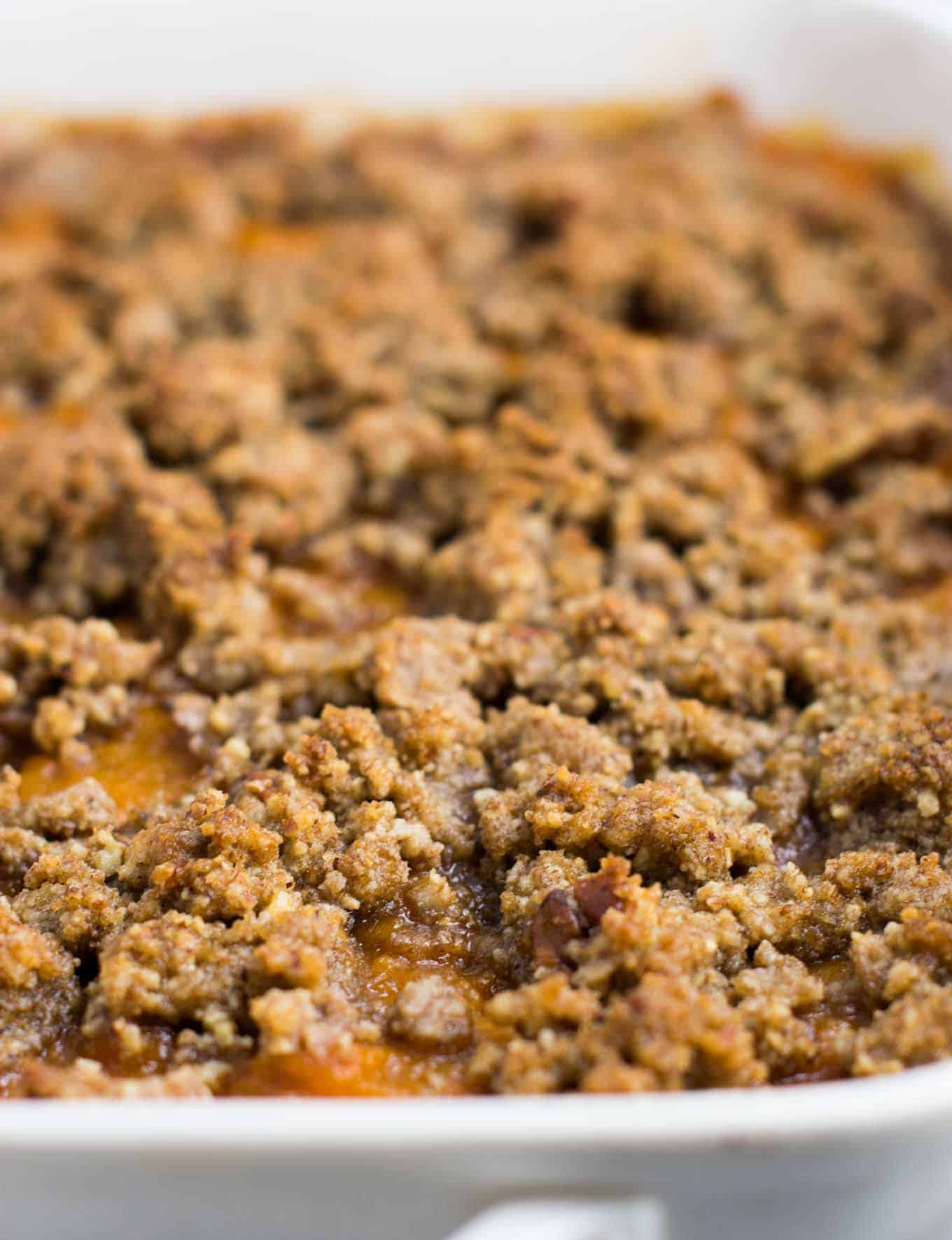 Transfer to a casserole dish and start making the pecan topping.
This recipe calls for pecan crumbs, which is basically just taking pecans and placing them in a blender until a flour like texture forms.
It only takes a few seconds to blend up.
I love using pecan crumbs in desserts for the holidays!
If you love pecans, be sure to check out my pecan pie bars or my dark chocolate pecan cookie bars for Thanksgiving dessert!
Add the pecan crumbs, butter, brown sugar, and salt to a bowl.
Use a rubber spatula to stir until combined.
The crumble should resemble wet sand.
Spread evenly over the top of the sweet potatoes and bake for 30 minutes, until browned and bubbly!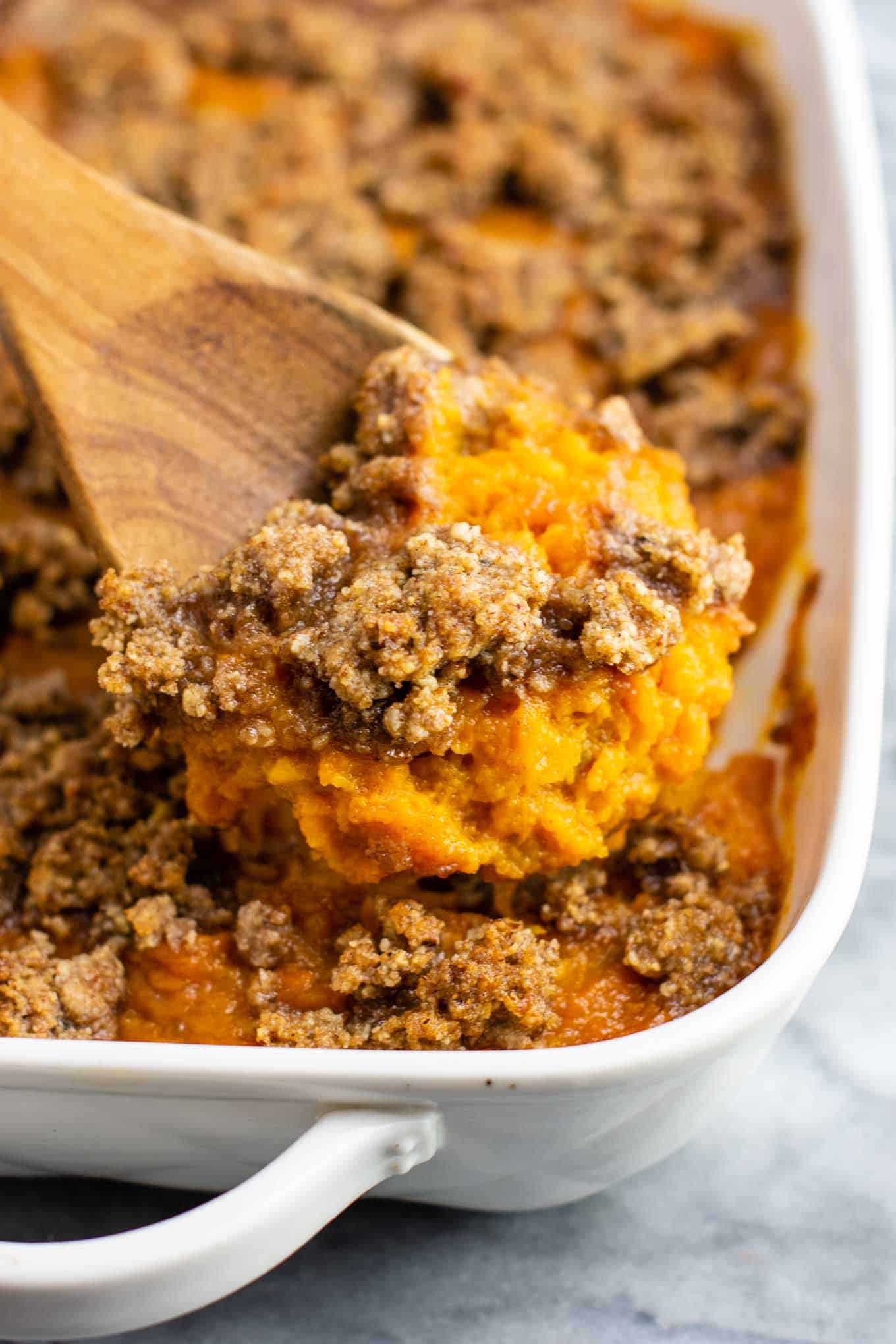 When you have something sweet like the classic favorite sweet potato casserole, you absolutely need some salt in there to help counteract all the sweetness.
This is a mistake that a lot of sweet potato casseroles make.
While this is definitely sweet, it is contrasted by the saltiness of the topping and the flavors coincide perfectly in your mouth with each bite.
This is why so many of my favorite desserts have flaked sea salt on top!
Trust me, it takes the flavor to the next level.
The crumble is made using ground up pecans (think flour texture) mixed with melted butter, brown sugar, and the ever important salt (don't omit this!)
I definitely wouldn't call this a healthy casserole, but man is it packed full of flavor!
Sweet potato casserole went from a no-thank-you to a non negotiable part of my Thanksgiving table each year!
It just wouldn't be Thanksgiving without this delicious sweet potato casserole on the table.
Seriously y'all, if you've never tried a sweet potato casserole that you liked then try this one!
It's irresistibly delicious. I bet you'll be fighting your relatives to get seconds.
More Thanksgiving Recipes
Be sure to follow Build Your Bite on Pinterest for all the latest delicious vegan and vegetarian recipes!
Are you making this recipe? I want to see! Don't forget to tag us on instagram @buildyourbite and hashtag #buildyourbite with your recipe photos!
Did you make this recipe? Be sure to leave a star rating below!
Gluten Free Sweet Potato Casserole Recipe
Yield: 10 servings
Sweet Potato Casserole With Pecan Crumble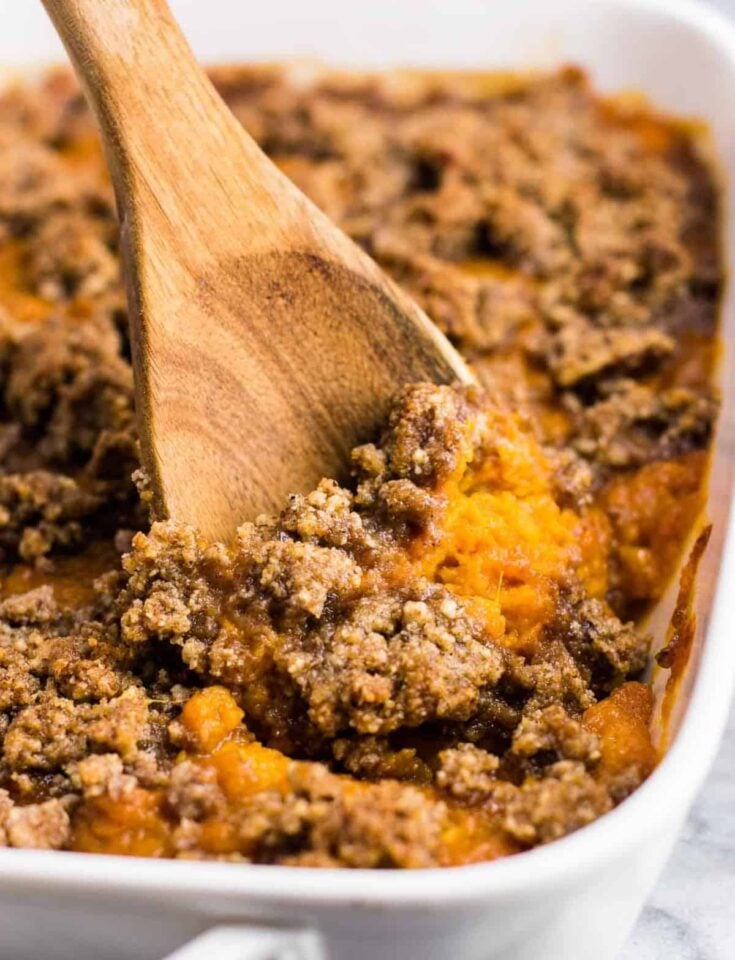 This sweet potato casserole with pecan crumble is the BEST side for your Thanksgiving table! Melt in your mouth buttery sweet potatoes are topped with a salty sweet gluten free pecan crumble. You will be fighting for seconds!
Total Time
1 hour
15 minutes
Ingredients
5 cups mashed sweet potato (around 3-4 large sweet potatoes)
1/2 cup butter, melted
1/3 cup 2% milk
1/4 cup pure grade a maple syrup
2/3 cup brown sugar
1 teaspoon vanilla extract
1/2 teaspoon cinnamon
1/2 teaspoon sea salt
For the Pecan Crumble
3 tablespoons butter, melted
1 1/4 cups pecan crumbs (see notes)
1/2 cup brown sugar
1/2 teaspoon sea salt
Instructions
Measure mashed sweet potato into a bowl (I cooked mine the day before for ease of prep work)
To the sweet potatoes, add butter, milk, maple syrup, brown sugar, vanilla, cinnamon, and salt and stir well
Transfer to a 9 by 13 casserole dish
Add pecan crumbs, butter, brown sugar, and salt to a bowl and mix with a rubber spatula to combine. The crumble should resemble wet sand
Spread crumble evenly over the top of the sweet potatoes
Bake at 350 degrees for 30 minutes, or until bubbly
Notes
Use a food processor or blender to grind up the pecans into flour texture
Nutrition Information:
Yield:
10
Serving Size:
1
Amount Per Serving:
Calories:

494
Total Fat:

30g
Saturated Fat:

14g
Trans Fat:

1g
Unsaturated Fat:

14g
Cholesterol:

56mg
Sodium:

414mg
Carbohydrates:

56g
Fiber:

3g
Sugar:

43g
Protein:

3g
Thanksgiving Recipes:
Dark Chocolate Pecan Cookie Bars