The most delicious crispy potato casserole you'll ever taste. The best of vegan potato recipes!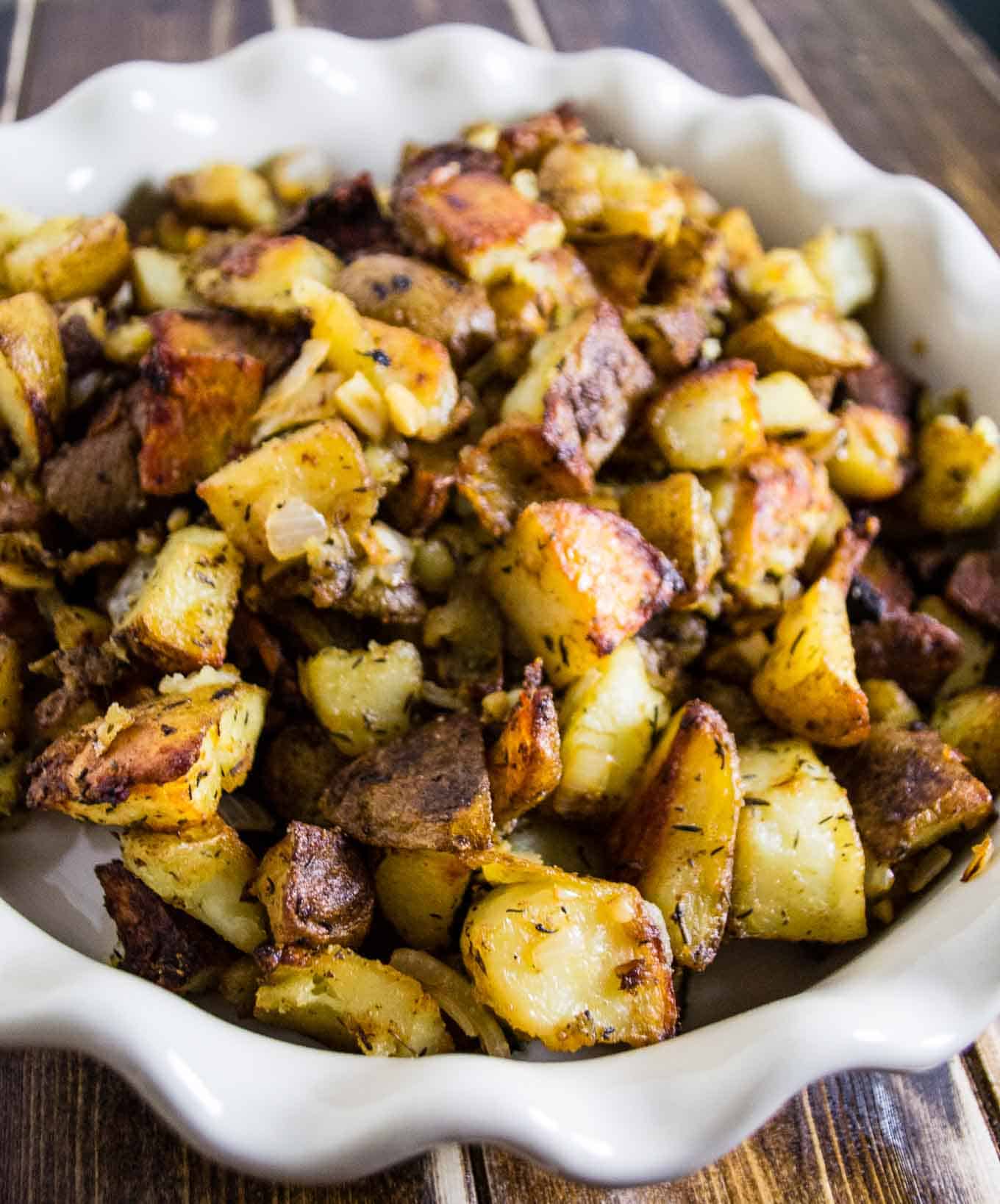 Alright guys, I'm going to start off by saying I may be pushing those food blogger lingo rules by calling this famous crispy potato casserole a "casserole", but stick with me here.
This dish is the perfect casserole to make for any family get together (or fancy weekend breakfast/brunch).
Anyone that knows me knows how much I love potatoes – they are just so versatile!
Vegan potato recipes
Can you tell I love potatoes?!

Although I love potatoes in many forms, this Famous Crispy Potato Casserole is arguably my favorite potato recipe ever.
I make this recipe often for family get togethers or cookouts and it's always a huge hit! Everyone RAVES over it.
The secret is in the depth of flavor you get from roasting the potatoes for hours.
The ingredients themselves are simple..but the real magic happens in the oven!

Once they are done cooking, you'll add in some caramelized sautéed fresh garlic and onion and mix it in.

The goal is to get the potatoes as crispy as possible without burning.
You will take them out every 20ish minutes and scrape and stuck pieces from the bottom of the pan. The method is the same one that I use to make my simple vegan breakfast hash and my sweet potato hash.
At the end, you will have tender potatoes with crispy bits that just melt in your mouth.
I could literally eat this every week and never get sick of it!
And trust me…the cook time is so worth it.Just wait until you see how fast it will disappear when you make it!
I usually make a double batch when I take it anywhere. And there are no leftovers when I do!
If you make just one new recipe this week, try this!
PIN this crispy potato casserole for later:
Are you making this recipe? I want to see! Be sure to tag me on instagram @buildyourbite and hashtag #buildyourbite with your recipe pictures!
Famous Crispy Potato Casserole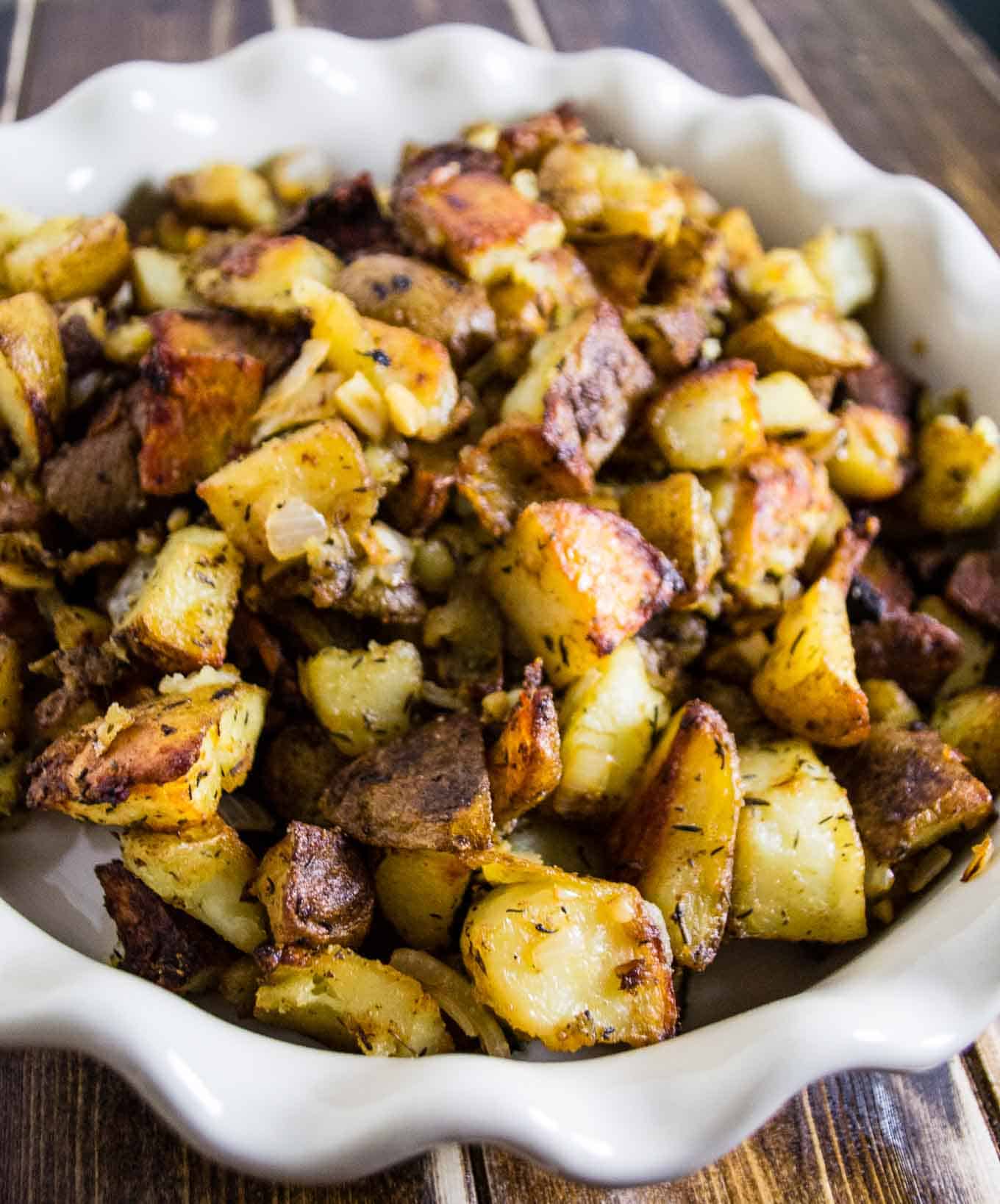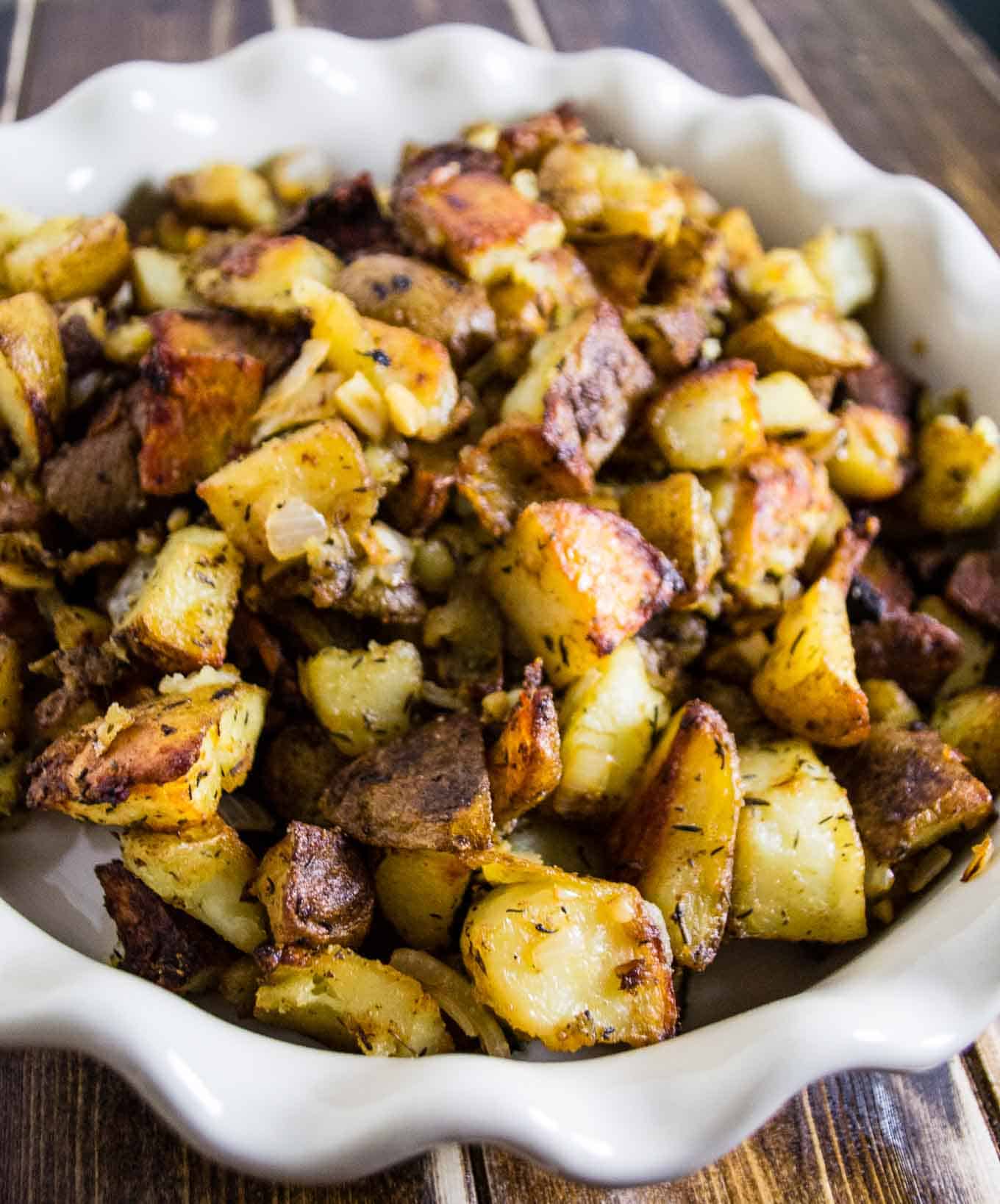 This famous crispy potato casserole is a guaranteed crowd pleaser! The holy grail of vegan potato recipes!
Ingredients
3 pounds russet potatoes, diced into small chunks
2 teaspoons dried thyme
2 - 2 1/2 teaspoons sea salt
1 teaspoon pepper
1 tablespoon garlic powder
1 teaspoon onion powder
scant 1/2 cup olive oil
1 yellow onion, diced
6 cloves of garlic, finely diced or minced
Directions
Preheat oven to 425 degrees
Dice potatoes and place in a glass 13 X 9 pyrex baking dish
Sprinkle potatoes with thyme, salt, pepper, and garlic and onion powder
Pour on olive oil and toss the potatoes until spices and oil are well coated (it will be very oily - you will need the oil to help with roasting)
Spread out potatoes into an even layer so that they cook evenly
Roast potatoes at 425 degrees for around 1.5 hours, checking every 20 minutes
Every 20 minutes, remove potatoes from oven and use a spatula to scrape any stuck pieces from the bottom of the pan and toss potatoes around.
Cook for approximately 1.5 hours, or until potatoes are crispy and tender
Once potatoes are almost done, dice up a yellow onion and 6 cloves of garlic
Sautee onion and garlic with a touch of olive oil in a skillet on medium high heat
Sautee for 10-15 minutes, or until caramelized and cooked down
Once potatoes are finished cooking, transfer onion mixture to the dish with the potatoes and stir
Serve and enjoy!
Recipe Notes
1. It's important to check on the potatoes every 20 minutes since we are roasting at a high temperature. To avoid burning, make sure to use a spatula to scrape sticking pieces from the bottom and toss around.
2. The potatoes will soften as they are out of the oven, but the flavor is insanely good! They reheat well, just keep in mind that they will be more crispy straight out of the oven.
Loading nutrition data...
Did you make this recipe? Be sure to leave a star rating below!