This vegan broccoli tofu stir fry recipe uses just one pan. Flavorful takeout style recipe made with homemade stir fry sauce, green onions, and fresh garlic and ginger.
This broccoli tofu stir fry is made in just one big pan and tastes like takeout.
If you have ever wondered how to cook tofu that tastes delicious, this is it!
I took one bite of the broccoli and realized it tasted just like the broccoli with garlic sauce that I order from a local Chinese restaurant.
Stir fry recipes are one of our favorite dinners, and we are often making recipes like teriyaki vegetables, egg roll in a bowl, cabbage stir fry, teriyaki mushrooms, and tofu stir fry noodles.
Ingredients needed to make broccoli tofu stir fry
cubed tofu
cornstarch
3 ingredient stir fry sauce
white rice
fresh ginger
garlic
green onions
broccoli florets
oil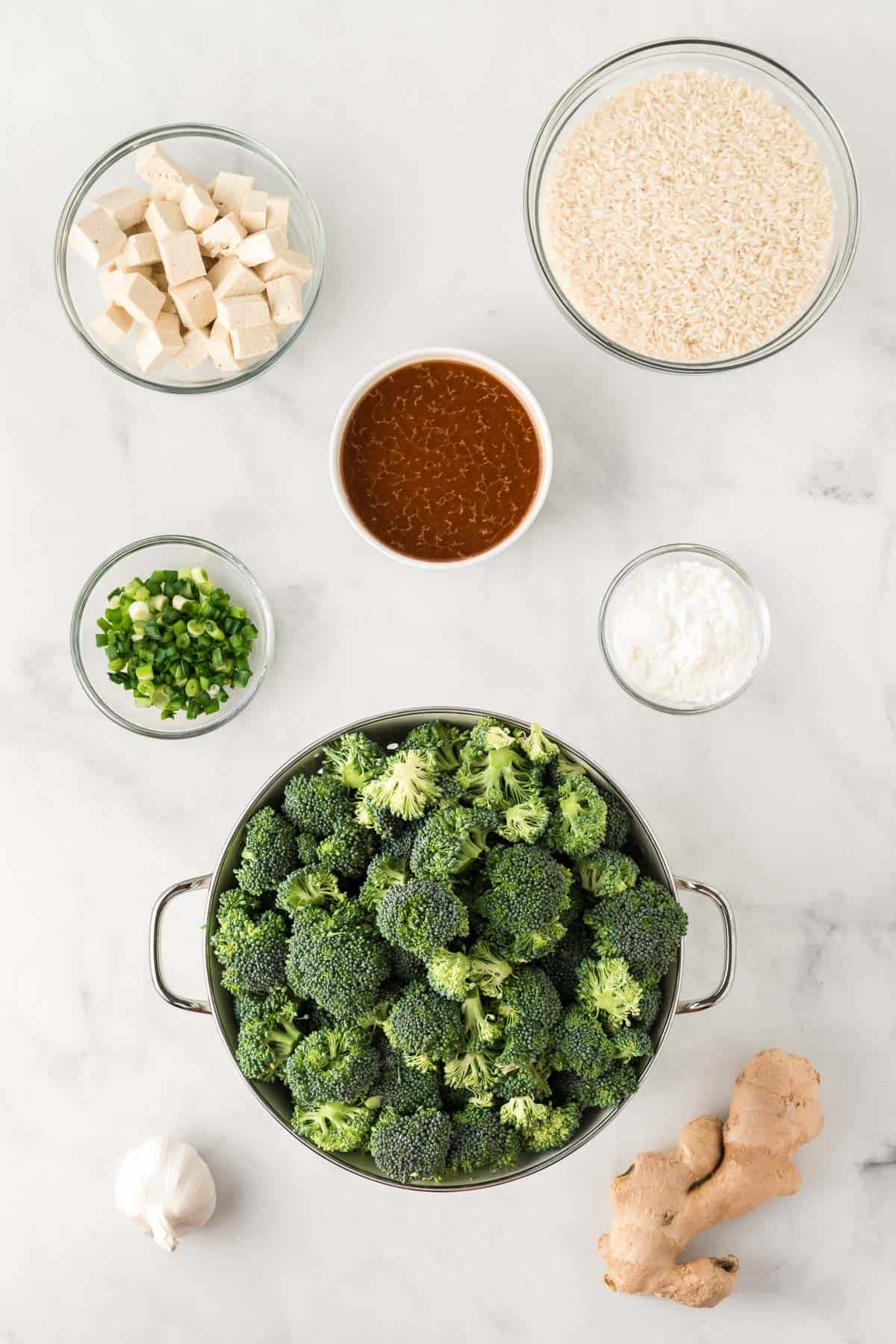 How To Make Broccoli tofu stir fry
First, you will drain the tofu, and pat it dry.
I love buying pre packaged diced tofu, like I use in this recipe. It is so convenient!
If you cannot find pre packaged tofu, just drain a block of tofu and press it well before cutting into cubes.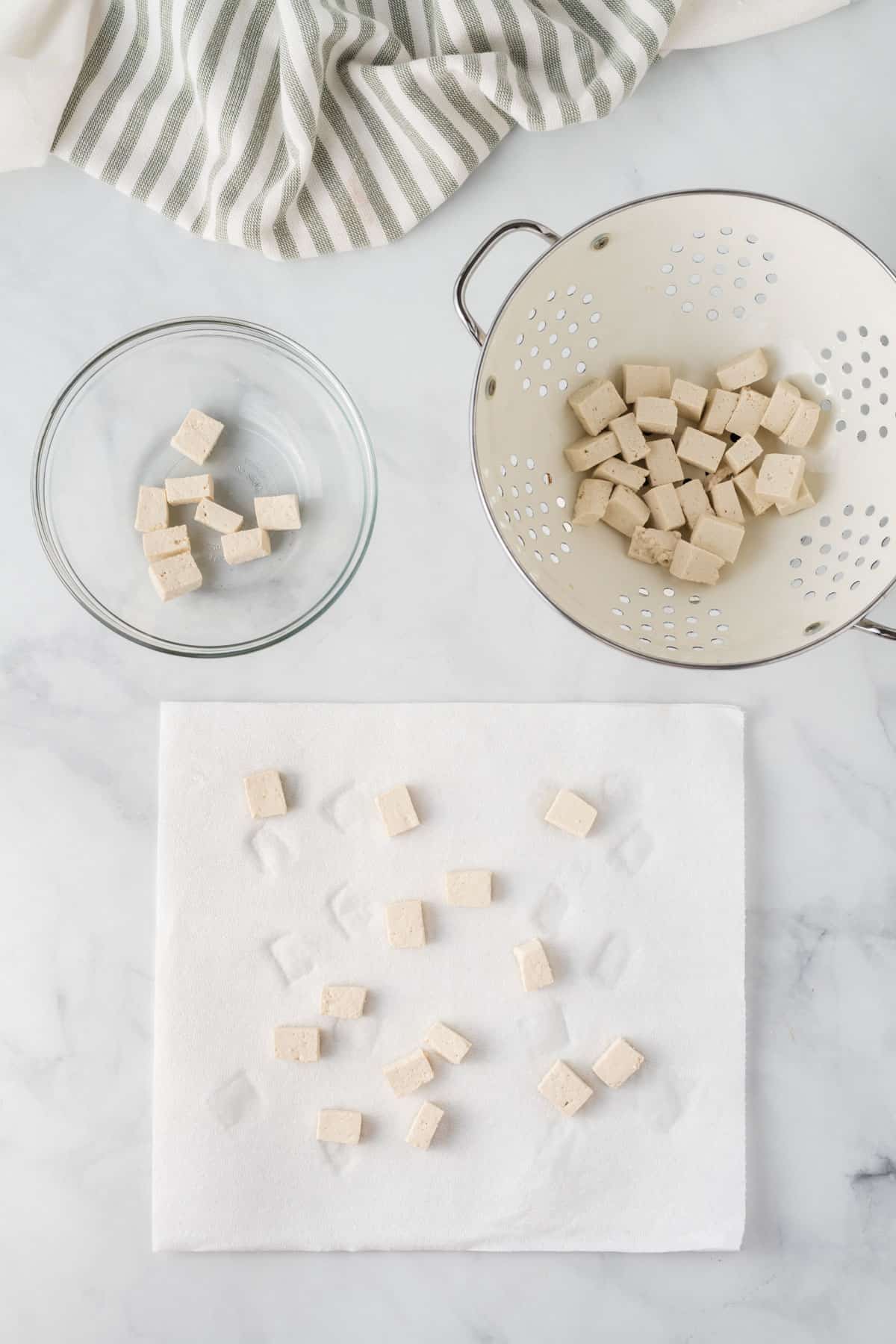 Once you drain your tofu and pat it dry, place the cubes in a bowl.
Toss with cornstarch and shake to coat.
The cornstarch is going to help the tofu get those crispier edges.
How to pan fry the tofu
Heat a large skillet with oil until hot.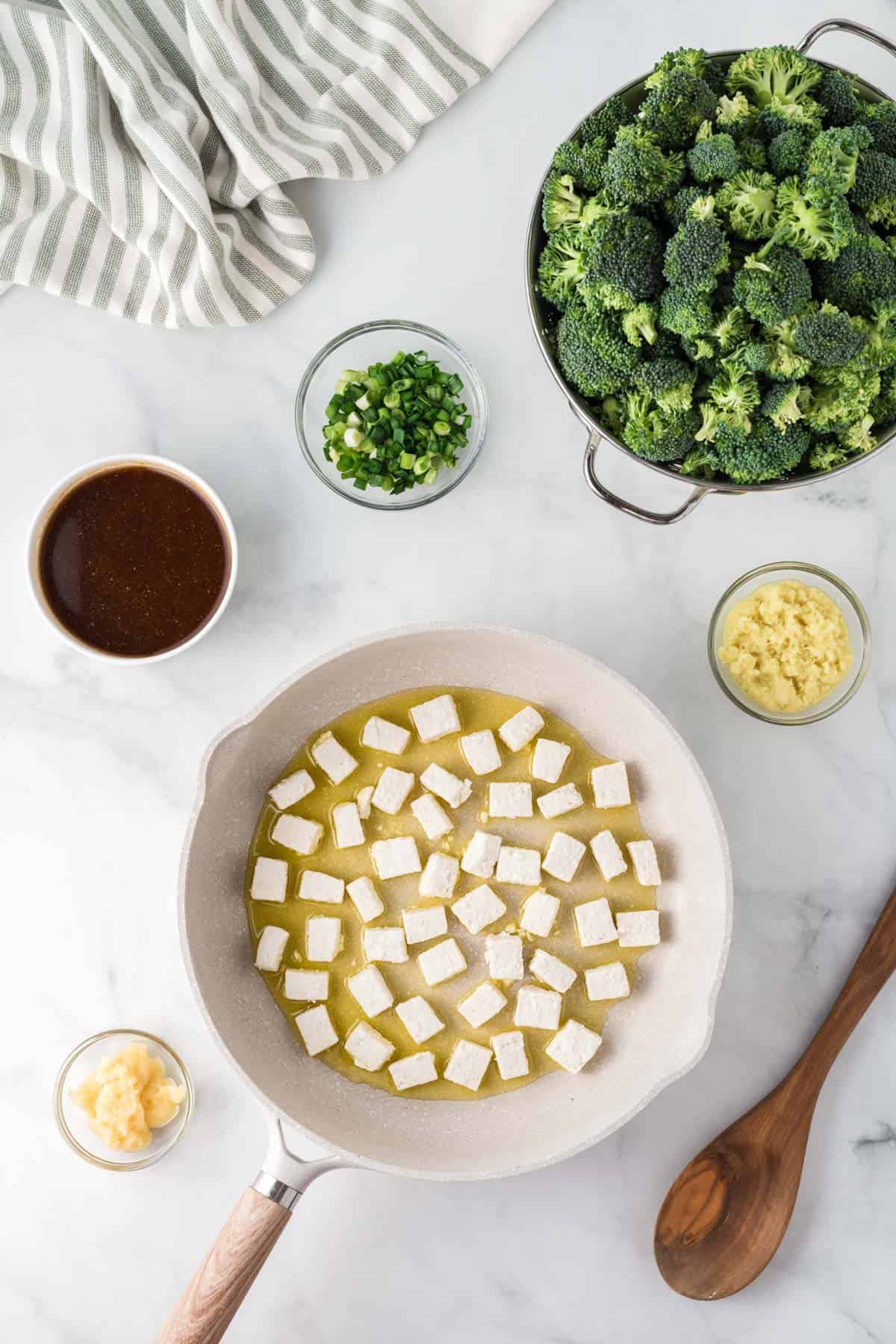 Add in your tofu and start to pan fry it.
Cook the tofu for 10 – 15 minutes, stirring often, until all sides are cooked and crispy.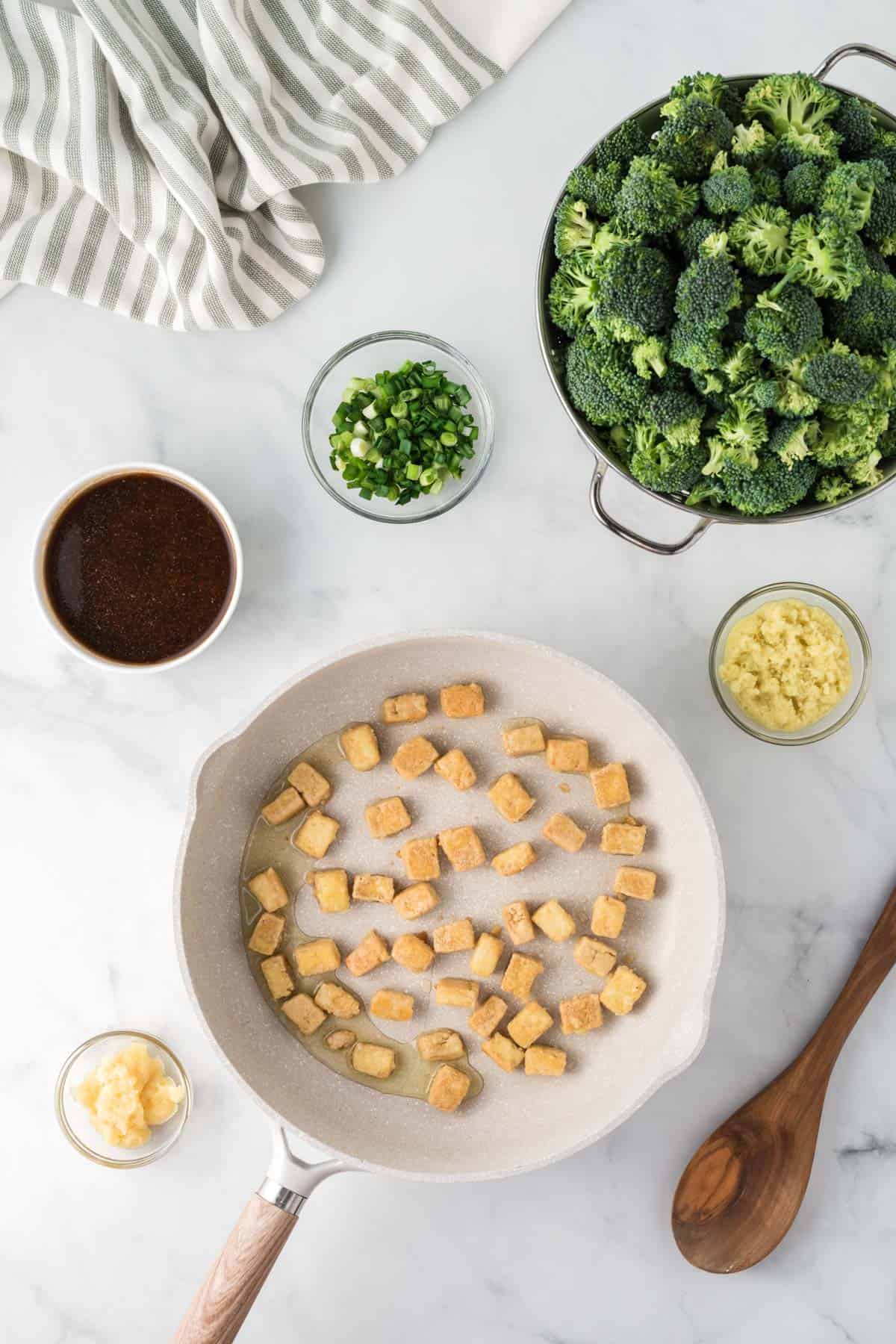 Adding the rest of the stir fry ingredients
Next, add in your fresh garlic, ginger, green onion, broccoli and one batch of homemade stir fry sauce (recipe linked in the instructions below).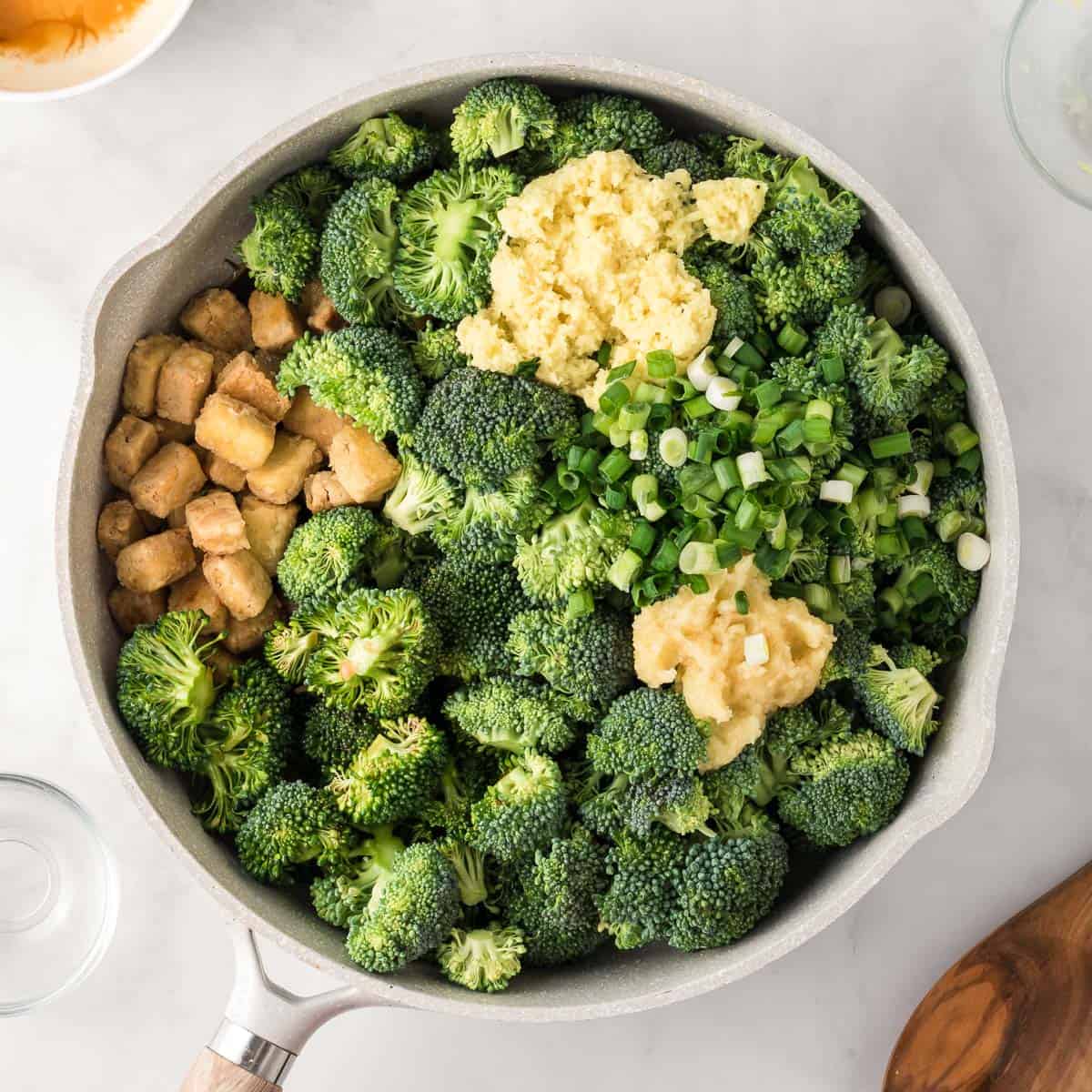 These fresh ingredients give the dish so much flavor, so do not leave them out!
Keep stirring and cooking until broccoli is to your desired texture and stir fry sauce is thick and sticking to the broccoli and tofu.
I love my broccoli with a bit of crunch, so I cook it for just a few minutes while still leaving a bit of a bite to it.
The texture really adds so much to this stir fry, so be sure you do not overcook your broccoli into mush.
Tips to get the best flavor for your stir fry
The secret to the flavorful sauce is in the fresh garlic and ginger, so do not skip these.
Once you pair them with my 3 ingredient stir fry sauce, magic happens.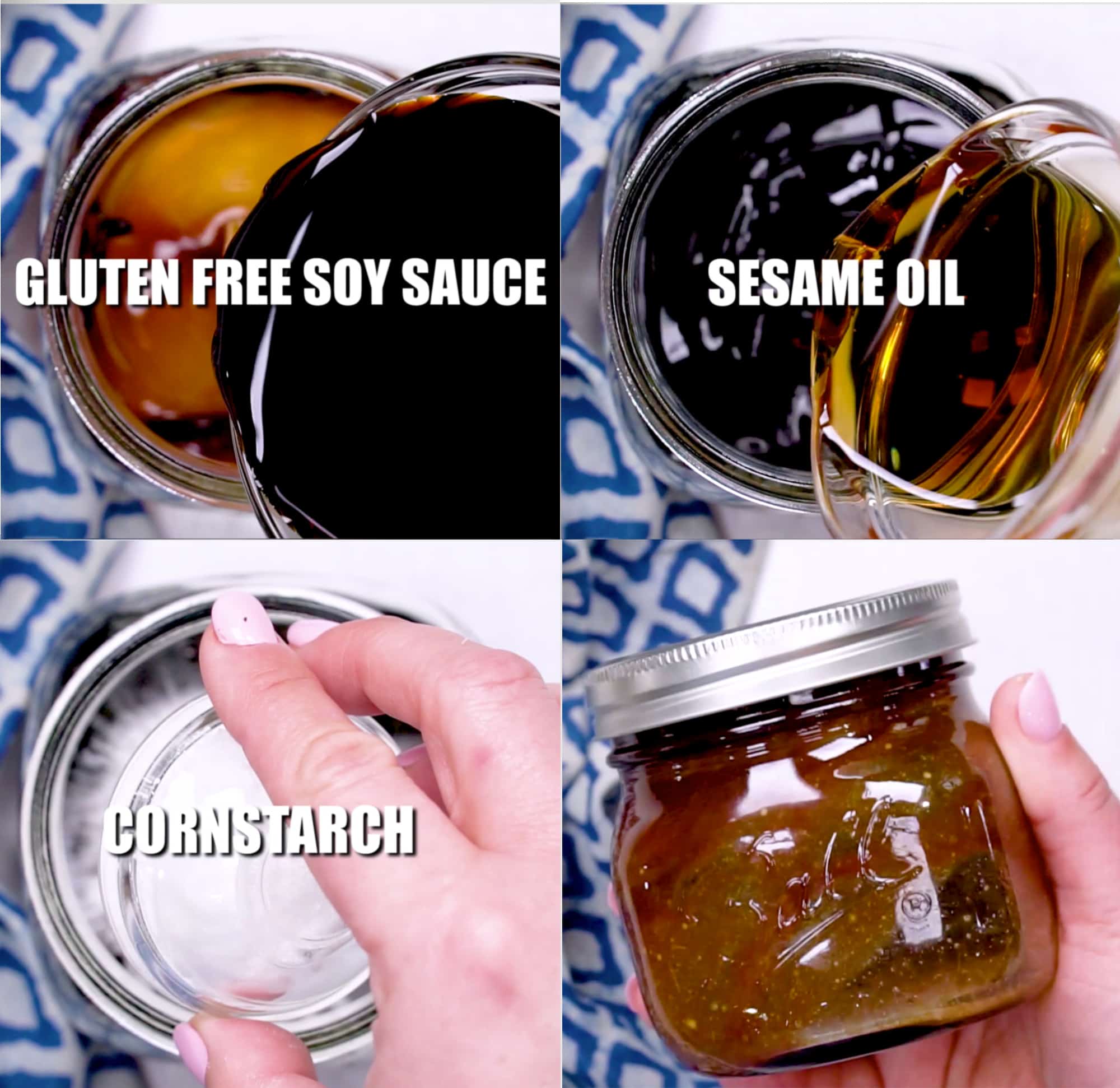 I have had people leave out the fresh garlic and ginger and did not like the recipe and that is why!
The recipe, as written, yields the very best stir fry flavor.
Fresh garlic and ginger are total game changers and you absolutely need them in your stir fry!
Please promise me you won't skimp on this!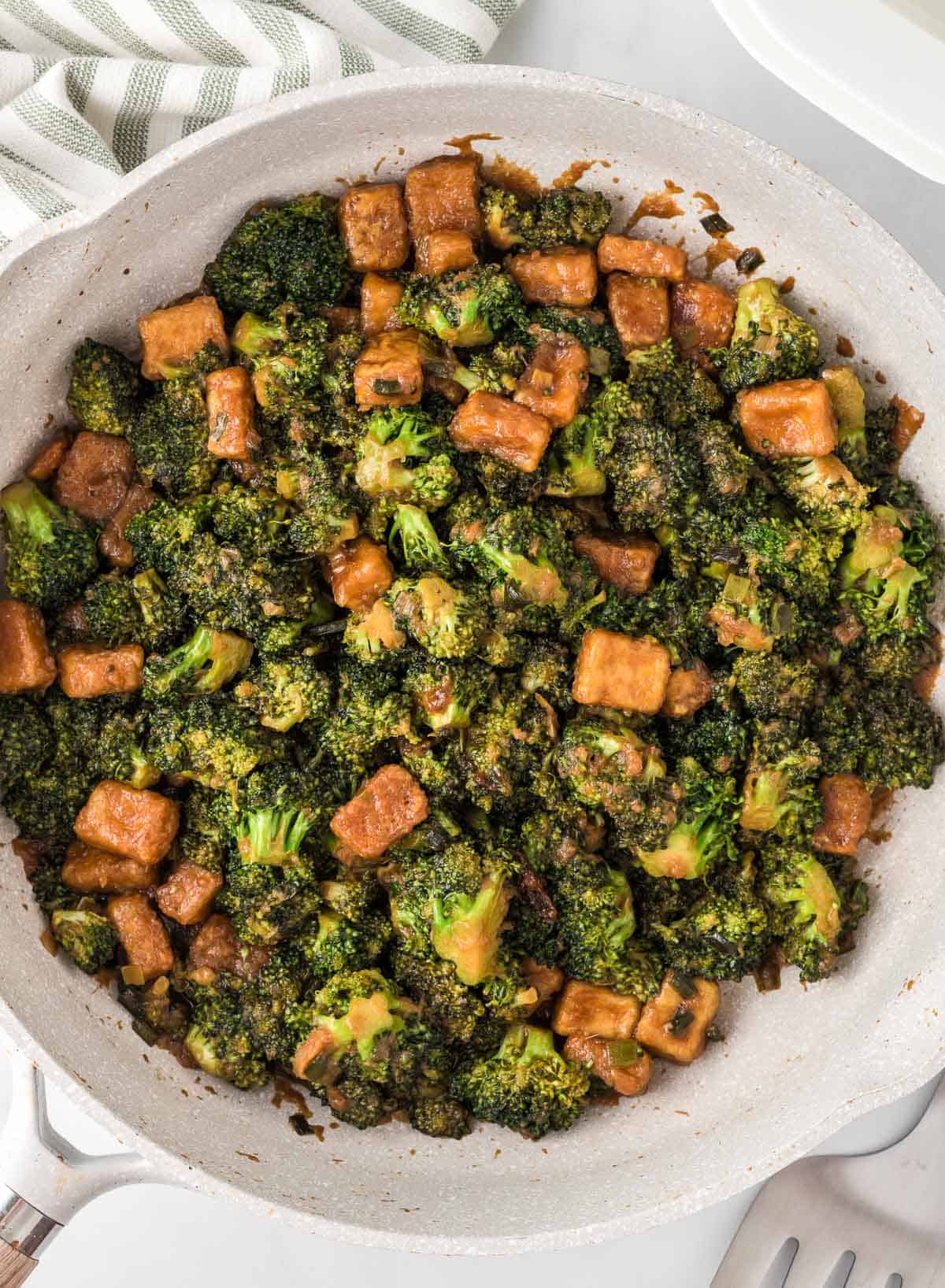 I promise it is worth the time chopping it up and it only takes a few minutes.
If you have never tried fresh ginger before, no need to be afraid!
Almost every grocery store should carry it in the produce section. It looks like a root.
Just cut off the skin, and dice up your ginger with a knife until it's in minced like tiny pieces.
It is just as easy as garlic!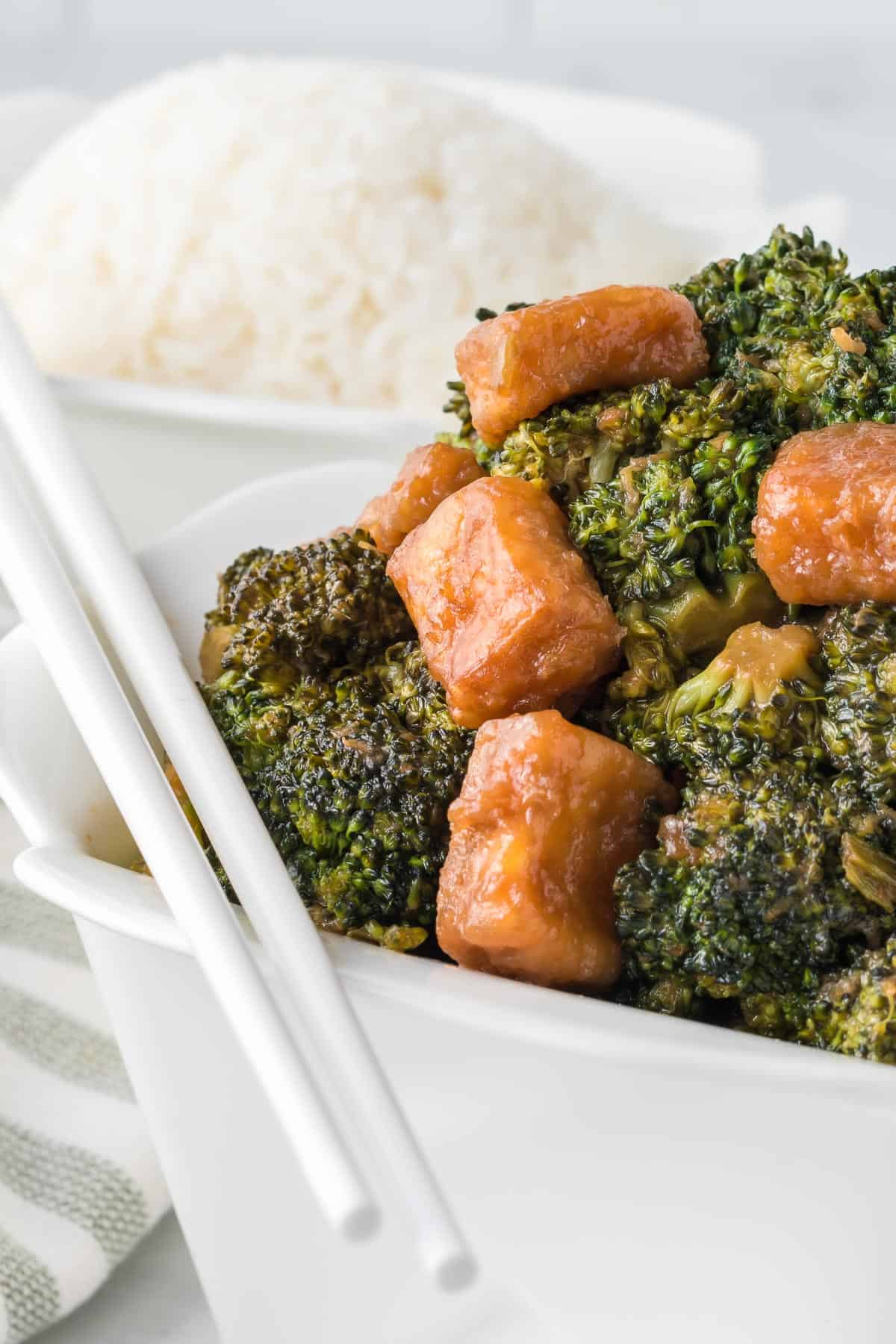 The flavor is so rich and deep with minimal ingredients, thanks to the fresh ingredients!
This recipe is made with just 9 ingredients and is bursting with flavor.
It is also naturally vegan and gluten free.
We served it over white rice and three adults finished off the whole recipe.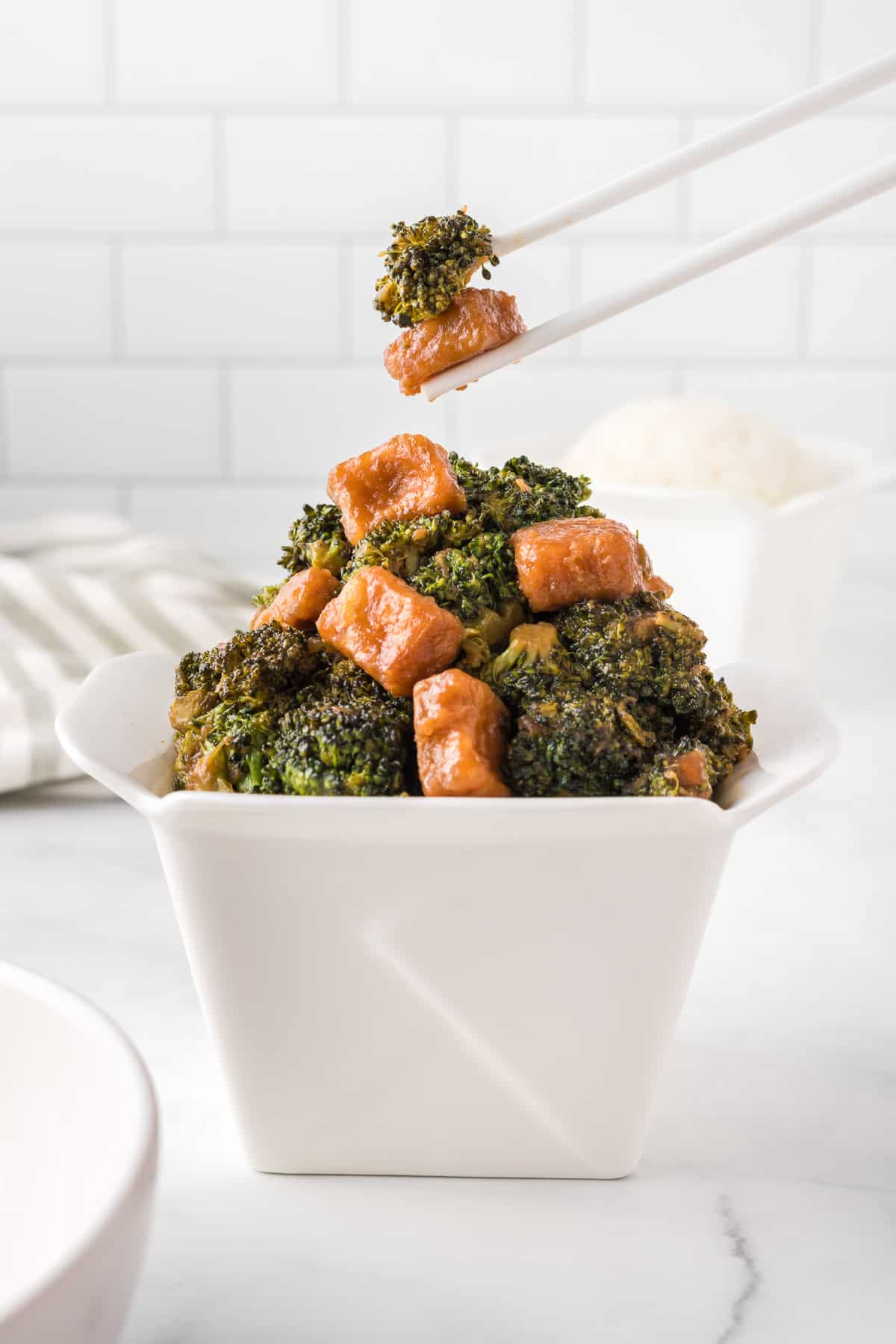 I would say for more normal sized portions it would easily serve four adults (we were very hungry!)
Serve over your choice of grain, or just by itself!
This would be delicious on it's own, or served over white rice, brown rice, quinoa, etc.
For a twist you could even serve it with brown rice stir fry noodles or ramen noodles.
Even over cauliflower rice would be a great way to serve it!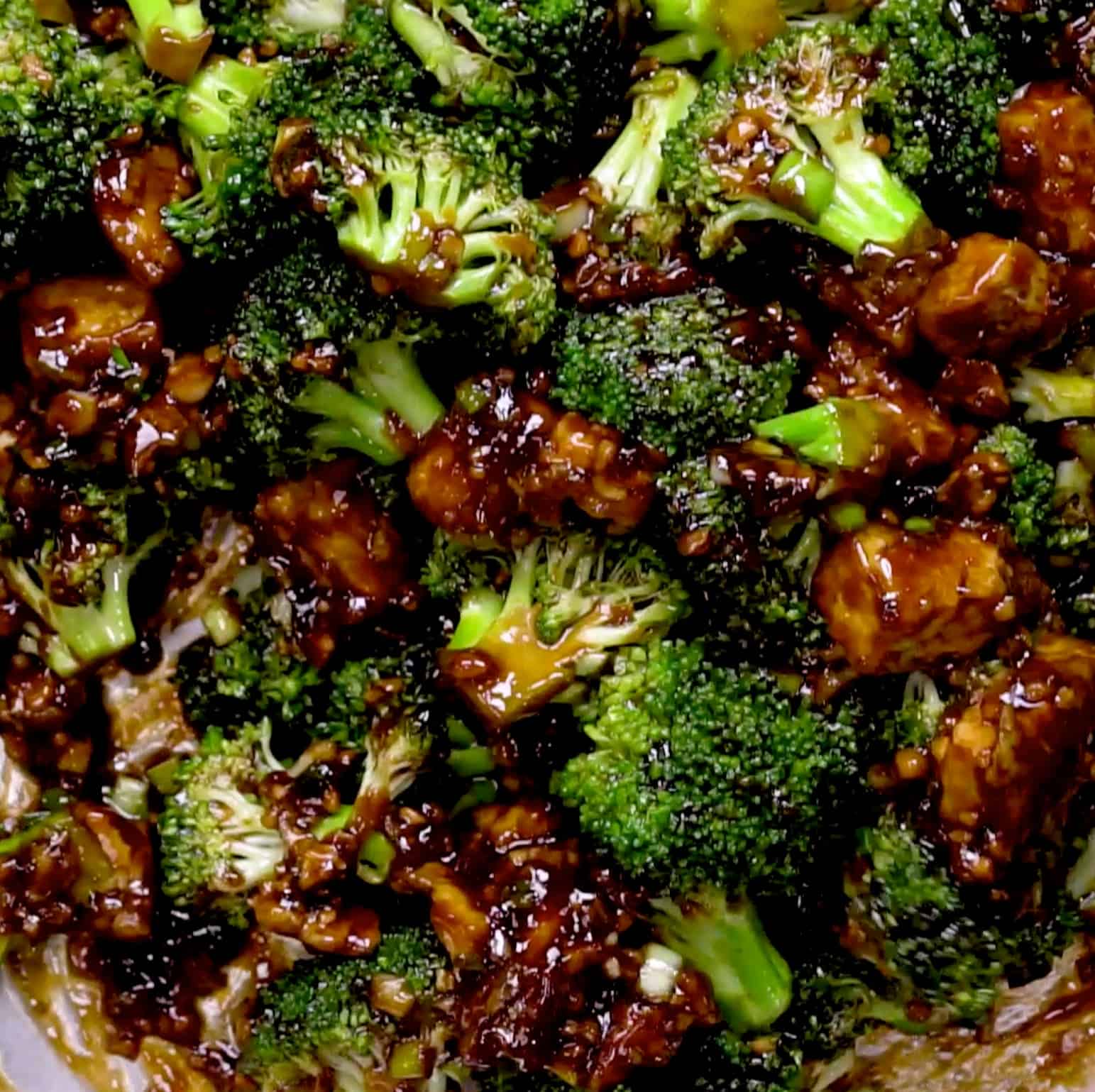 I made this last night and my family loved it.
I never made any thing with tofu before….. I was scared but not as hard as I thought it would be. Thank you for this recipe. I will be cooking with Tofu again. – Jackie
I've been craving this ever since I made it.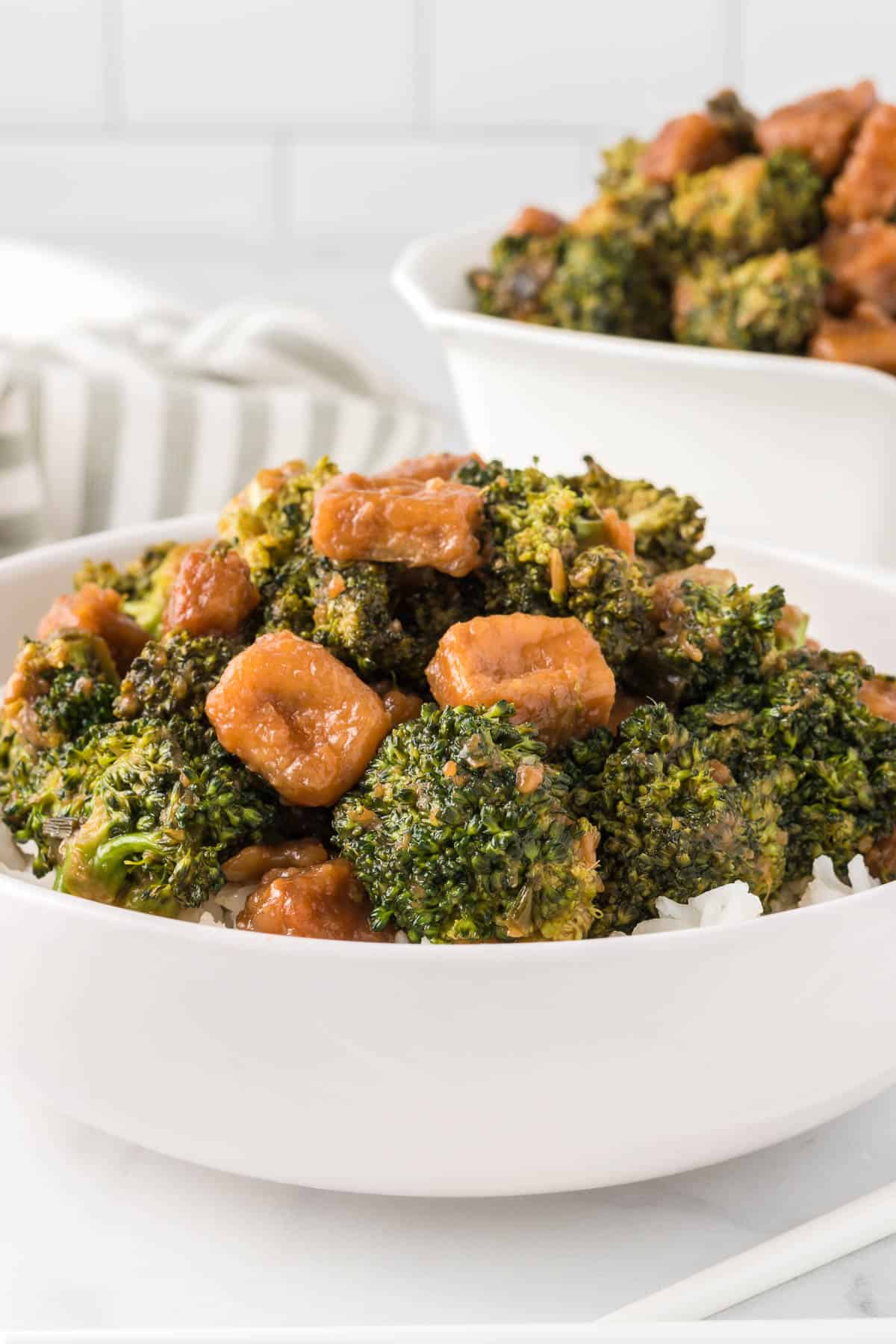 My family used to eat Chinese every Sunday growing up, and it was a tradition I loved.
I could definitely eat this broccoli tofu stir fry every Sunday!
You would not see me complaining one bit.
If you have not tried it yet, I promise you will love it!
If you have never made stir fry at home, this recipe will make it so easy for you!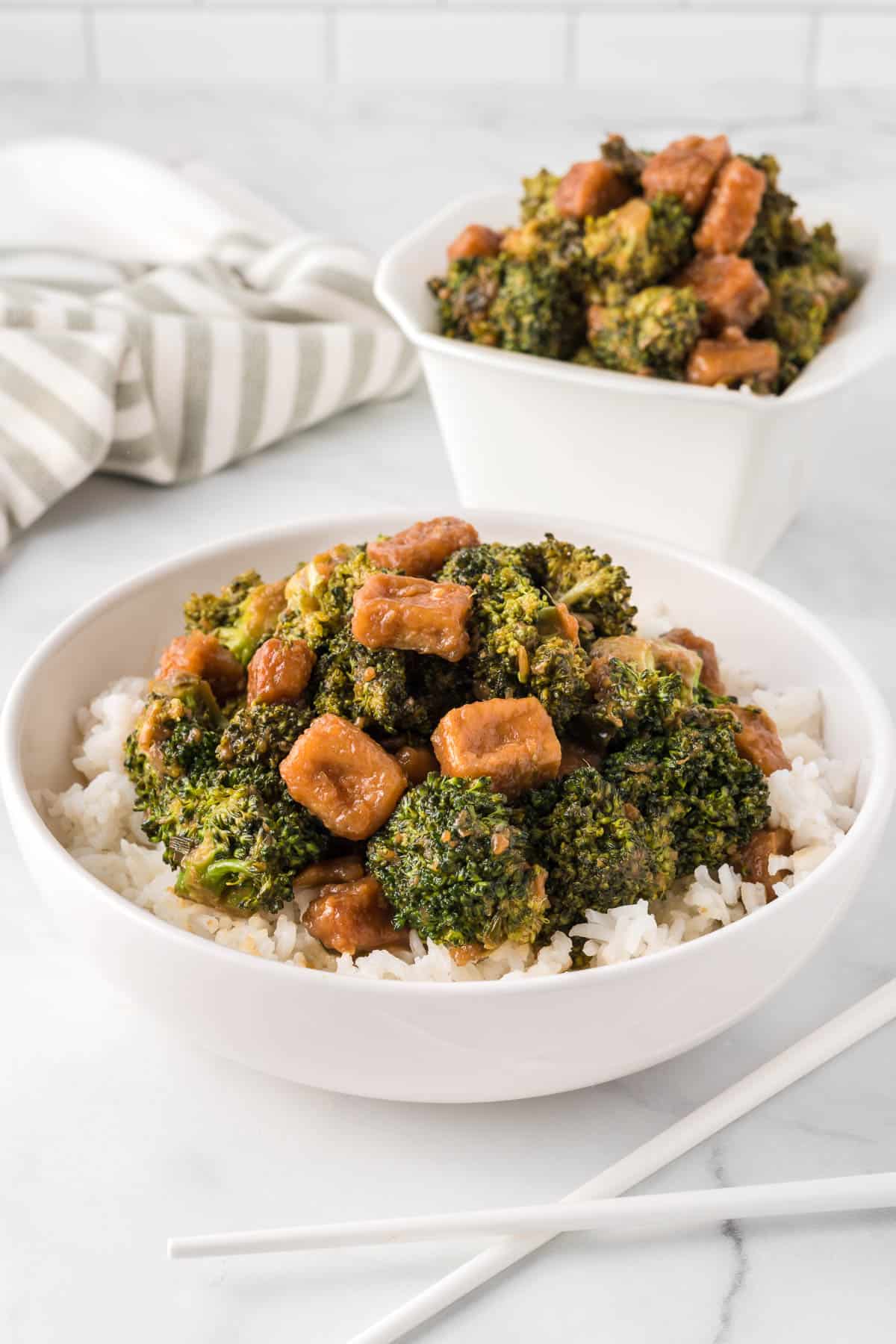 More stir fry recipes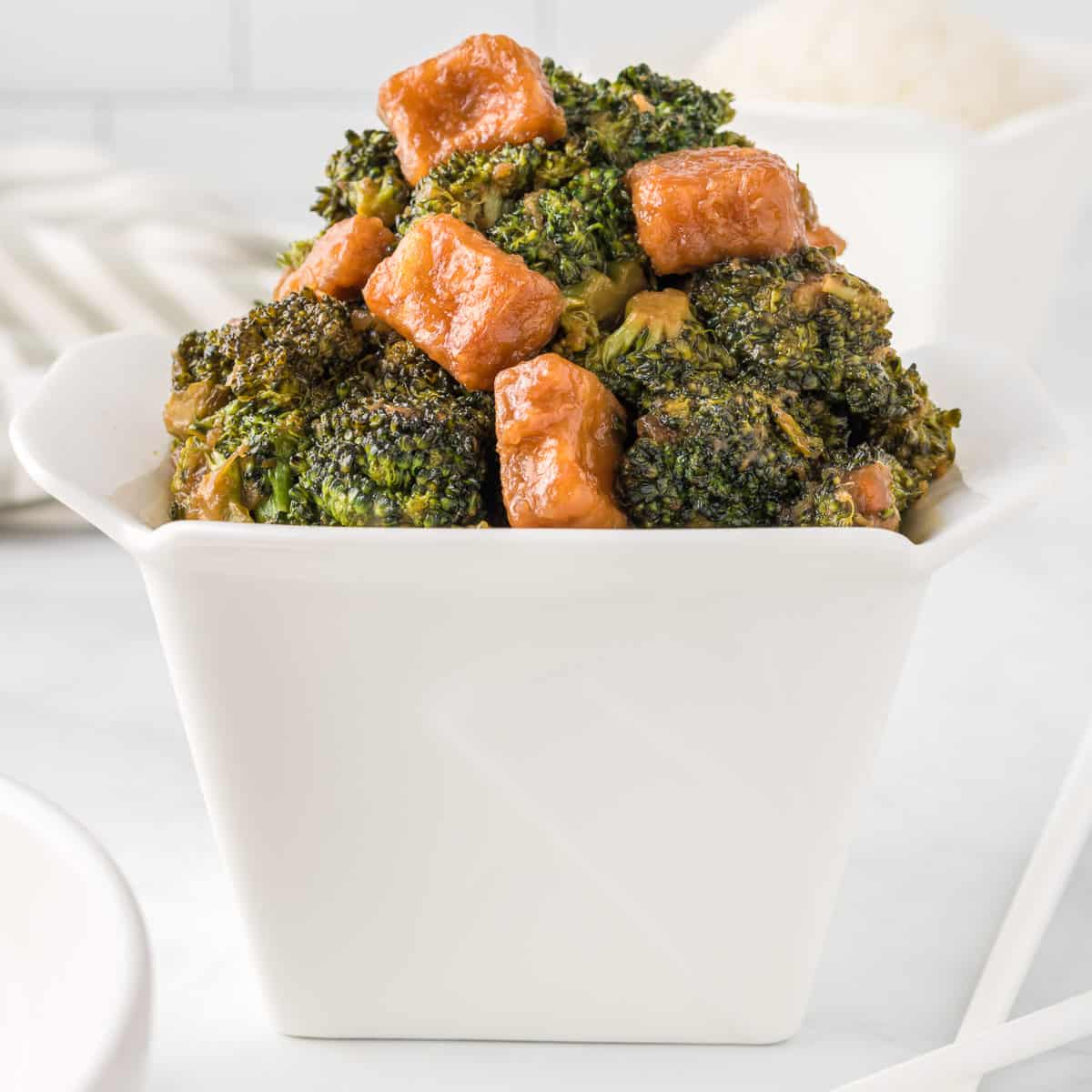 Broccoli Tofu Stir Fry
Total Time:
1 hour
15 minutes
Broccoli tofu stir fry recipe made in just one pan. A healthy alternative to takeout in a rich garlicky stir fry sauce with fresh broccoli florets.
Ingredients
8 oz package of cubed tofu
3 tablespoons cornstarch
10 cloves of garlic, minced
¼ cup minced fresh ginger
9 cups fresh broccoli florets
1 cup chopped green onions
unsalted white rice, for serving
For the stir fry sauce
Instructions
Drain the cubed tofu and pat dry
Place the tofu cubes in a bowl
Add 3 tablespoons of cornstarch and toss gently to coat
Heat a large skillet on medium high heat with 3 tablespoons of olive oil
Pan fry the tofu for 10-15 minutes, until crispy on all sides
Make one batch of the 3 ingredient stir fry sauce recipe linked in the recipe ingredients and shake to combine
Add the broccoli, ginger, garlic, green onions and the homemade stir fry sauce to the skillet and sauté for 10-15 minutes, or until broccoli is desired texture
Serve alone or over unsalted rice or stir fry noodles
Nutrition Information:
Yield:

4
Serving Size:

1
Amount Per Serving:
Calories:

485
Total Fat:

19g
Saturated Fat:

3g
Trans Fat:

0g
Unsaturated Fat:

15g
Cholesterol:

0mg
Sodium:

924mg
Carbohydrates:

67g
Fiber:

15g
Sugar:

6g
Protein:

20g