Looking for an easy side dish for dinner? This roasted broccoli and cauliflower recipe is so flavorful and the perfect addition to any meal.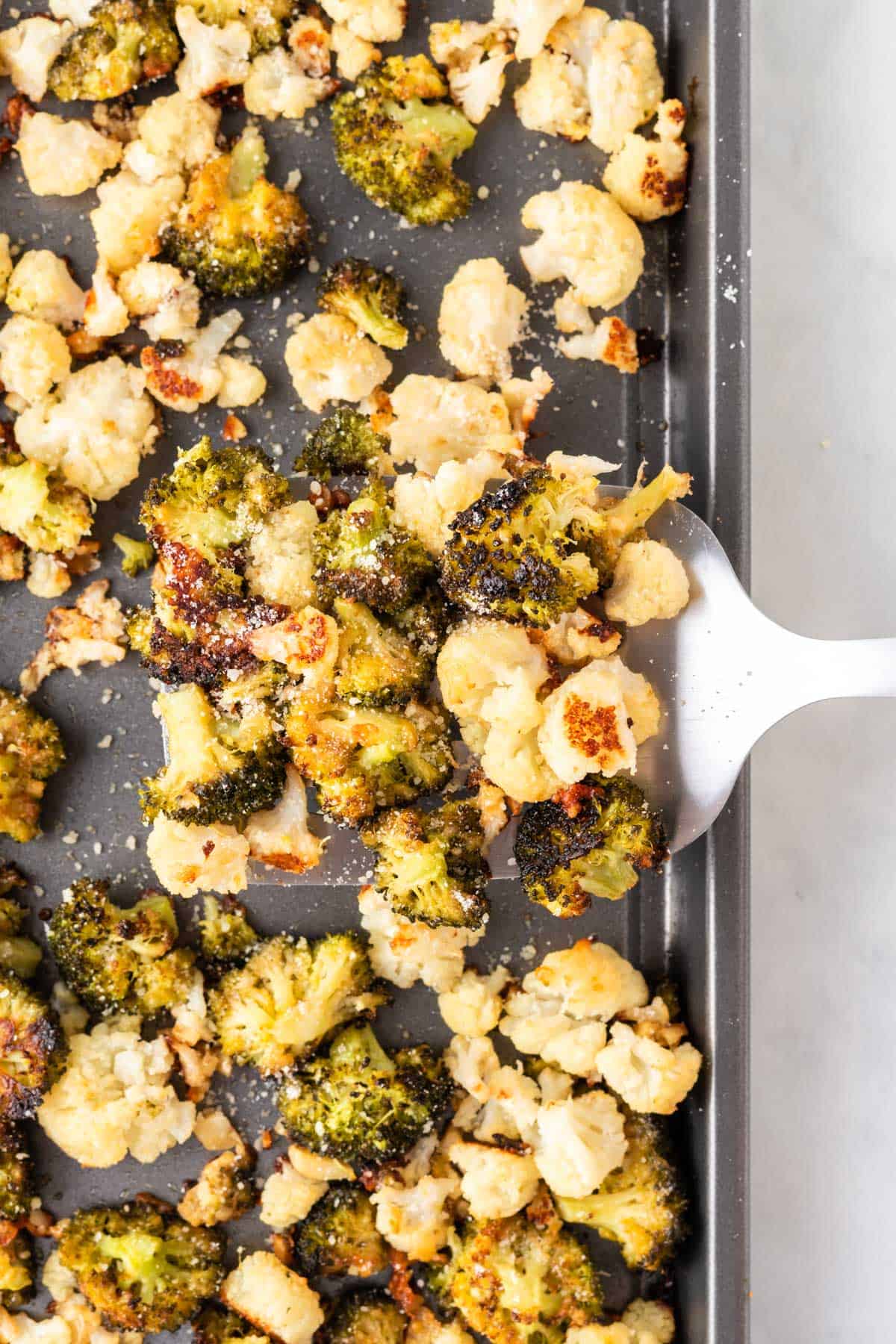 Roasting vegetables is one of the best ways to bring out all of the best flavor and texture.
This simple broccoli and cauliflower is coated in parmesan cheese and garlic and roasted until crisp tender.
Sometimes the most flavorful roasted veggies are so easy to make, and this recipe is a great example. You simply can't go wrong with a combination like garlic and parmesan!
We love roasted veggie recipes like brussels sprouts with parmesan, roasted mushrooms, and roasted carrots. They make a great side dish for any meal.
Ingredients needed
fresh broccoli and cauliflower: cut into similar sized florets
garlic: use fresh minced garlic for the best flavor. Garlic powder will not be as flavorful in this recipe
parmesan cheese: the powdered variety
olive oil: to coat the veggies before roasting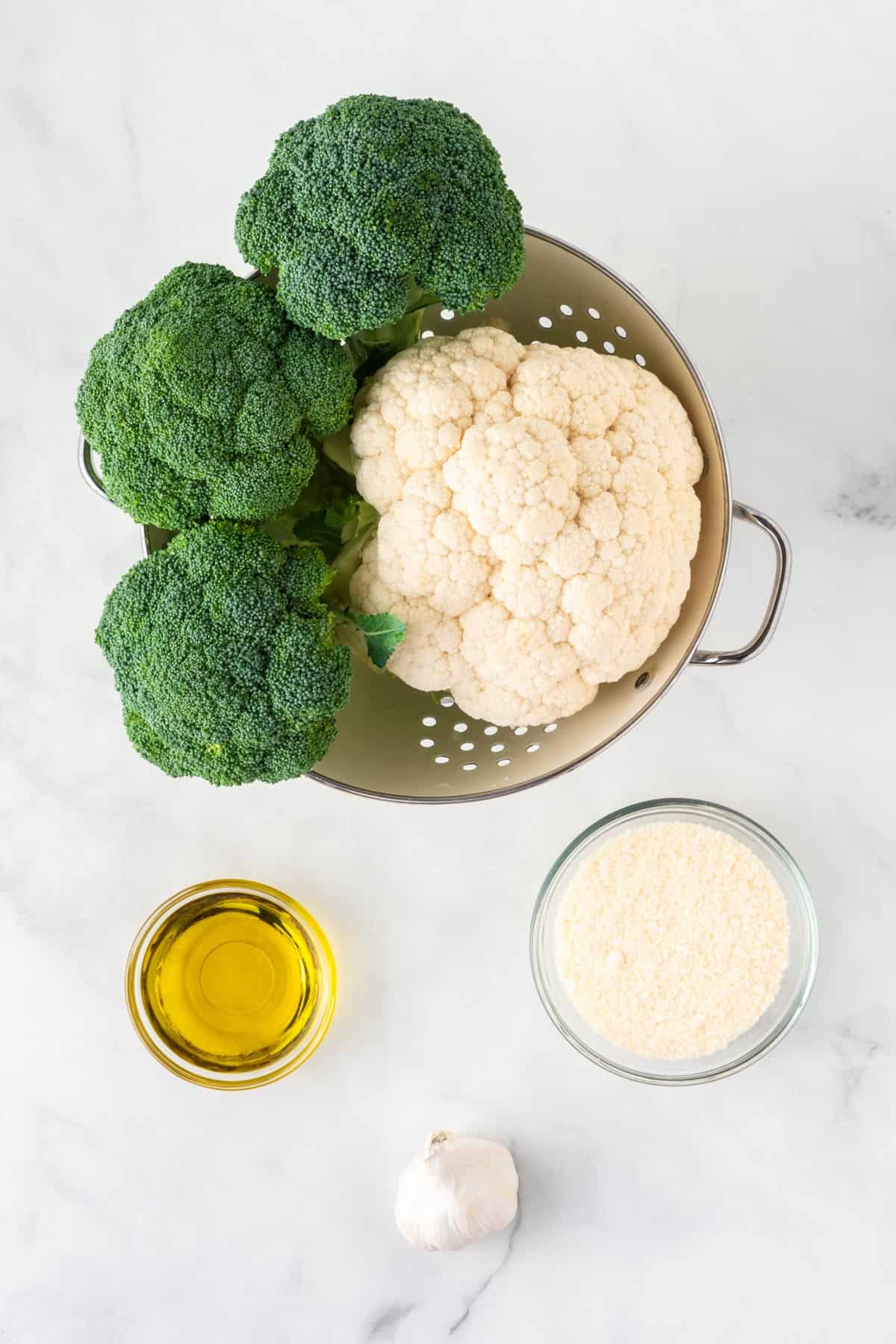 How to make roasted broccoli and cauliflower
Step 1: Cut the fresh cauliflower and broccoli into similar sized florets. You will need 1 medium sized head of cauliflower and 4 cups of broccoli florets.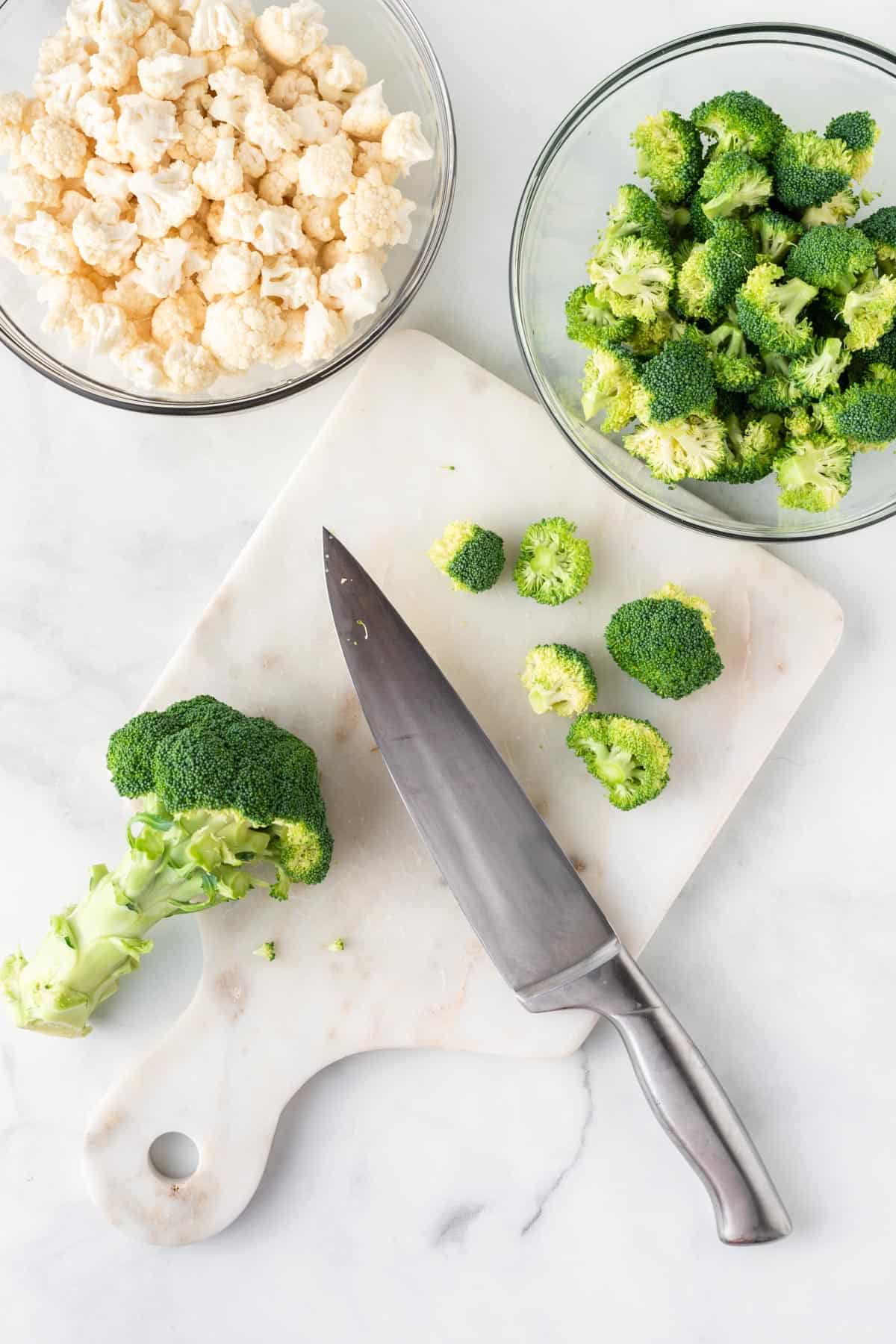 Step 2: Add the broccoli and cauliflower to a bowl and toss with the minced garlic, parmesan cheese, and olive oil. Use your hands to combine the oil and seasonings into the veggies.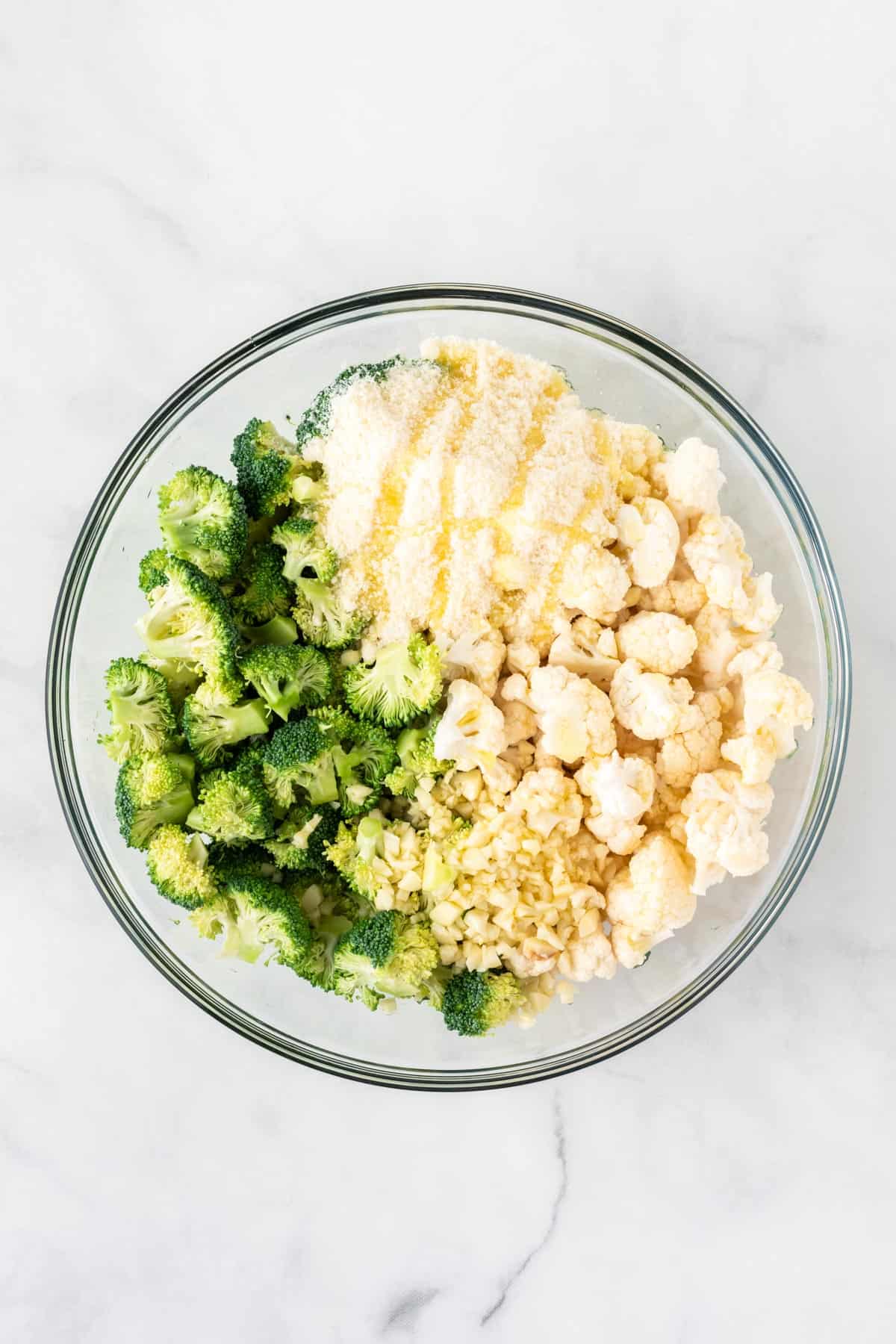 How long should I bake broccoli and cauliflower?
Step 3: Transfer the veggies to a quality nonstick baking sheet and roast at 400 degrees for 15 minutes.
Stir and flip the veggies, then roast an additional 10-15 minutes, checking every 5, until browned and crispy on the edges.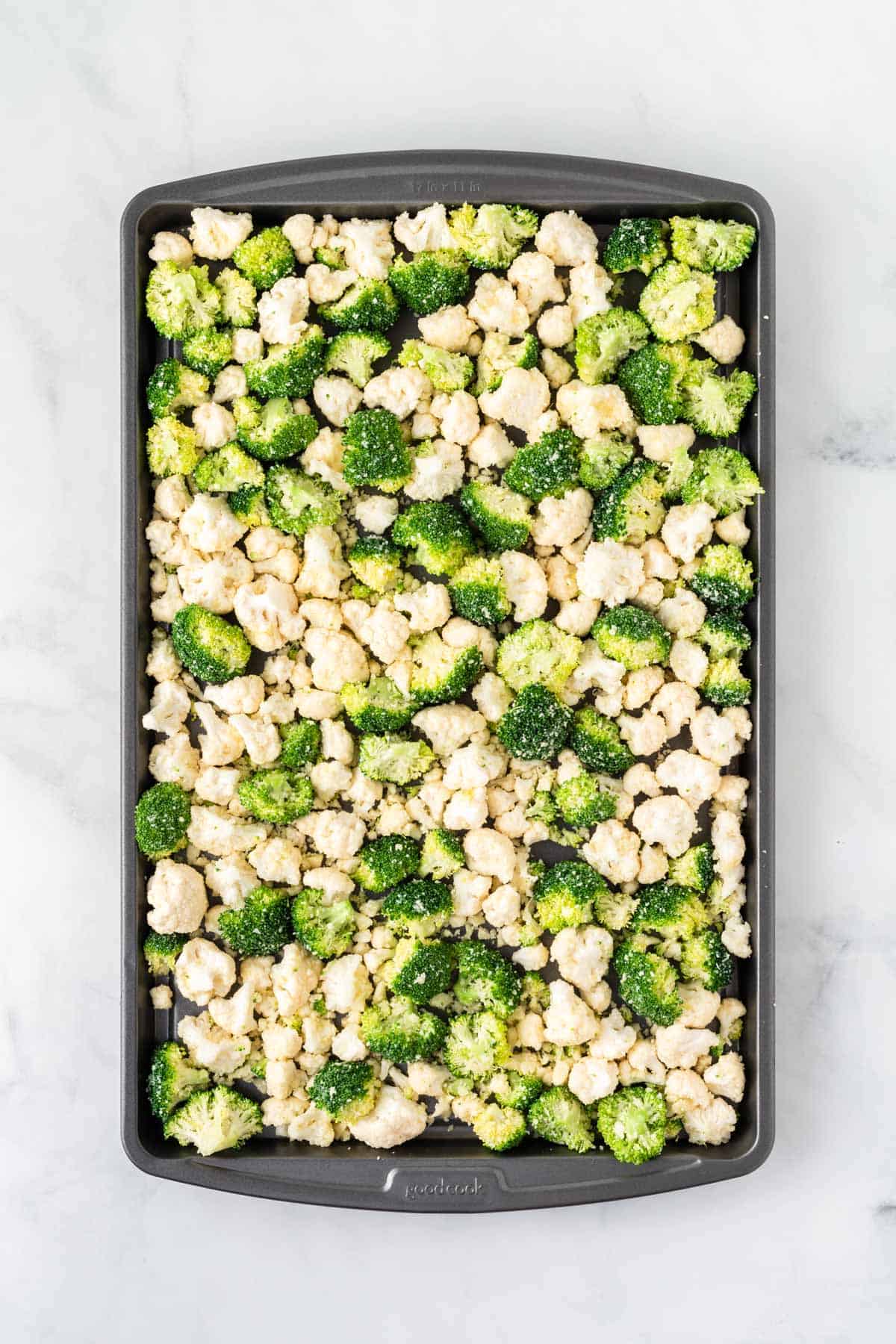 This roasted broccoli and cauliflower is just 5 ingredients and my family always asks for more when I make it!
If you haven't tried roasting veggies for picky eaters, I definitely recommend it.
This is one of our favorite ways to eat cruciferous vegetables!
Are you making this recipe? I want to see! Don't forget to tag me on instagram @buildyourbite and hashtag #buildyourbite with your recipe creations!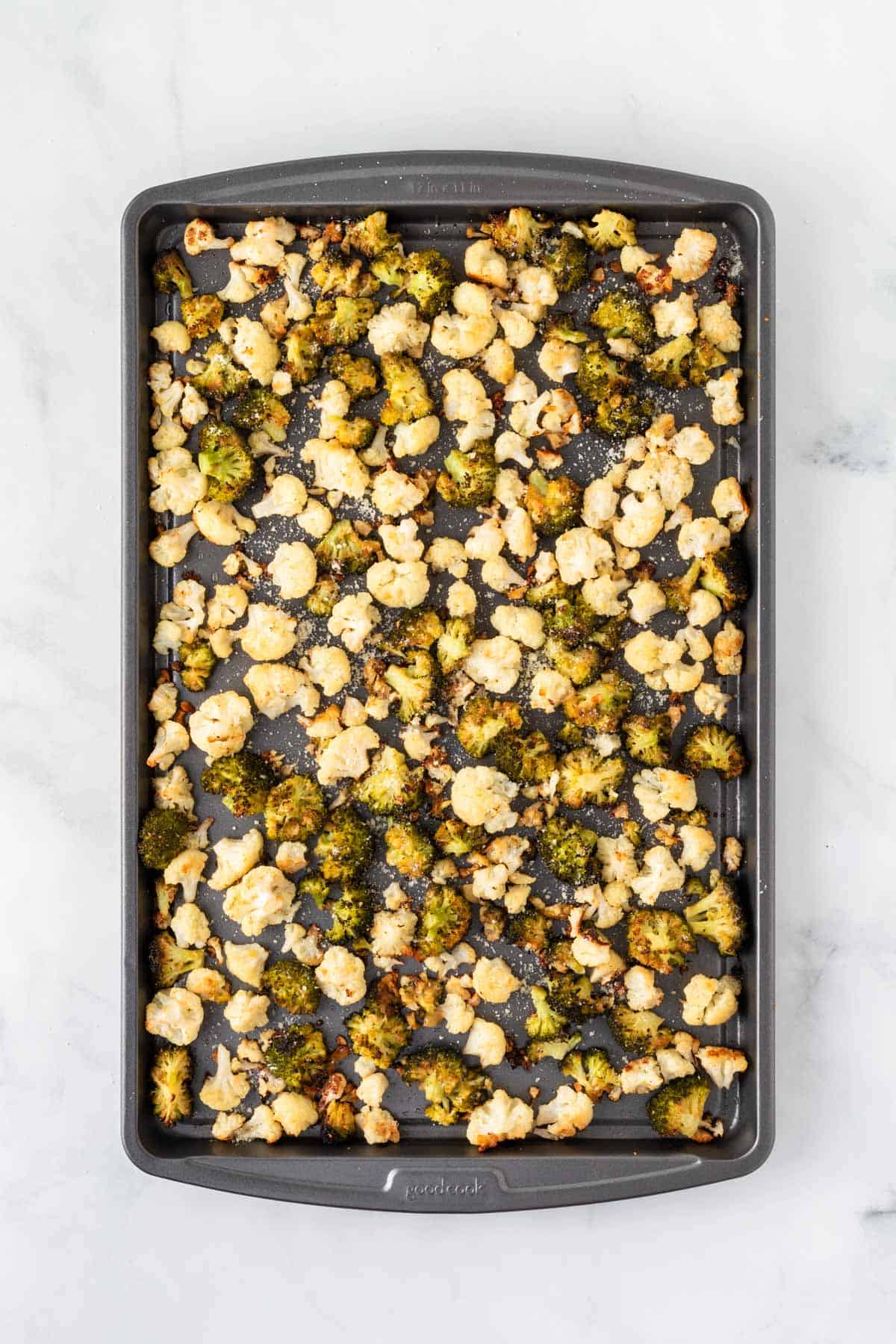 Storing and Reheating
Store leftovers (if there are any!) in an airtight container in the fridge for 2-3 days.
For the best texture, reheat the broccoli and cauliflower in the oven on a sheet pan until hot.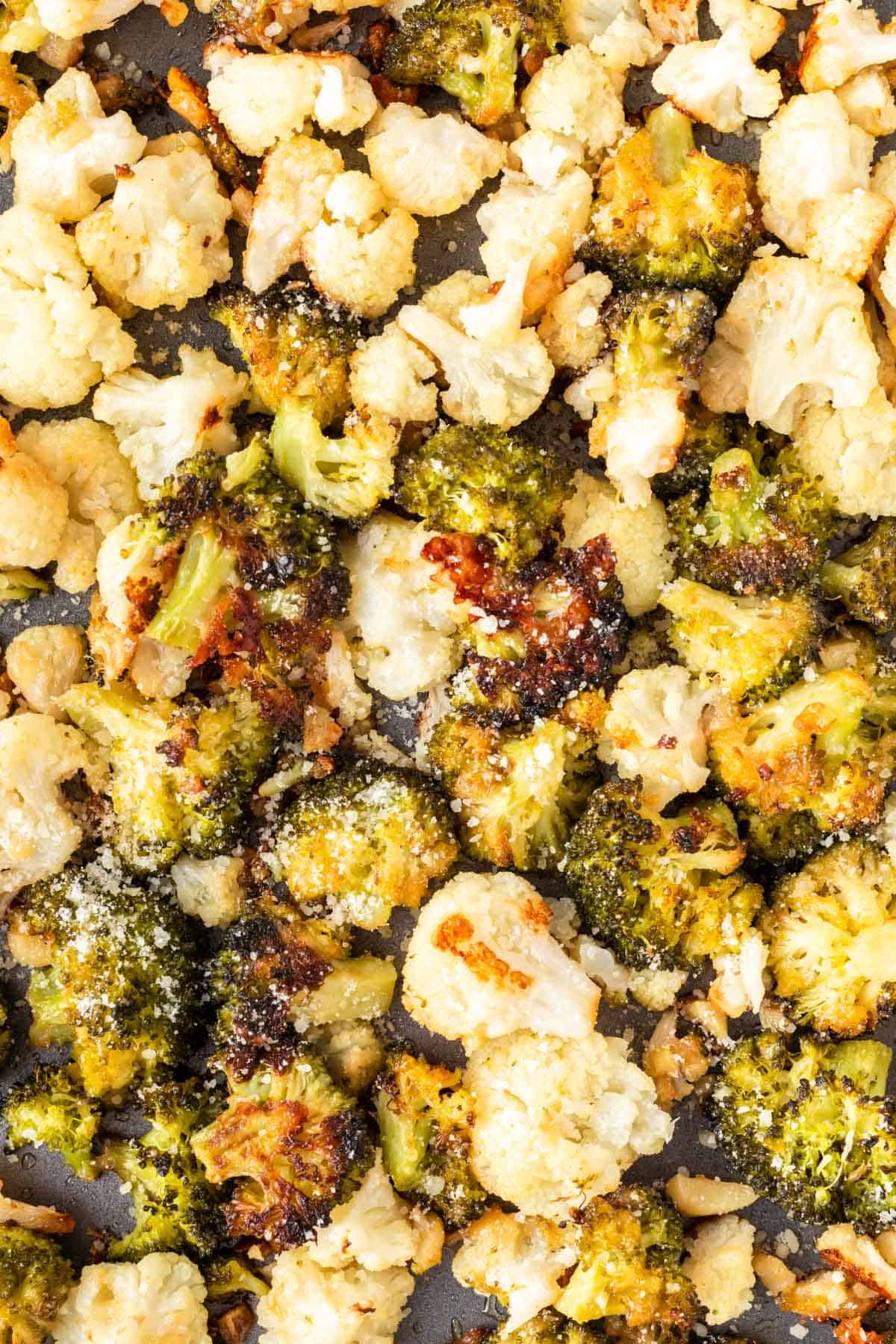 Did you make this recipe? Be sure to leave a star rating below!
If you are looking for a way to make vegetables more appealing, I highly recommend roasting them.
Roasting veggies adds a flavor depth that you can't get from steaming. Those crispy parmesan cheese edges are highly irresistible.
That is why veggies that are roasted are some of my favorite healthy recipes!
Roasted Broccoli and Cauliflower
This roasted broccoli and cauliflower is seasoned with garlic and parmesan cheese. A delicious side dish for any meal!
Ingredients
1 medium head of cauliflower (4 cups of florets)
4 cups broccoli florets
8 cloves of garlic, minced
½ cup powdered parmesan cheese
3 tablespoons olive oil
Instructions
Cut the cauliflower and broccoli into similar sized florets.
Add to a bowl and toss with the minced garlic, parmesan cheese, and olive oil. Use your hands to combine the oil and seasonings into the veggies
Place on a quality nonstick baking sheet and roast at 400 degrees for 15 minutes
Stir and flip the veggies, then roast an additional 10-15 minutes, checking every 5, until browned and crispy on the edges
Salt and pepper to taste (if desired) and serve immediately
Nutrition Information:
Yield:

5
Serving Size:

1
Amount Per Serving:
Calories:

194
Total Fat:

12g
Saturated Fat:

3g
Trans Fat:

0g
Unsaturated Fat:

8g
Cholesterol:

9mg
Sodium:

258mg
Carbohydrates:

17g
Fiber:

8g
Sugar:

4g
Protein:

8g