Easy roasted garlic butter mushrooms recipe – a delicious and addictive dairy free side dish or appetizer that will disappear in minutes!
Mushrooms are one of my ultimate favorite vegetables.
If you've checked out many recipes on my blog, you'll tend to see a lot of mushrooms.
Mushrooms in pasta, mushrooms in mexican food, and mushrooms for breakfast. I can never get enough!
I'm in trouble when Kroger has mushrooms on clearance, as I tend to buy them all.
People that don't like mushrooms? Those are the people I understand the least. More for me please!
These easy roasted garlic butter mushrooms are ready for the oven in minutes and make a great healthy side to dinner or an appetizer for a party.
I used baby bella mushrooms for mine, but white mushrooms would work as well. Whatever you can find!
Fresh garlic is key here, so be sure not to skimp – that's where all of the flavor is!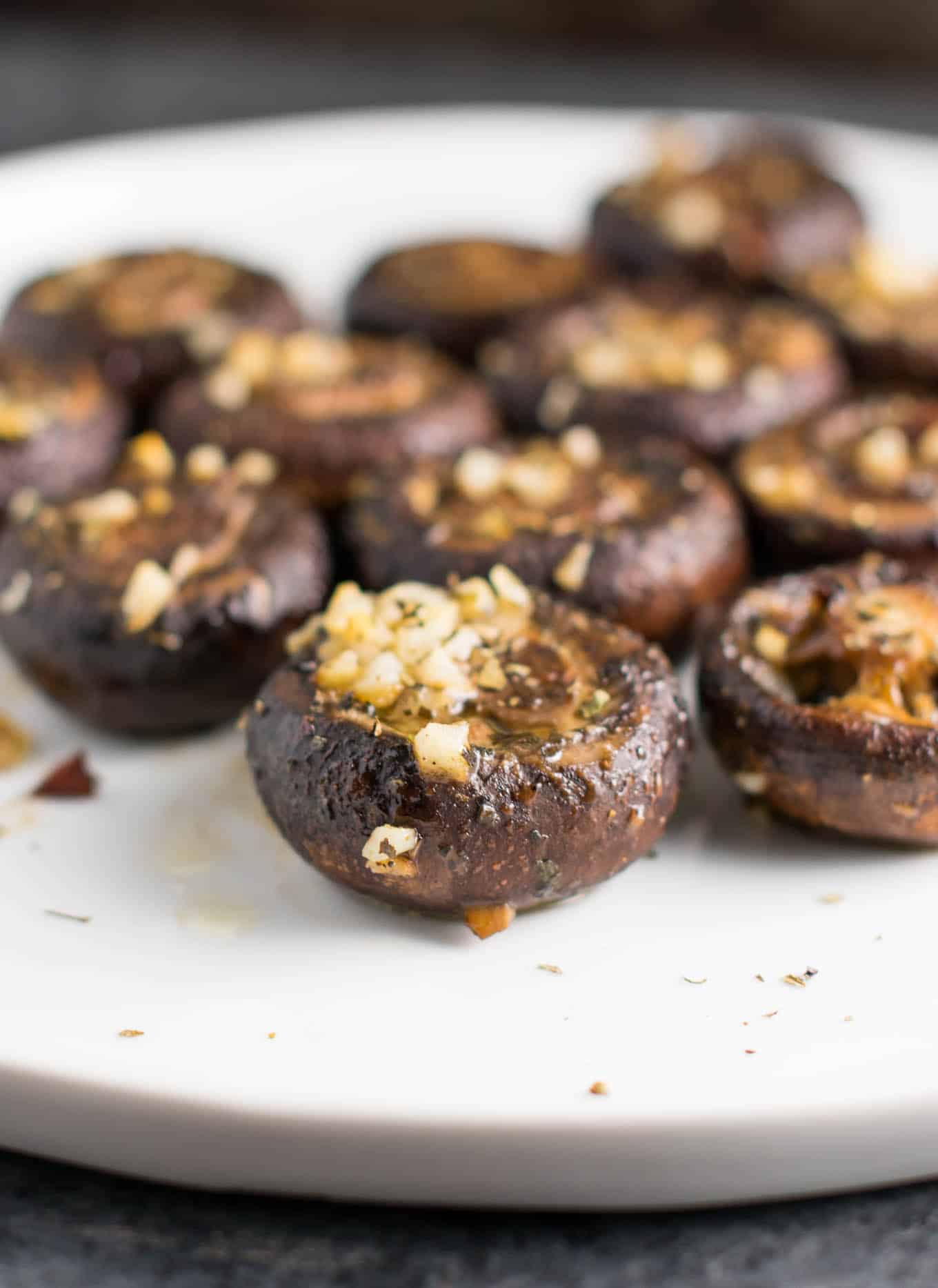 Garlic is so healthy for you and so delicious. If a recipe calls for 2 cloves of garlic, I tend to use 6 or 7 cloves.
You can never have too much garlic in my opinion!
I also used vegan butter for these to make them vegan and you really cannot tell the difference. Feel free to substitute real butter – whatever works for you!
These were so juicy and delicious and full of flavor.
I used 6 cloves of garlic and probably could have used even more. If you're afraid of a lot of garlic, you can cut back to 3 or 4 cloves, but I really recommend more as it gives the mushrooms so much flavor!
We served them along side my favorite roasted sheet pan sweet potatoes and eggs.
I haven't included reheating instructions, as I'm pretty sure you won't be needing them.
My husband and I polished off the whole batch in minutes and my one year old even loved them too!
Pin these Roasted Garlic Butter Mushrooms:
Roasted Garlic Butter Mushrooms
Ingredients
16

oz baby bella mushrooms, washed and patted dry

6

cloves of garlic, minced

1/3

cup of vegan butter

1/4

teaspoon salt

1/4

teaspoon dried basil

1/4

teaspoon pepper
Instructions
Trim ends off of the mushrooms with a knife, and place them cap side down in a baking dish (I used a small quart baking dish, but you can also use a pie pan)
Add vegan butter and minced garlic to a bowl and microwave for 30 seconds
Add salt, basil, and pepper, and mix it all up
Drizzle garlic butter over the tops of the mushrooms evenly
Roast at 425 degrees for 25-30 minutes, or unttil sizzling but not burnt