Roasted frozen brussels sprouts are a side dish that is both easy and delicious! Frozen brussels sprouts are roasted then topped with parmesan cheese.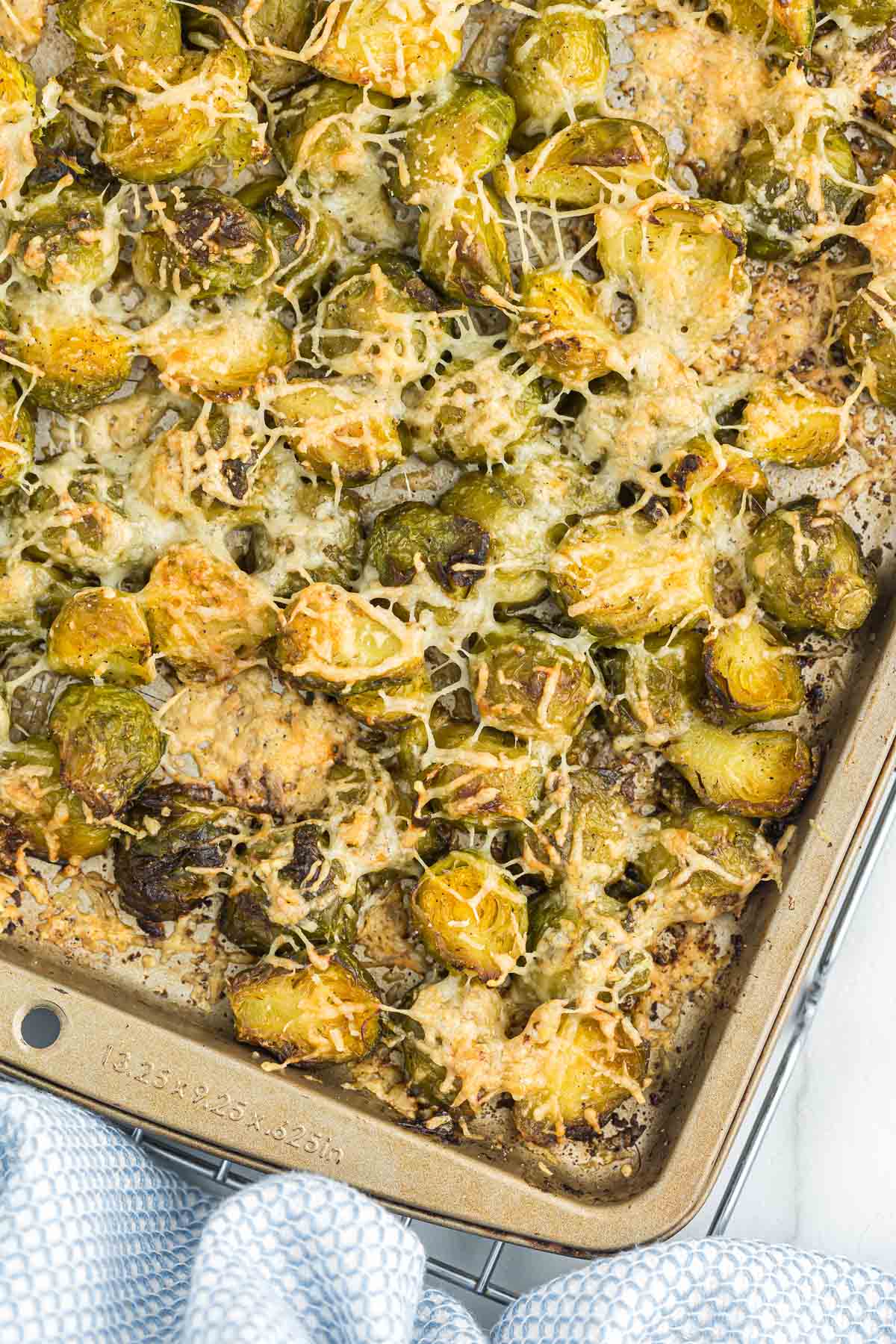 You'll Love Roasting Frozen Brussel Sprouts
Oven roasted frozen brussels sprouts are an easy and tasty dinner side dish.
If you love brussels sprouts, you will love this recipe! Roasting sprouts is the key to getting the right texture which is everything with brussels sprouts.
We love the convenience of frozen vegetables to cut down on prep time. Although brussels sprouts bake best cut in half, we let the oven do the thawing for us. Once they have baked a little bit, we can easily cut them in half and finish cooking.
While I love fresh brussels sprouts recipes (like these roasted brussels sprouts with parmesan and brussels sprout chips), it definitely takes some time to prep fresh brussels. This recipe is a big time saver!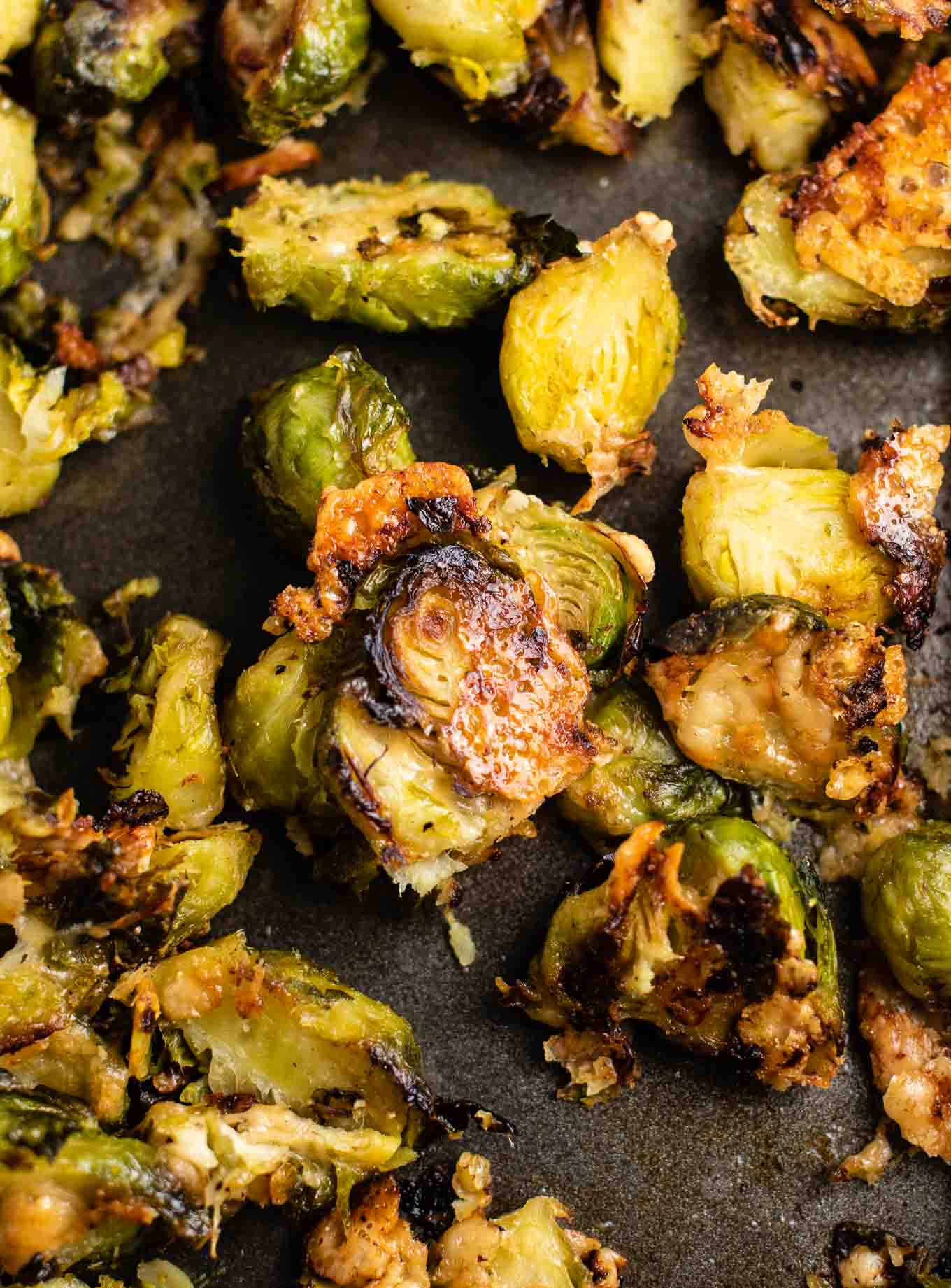 Can you Roast Frozen Brussel Sprouts?
Yes, you can roast brussel sprouts from frozen. It's important to get the right texture, which we do by roasting them at a high heat and coating in parmesan cheese.
Ingredients you'll need to Roast Frozen Brussel Sprouts
Frozen brussels sprouts
Olive oil
Salt and pepper
Garlic powder
Onion powder
Grated parmesan cheese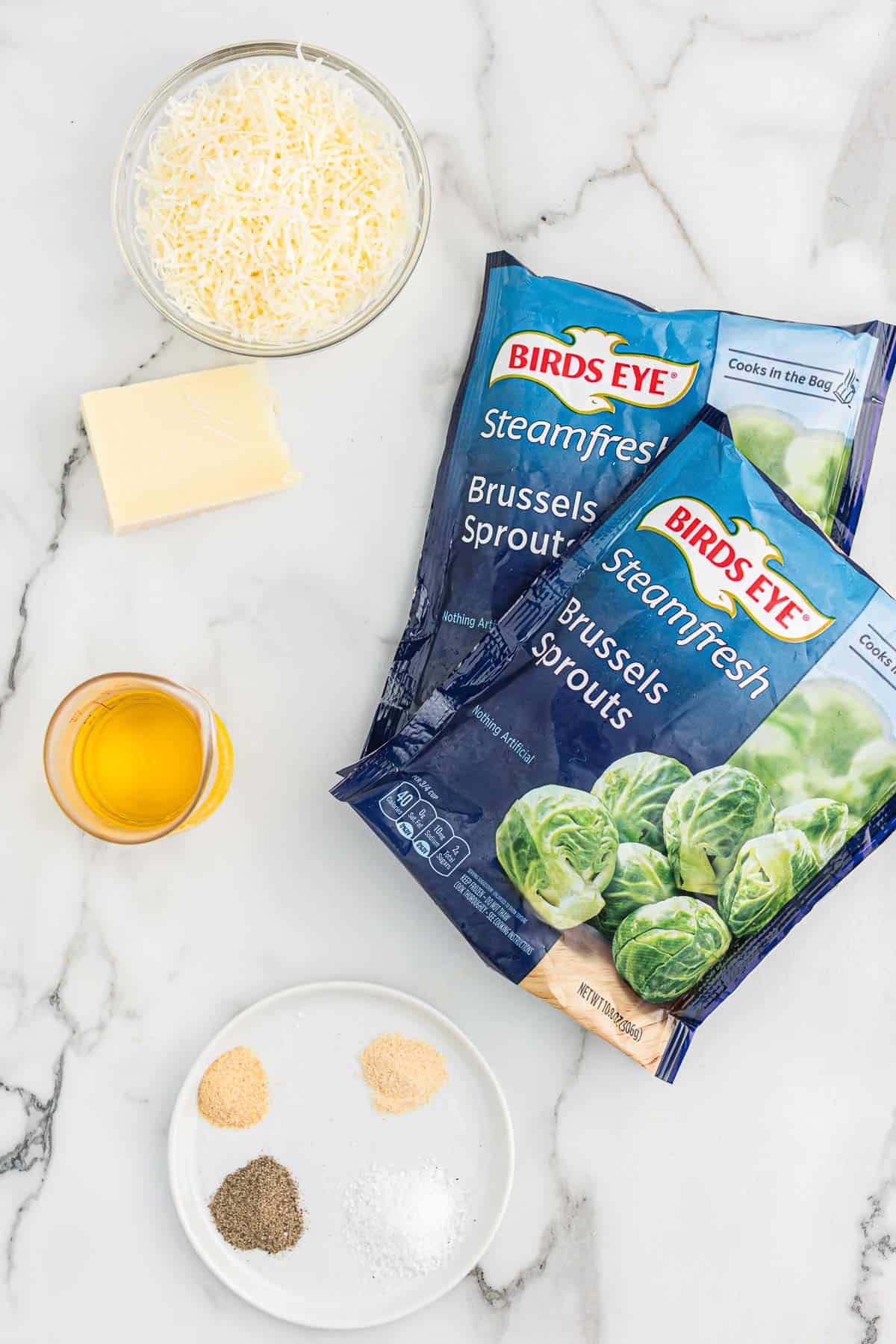 How to Roast Frozen Brussel Sprouts
Step 1: Preheat your oven to 400 degrees. Place the frozen brussels sprouts in a bowl and drizzle with olive oil, garlic powder, onion powder, salt and pepper. Stir to combine.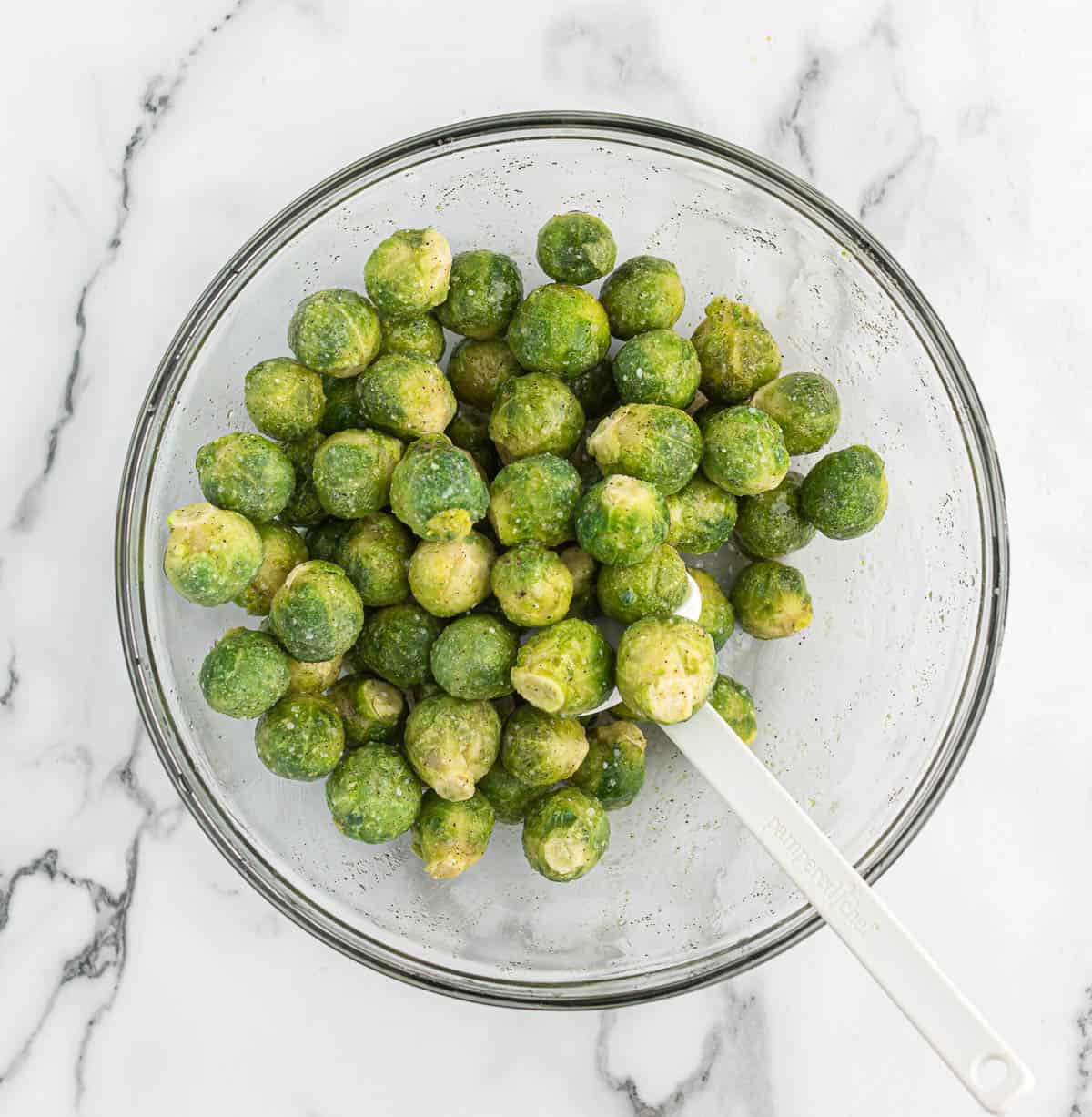 Step 2: Place the sprouts on a nonstick baking sheet and spread out into an even layer. Roast at 400 degrees for 10 minutes.
Step 3: At this point, the sprouts should be soft enough to cut through. Cut each brussel sprout in half, and return to the baking sheet. The easiest way to do this is by using kitchen scissors.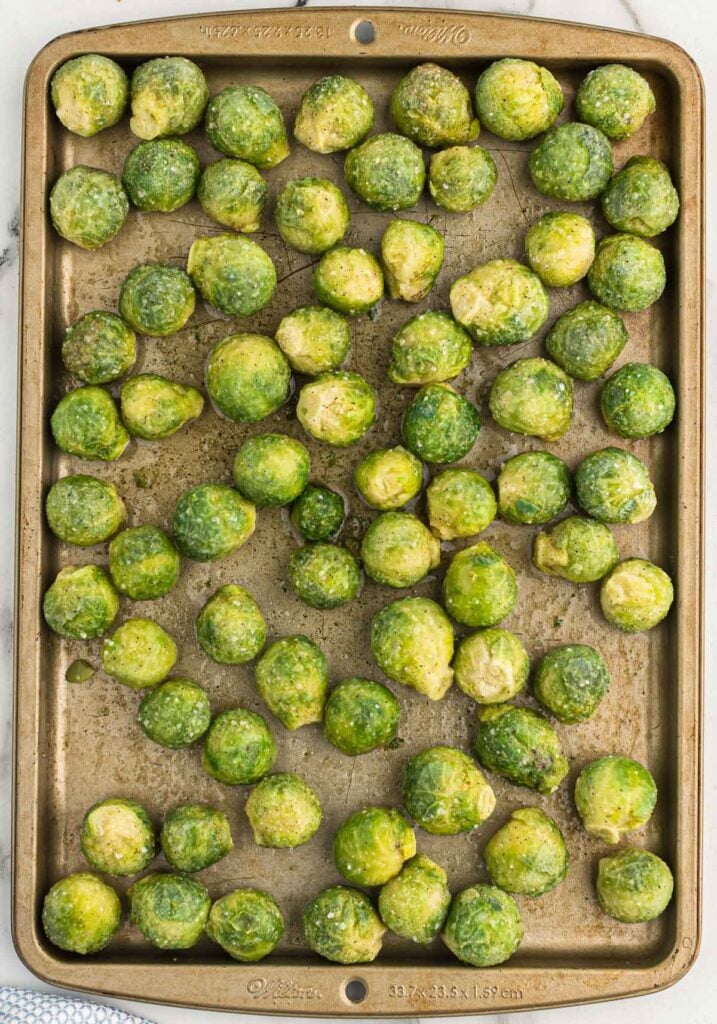 Step 4: Place the brussels sprouts back in the oven and cook an additional 10 minutes. Stir the brussels, then add the grated parmesan cheese on top.
Step 5: Continue to roast for 10-15 minutes, until the cheese is melted and browning with crispy edges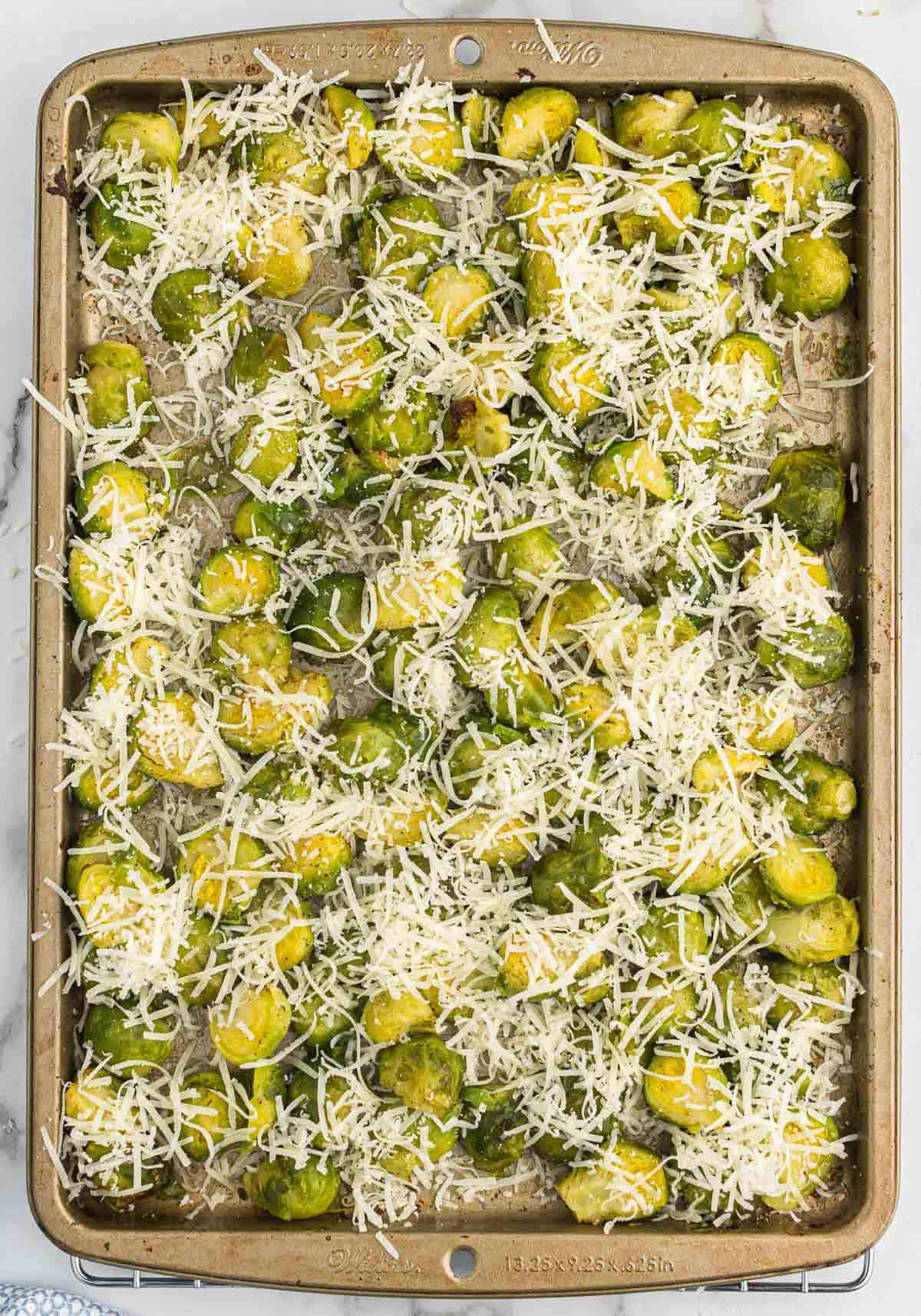 Storing and Reheating Leftover Frozen Roasted Brussel Sprouts
How to store: Place any leftover roasted brussels sprouts in an airtight container in the refrigerator for up to 3-4 days.
How to reheat: Place leftover brussels sprouts on a baking sheet and bake at 375 degrees until hot.
Can you freeze brussel sprouts after roasting?
I would not recommend freezing these brussels sprouts since they were previously frozen. This would result in a very mushy texture once thawed again.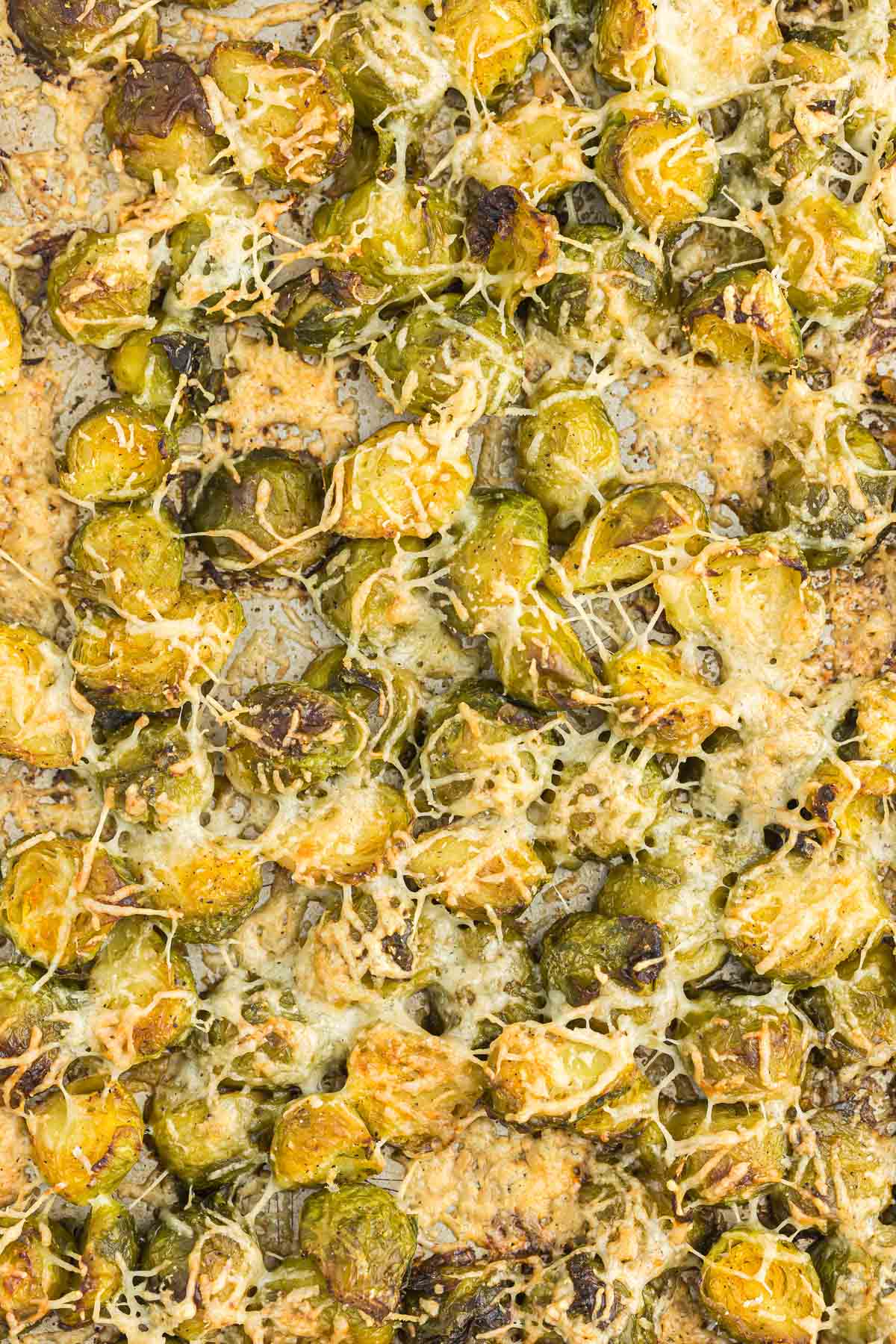 More recipes using frozen vegetables
Are you making this recipe? I want to see! Don't forget to tag me on instagram @buildyourbite and hashtag #buildyourbite with your recipe creations!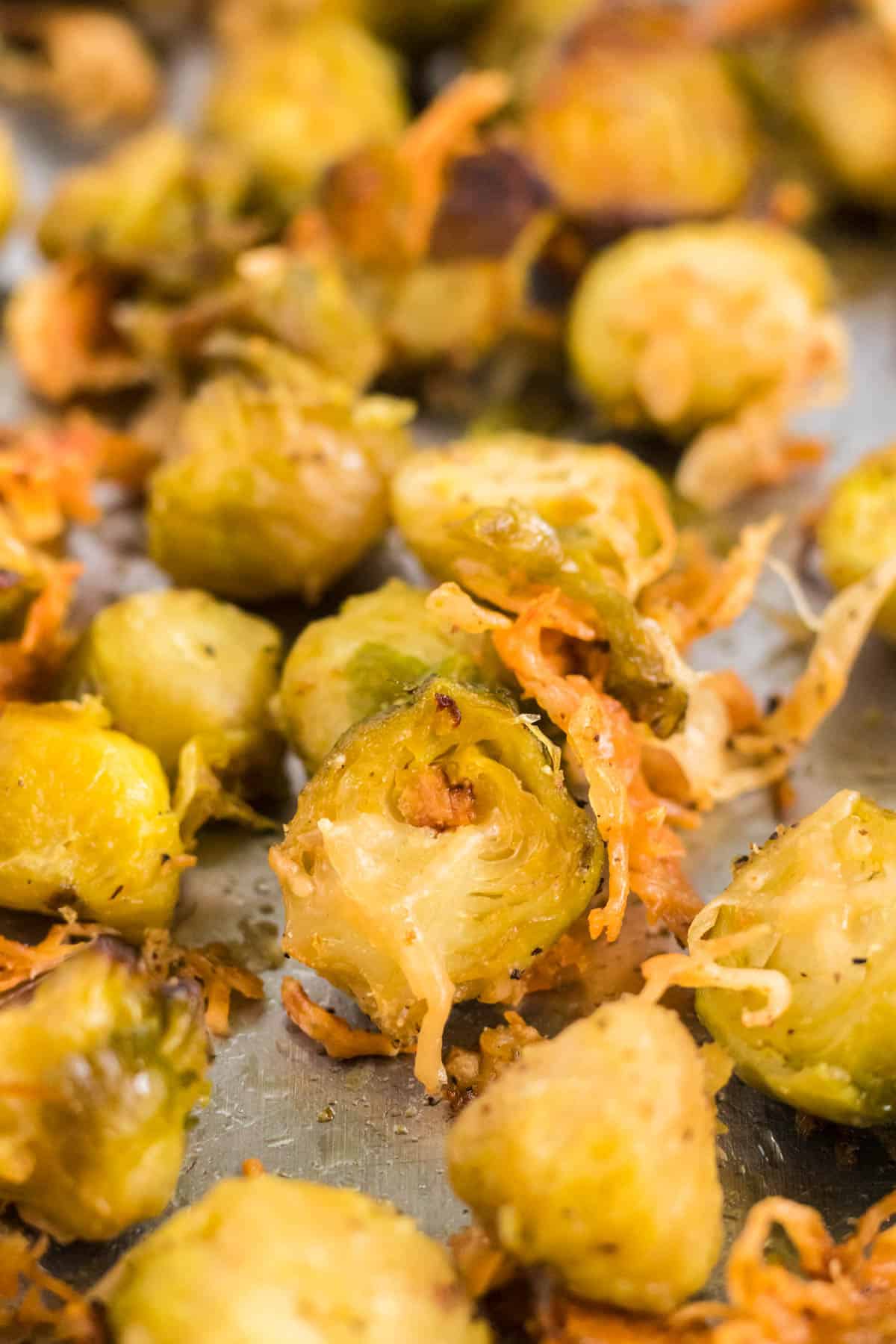 How to Roast Frozen Brussel Sprouts FAQs
Why are my Roasted Brussel Sprouts not crispy?
– Low heat: make sure to use a high oven temperature when cooking brussel sprouts to help get the crispy texture that you desire.
– Not cut in half: Cutting brussels sprouts in half (even the frozen variety) is very important to achieving a crispy texture instead of a mushy middle.
Why are my Roasted Brussel Sprouts Tough?
If your brussels sprouts are tough, you likely used too little oil. The brussels sprouts need to be well coated in olive oil in order to cook properly.
Be sure to pin this recipe for later and follow Build Your Bite on Pinterest for all the latest delicious recipes!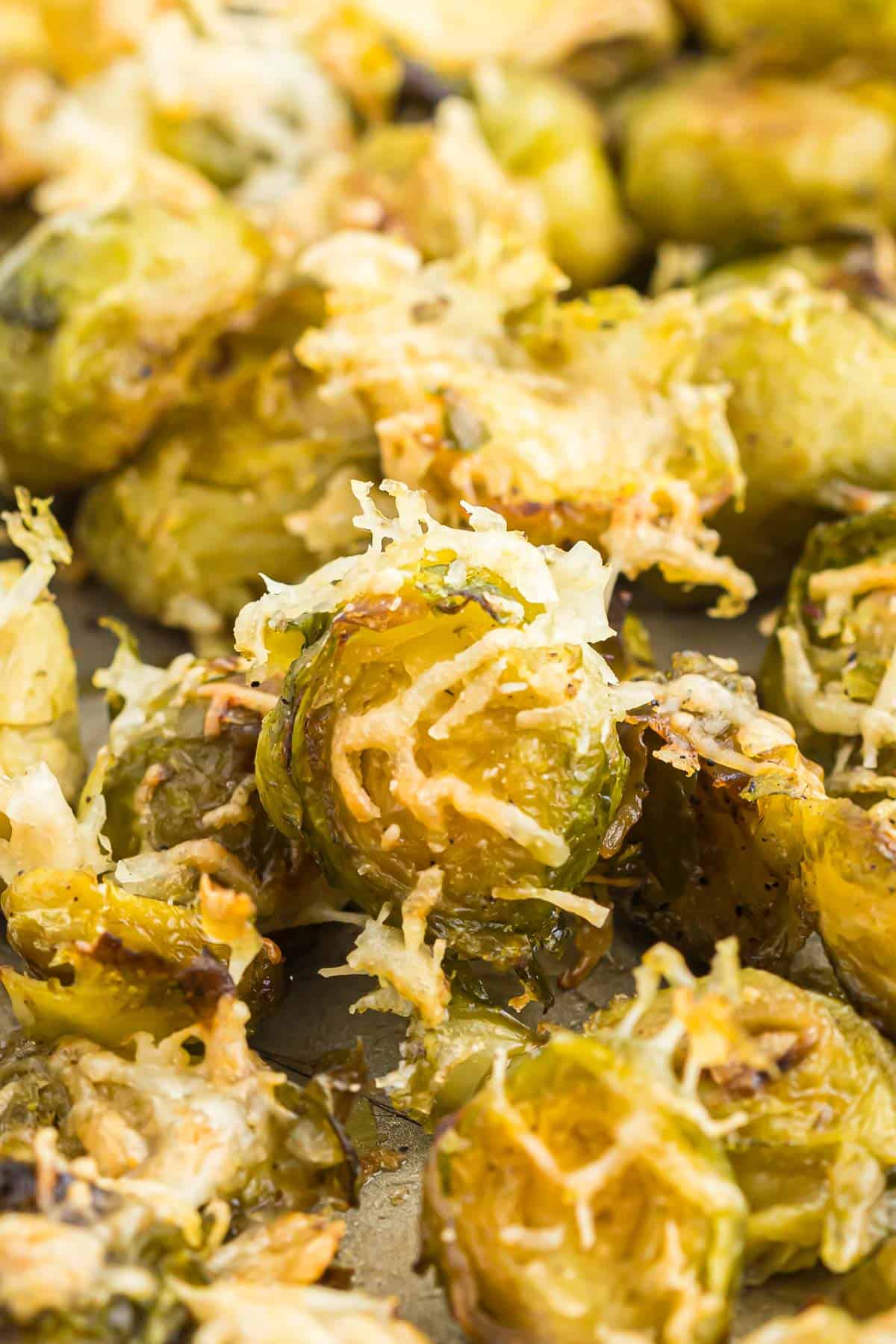 Did you make this recipe? Be sure to leave a star rating below!
Frozen Roasted Brussels Sprouts Recipe
Roasted Frozen Brussel Sprouts
This simple side dish with crispy parmesan cheese edges will be a favorite addition to dinnertime. The best way to cook frozen brussel sprouts!
Ingredients
24 oz frozen brussels sprouts
⅓ cup olive oil
½ teaspoon pepper
1 teaspoon salt
½ teaspoon garlic powder
½ teaspoon onion powder
1 cup grated parmesan cheese
Instructions
Preheat oven to 400 degrees
Toss the brussels sprouts in a bowl with the olive oil, pepper, salt, garlic powder, and onion powder until coated
Place the frozen brussel sprouts on a nonstick baking sheet, and spread out into an even layer
Roast at 400 degrees for 10 minutes
At this point the brussels should be soft enough to cut through. Cut each brussel sprout in half and place back on the baking sheet (I use kitchen scissors for this)
Place the brussels sprouts back in the oven and cook an additional 10 minutes
Stir the brussels, then add the grated parmesan cheese on top
Continue to roast for 10-15 minutes, until the cheese is melted and browning with crispy edges
Serve immediately
Nutrition Information:
Yield:

6
Serving Size:

1
Amount Per Serving:
Calories:

218
Total Fat:

17g
Saturated Fat:

4g
Trans Fat:

0g
Unsaturated Fat:

12g
Cholesterol:

14mg
Sodium:

678mg
Carbohydrates:

11g
Fiber:

3g
Sugar:

2g
Protein:

8g