Learn how to cook frozen green beans that actually taste delicious! Simple parmesan roasted green beans recipe.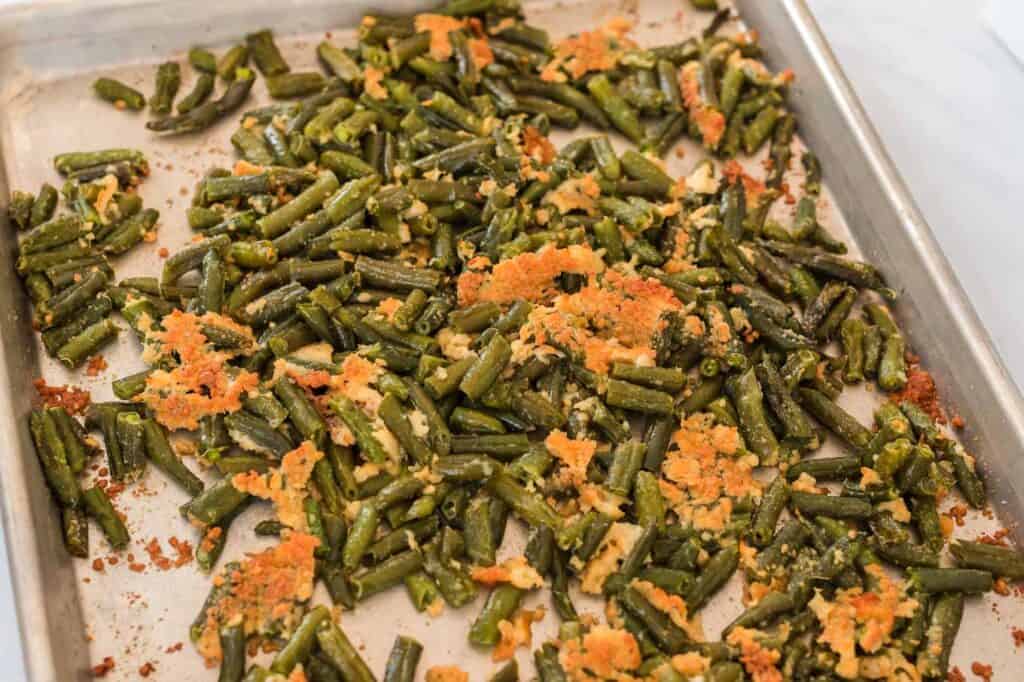 Frozen roasted vegetables are one of my very favorite things.
Have a bag of frozen cut green beans laying around and wondering what to do with them?
Well, green beans aren't just for green bean casserole.
You can make parmesan roasted green beans in the oven using frozen green beans.
This simple side dish is so flavorful and makes a wonderful side dish!
What is the best way to cook frozen vegetables?
Roasting seems to be the best way to cook most any type of frozen vegetable.
Roast at high heat (over 400 degrees), add in olive oil and simple spices like salt, pepper, garlic powder, and onion powder, and it is a recipe for success.
I already have recipes for roasted frozen cauliflower, frozen corn, roasted frozen carrots , roasted frozen brussel sprouts, and frozen roasted broccoli that we make all the time.
Roasted green beans were naturally my next experiment!
Spoiler alert: it was so delicious just like the other frozen vegetable recipes.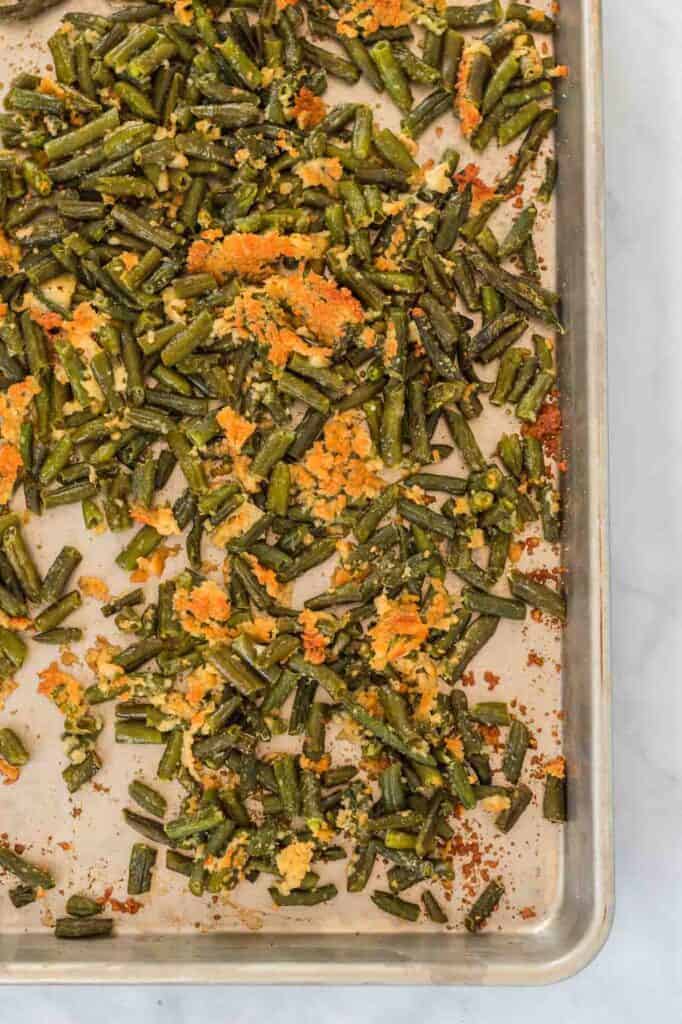 How to cook frozen green beans in the oven
Step 1: Preheat the oven to 450 degrees. High heat is important for getting the right texture when roasting anything that is frozen.
Do you thaw frozen green beans before cooking?
Which brings us to one very important thing to note – I do not recommend thawing your frozen green beans before cooking.
I have found the key to the best texture when working with frozen vegetables is to put them straight from the freezer onto the pan, and roast immediately.
When you allow the vegetables to thaw, that is when the mushy texture happens.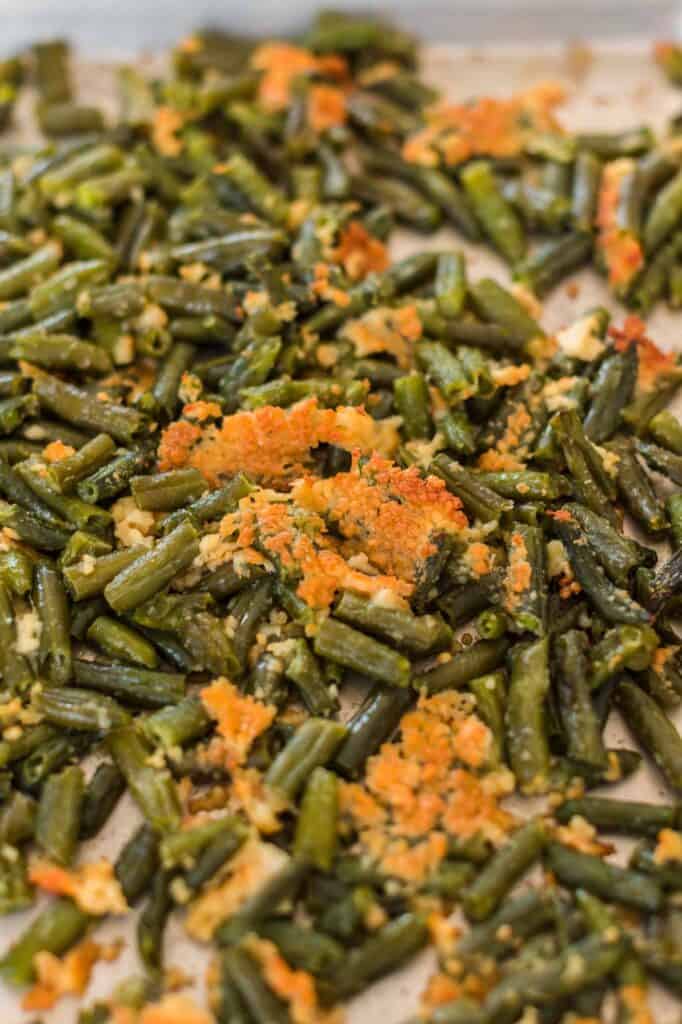 Step 2: Once the oven is preheated, take the frozen cut green beans out of the freezer, and toss with olive oil.
Add the salt, garlic powder, onion powder, then toss again to combine.
What spices go well with green beans?
Simple spices work well with just about any vegetables. You cannot go wrong with the basics – salt, pepper, onion powder, garlic powder.
If you want a spicy kick, you could add a pinch of paprika.
Step 3: Place the green beans on a baking sheet and roast at 450 degrees for 15 minutes.
Step 4: Stir the green beans. Sprinkle the parmesan over the top of the green beans and leave it, do not stir again yet.
What kind of parmesan cheese to use
I used the small powdery fresh parmesan that is located in the cheese section.
It looks similar to the kind of parmesan you use for spaghetti.
Either will work, but I do not recommend the long shreds of parmesan for this recipe.
The small pieces work so well to distribute the crispy texture of parmesan edges on the green beans.
Step 5: after 15 minutes, you can stir again.
From here, roast the green beans until they are the desired texture, anywhere from 5- 15 more minutes depending on your oven and type of sheet pan. Some cook faster than others.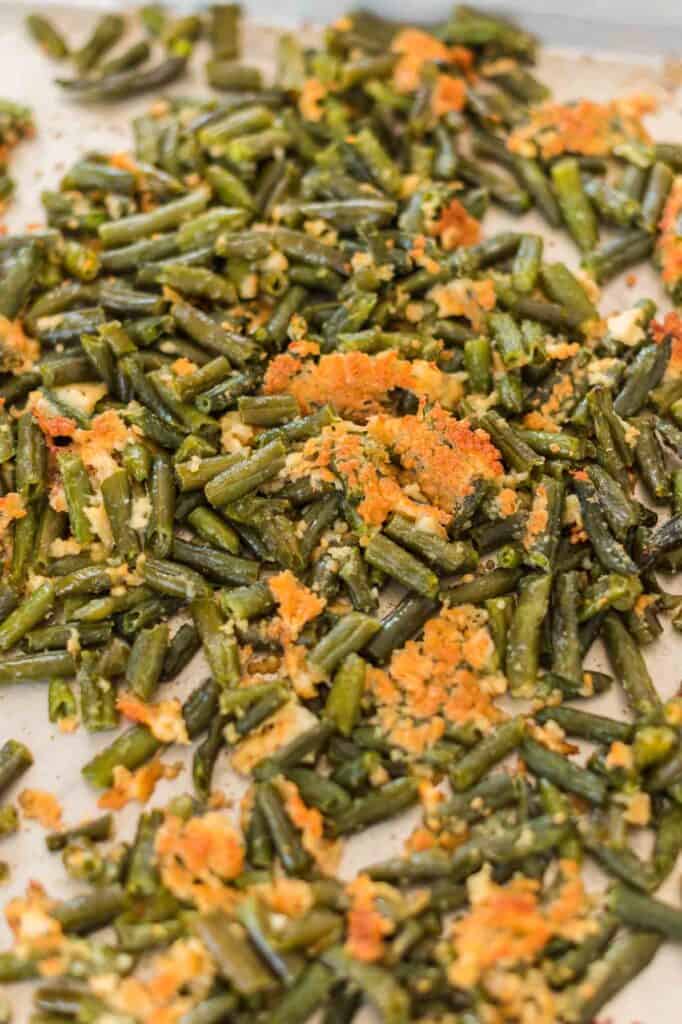 The crispy parmesan bits on the green beans made the flavor incredible!
Are you making this recipe? I want to see! Don't forget to tag me on instagram @buildyourbite and hashtag #buildyourbite with your recipe creations!
Be sure to pin this recipe for later and follow Build Your Bite on Pinterest for all the latest delicious recipes!
How to reheat cooked frozen green beans
Surprisingly, these were even fantastic reheated! I was a bit surprised but the flavor and texture was still spot on.
Simply reheat any leftovers in the microwave until hot.
Did you make this recipe? Be sure to leave a star rating below!
Roasted Frozen Green Beans
How to cook frozen green beans that actually taste delicious! Easy parmesan green beans recipe in the oven.
Ingredients
20 oz frozen cut green beans (do not thaw)
2 tablespoons olive oil
1 teaspoon salt
1 teaspoon garlic powder
½ teaspoon onion powder
fresh ground black pepper (optional)
1 cup parmesan cheese
Instructions
Preheat oven to 450 degrees. Do not remove the green beans from the freezer until the oven is ready to cook.
Toss the frozen cut green beans with olive oil. Add the garlic powder, salt, onion powder, and optional black pepper and toss again to combine
Spread the green beans out in an even layer on a baking sheet
Roast at 450 degrees for 15 minutes, then stir them around.
Sprinkle the parmesan cheese over the tops of the green beans but do not stir it in.
Roast for an additional 15 minutes, then stir the green beans.
From here, roast until the desired crispy edges are achieved, around 5 - 15 minutes
Notes
To reheat these beans after cooking, simple toss them in the microwave until hot. The flavor is still amazing even reheated!
Nutrition Information:
Yield:

6
Serving Size:

1
Amount Per Serving:
Calories:

146
Total Fat:

9g
Saturated Fat:

3g
Trans Fat:

0g
Unsaturated Fat:

5g
Cholesterol:

14mg
Sodium:

655mg
Carbohydrates:

11g
Fiber:

3g
Sugar:

3g
Protein:

7g