This oven roasted crinkle cut frozen carrots recipe is an easy side dish for dinner! No need to thaw, and only 5 minutes of prep work. You can't go wrong with this delicious vegetable recipe!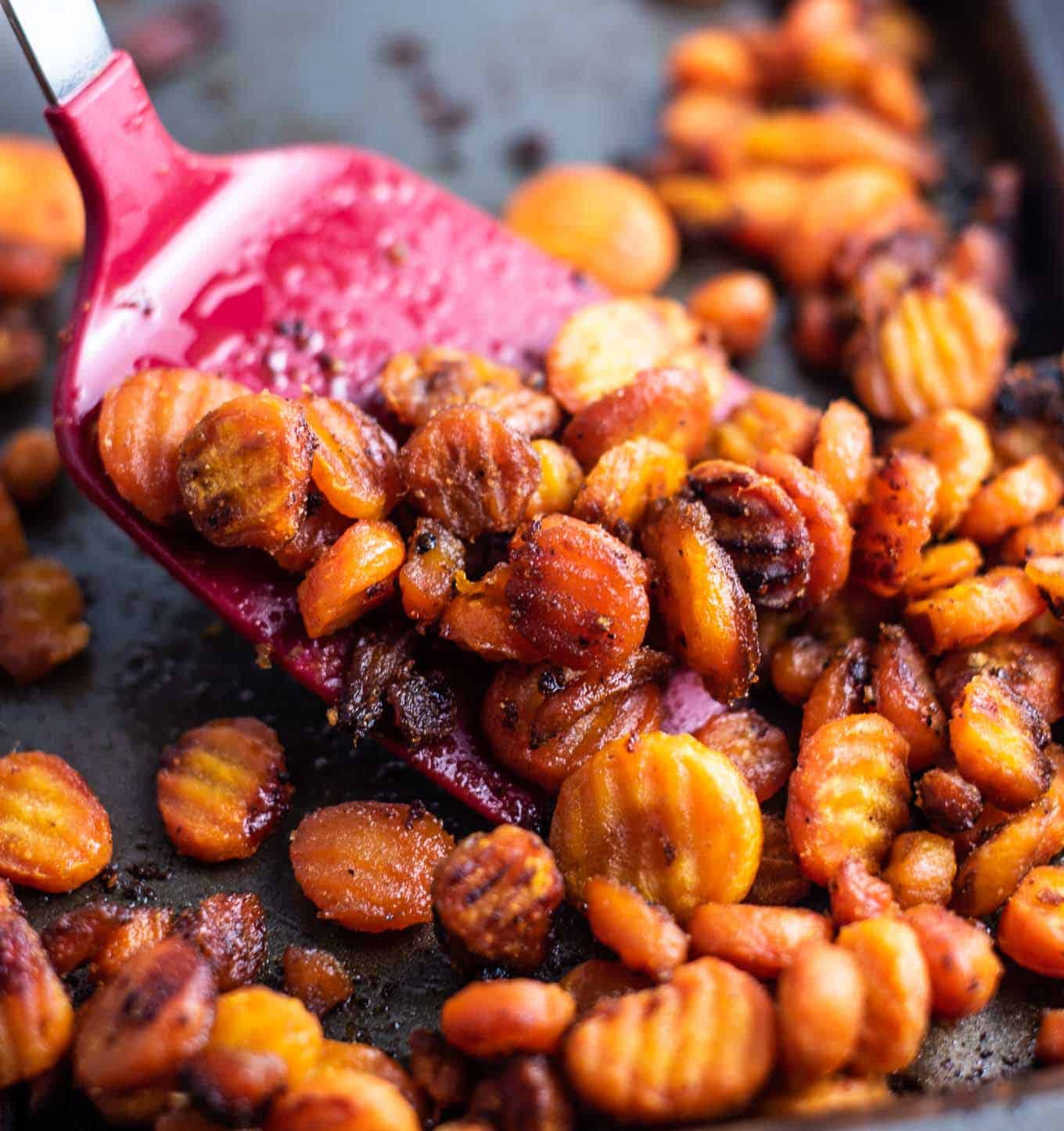 This crinkle cut frozen carrots recipe is one of my favorite dinner time hacks.
Including a veggie with dinner when it is not in the main dish has always been a struggle for me.
Dinner is always a blur of hurrying to not miss that window where my toddler will actually eat before melting down, so I don't have time most nights for an elaborately thought out meal.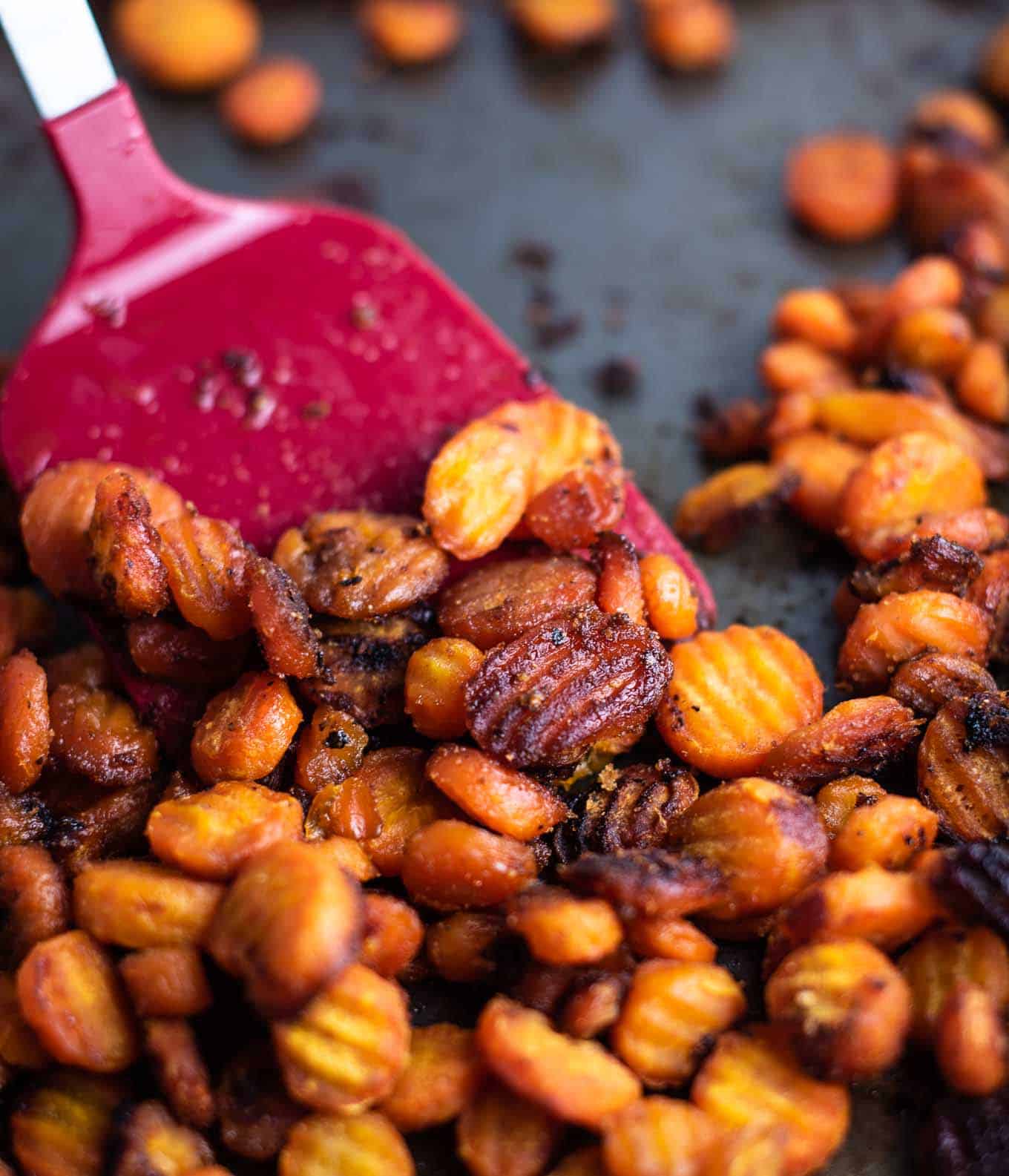 The first time that I made these crinkle cut carrots my husband and I polished off the entire batch with dinner.
Since then they have become a regular favorite and we make them all the time!
In fact, these carrots are so good that we are always complaining that there aren't more, so we have started to make a double batch each time.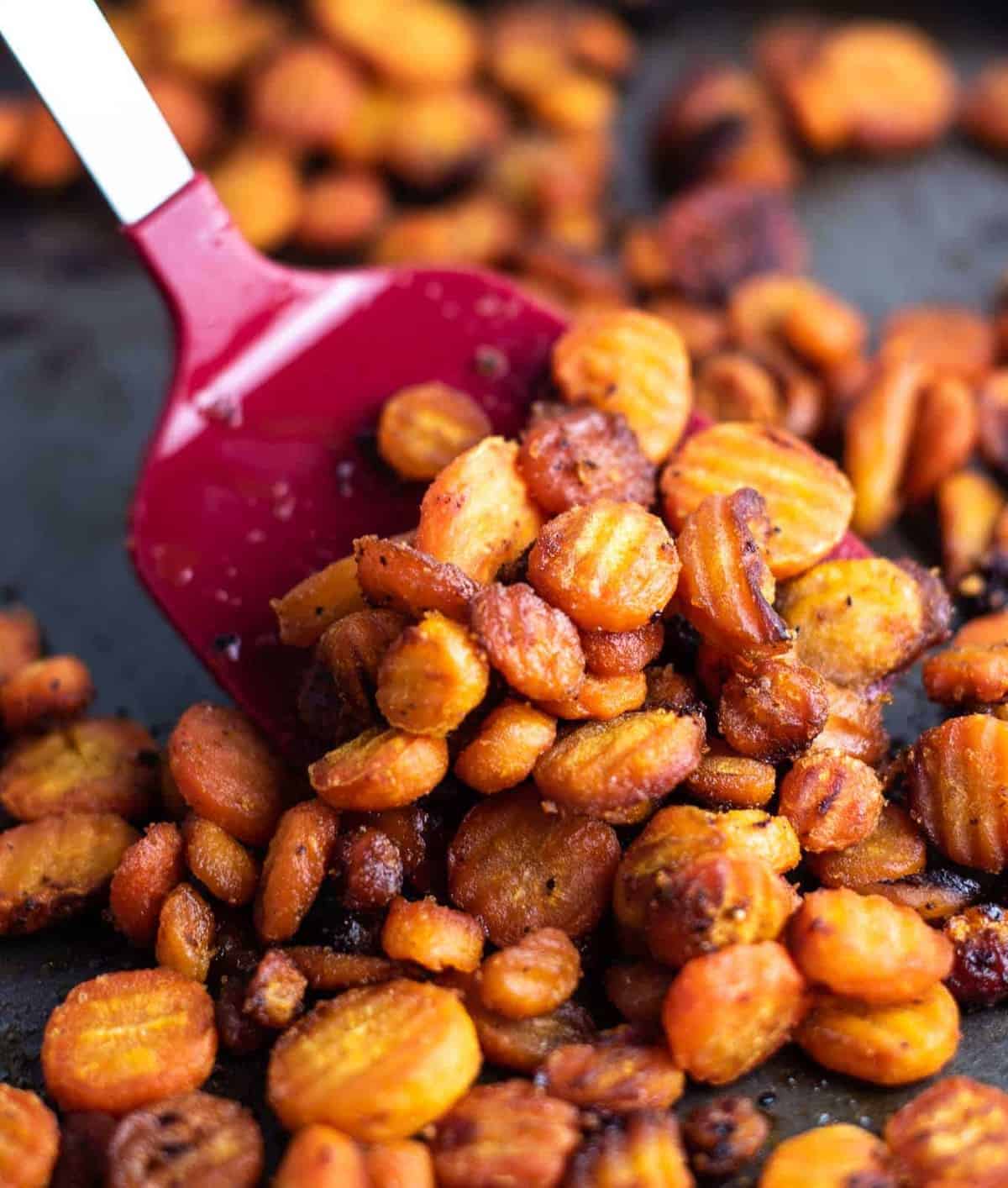 Honestly, I am craving them just thinking about it.
They are sweet and savory, and best of all, incredibly easy to make!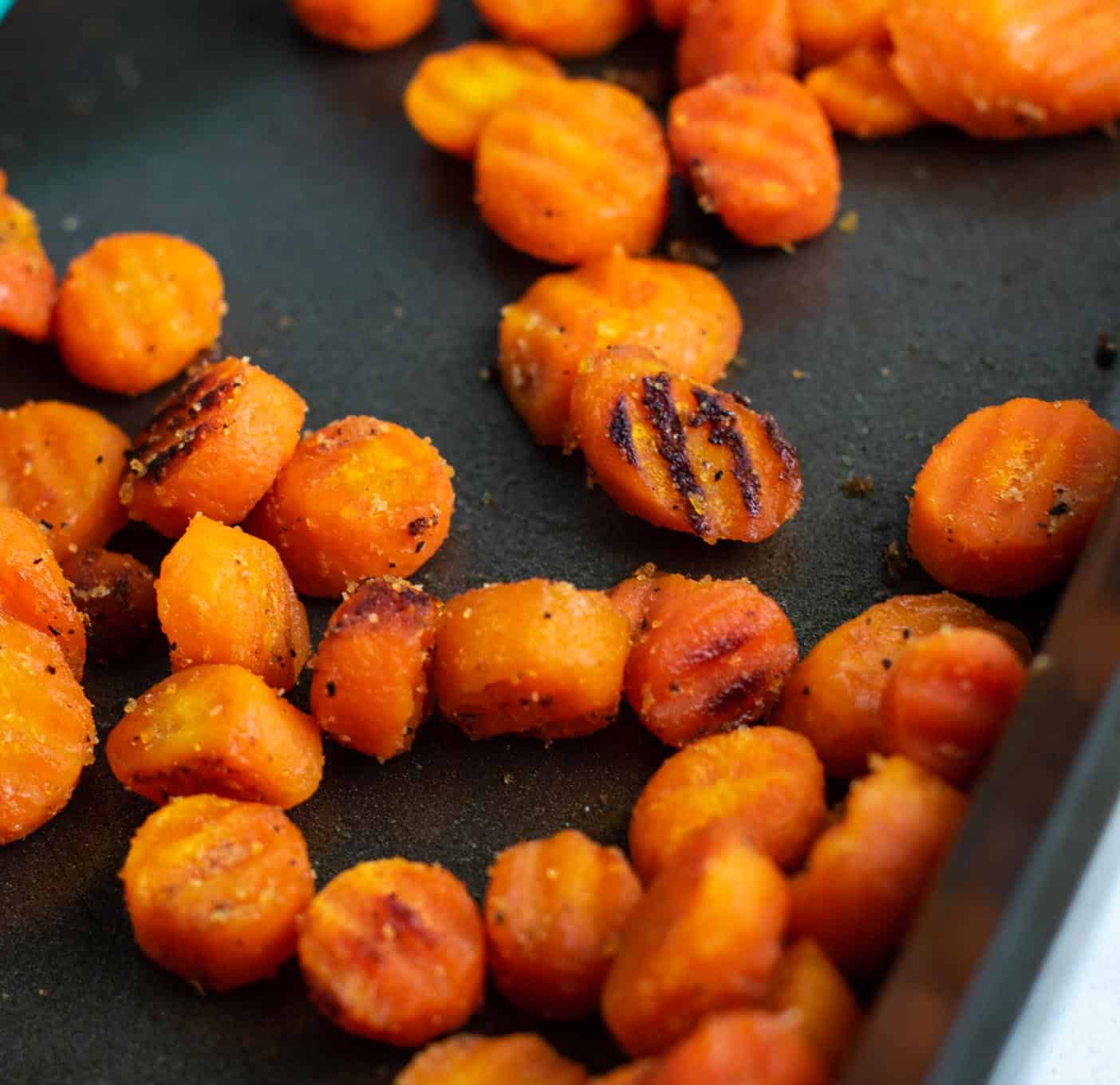 How to make roasted frozen carrots
You will need a 12 oz bag of frozen crinkle cut carrots.
I bought mine at target for less than $1 – bonus points, this recipe is also super affordable!
Mix together your honey, olive oil, and spices until combined.
Place the frozen carrots on a baking sheet and toss with the dressing.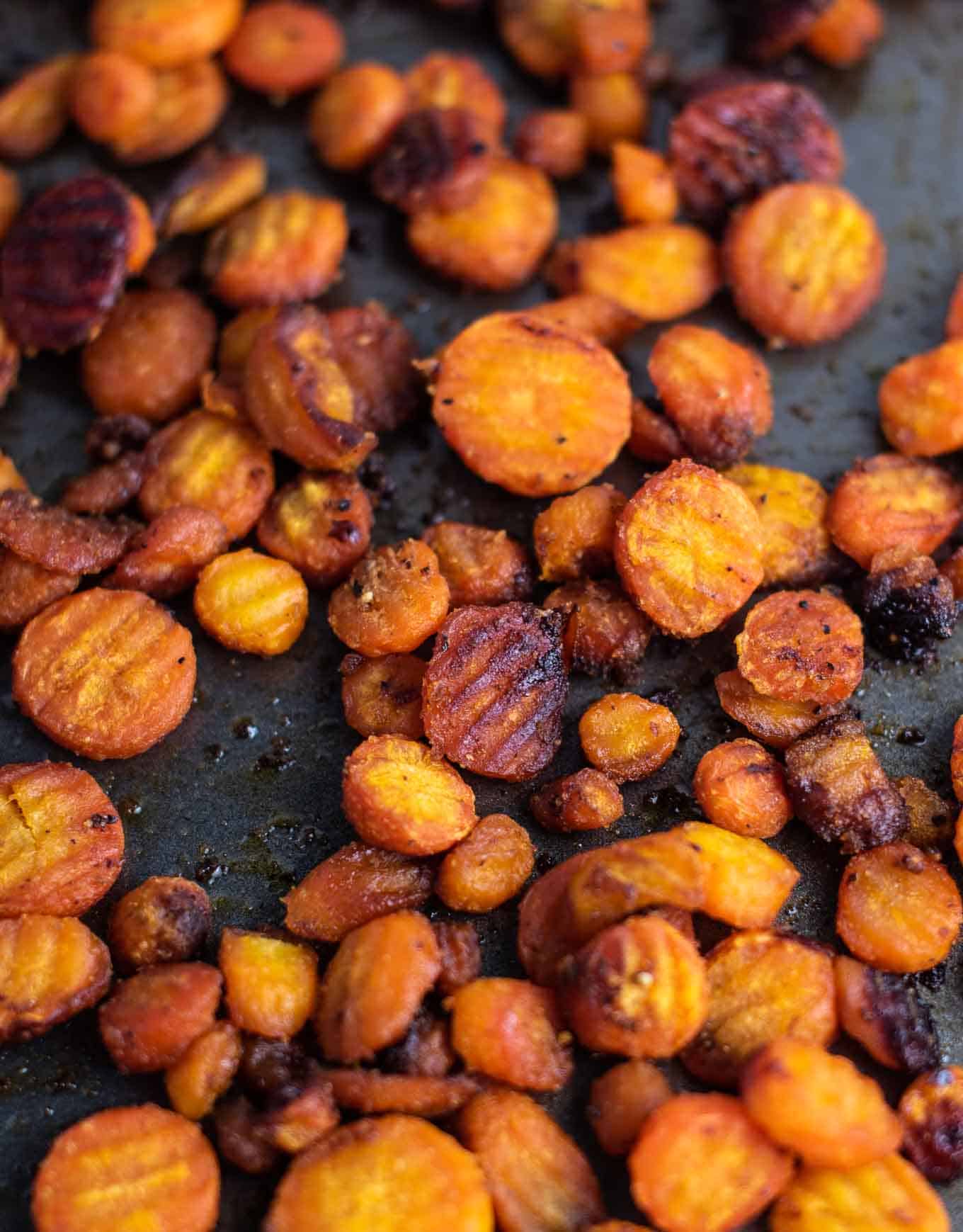 Spread out into an even layer on the baking sheet.
One note here – make sure you do not allow the carrots to thaw before you prep them.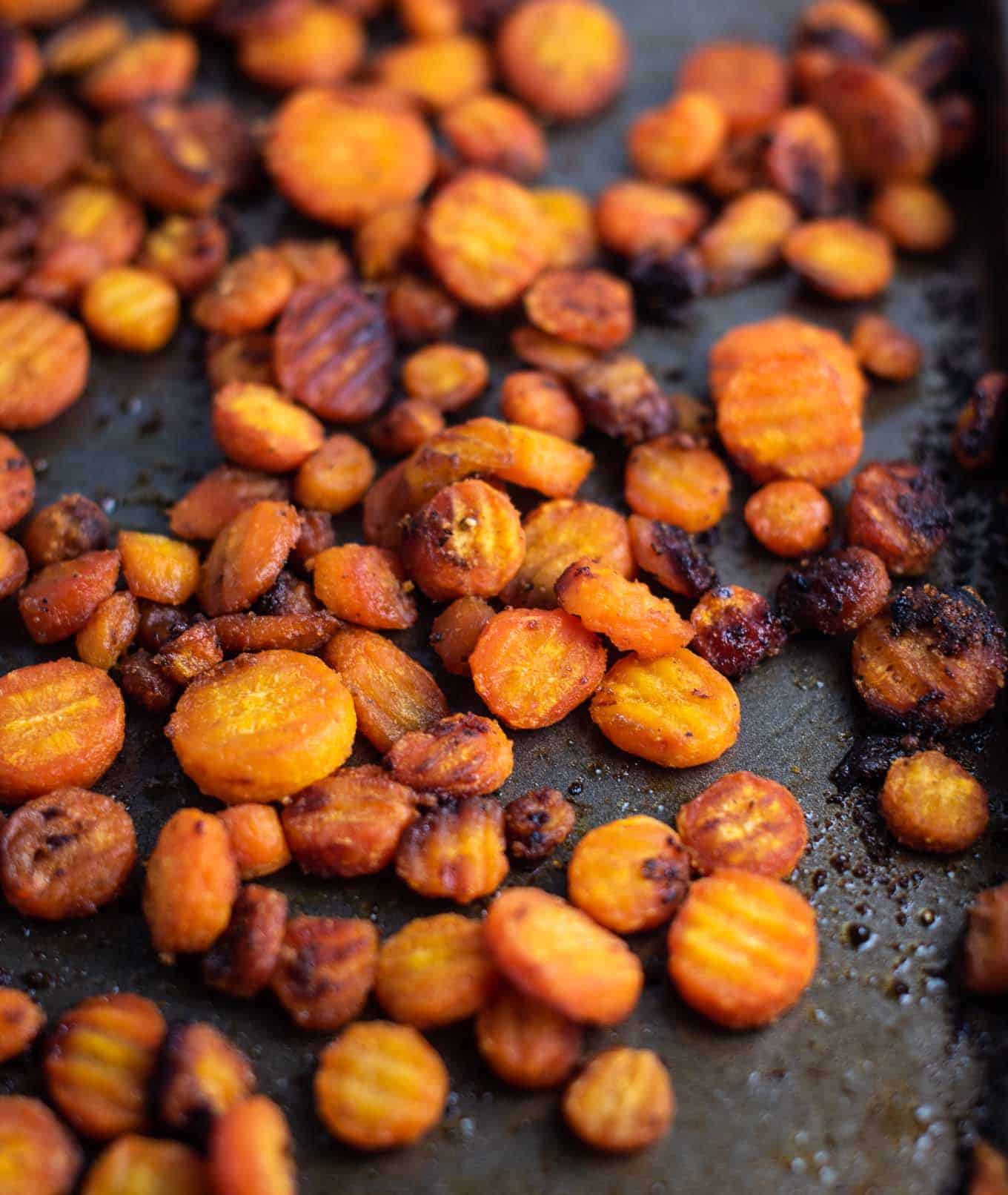 This recipe is intended to cook the carrots from frozen, so thawing them first will result in a mushy texture.
Roast the frozen carrots at 425 degrees for 25 – 30 minutes, checking to stir/flip every 10ish minutes.
You can cook them even longer for more caramelized crispy edges!
This is a very forgiving recipe, and these will taste more amazing as they continue to cook a bit longer.
I found this recipe a few months ago and have to say I LOVE it. I always wind up eating the whole thing and it's all I have for supper sometimes, at least I'm getting my veggies in! – Mary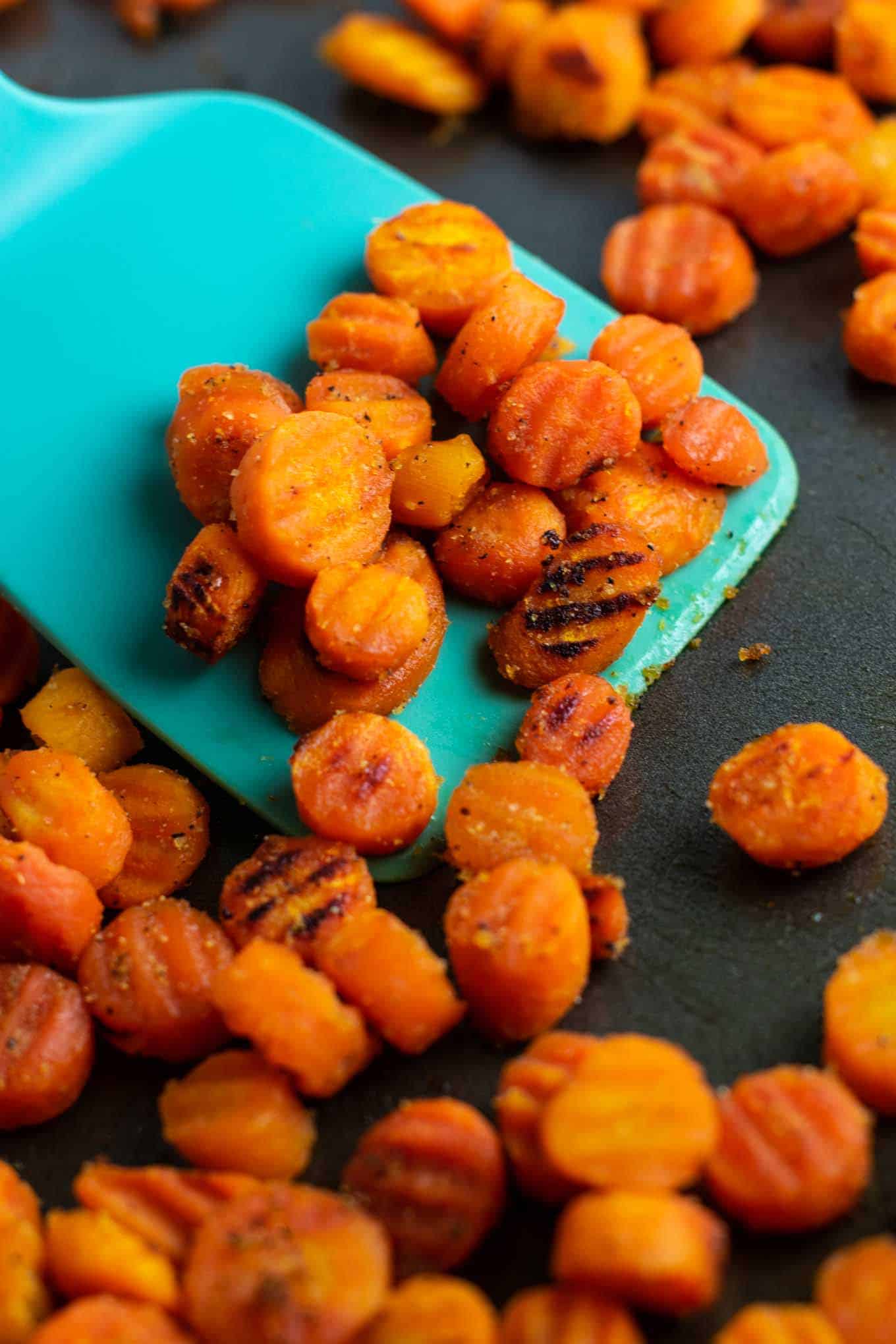 These are NOT crispy, but the texture we are going for here is juicy caramelized carrots that are sweet and savory, and have just enough bite to not be mushy.
I am not usually a sweet veggie lover, but I am obsessed with the subtle sweetness from the carrots combined with the honey!
Honestly, the fact that this was the favorite part of our dinner speaks for itself.
Our new favorite "lazy" dinner is now a batch of these roasted frozen carrots, Annie's organic mac and cheese (because, toddler), and meatless chicken strips or nuggets.
Easy, convenient, and healthy-ish.
Everyone needs a fall back simple meal!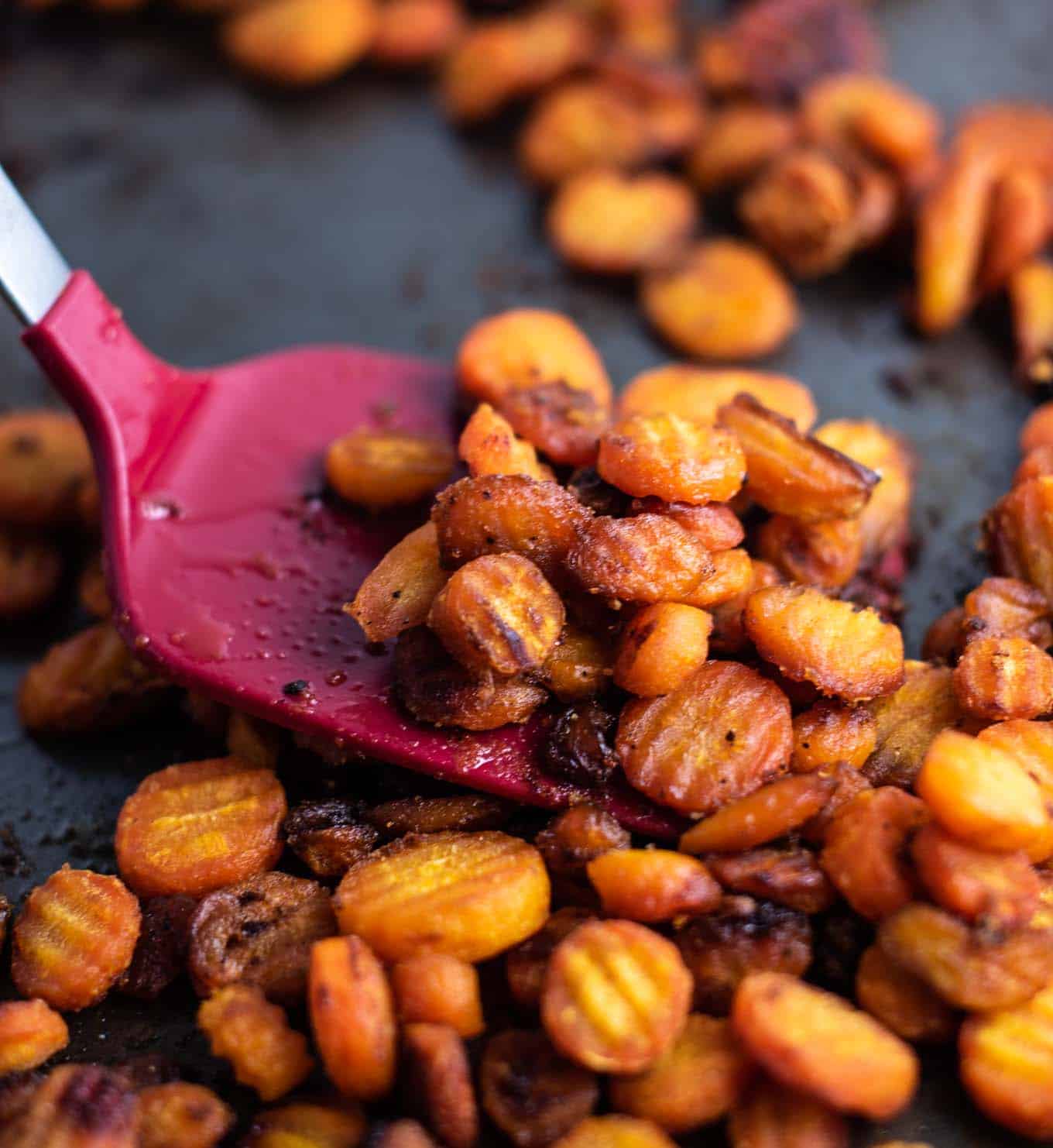 More frozen vegetable recipes
Oven roasted frozen broccoli is another one of my favorite super easy vegetable side dishes.
Very similar to these carrots, it takes only minutes to prep!
Roasted frozen vegetables are perfect for an easy mixed veggie side dish.
Everyone loves these roasted frozen brussels sprouts coated in crispy parmesan cheese edges!
And you must try this yummy roasted frozen cauliflower recipe.
Be sure to pin these crinkle cut carrots for later!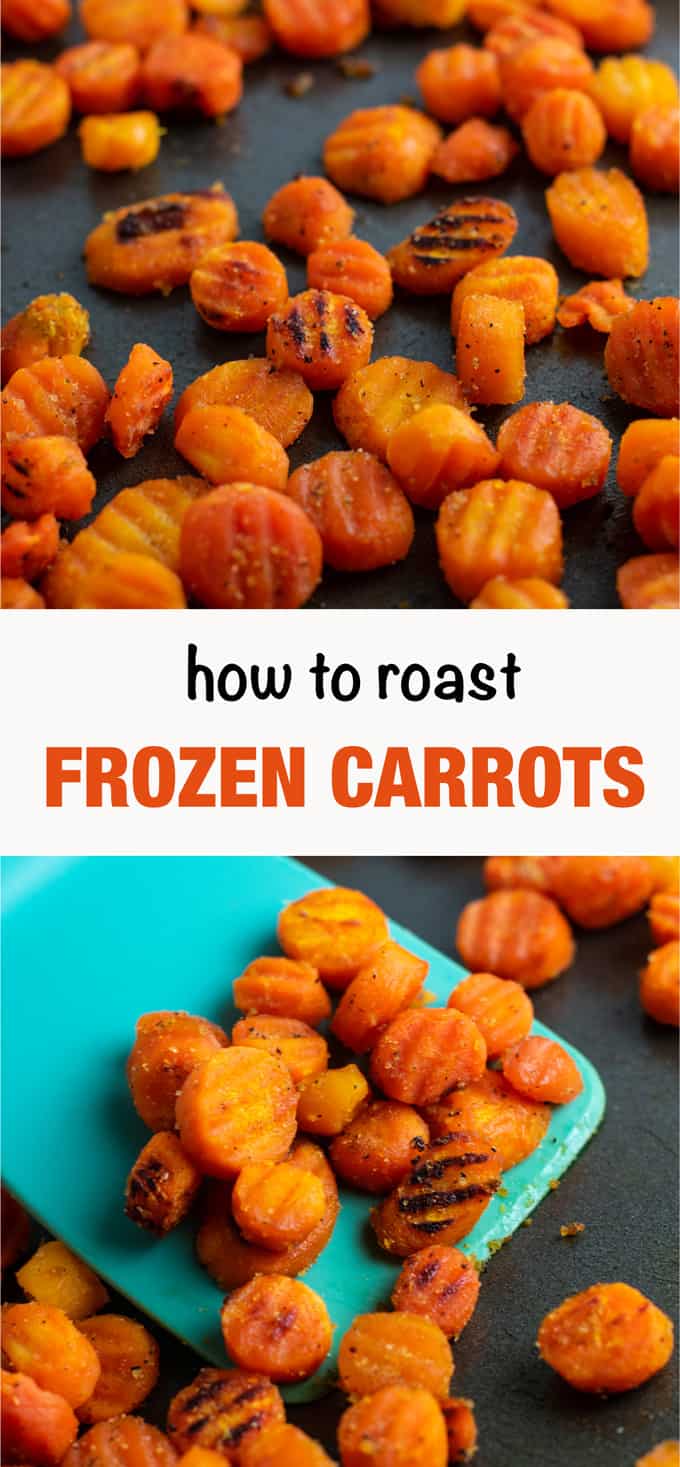 Did you make this recipe? Be sure to leave a star rating below!
Frozen Carrots Recipe
Yield: 2 - 3 servings
Frozen Carrots Recipe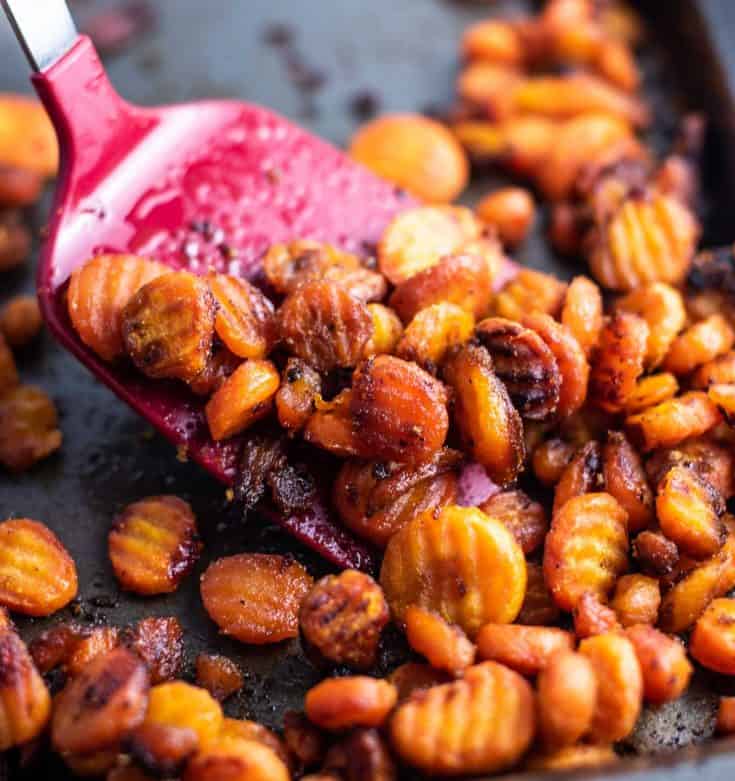 Easy roasted frozen carrots recipe - the perfect simple side dish! You will be wishing you had made more!
Ingredients
12 oz bag of frozen crinkle cut carrots
3 tablespoons olive oil
2 tablespoons honey
1/2 teaspoon salt
1/2 teaspoon garlic powder
1/2 teaspoon onion powder
1/2 teaspoon pepper
Instructions
In a small bowl, stir together olive oil, honey, salt, garlic powder, onion powder, and pepper until well combined
Place carrots on a large baking sheet and toss with the mixture until well combined
Spread carrots out into an even layer
Bake at 425 degrees for 25 - 30 minutes, until caramelized and hot. Stir/flip every 10 minutes
Notes
These carrots are not intended to be crispy, the texture is more of a caramelized carrot with a little bite (no mushy carrots!)
This will serve 2 - 3 people. In our house two adults will eat the entire batch we love them THAT much.
Nutrition Information:
Yield:
3
Serving Size:
1
Amount Per Serving:
Calories:

206
Total Fat:

14g
Saturated Fat:

2g
Trans Fat:

0g
Unsaturated Fat:

11g
Cholesterol:

0mg
Sodium:

420mg
Carbohydrates:

22g
Fiber:

4g
Sugar:

16g
Protein:

1g