The best creamy spinach artichoke dip with freshly grated parmesan and havarti cheese. Everyone will love this classic appetizer!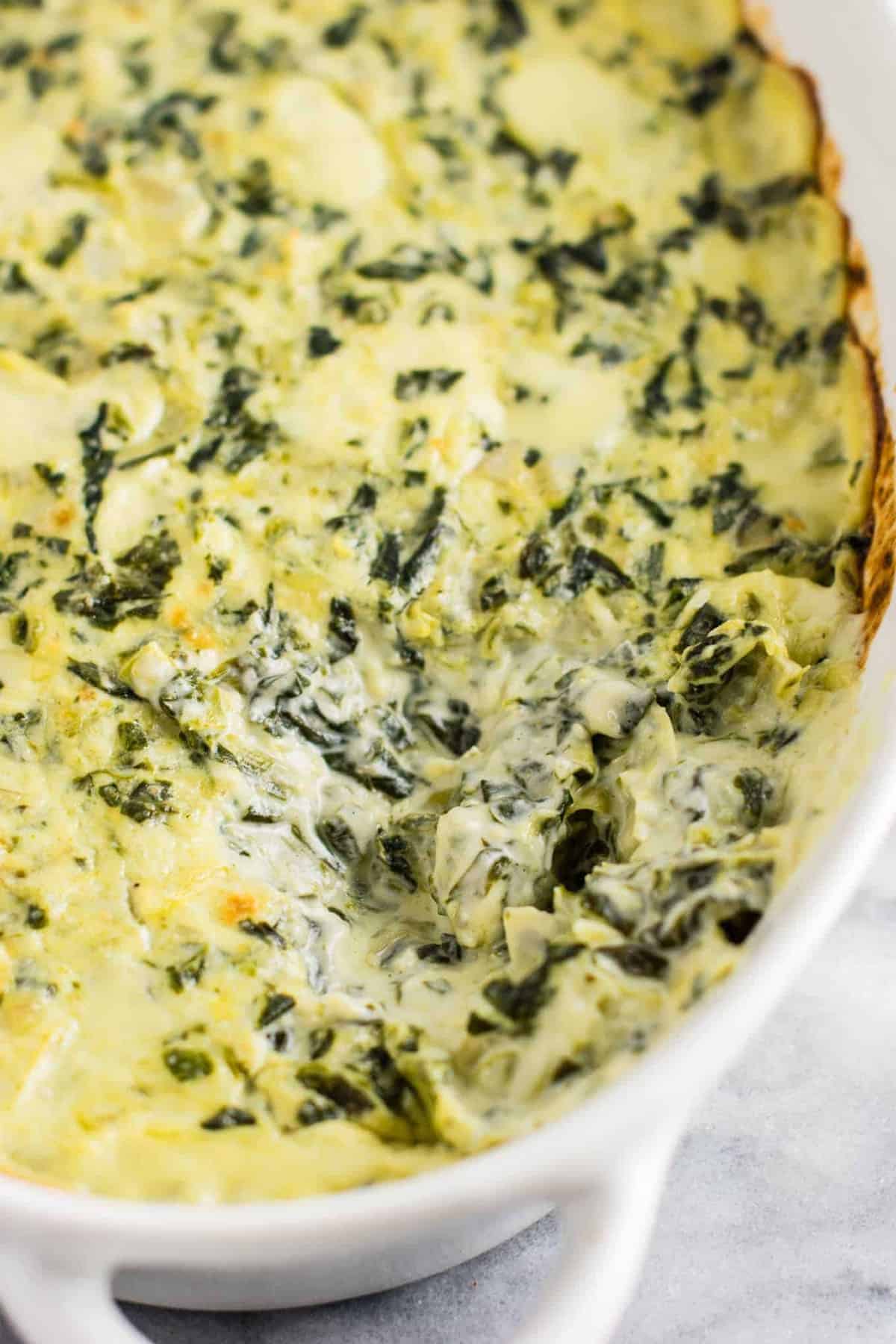 I like to have classic dishes that I know are always easy to make and always delicious to bring to any type of party or gathering of friends or family.
This spinach and artichoke dip is my classic go to recipe for an appetizer. I have taken it to Christmas parties and baby showers, as well as served it for the Superbowl.
Every time it comes out perfect, and every time there are rarely any leftovers to be eaten!
How to Make Creamy Spinach and Artichoke Dip
To make this dip, I use three types of cheeses for ultimate creaminess. You will need cream cheese, and freshly grated havarti cheese and parmesan cheese.
Freshly grating your havarti and parmesan makes for big flavor. If you have tried many of my recipes, you know how much I try to stress that grating cheese is the best way to go. A few minutes grating it and the flavor is SO much better than anything you can buy pre shredded.
I also use fresh garlic and onion for more flavor punch. I suggest cooking the garlic/onion until soft, then blending it up until smooth. When we do it this way, you get that great garlic and onion flavor without any chunks in your creamy dip.

The last time I made this there were no leftovers at all.
Just serve with tortilla chips or crackers and watch it disappear! Not going to lie, I'm a little sad I don't have any to eat right now because I'm craving it like crazy!
All you need is just a few simple ingredients and less than 40 minutes to make this recipe. I'm willing to bet it will be your new favorite appetizer!

Are you making this recipe? I want to see! Be sure to tag me on instagram @buildyourbite and hashtag #buildyourbite with your recipe creations!
More easy appetizer recipes: 
The dip is so creamy and cheesy and full of flavor, perfect for a Super Bowl party!
PIN this recipe:
Did you make this recipe? Be sure to leave a star rating below!
Creamy Spinach Artichoke Dip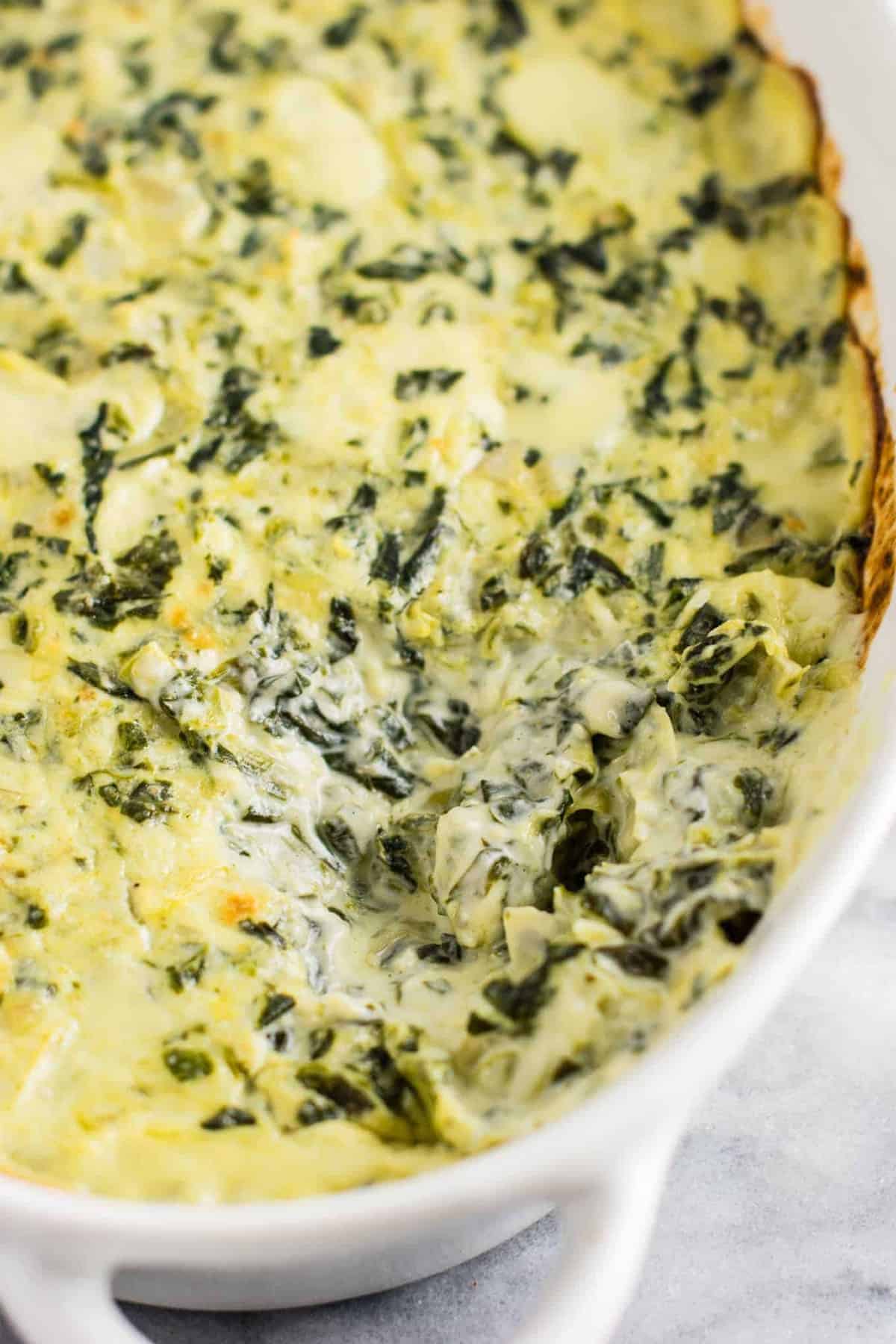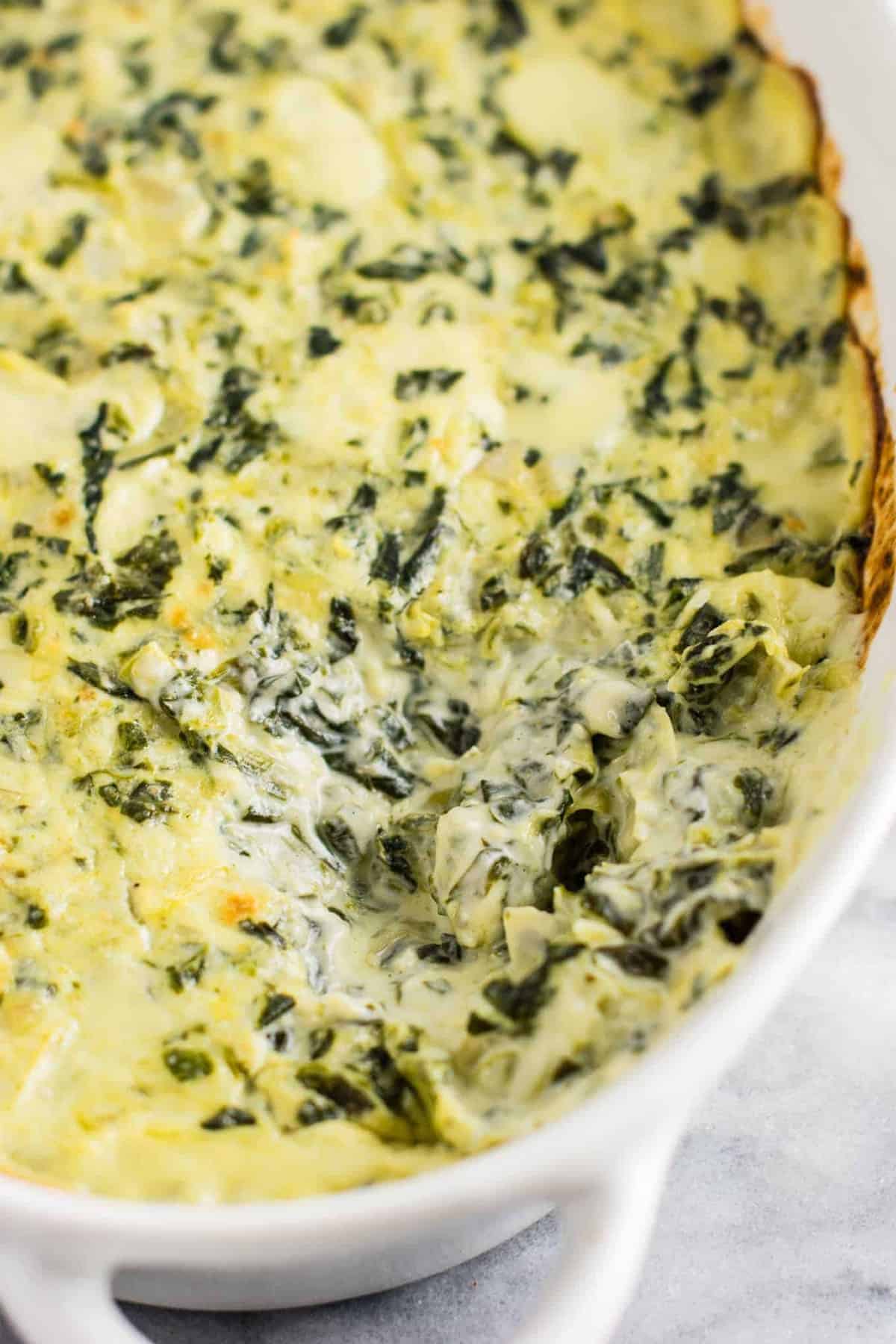 Easy spinach and artichoke dip recipe with havarti cheese. The creamiest, most delicious appetizer that everyone will love!
Ingredients
1 cup diced yellow onion
8 cloves of garlic, minced or finely diced (about 3 Tablespoons)
1 tablespoon of olive oil
1/2 teaspoon sea salt
1/4 teaspoon cracked black pepper
14 oz can quartered artichokes hearts, drained and chopped into small pieces
10 oz frozen organic cut spinach
1/3 cup organic reduced fat cream cheese
1 cup organic low fat sour cream
1/4 cup mayonnaise (I used vegan mayo)
1/2 cup parmesan cheese, freshly grated
1 1/4 cups havarti cheese, freshly grated
Directions
Combine onion, garlic, olive oil, sea salt, and pepper in a skillet. Sautee for 5-10 minutes or until onion is translucent and starts to brown.
While onion is cooking, combing all remaining ingredients in a saucepan and stir on medium heat until all cheese is melted and mixture is hot (around 5 - 10 minutes)
Once garlic and onion is cooked, puree mixture in a blender until smooth. This is optional, but I like the garlic and onion to be more of a puree texture in this dip so that there are no chunks
Add garlic and onion puree to saucepan mixture and stir well
Transfer dip to a small baking dish
Bake at 425 degrees for 15 minutes, or until edges start to brown
Serve with chips
Loading nutrition data...