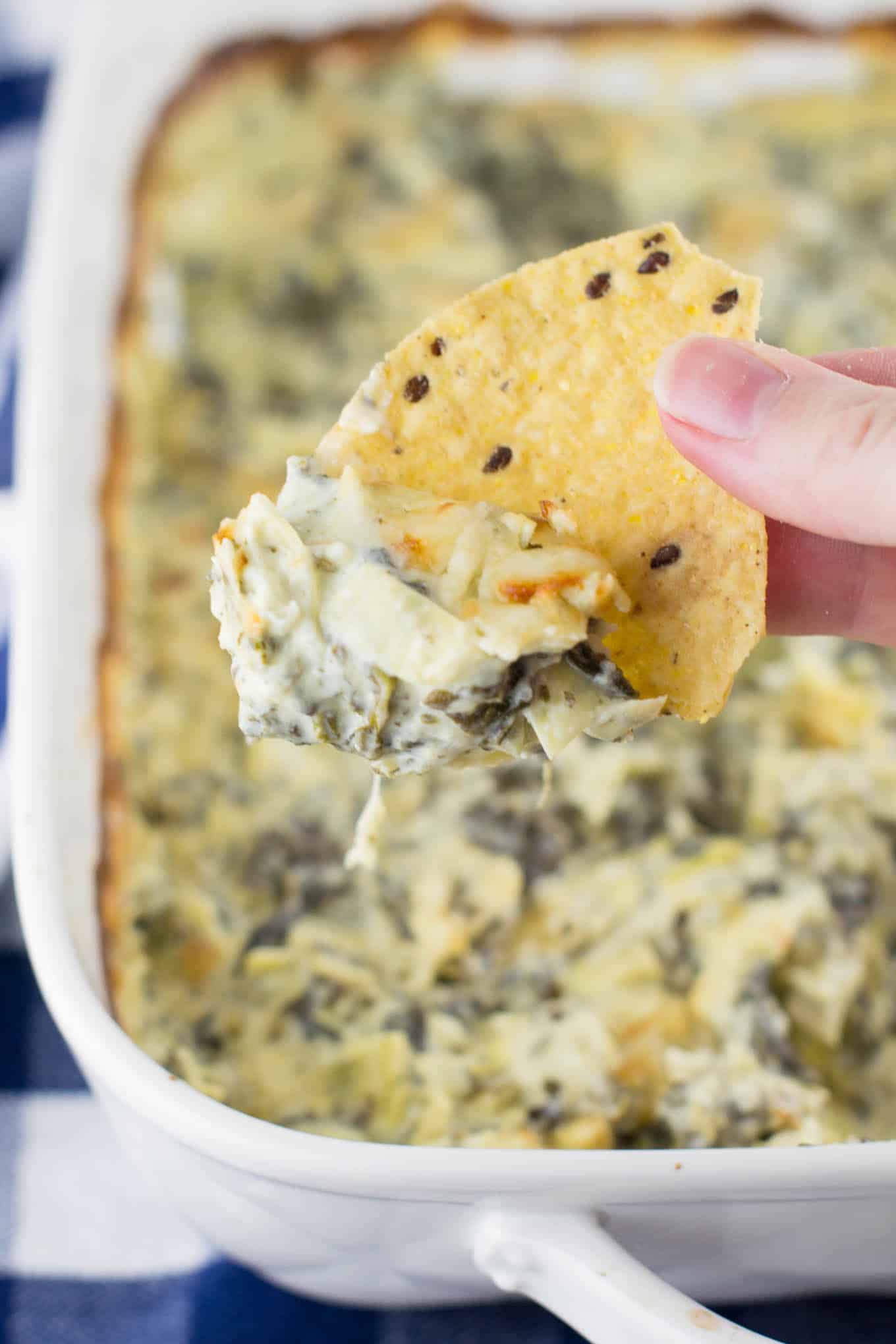 We are getting so close to the Super Bowl once again!
That means that I'll be cooking up fun game day foods this week to share on my blog!
This extra creamy spinach and artichoke dip is one of my favorite game day foods, along with my Creamy Queso Dip.

My creamy spinach and artichoke dip is a perfect comfort food recipe.
I love a big bowl of this dip with tortilla chips!
Chips and dip are what game day is all about.

I love how it turned out!
I use a special blend of cheeses in this dip to make it extra rich and creamy.

Havarti, cream cheese, and Parmesan are the winning combo for this appetizer.
The dip is so creamy and cheesy and full of flavor, perfect for a Super Bowl party!
PIN this Creamy Spinach and Artichoke Dip:
Spinach Artichoke Dip
Ingredients
1 cup diced yellow onion
8 cloves of garlic, minced or finely diced (about 3 Tablespoons)
1 tablespoon of olive oil
1/2 teaspoon sea salt
1/4 teaspoon cracked black pepper
14 oz can quartered artichokes hearts, drained and chopped into small pieces
10 oz frozen organic cut spinach
1/3 cup organic reduced fat cream cheese
1 cup organic low fat sour cream
1/4 cup vegan mayonnaise
1/2 cup freshly grated Parmesan cheese
3.5 oz block of havarti cheese, diced
Directions
Combine onion, garlic, olive oil, sea salt, and pepper in a skillet. Sautee for 5-10 minutes or until onion is translucent and starts to brown.
While onion is cooking, combing all remaining ingredients in a saucepan and stir on medium heat until all cheese is melted and mixture is hot.
Once garlic and onion is cooked, puree mixture in a blender or nutribullet. This is optional, but I like the garlic and onion to be more of a puree texture in this dip
Add garlic and onion to saucepan and stir well
Sample dip and adjust salt and pepper if necessary (I didn't add any more)
Bake in a glass or ceramic baking dish at 425 degrees for 15 minutes, or until edges start to brown
Serve with chips!
Loading nutrition data...