Tofu scramble recipe made with bell peppers and mushrooms. An easy meatless vegan breakfast that is full of good for you ingredients!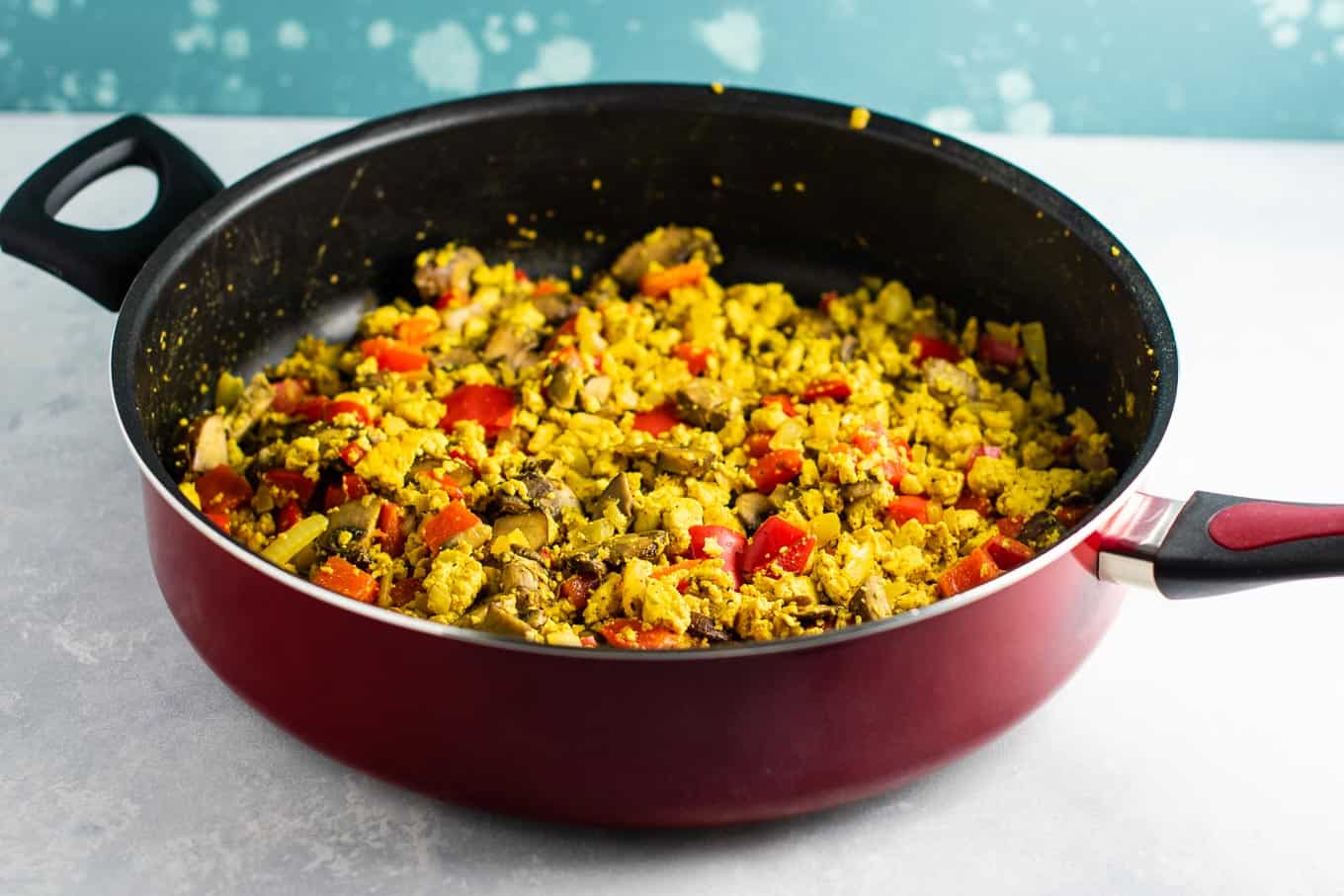 Today's recipe is a long time coming.
Several years ago, I posted what would become one of my most popular recipes – my simple vegan breakfast hash.
I always thought that an eggless tofu scramble recipe would pair perfectly with that hash, and I finally got around to making it! It's a great way to use tofu along with these tofu wraps.
I am not a big breakfast person usually, but this was one of the very best breakfasts I've ever eaten!
How to make tofu scramble
First, dice up one small onion and 3 cloves of garlic and add it to a large skillet.
I finally looked up the technical name of this cooking pan that I often refer to as a "large skillet" and it is called a jumbo cooker.
If you've seen many of my recipes, you may notice this big red pan pretty often.
I use it so often that the handle snapped off last week and I had to send Robbie to Walmart at 9 o'clock at night to get me a new one so that I could make this recipe.
Priorities, people! 😂
It is definitely one of my top 3 most used kitchen tools.
If you don't have one, I highly recommend it.
I have been using this pan for around 10 years now, and I think I've gone through 3 at this point.
Totally well worth the money!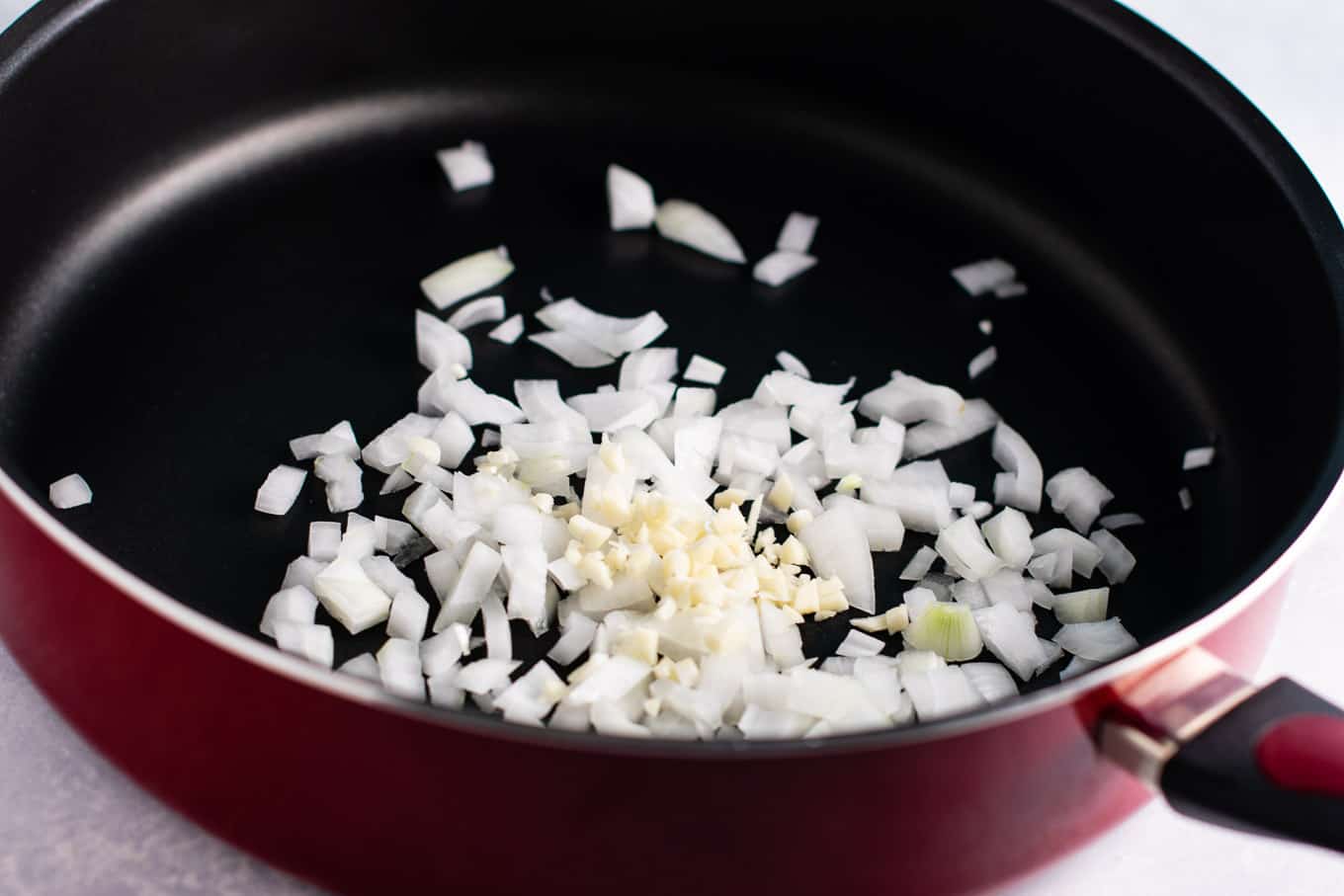 You will saute the garlic and onion for around 5 minutes or so, until it begins to soften.
Drain your tofu and use a kitchen towel to pat it as dry as possible.
Place your tofu in the skillet, and use a potato masher to break it into small pieces.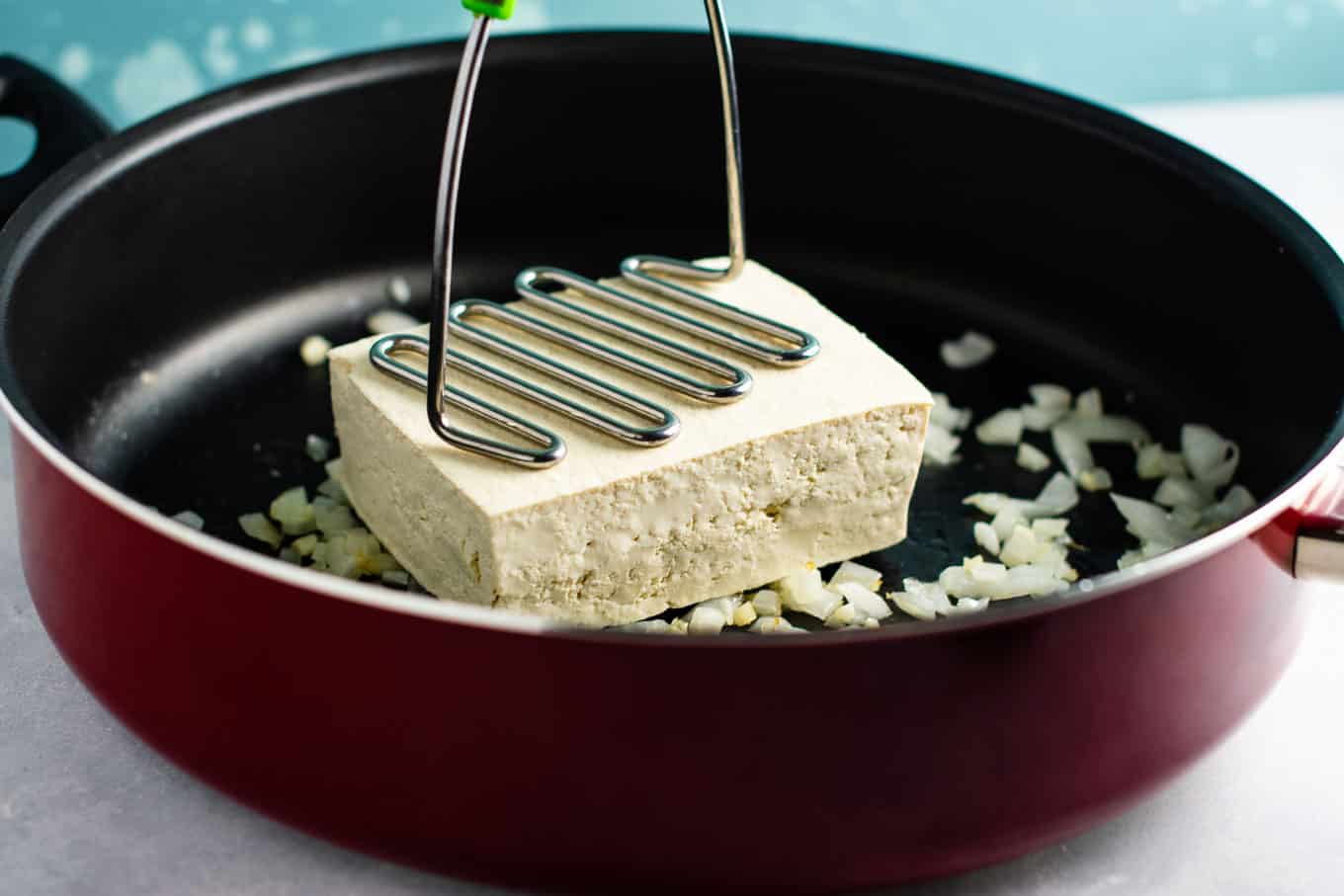 You want to break it into an "egg" like texture.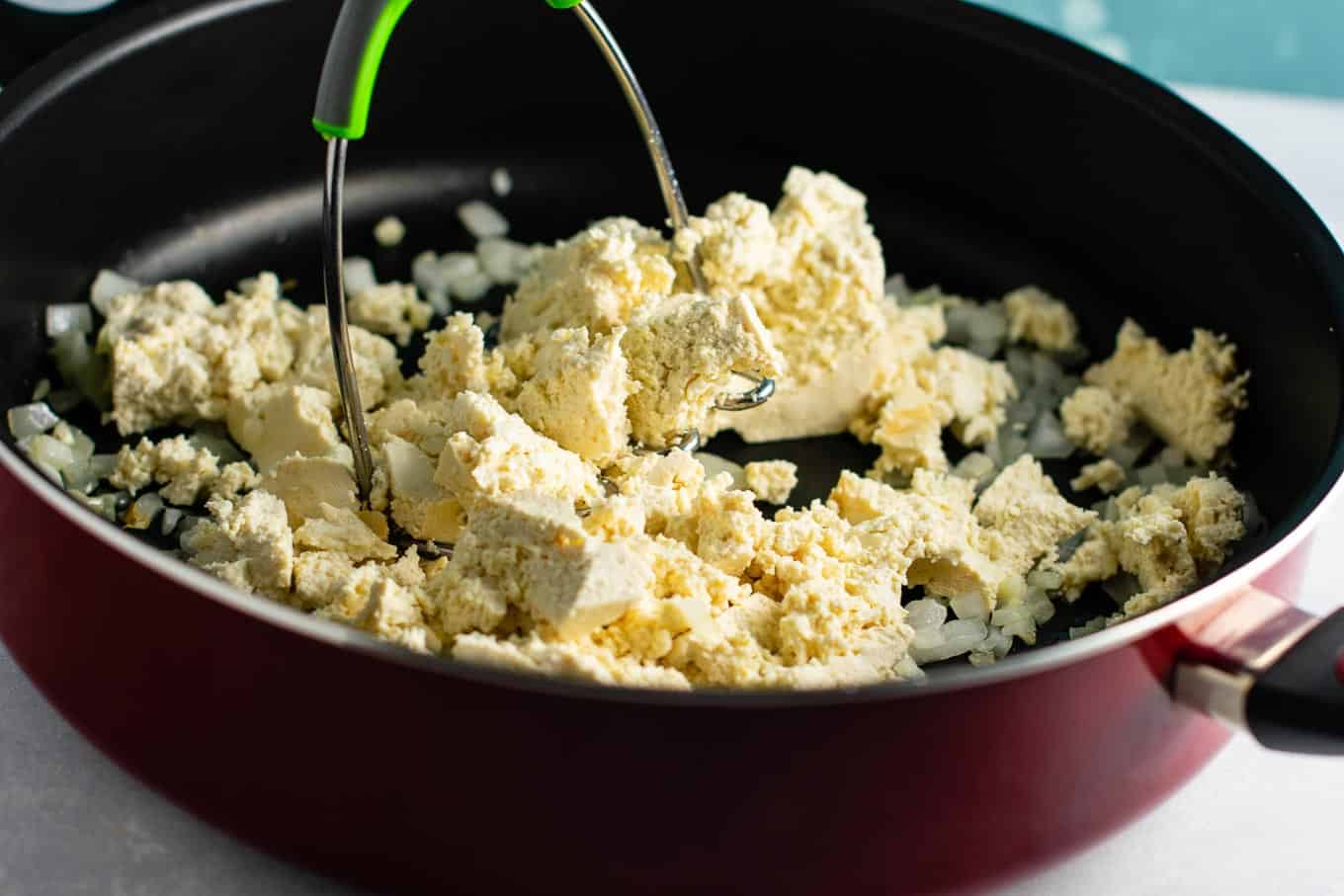 Next, sprinkle on the turmeric (this helps color the tofu so that it looks like eggs), nutritional yeast, and paprika.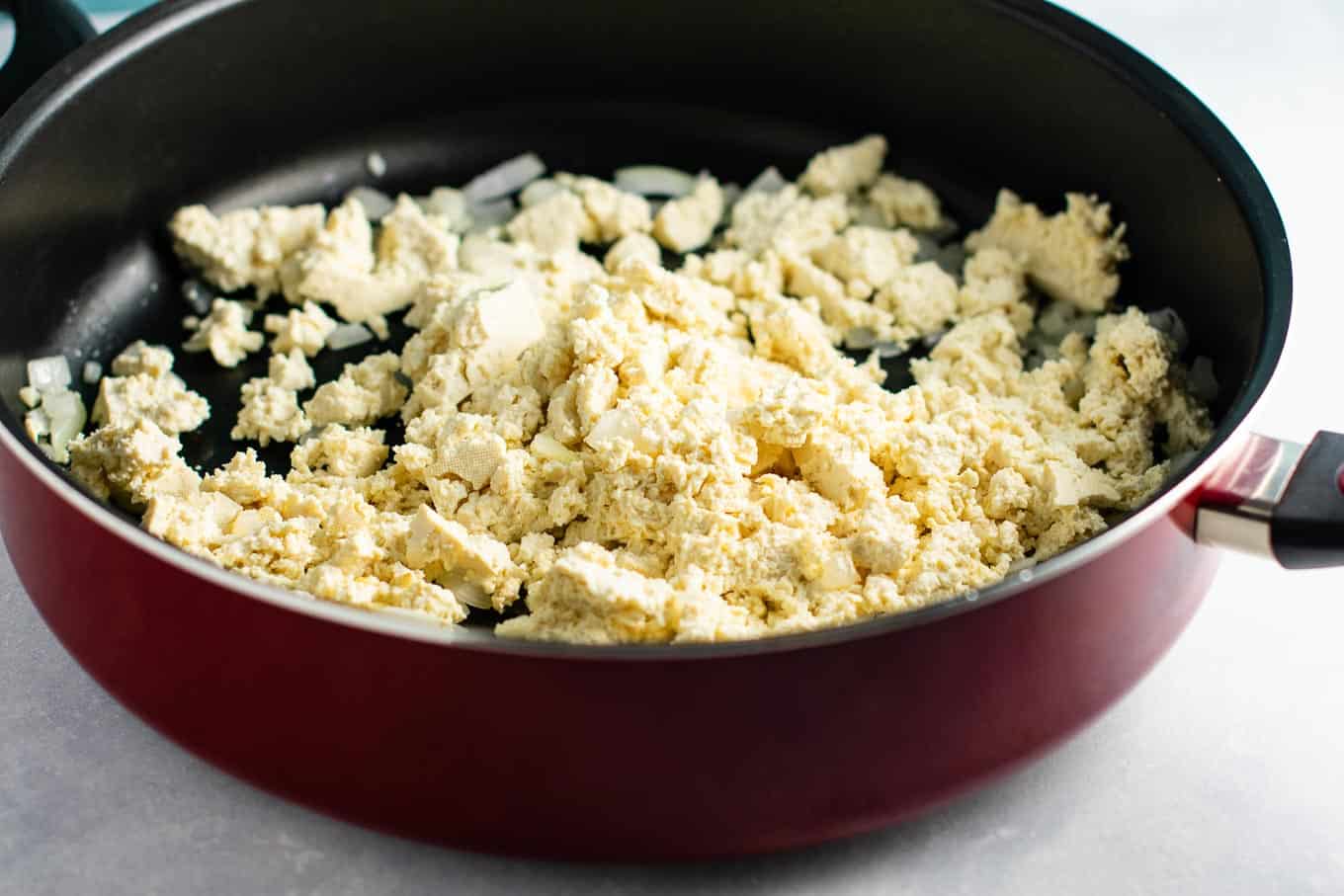 Cook your tofu for around 5 minutes, until it releases some of its moisture.
Next, add in your sliced baby bella mushrooms and diced red bell pepper.
You're going to cook it all up for another 10 – 15 minutes, or until you see the liquid disappear from the pan and the mushrooms are nice and cooked down.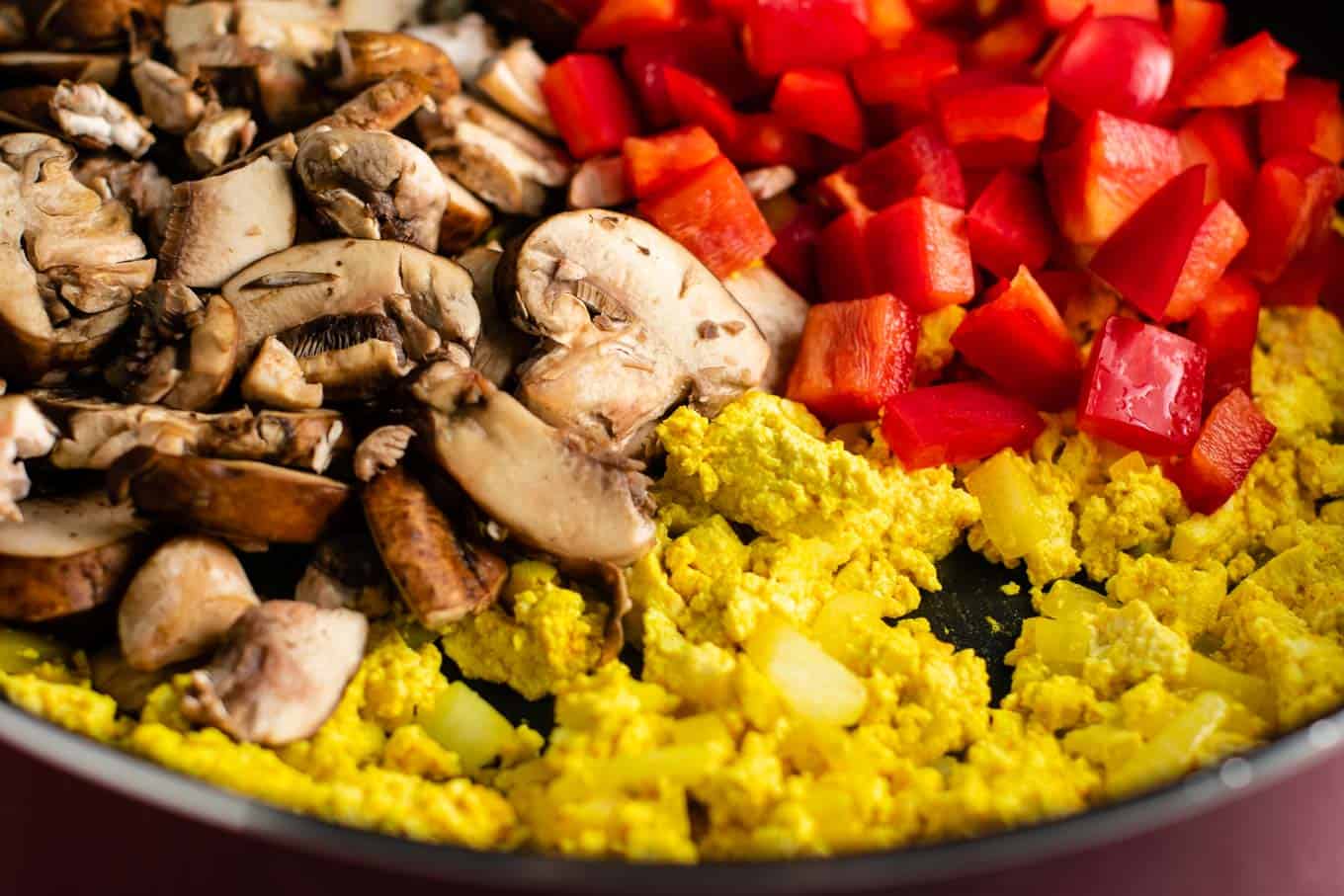 Sprinkle on salt and pepper to taste and it's ready to serve!
This would be delicious served with my simple vegan breakfast hash or sweet potato hash, vegan sausage, and a slice of toast!
I microwaved the leftovers the next day and it was just as good, so this would be a great make ahead recipe as well!
I was pretty surprised just how much this tasted like scrambled eggs.
The only difference was that I personally have never cared much for scrambled eggs, but this tofu scramble was absolutely delicious!
I can definitely seeing this become a staple vegan breakfast recipe in our house.
I hope you try it and let me know what you think!
More Vegan Breakfast Ideas
Are you making this recipe? I want to see! Be sure to tag me on instagram @buildyourbite and hashtag #buildyourbite!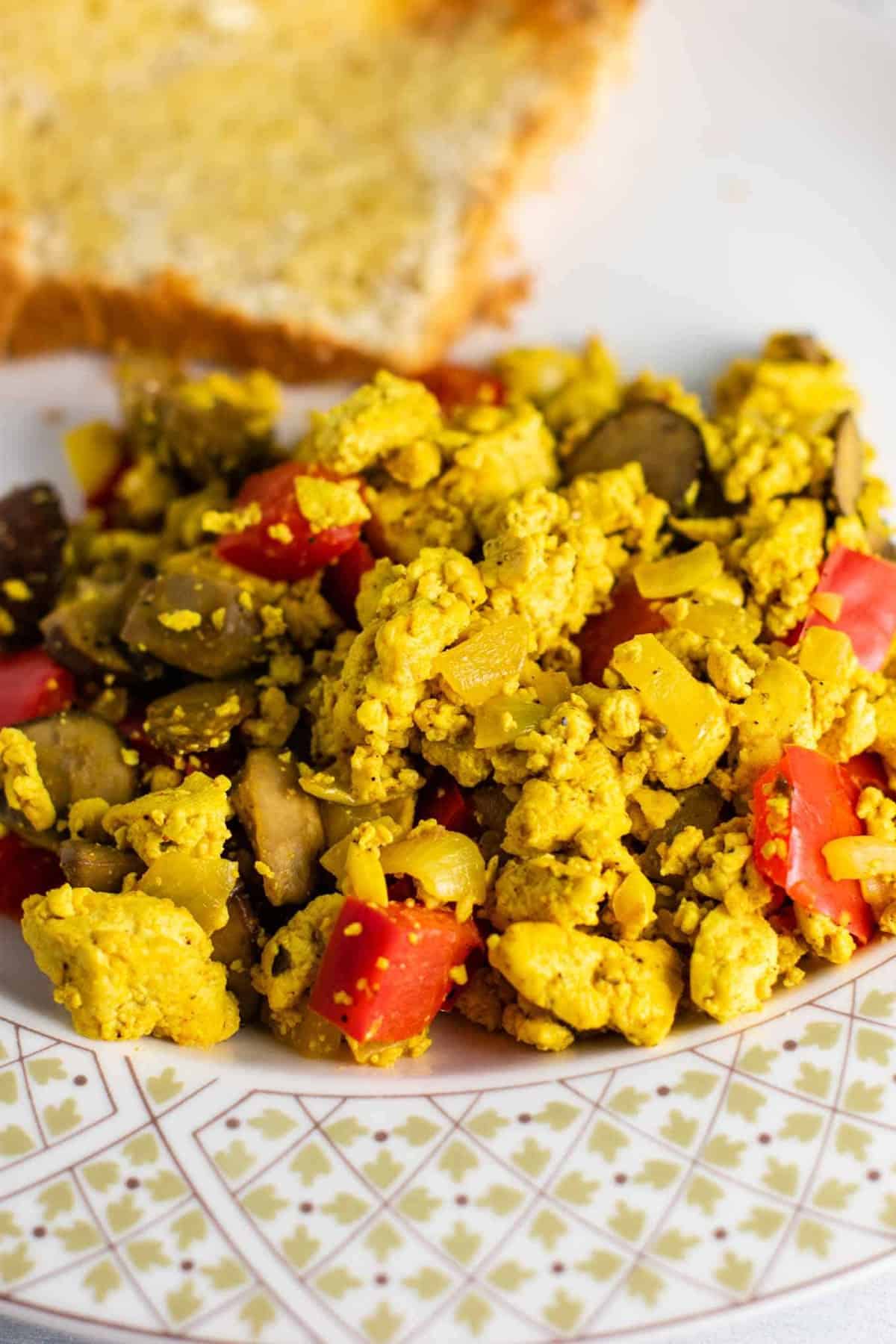 Pin this recipe: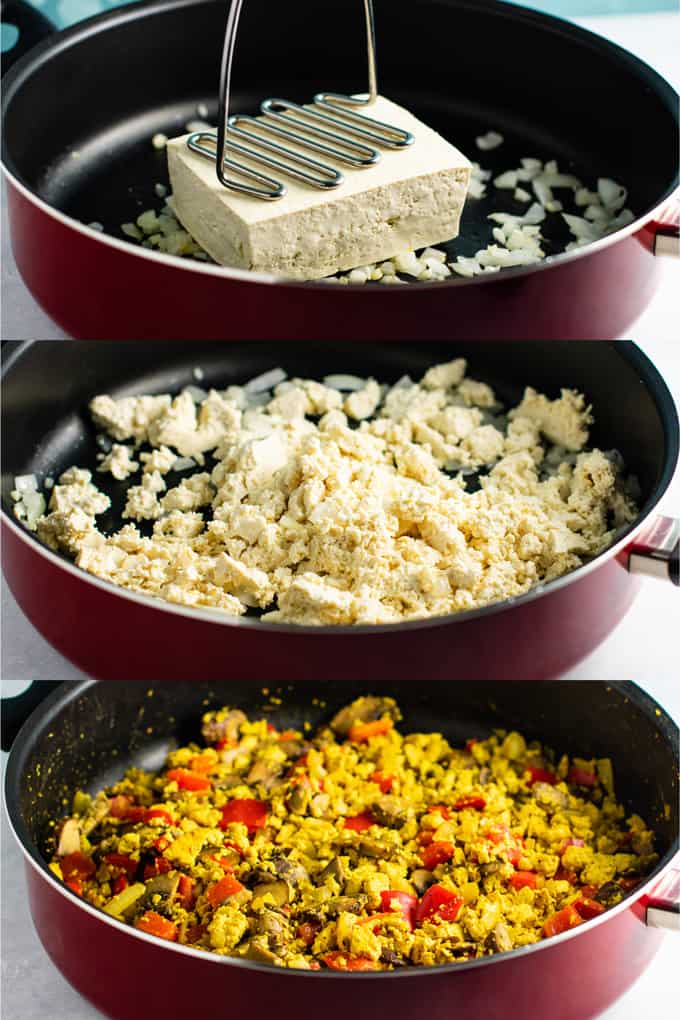 or save for later: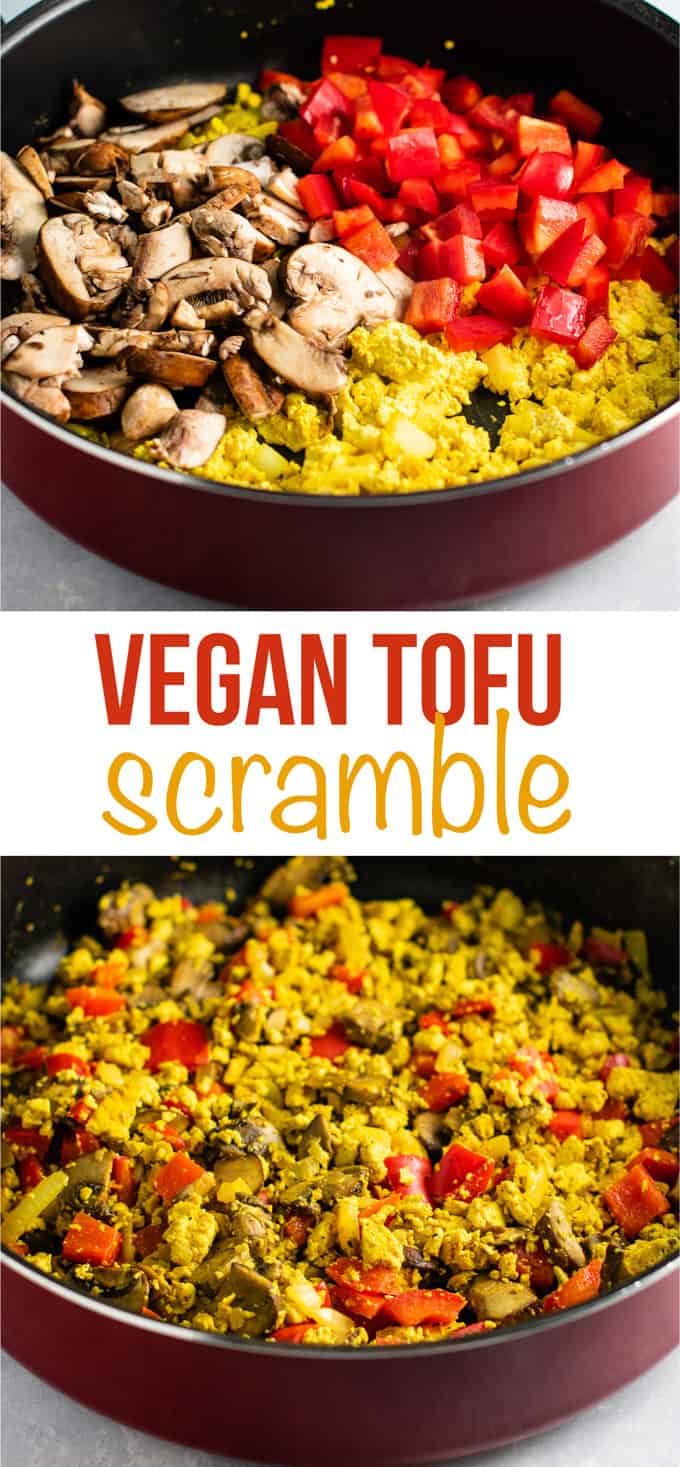 Tofu Scramble Recipe
Yield: 4 servings
Tofu Scramble
Easy and delicious tofu scramble recipe with bell peppers and mushrooms. A hearty protein packed vegan breakfast!
Ingredients
14 oz extra firm tofu, drained and patted dry
1 small onion, diced
3 cloves of garlic, minced
1 teaspoon olive oil
8 oz sliced baby bella mushrooms
1 red bell pepper, diced
¼ teaspoon turmeric
¼ teaspoon paprika
1 tablespoon nutritional yeast
1 teaspoon salt
1 teaspoon pepper
Instructions
Add garlic, onion, and olive oil to a large skillet
Saute over medium high heat for 5 - 8 minutes, until onion starts to soften
Drain tofu and pat dry with a dish towel
Add tofu to skillet and use a potato masher to break it up into egg like texture
Sprinkle on turmeric, paprika, and nutritional yeast
Cook around 5 minutes, until tofu starts to cook off some of its moisture
Add mushrooms and peppers and continue to cook an additional 10 - 15 minutes, or until liquid has evaporated and mushrooms cook down
Salt and pepper to taste (I used 1 teaspoon of salt and 1 teaspoon of pepper)
Serve alone or with a side of vegan breakfast hash
Recommended Products
As an Amazon Associate and member of other affiliate programs, I earn from qualifying purchases.
Nutrition Information:
Yield:
4
Serving Size:
1
Amount Per Serving:
Calories:

137
Total Fat:

7g
Saturated Fat:

1g
Trans Fat:

0g
Unsaturated Fat:

5g
Cholesterol:

0mg
Sodium:

541mg
Carbohydrates:

10g
Fiber:

4g
Sugar:

4g
Protein:

13g