Healthy carrot cake smoothie recipe: your answer to a sweet tooth breakfast (or dessert!)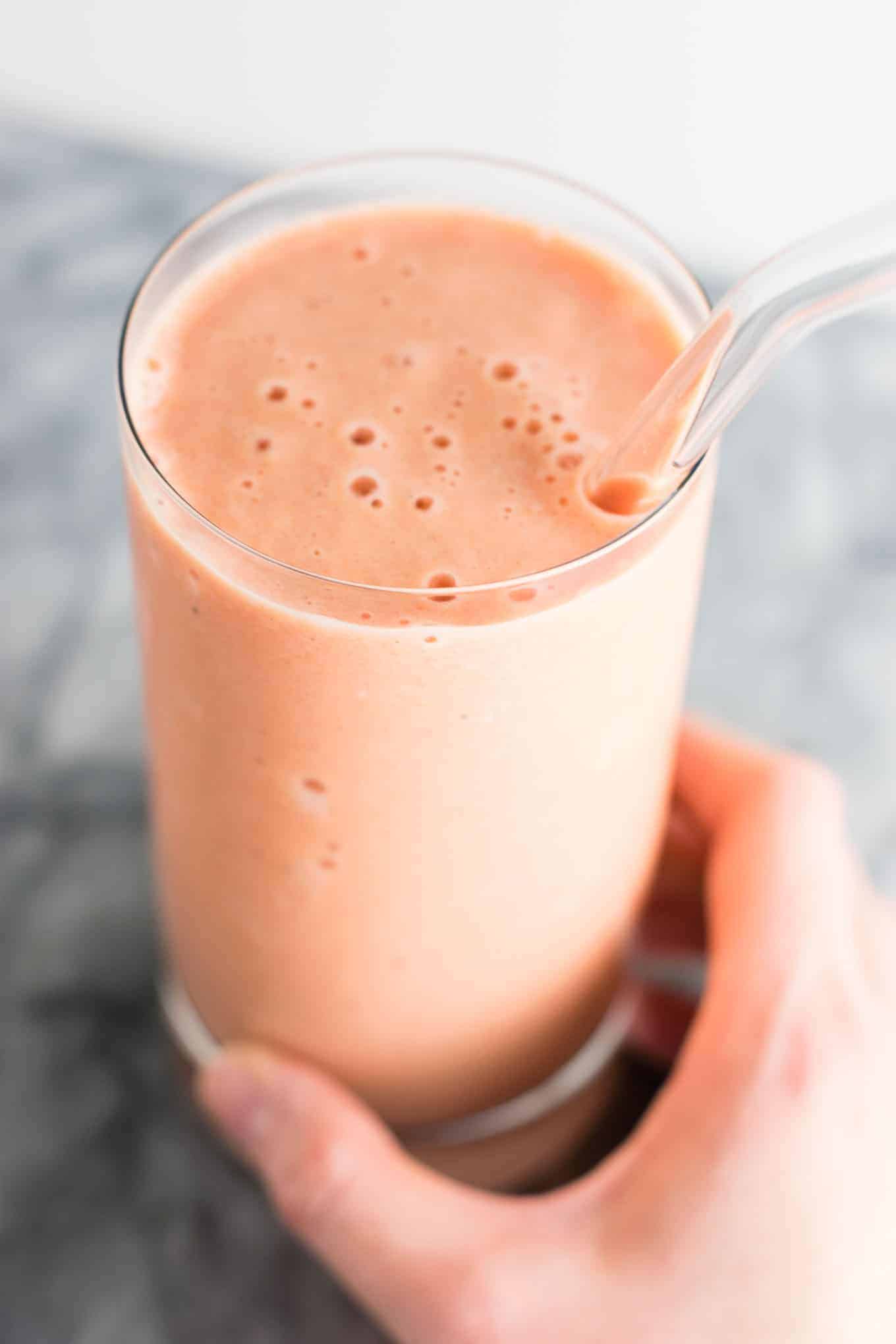 Smoothies might just be my new favorite dessert.
If you're thinking dessert? whaaa?? Go checkout this Healthy Double Chocolate Milkshake or my blueberry pie smoothie.
Smoothies are a great way to satisfy your sweet tooth the healthy way and sneak in veggies too!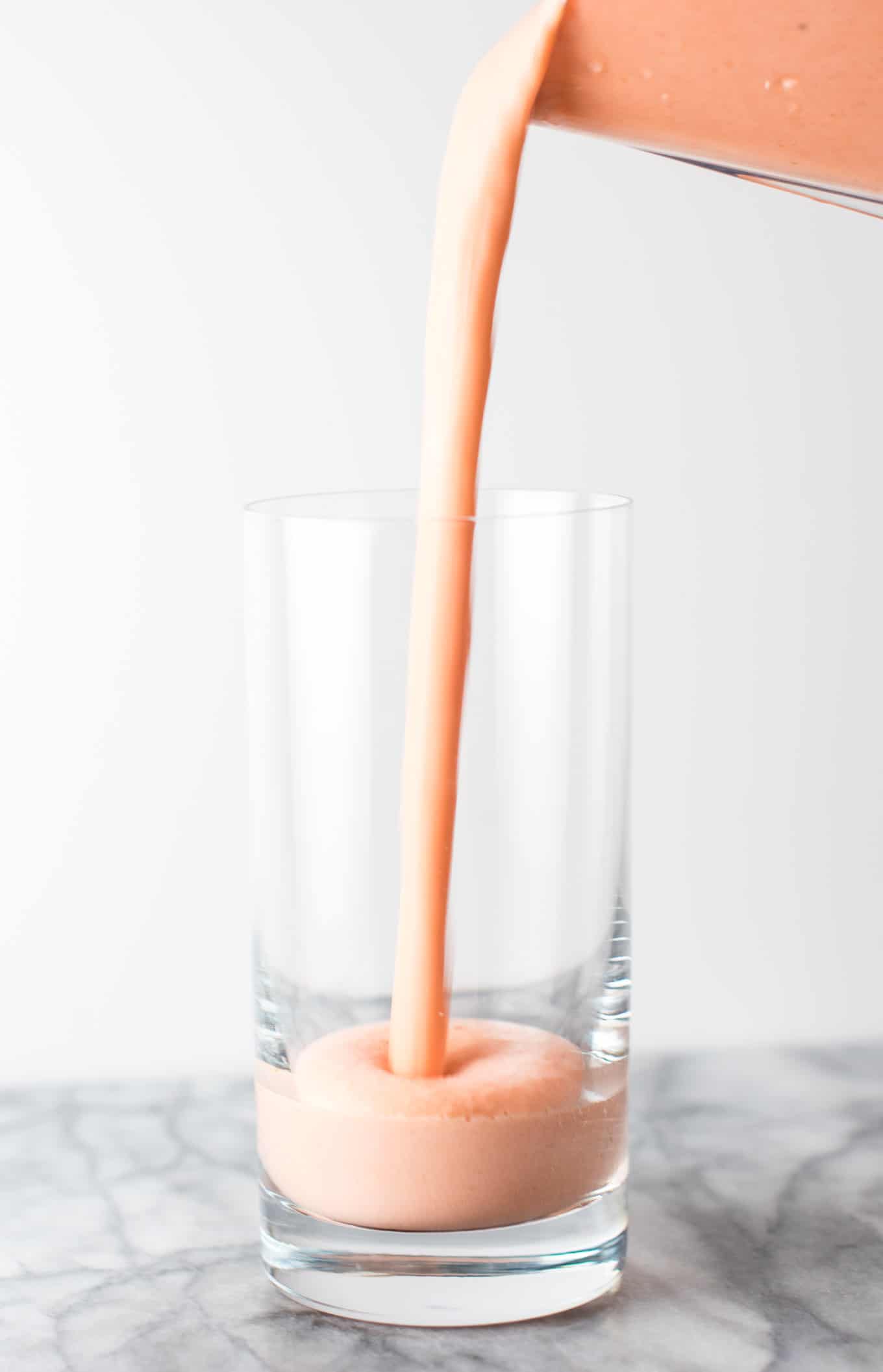 This carrot cake smoothie is so healthy that it could be breakfast or dessert.
We had ours for dessert, but if you've got a sweet tooth first thing in the morning, this is your smoothie.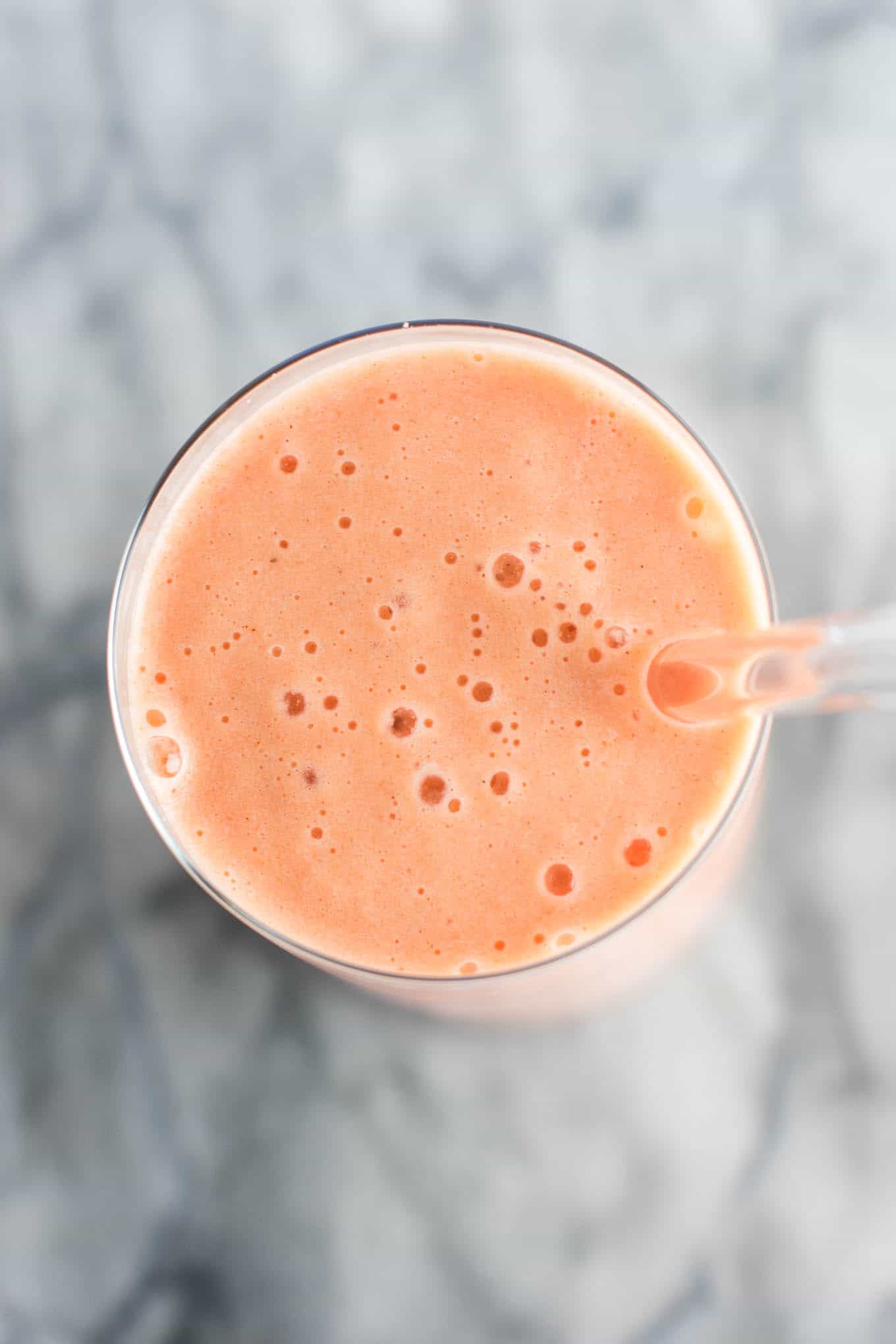 This recipes serves two, or one really really big smoothie (hah.)
You'll need a high speed blender to get that smooth taste (I love my blendtec.)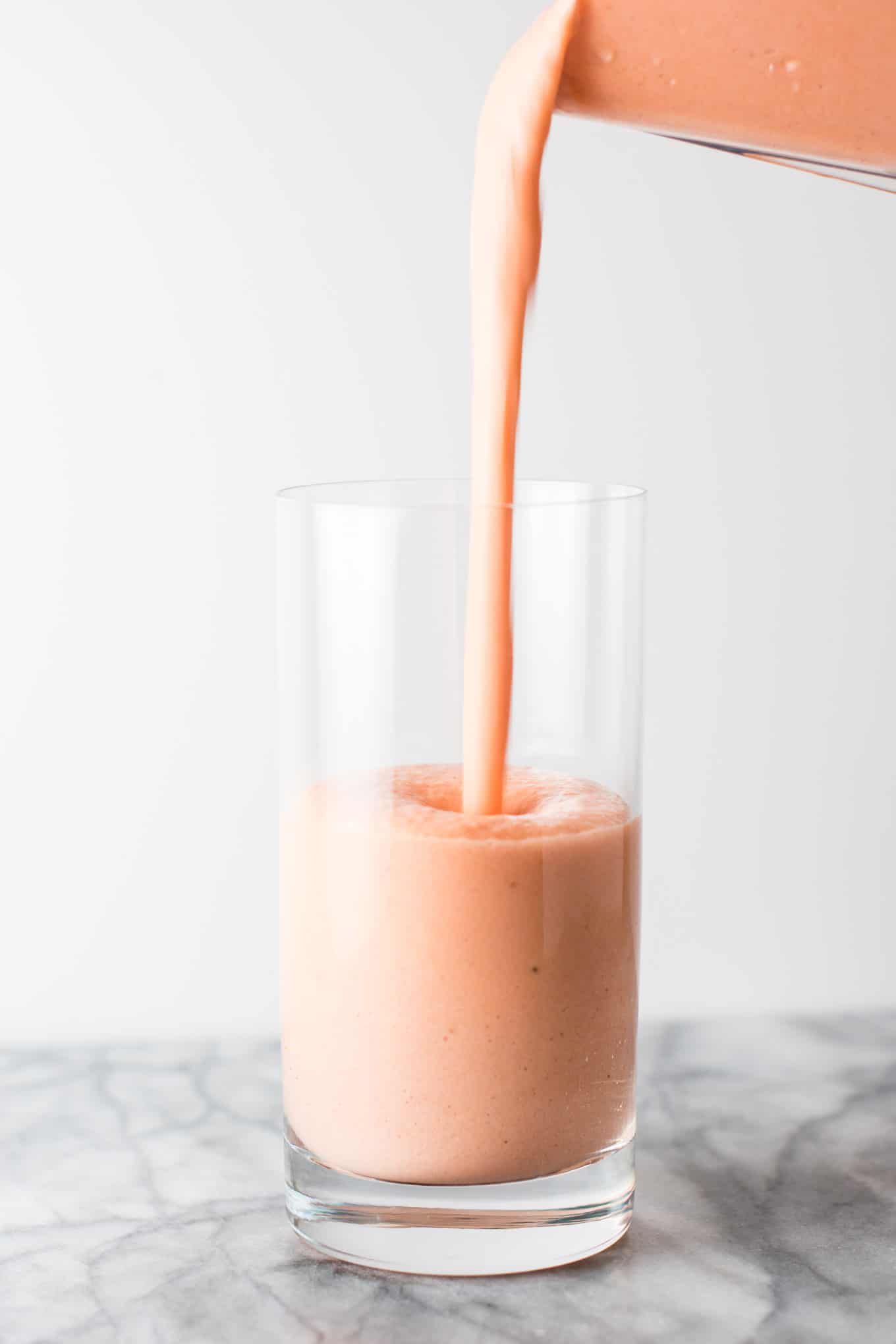 How to make a carrot cake smoothie:
Blend up: raw carrots, frozen bananas, milk, greek yogurt, cinnamon, nutmeg, maple syrup, and ice.
So simple and I had it ready to blend in less than five minutes!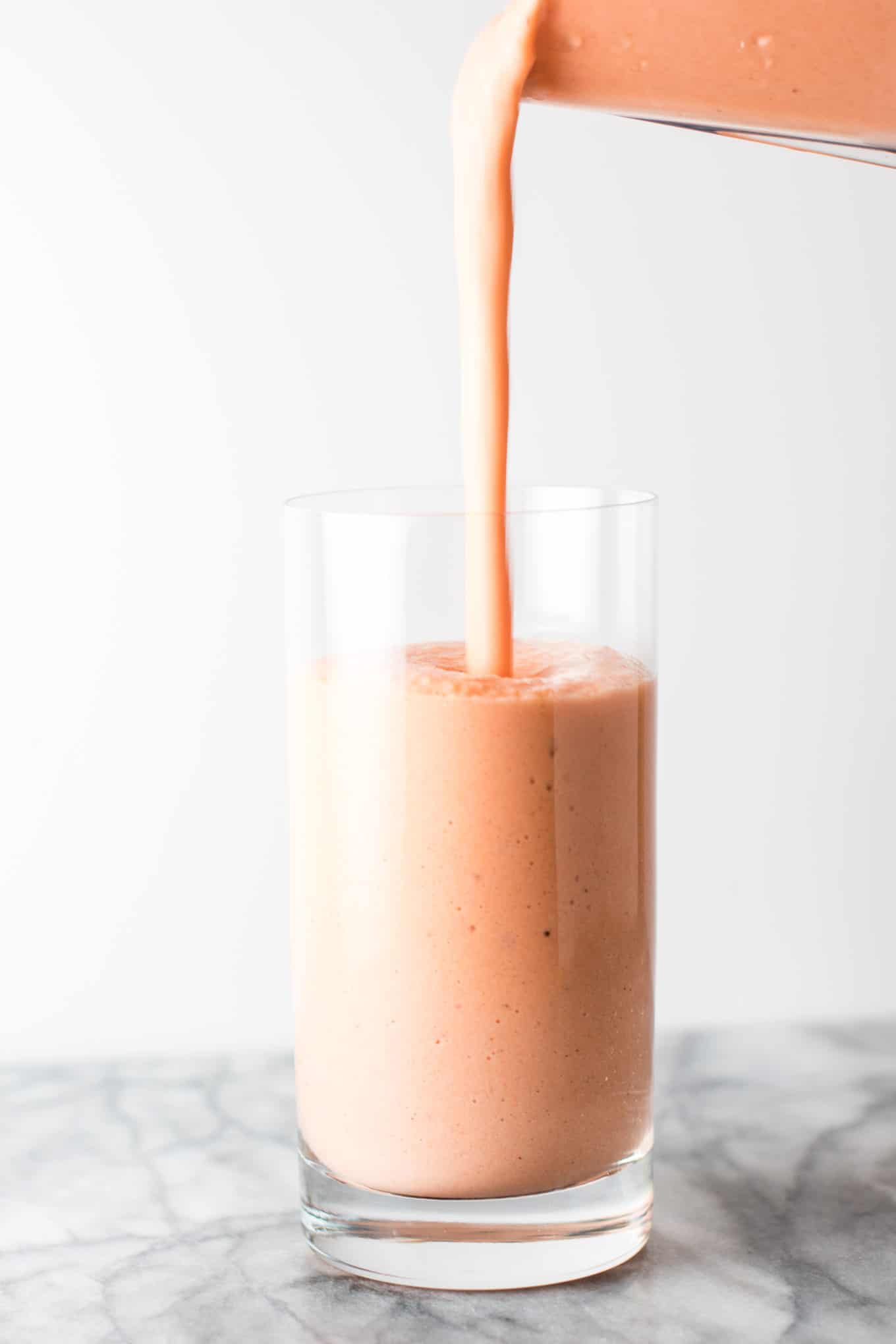 As you can tell from the photographs, the recipe ends up being more pink than orange. This will depend on how dark your carrots are I guess.
My whole family loved having this for dessert.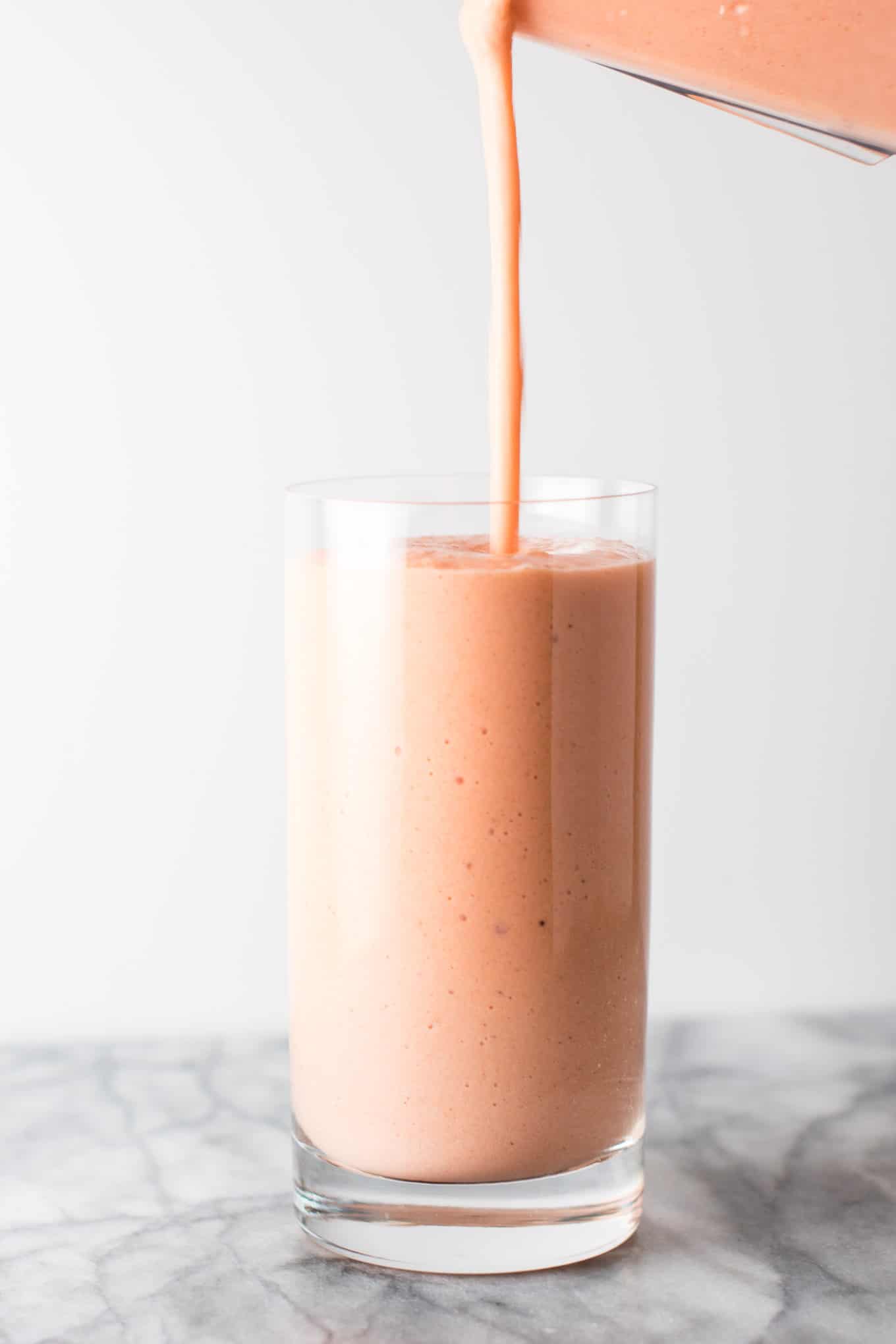 I tend to always add ice to my smoothies for texture, but this is optional.
It's really just a matter of personal preference.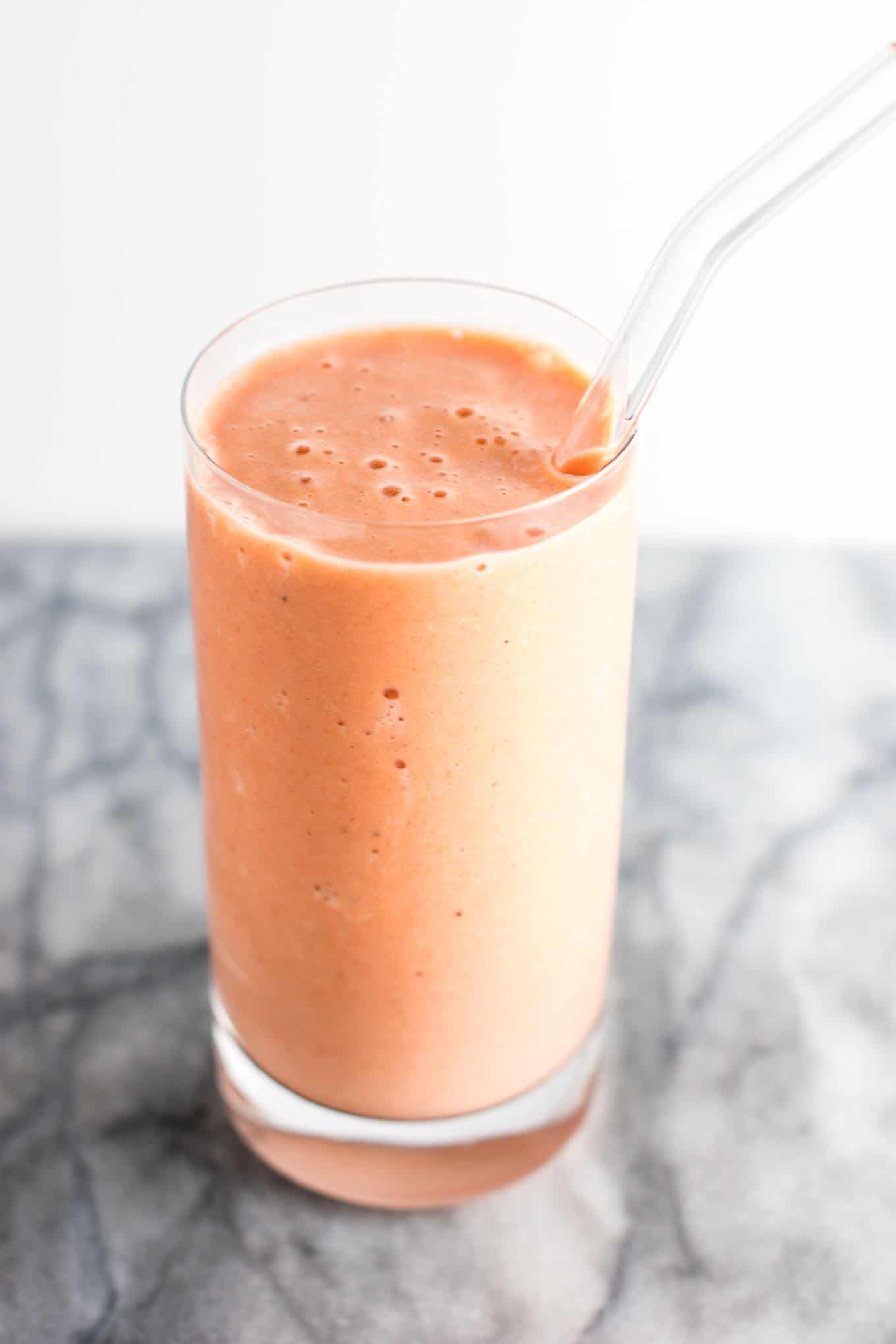 Mmmmmm. I'm already craving another glass of this!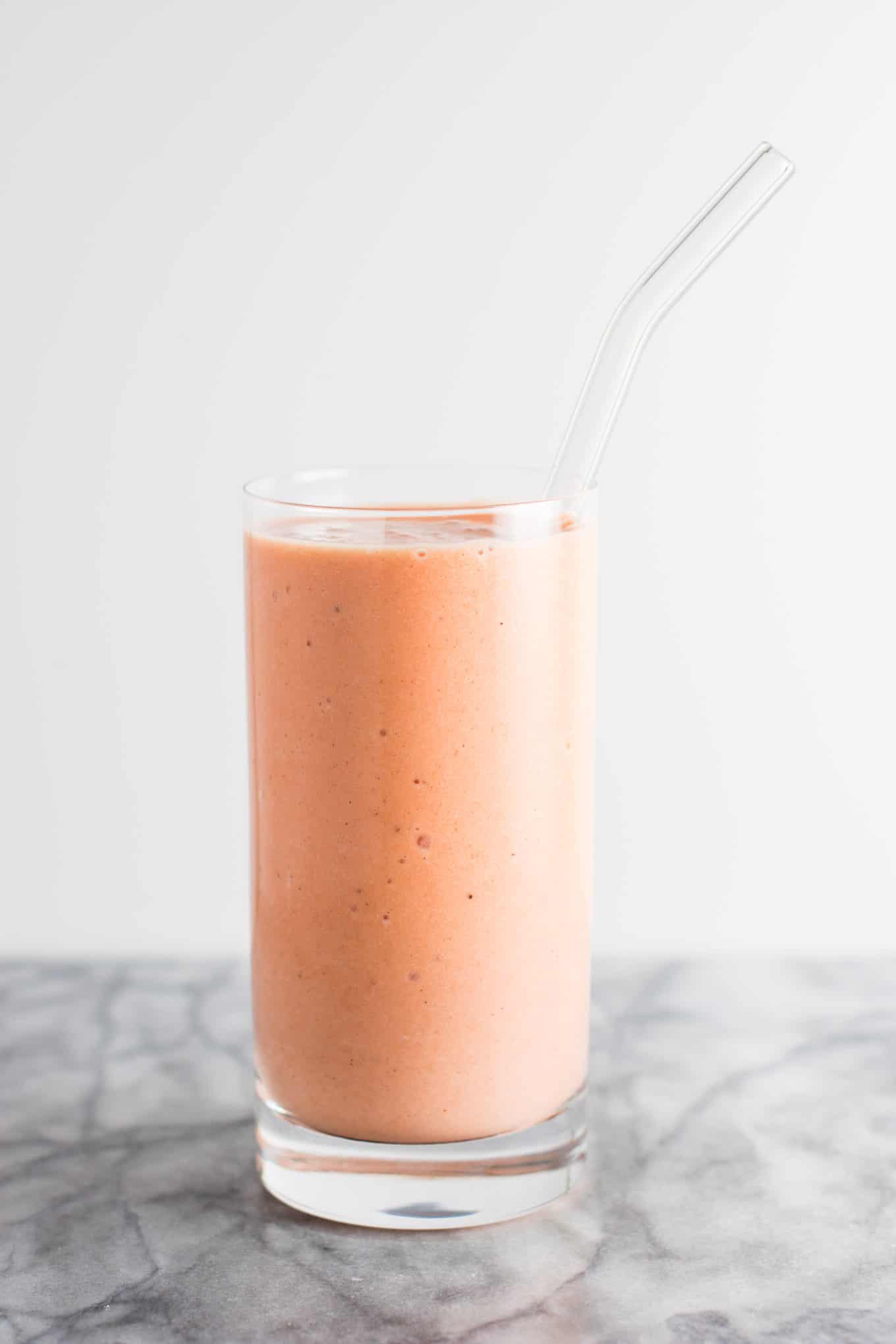 It came out perfectly smooth and tastes like a carbon copy of my favorite carrot cake recipe, but in smoothie form.
I love using carrots to sweeten juices and smoothies, so I love the sweetness that 3 carrots adds to this recipe.
Are you making this recipe? I want to see! Be sure to tag me on instagram @buildyourbite and hashtag #buildyourbite
Be sure to follow me on FACEBOOK, PINTEREST & INSTAGRAM to never miss a recipe!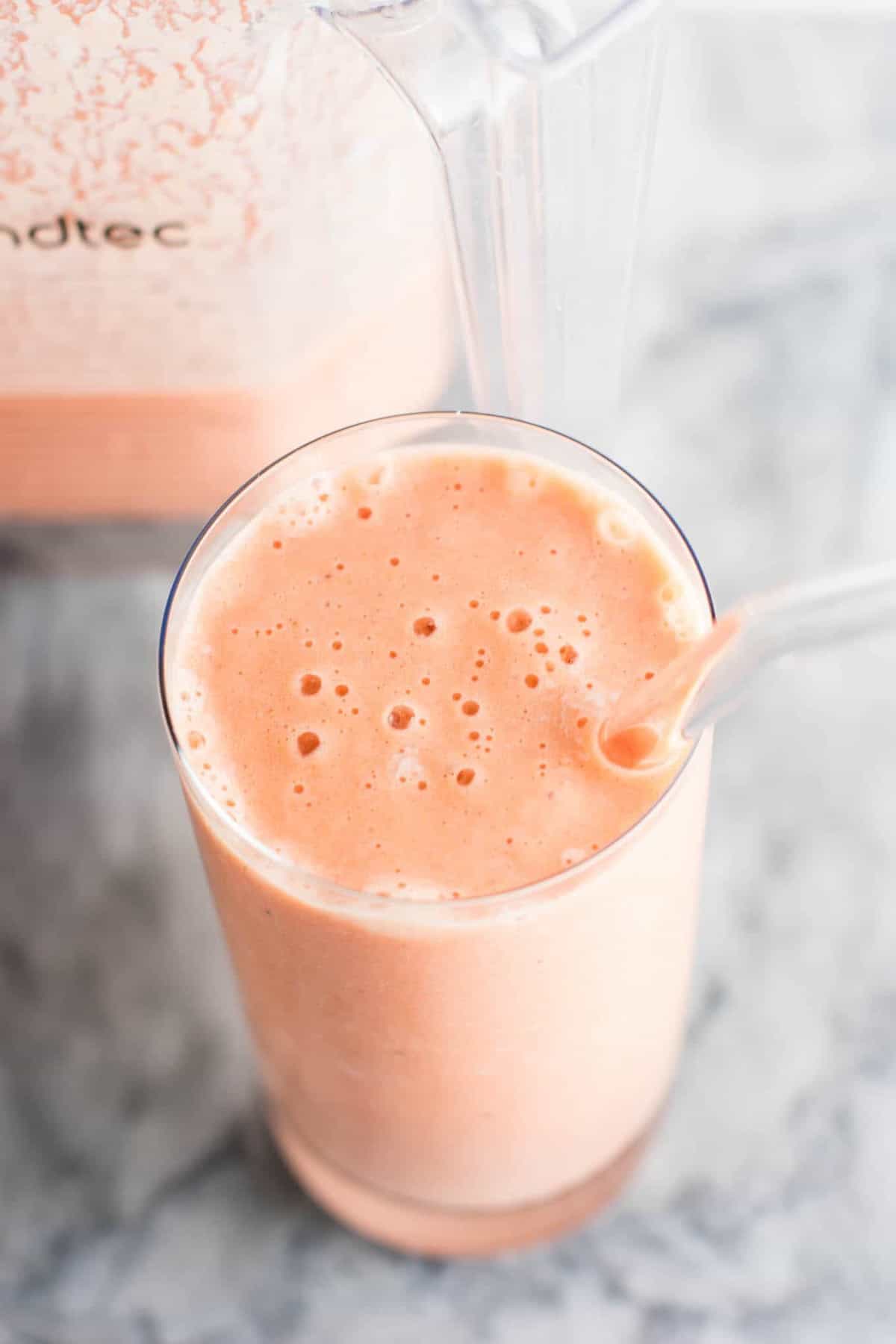 More healthy smoothie recipes:
Saving this recipe for later?
Click HERE to pin this recipe!

Carrot Cake Smoothie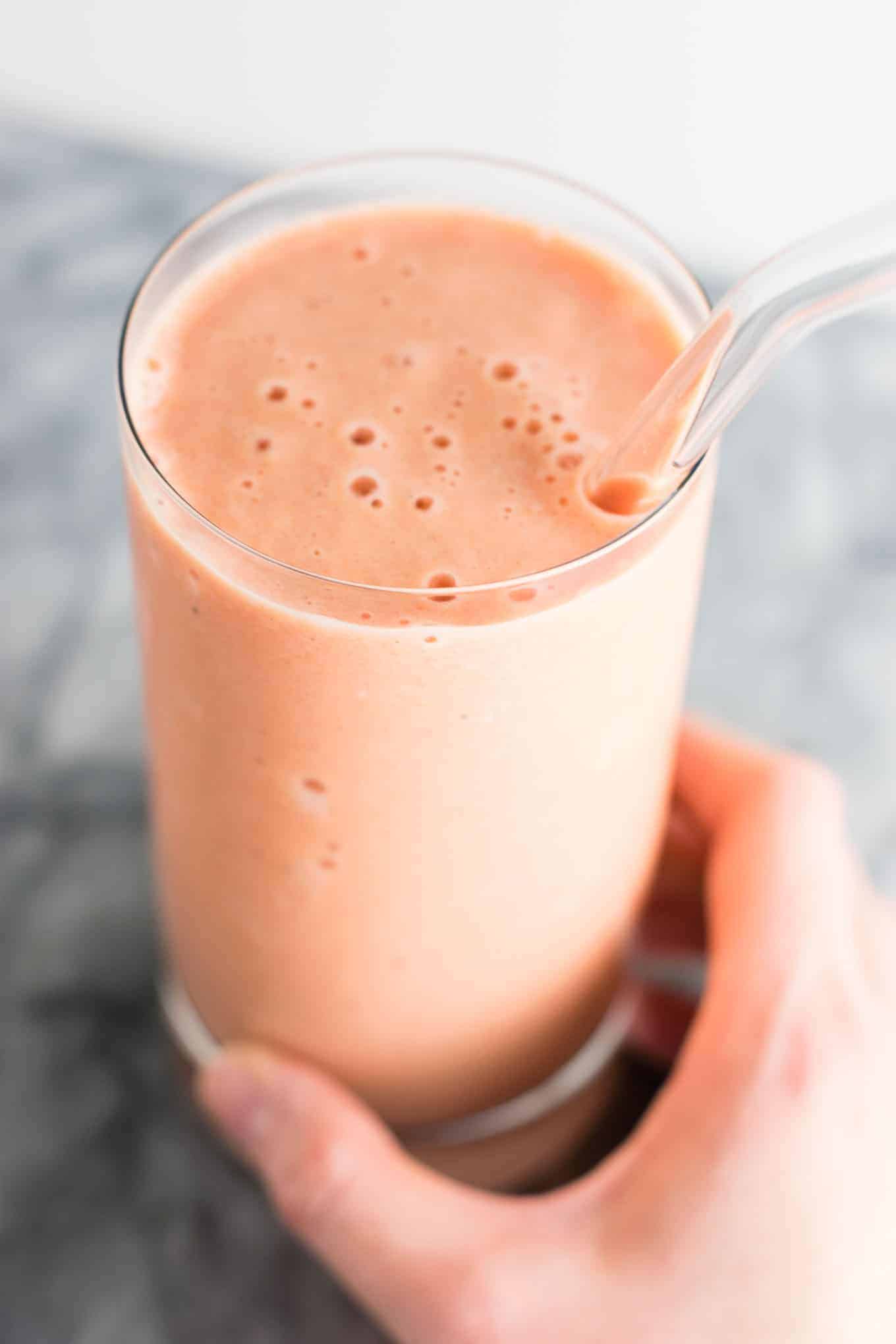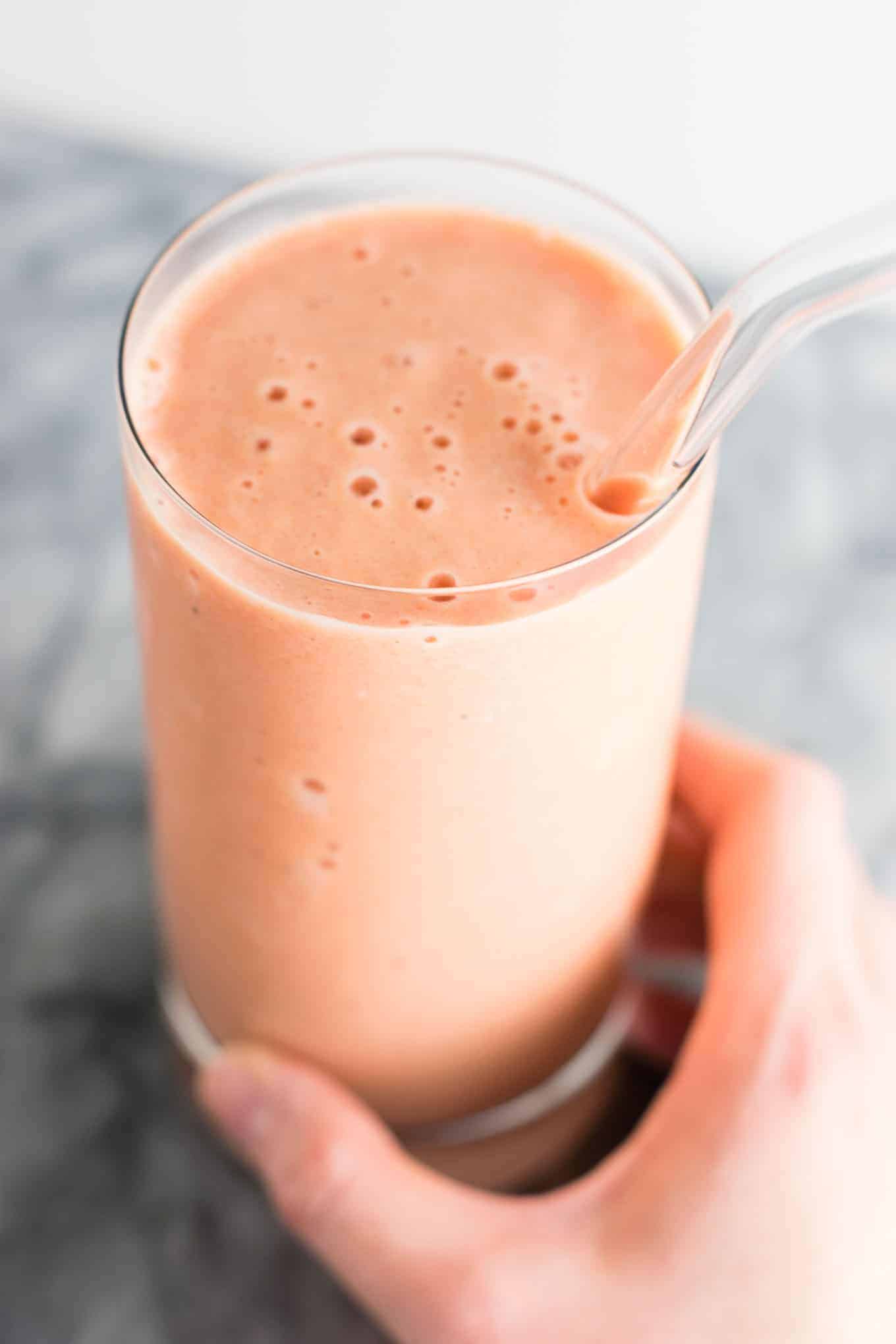 Delicious and healthy carrot cake smoothie recipe
Ingredients
3 medium carrots, peeled
1 1/2 bananas, frozen in chunks
1 cup 2% milk
1/2 cup plain 0% greek yogurt
1/4 teaspoon cinnamon
1/4 teaspoon nutmeg
3 tablespoons pure maple syrup
1 cup ice (optional)
Directions
Add all ingredients to a high speed blender and blend until smooth
Serve immediately
Loading nutrition data...
This post contains an affiliate link for my favorite blendtec blender! I use it in all of my smoothie recipes.