Mexican meals are one of my favorite things to make.
Last week I had some ingredients that I needed to use up: mexican cheese, tortillas, and some recently expired enchilada sauce (shhh don't tell), so I decided to create a fun twist on enchiladas!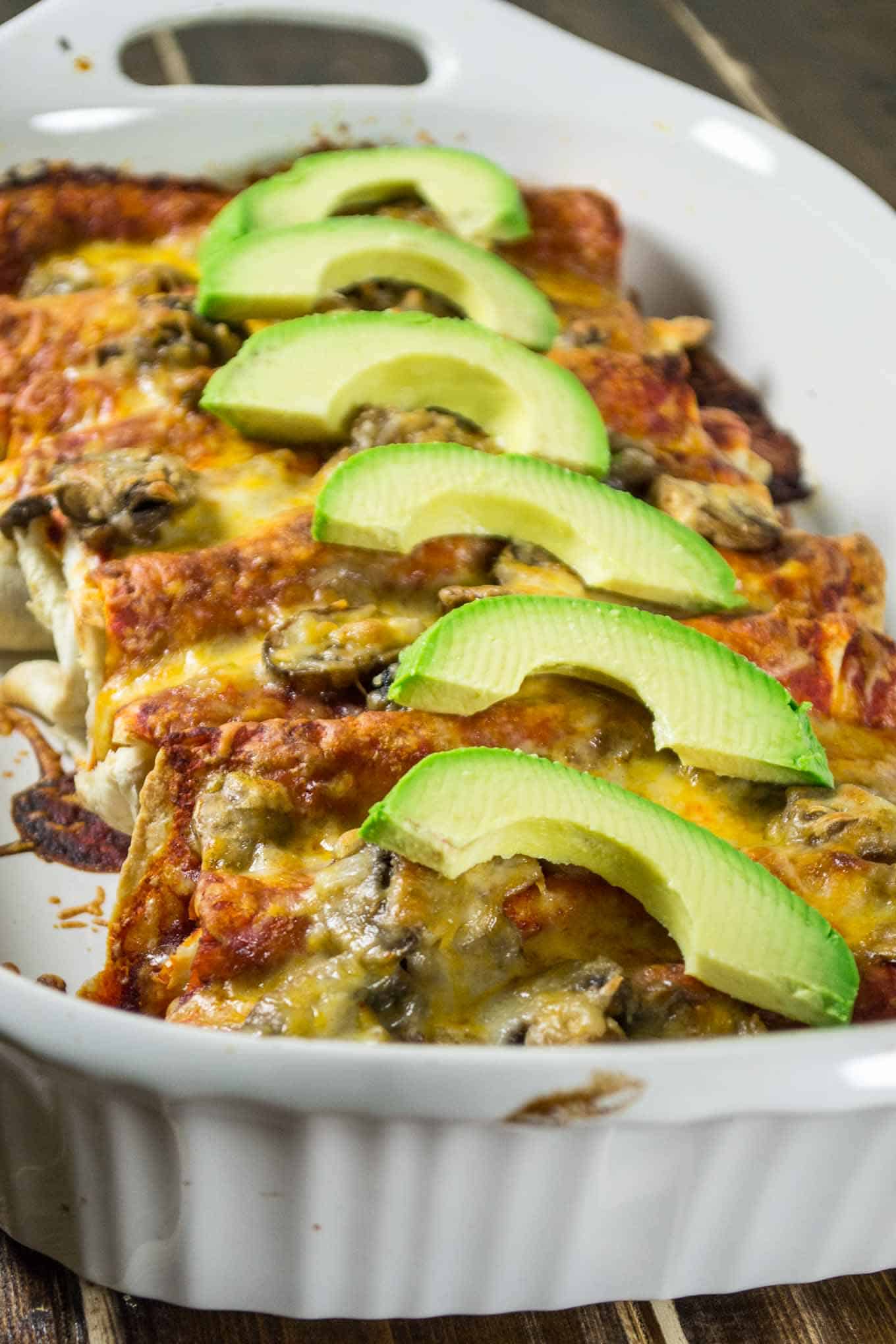 My husband and I love my Best Ever Veggie Enchiladas, but I wanted to try something different and simpler for this recipe.
These Simple Refried Bean Enchiladas take no time at all to throw together and look seriously impressive.

Mushrooms are by far my favorite veggie to use (I may or may not be an addict), but any veggie would work well in this recipe.
Try substituting summer squash or bell peppers for more fun flavors!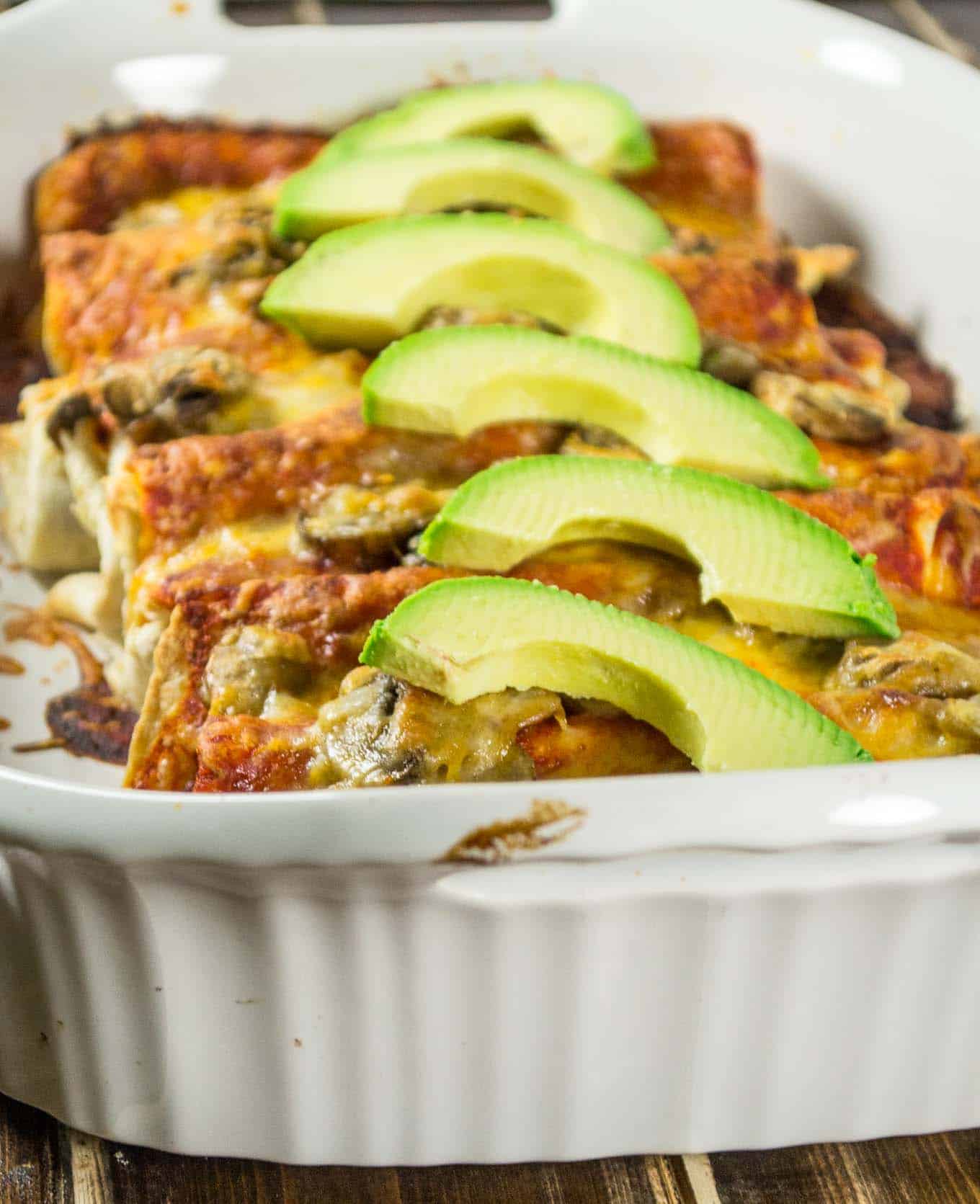 The filling for these enchiladas is super simple.
I made a batch of my 5 Minute Homemade Refried Beans to pair with the sauteed mushrooms and onion.

I used organic white wheat tortillas for this recipe, but whole wheat would be delicious as well.
We topped ours with fresh lime juice (must have!) and fresh avocado slices for a creamy contrast of flavor.

These enchiladas reheat very well in the oven and I had leftovers for lunch the next two days.
Be sure to reheat in the oven instead of the microwave to avoid the tortillas getting soggy.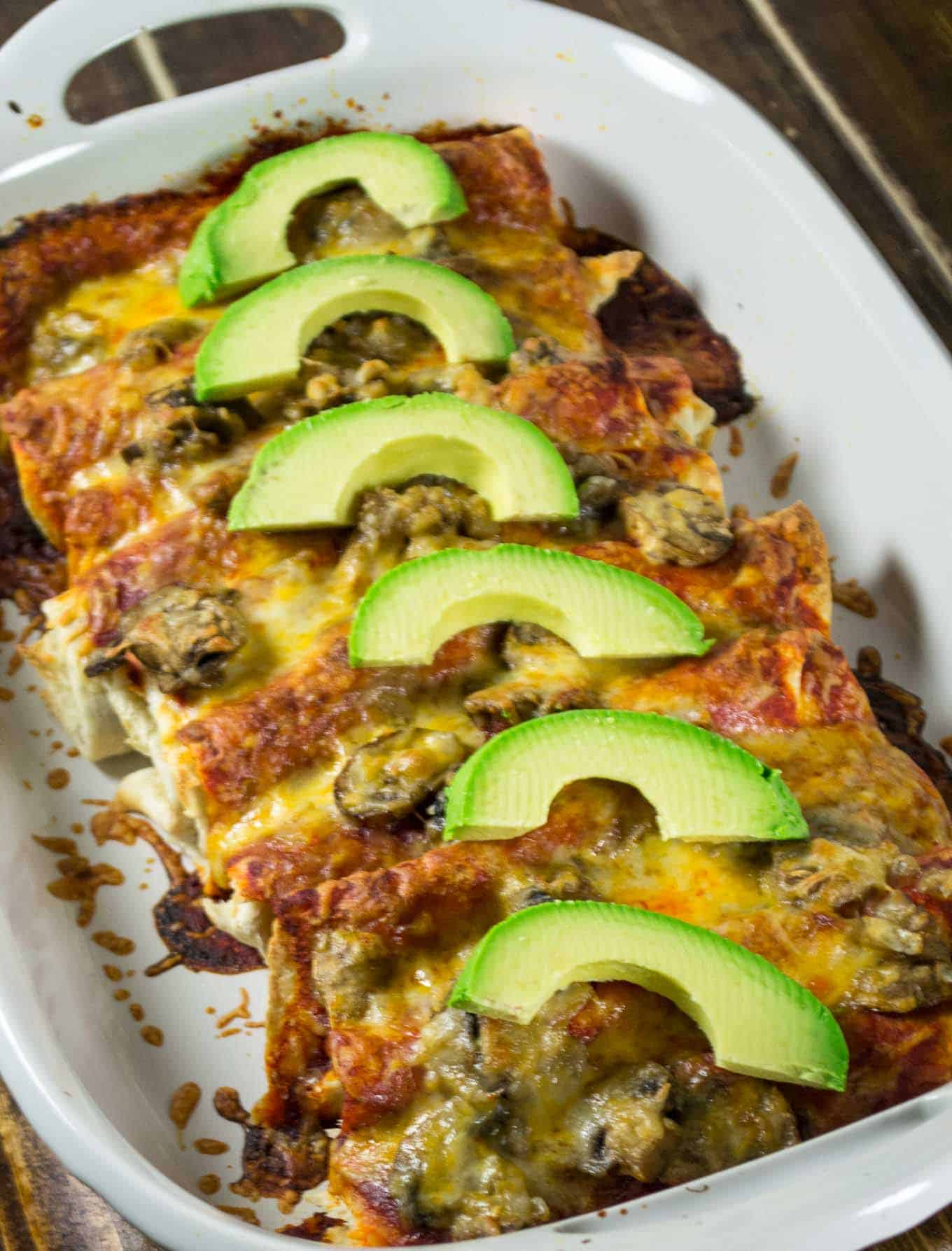 10 enchiladas fit perfectly for me in a 9 X 13 casserole dish, but I rolled them very tightly to cut down on wasted space.
Use multiple pans if you run out of room!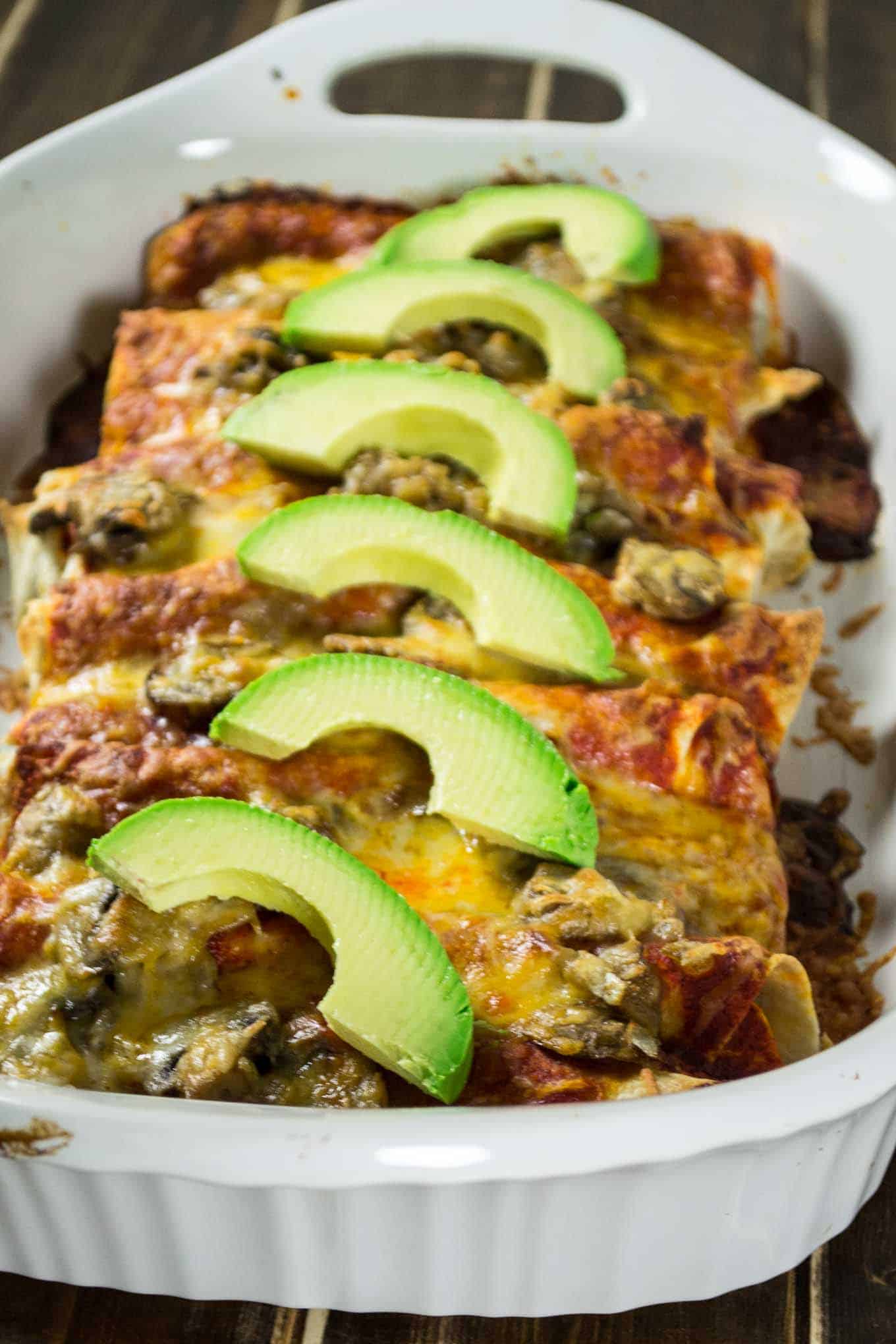 I'll definitely be making these again soon!
I was very impressed with how delicious they were with so little prep work.
Definitely an easy and filling meal!
Simple Refried Bean Enchiladas
Ingredients
1 batch 5 Minute Homemade Refried Beans
16 oz sliced mushrooms
1 medium onion, diced
4 cloves of garlic, minced
1/4 teaspoon sea salt
1/2 teaspoon cumin
1 tablespoon olive oil
10 tortillas
8 oz enchilada sauce
1 cup shredded mexican cheese
Directions
Preheat oven to 375 degrees
Cook one batch of 5 Minute Homemade Refried Beans and set aside
In a skillet, sautee mushrooms, onion, garlic, salt, cumin, and olive oil on medium high heat
Cook mushroom mixture for 10-15 minutes, or until mushrooms have cooked down and released their liquid (drain if water does not evaporate)
Nuke tortillas in the microwave until mostly hot. Do this prior to filling to help the tortillas not crack when rolling.
In each tortilla, add 1 tablespoon of refried beans and a thin layer of the mushroom mixture
Roll tortillas and arrange in a 9 X 13 baking dish
Once all tortillas are prepared, drizzle enchilada sauce evenly over the top
Top with any remaining mushroom mixture (see notes)
Sprinkle with mexican cheese
Bake at 375 for 20-25 minutes, or until the top starts to crisp (I like to broil mine for a few minutes at the end to get a little extra crisp)
Serve with fresh lime juice and sliced avocado
Recipe Notes
You will have leftover refried beans once finished. You can always spread them on top of the enchiladas, but I saved mine for later use
Garnish enchiladas with any remaining mushroom mixture after the enchilada sauce but before adding the cheese
Loading nutrition data...