This tofu Mexican rice casserole is a healthier take on a favorite dish.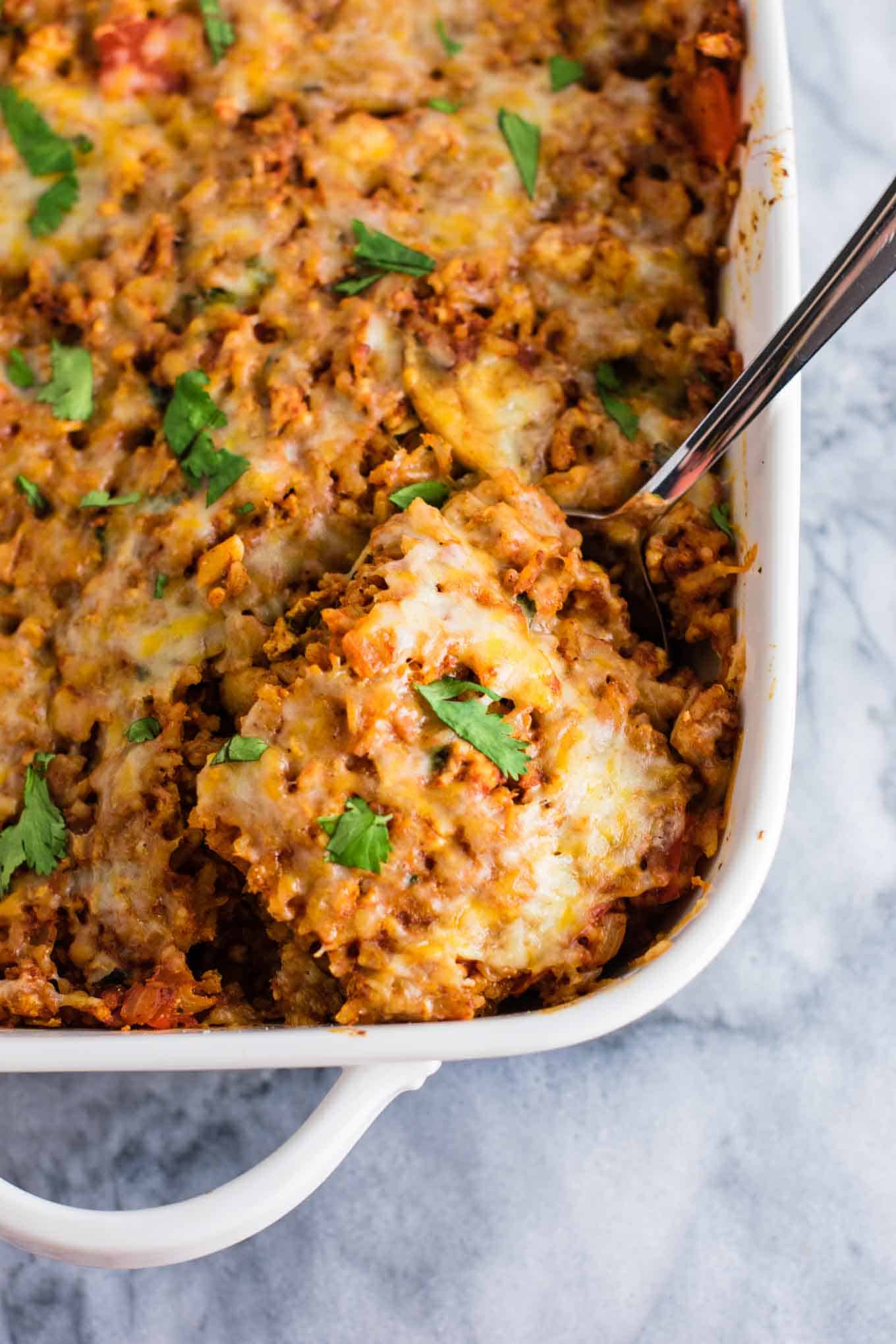 I might be late to the bandwagon, but scrambled tofu is kinda my new favorite thing.
While I'm not one of those people who says things like "it's hard for vegetarians to get protein" (I disagree), I do try to get extra protein when it's easy to do.
One of my new favorite ways to do that is scrambled tofu!
I first fell in love when I made tofu taco meat and discovered how delicious that was.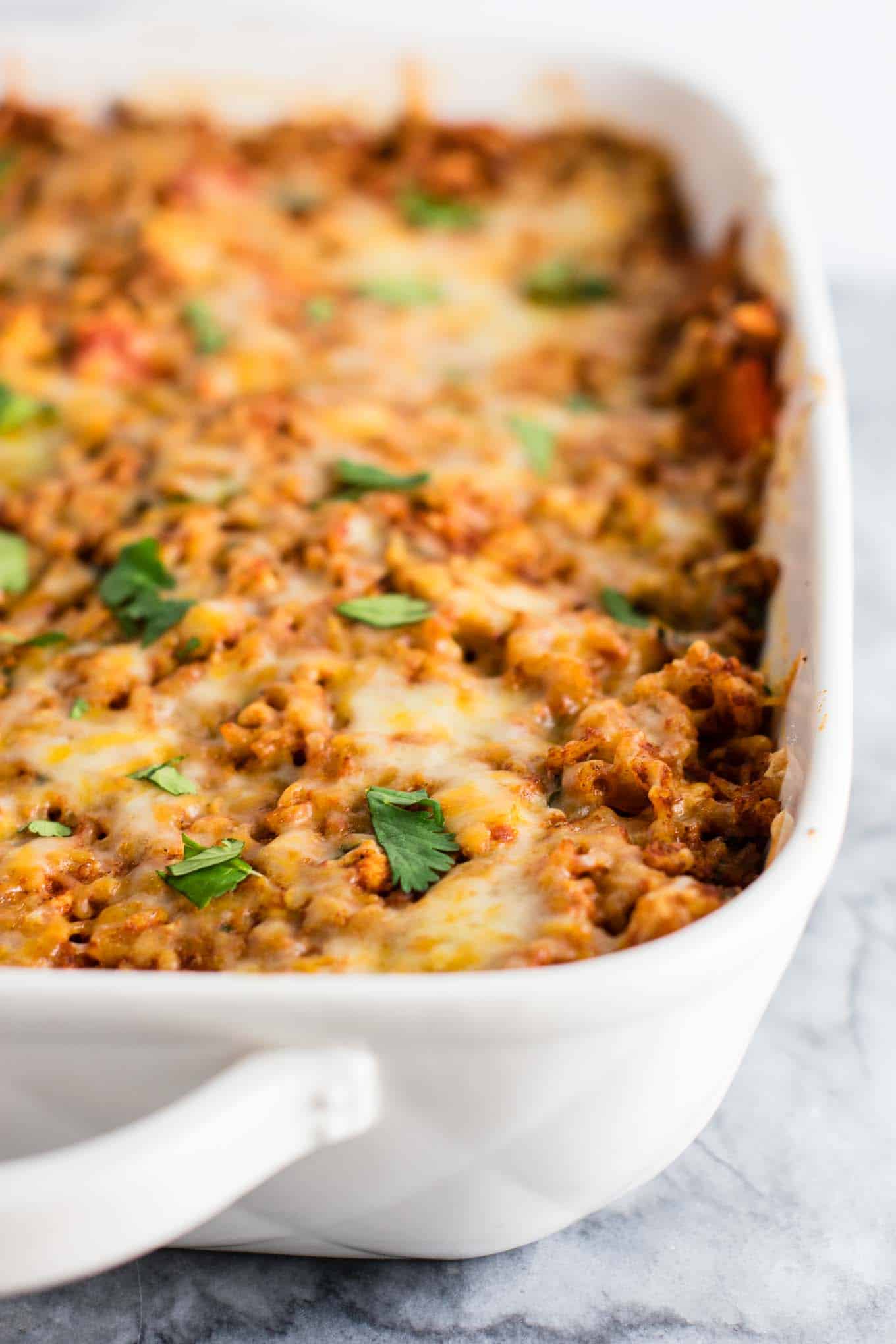 I love scrambled tofu because 1) I don't have to press it (time consuming) and 2) it can absorb any flavor, which means that I can make it into anything that I want it to be!
When I first made this tofu mexican rice casserole, I served it without saying what was in it.
No one even guessed that there was tofu in there.
The tofu blends seamlessly into the rice casserole, adding protein and making it all the more filling!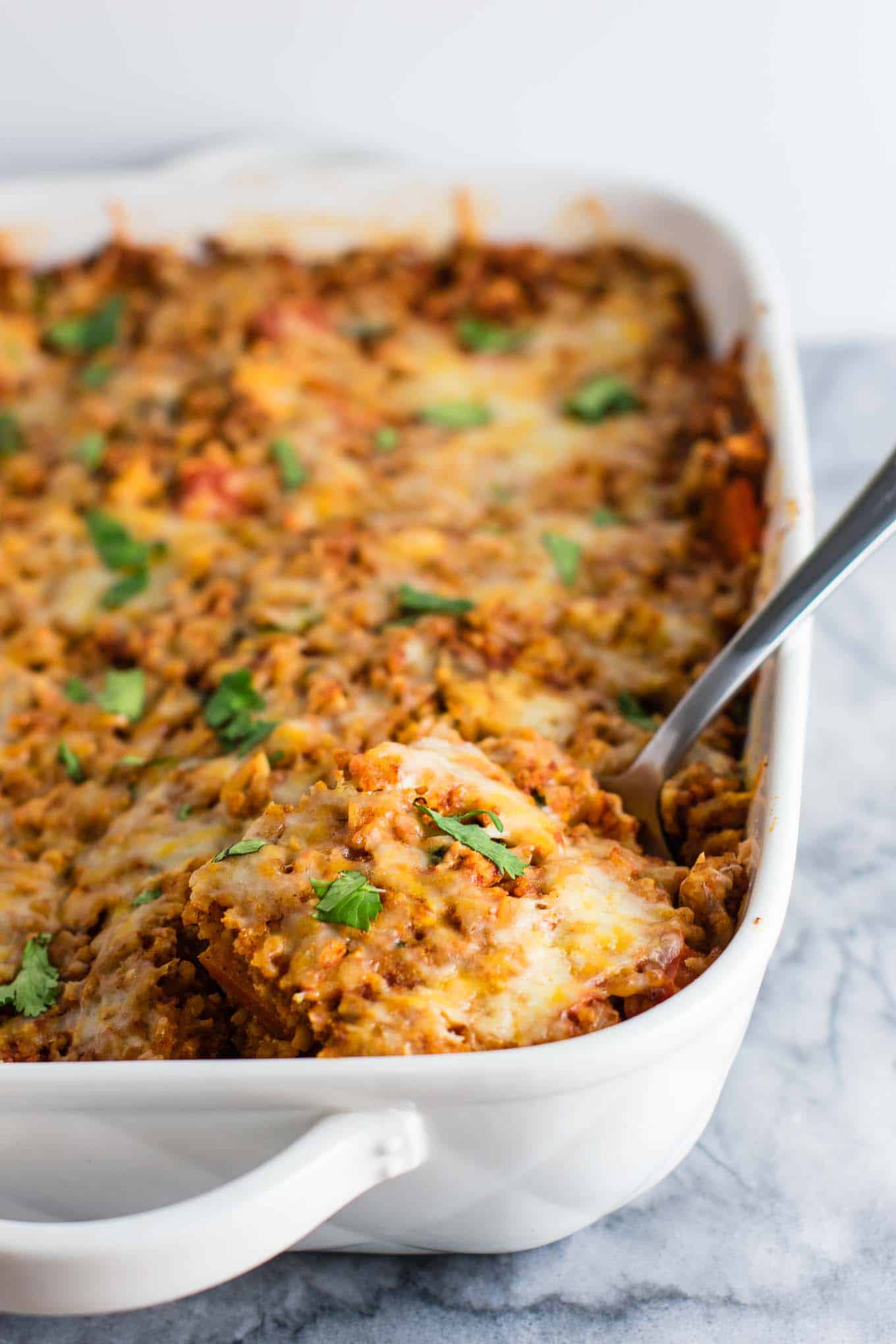 This dish is kind of similar to my vegetarian mexican rice casserole, and both are delicious.
I love how filling and comfort food feeling it is.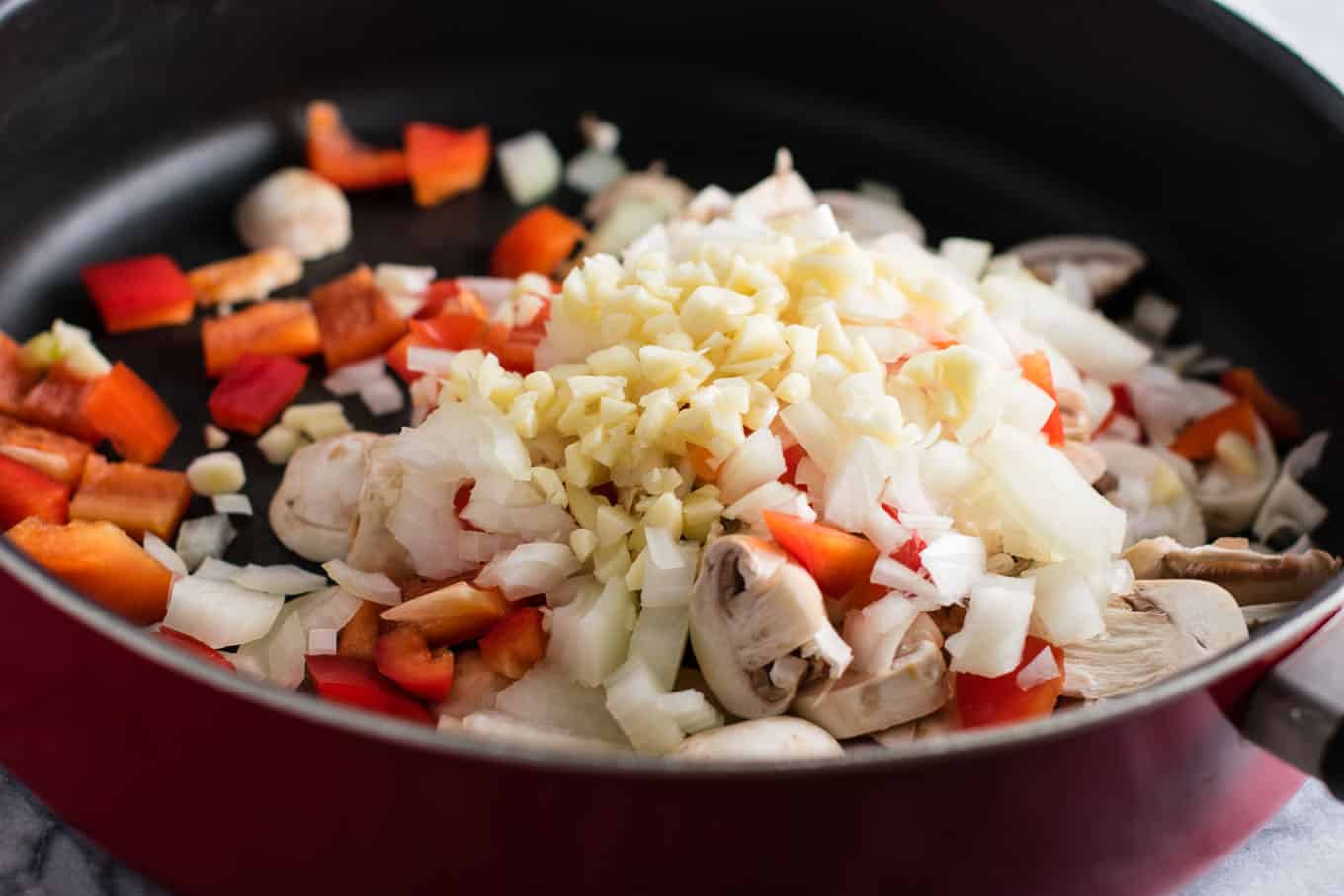 As usual, I'm piling on the fresh veggies.
In this case: tons of fresh garlic (so good for you), onion, mushrooms, and red bell pepper.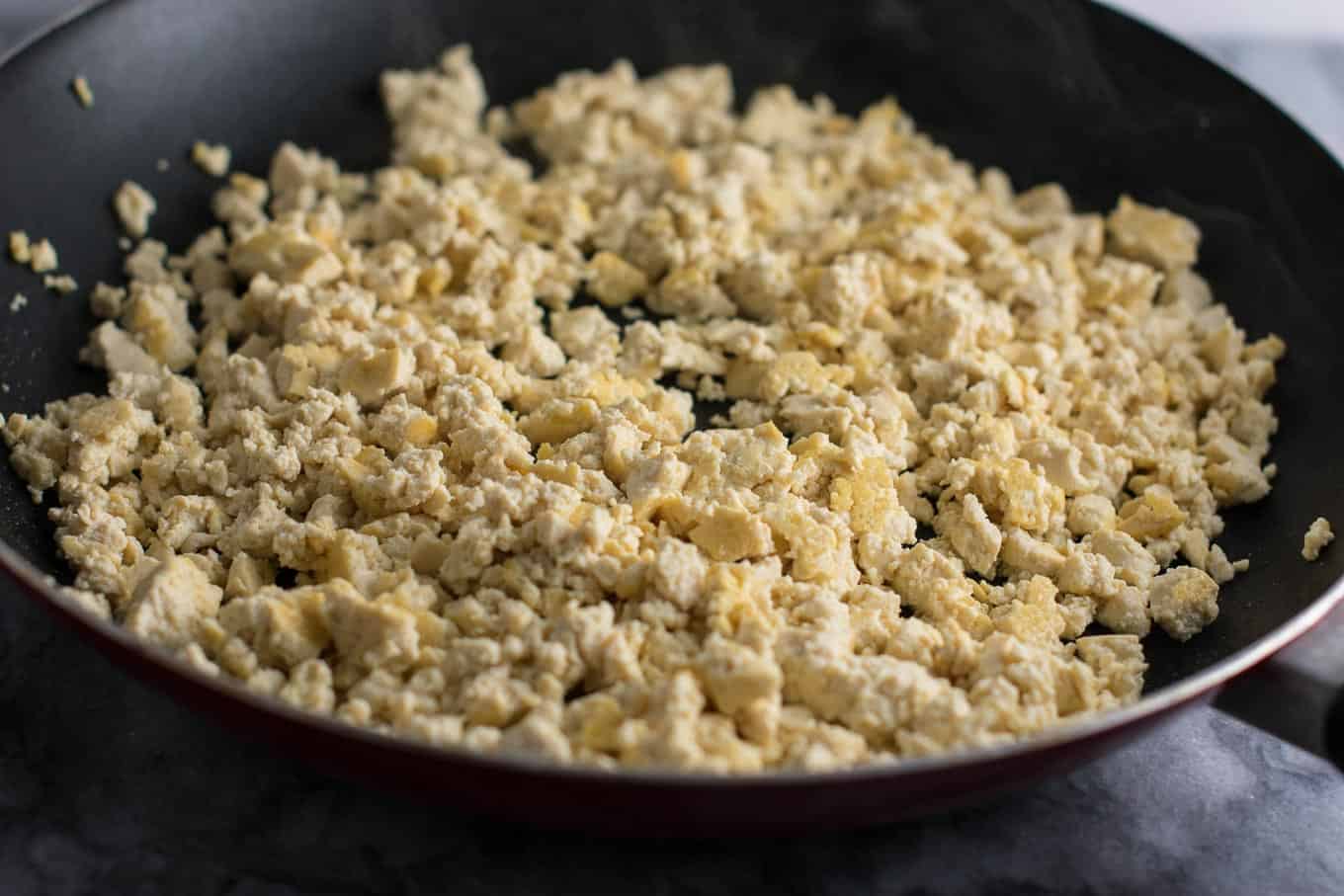 As far as the tofu, it is super simple to make.
After draining it, use a paper towel to pat the tofu dry.
Heat some olive oil in a skillet, then add the whole block of tofu.
Use a potato masher to "scramble" the tofu into small pieces. As you can see above, it should resemble scrambled eggs once cooked.
Basically, we just want to cook the tofu long enough that it loses it's water and gets a little bit of browned edges. We want it to get some texture so that it doesn't taste mushy.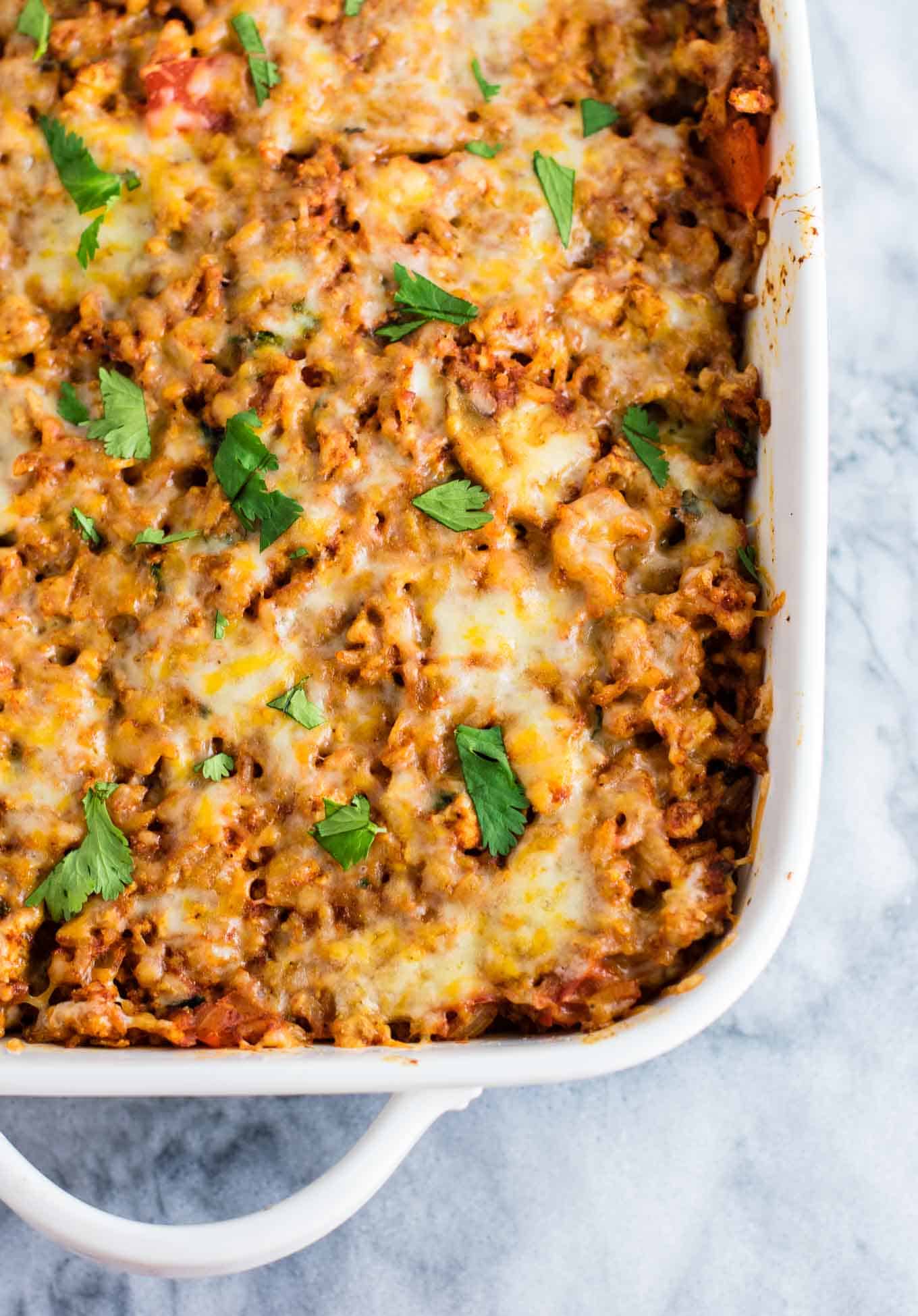 I'm seriously obsessed with this dish.
I'm always finding new ways to do taco night, and this casserole is a great way to mix it up!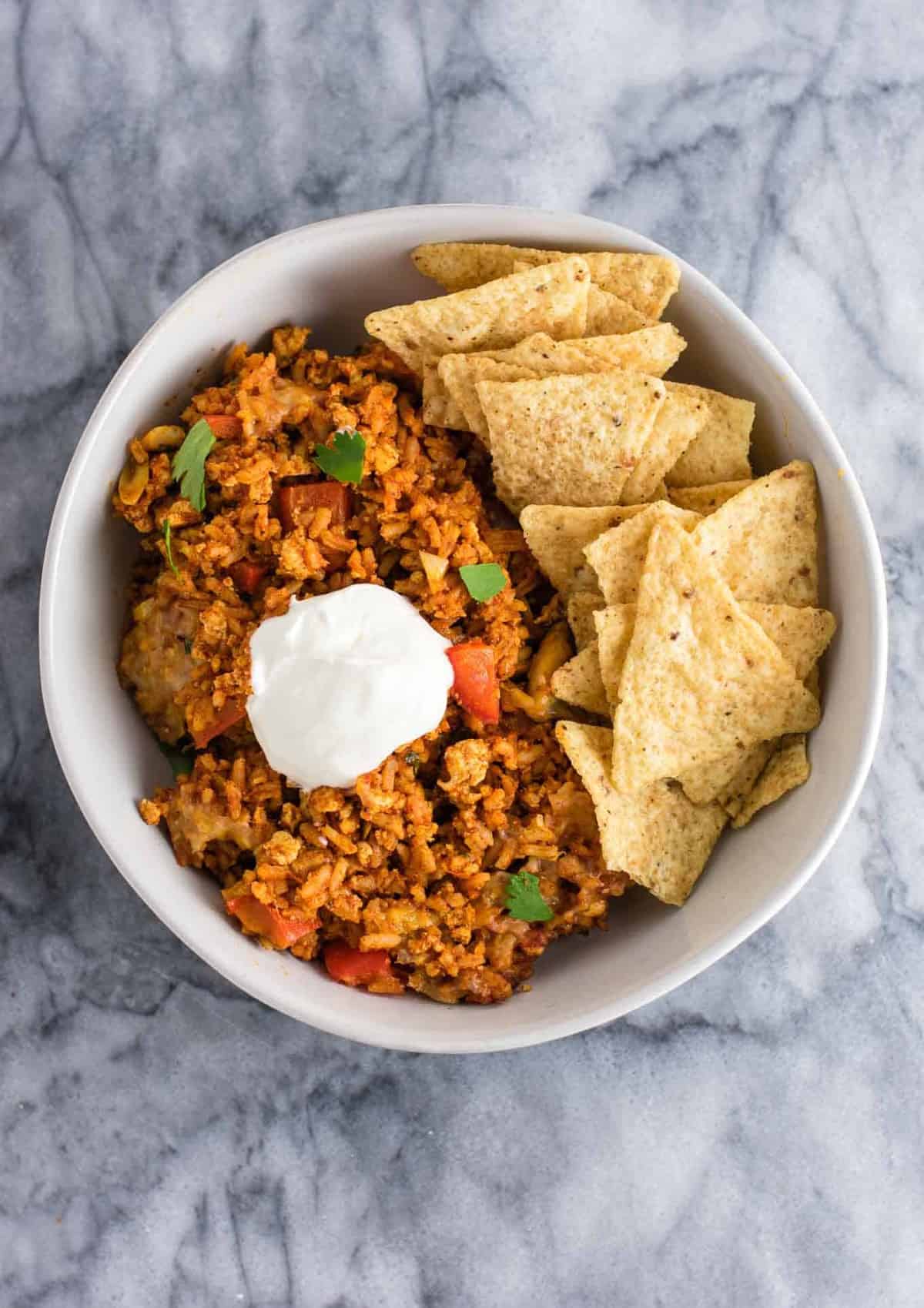 We keep it super simple and serve ours topped with sour cream (or 0% greek yogurt if that's your thing) and tortilla chips.
I only had a few chips with mine. It is SO good as is.
We had it for dinner last night and lunch today and it will probably be dinner as well.
This easily serves 6 people!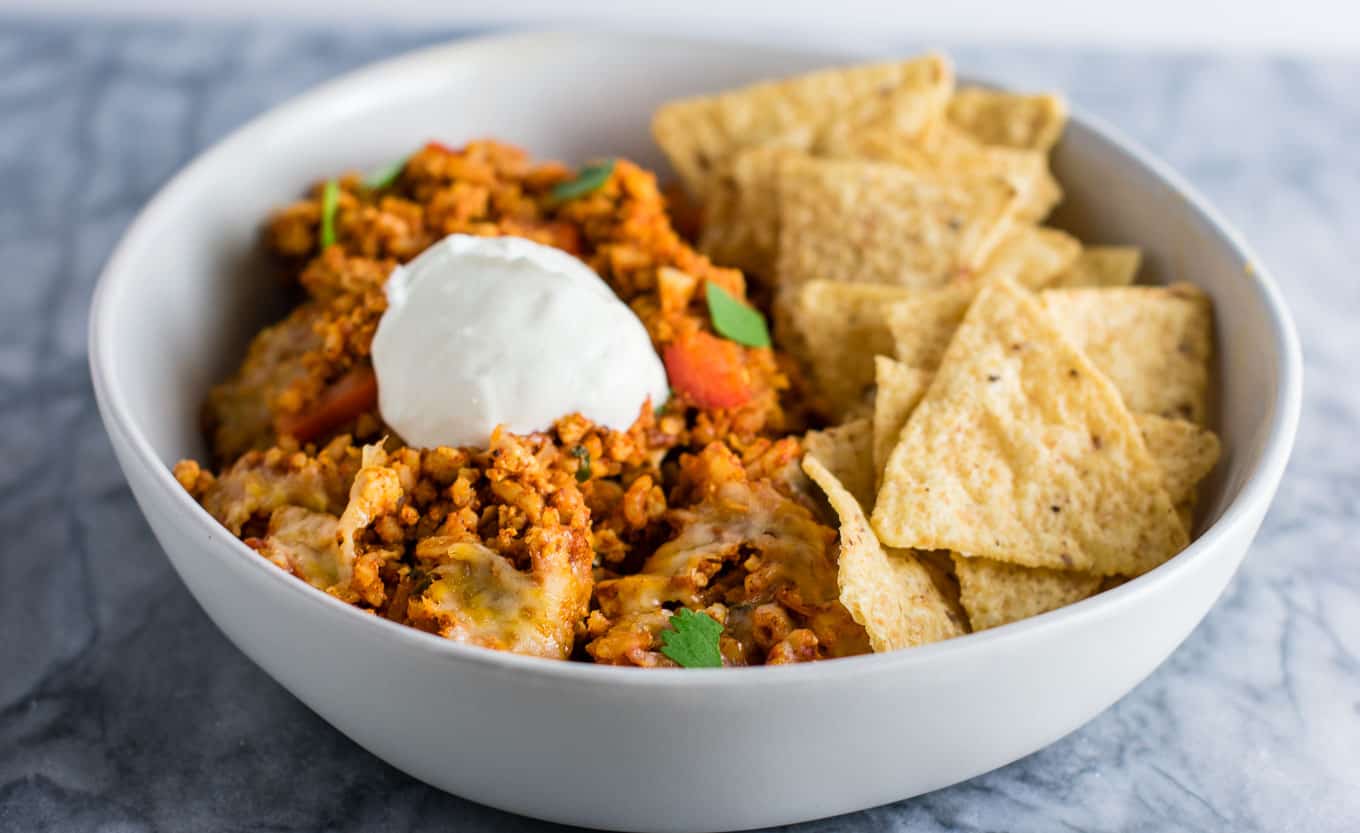 If you like Mexican rice, you'll love this recipe.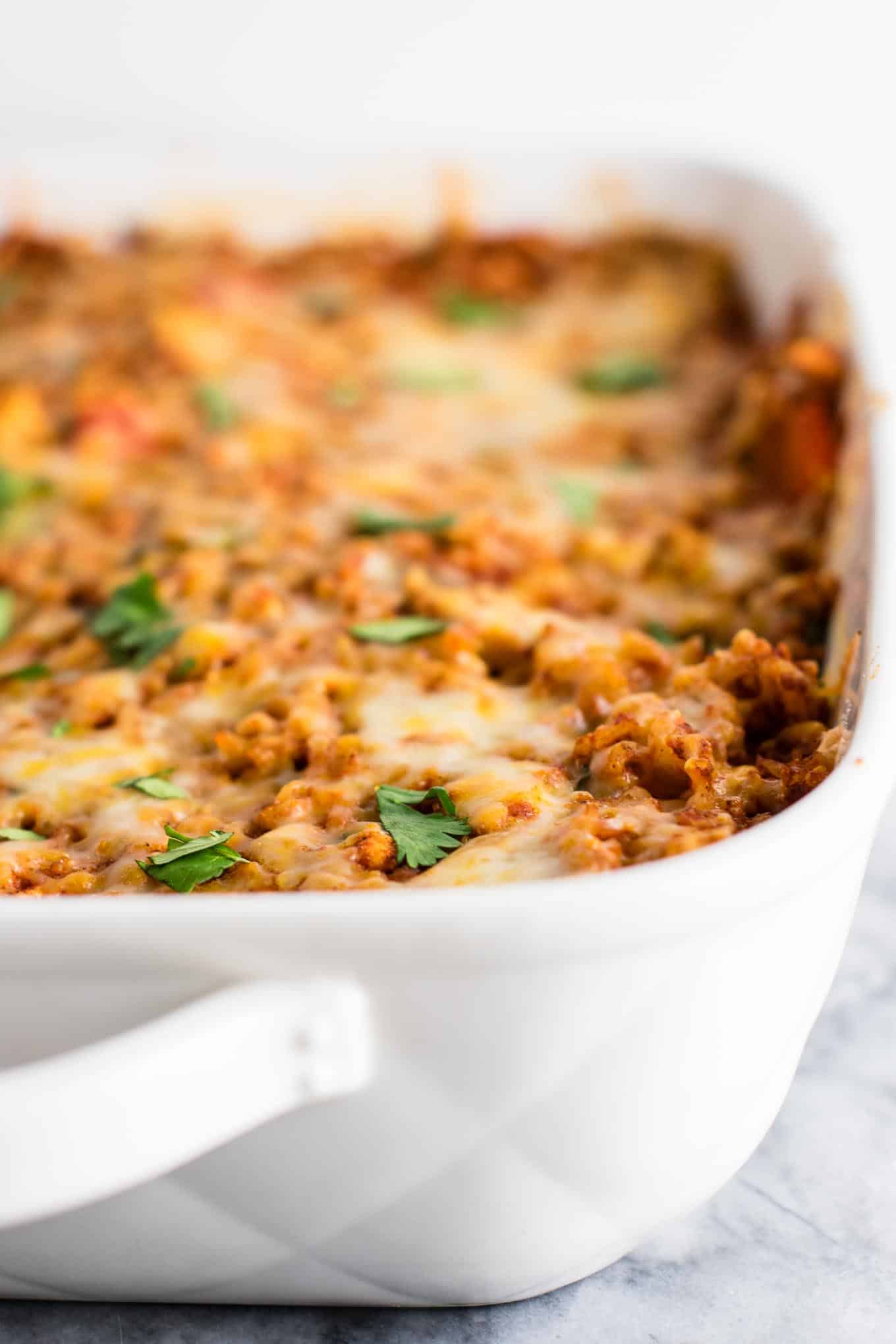 Once the casserole is assembled, I baked it for just 15 minutes to let all the flavors marry and the cheese on top get all nice and crispy bubbly (<—my weakness.)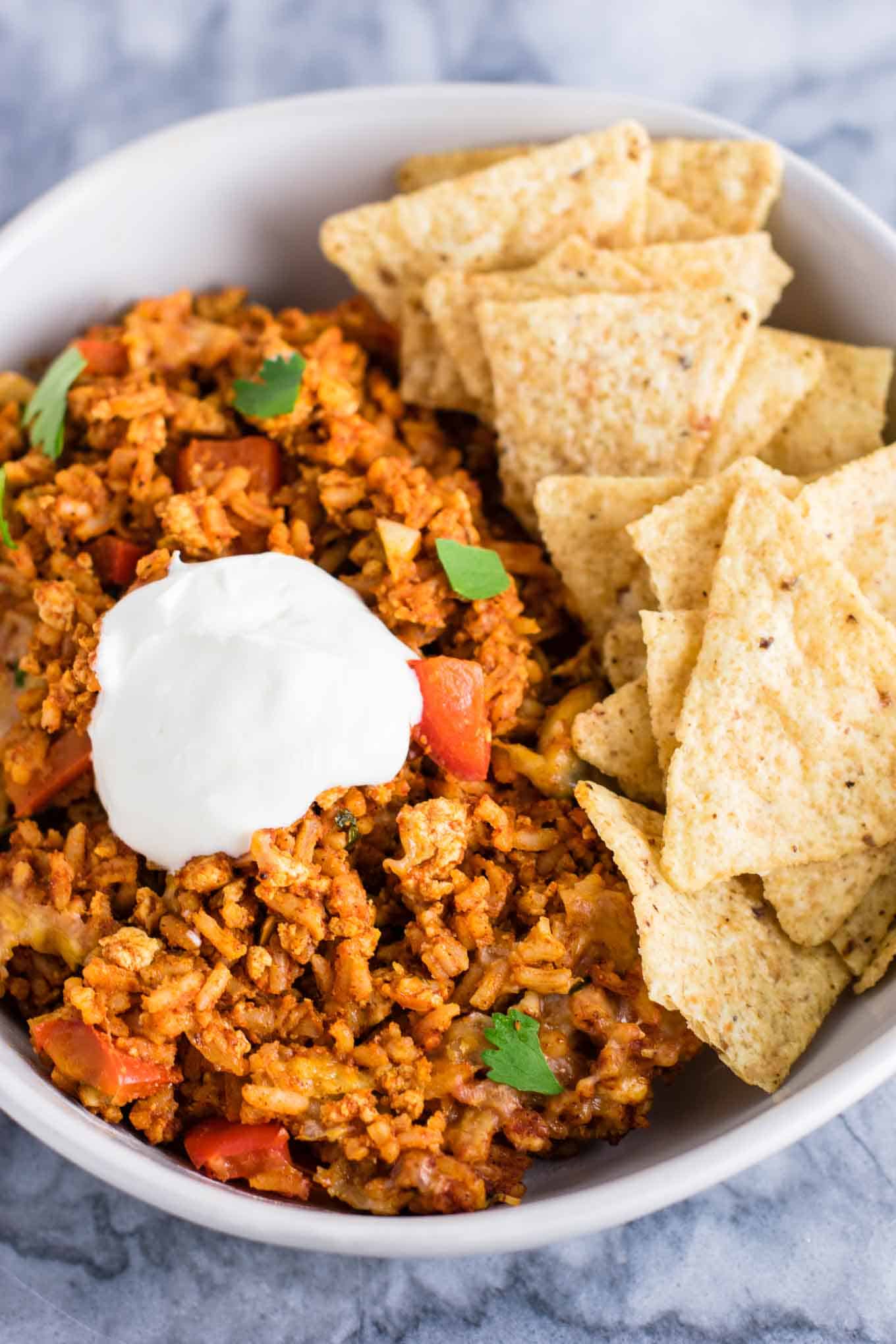 Isn't it just beautiful?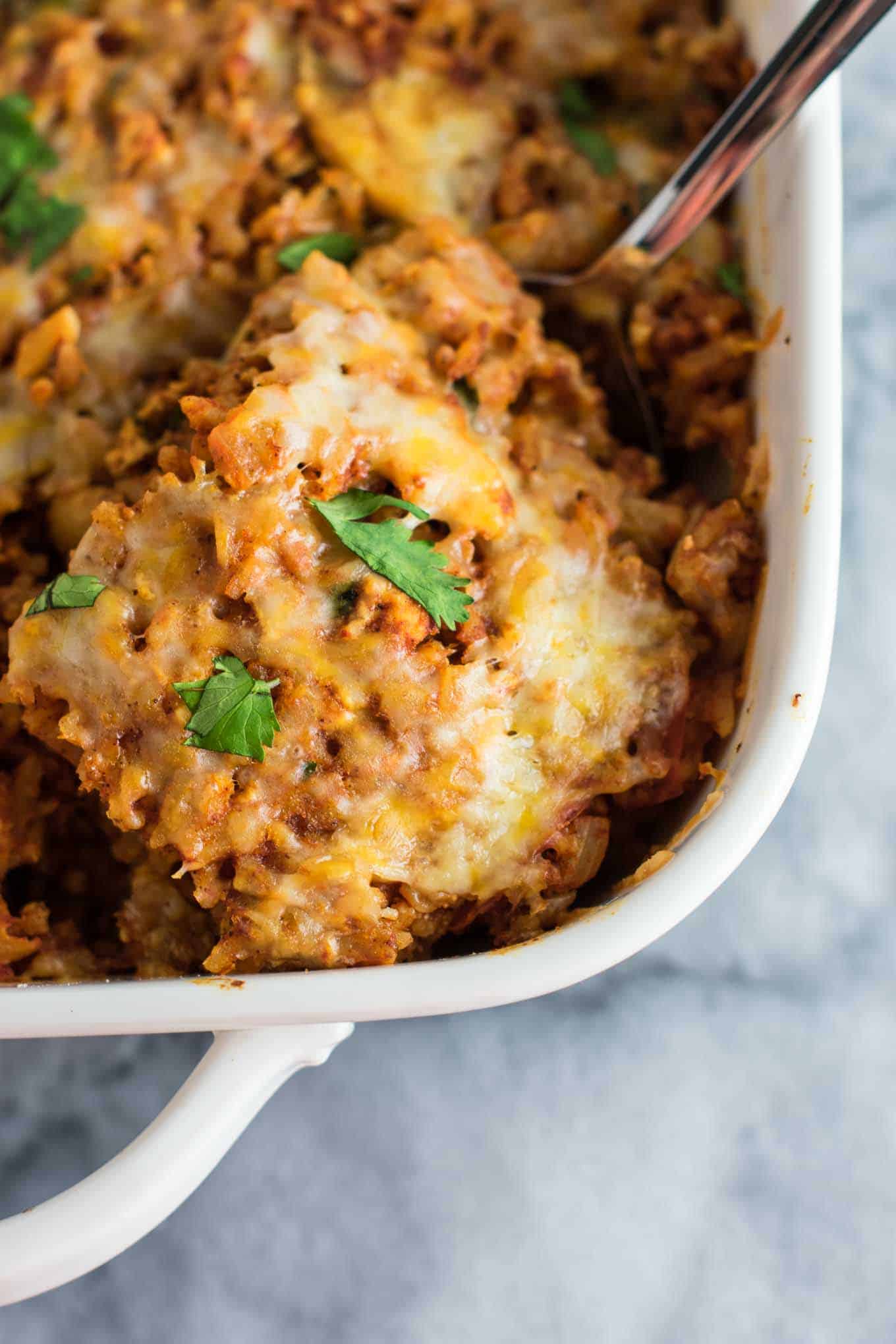 I'm so glad I discovered how good scrambled tofu was after making these vegan breakfast burritos.
I'm planning an eggless fried rice with scrambled tofu and I think that's going to be AMAZING. Stay tuned if you want the recipe.
To make this tofu Mexican rice casserole vegan, you can just omit the cheese our use vegan cheese. Easy peasy!
Are you making this recipe? I want to see! Tag me on instagram @buildyourbite and hashtag #buildyourbite with your recipe creations.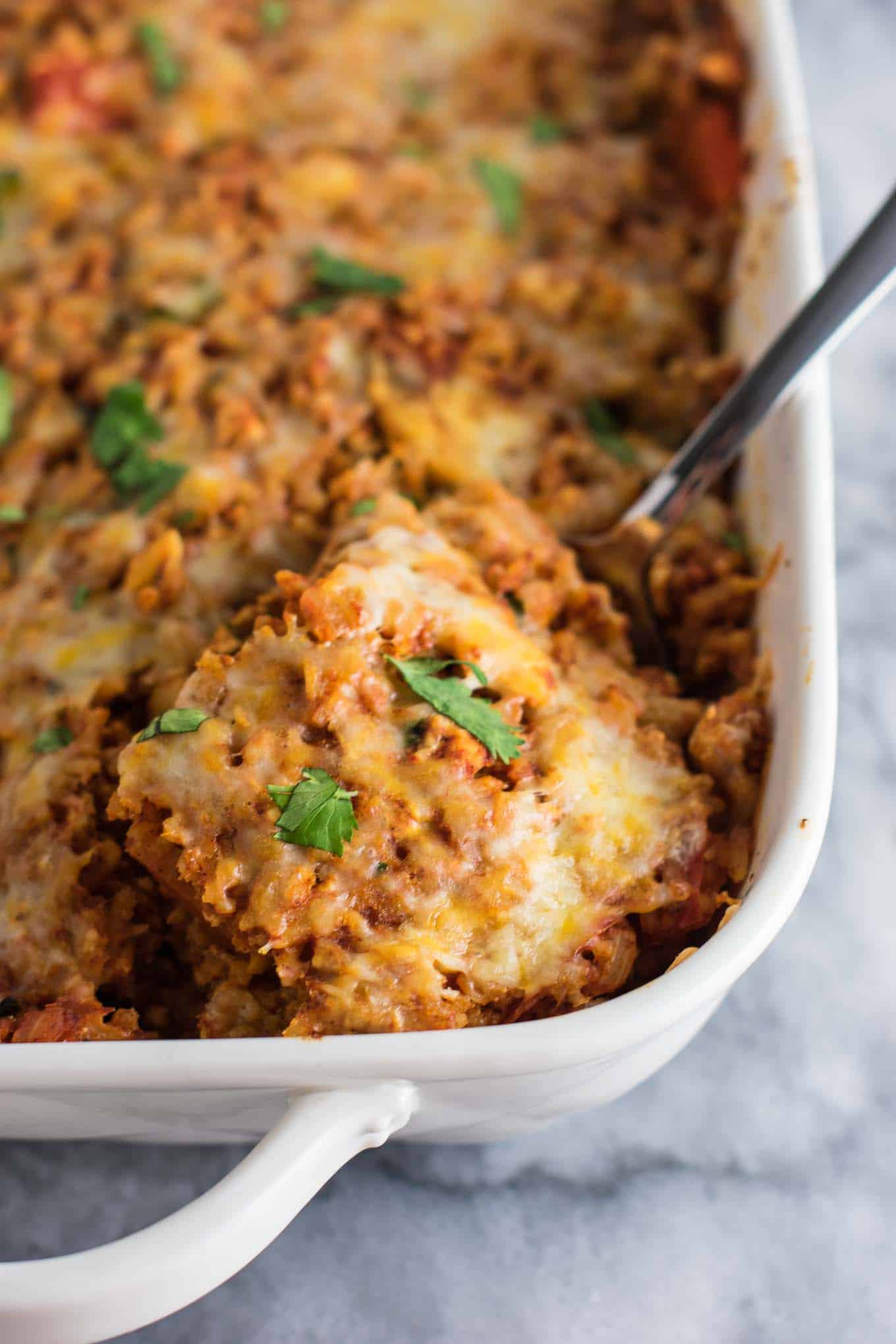 More vegetarian mexican recipes you might like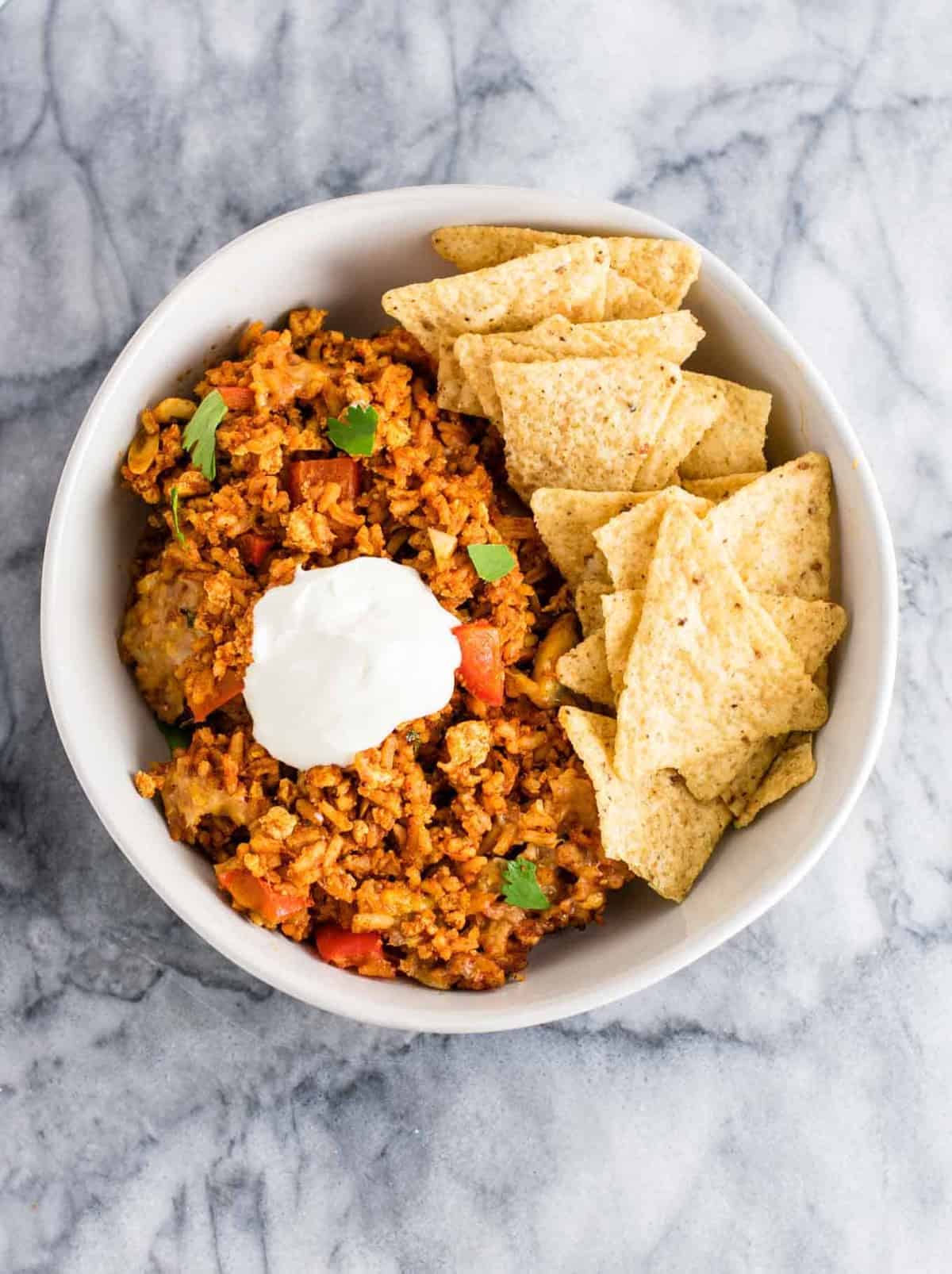 Tofu Mexican Rice Casserole
Easy vegetarian protein packed tofu mexican rice casserole
Ingredients
8 oz sliced mushrooms
1 red bell pepper, diced
1 medium onion, diced
12 cloves of garlic, minced
14 oz extra firm tofu, drained
3 tablespoons olive oil, divided
5 cups cooked white rice
16 oz enchilada sauce
Juice of 2 small limes
¼ cup chopped cilantro
3 tablespoons cumin
1 tablespoon chili powder
1 teaspoon pepper
1 ½ teaspoons sea salt
⅔ cup shredded Mexican cheese for filling
½ cup shredded Mexican cheese, for topping
Instructions
Cook rice according to instructions. You will need 5 cups of cooked rice (I used a rice cooker)
Add mushrooms, bell pepper, onion, garlic, and 1 tablespoon of olive oil to a large skillet
Saute on medium high heat for 10 - 15 minutes, or until mushrooms cook down

After you get the veggies started, drain tofu and pat dry with a paper towel
Heat a large skillet over medium high with 2 tablespoons of olive oil
Add the block of tofu and use a potato masher to scramble into egg like texture (see picture in the post)
Cook tofu for around 10 minutes, using a spatula to press down and scramble until it starts to dry out and get browned
Once veggies have cooked, add the tofu, enchilada sauce, cooked rice, lime juice, cilantro, cumin, chili powder, pepper, salt, and ⅔ cup of shredded mexican cheese
Stir well to combine and taste/adjust seasonings if desired
Transfer mixture to a casserole dish and spread out evenly
Sprinkle on remaining ½ cup of mexican cheese on top
Bake at 400 degrees for 15 minutes, or until cheese is bubbly and edges begin to brown
Serve garnished with additional cilantro, sour cream, and tortilla chips

Recommended Products
As an Amazon Associate and member of other affiliate programs, I earn from qualifying purchases.
Nutrition Information:
Yield:

8
Serving Size:

1
Amount Per Serving:
Calories:

355
Total Fat:

14g
Saturated Fat:

4g
Trans Fat:

0g
Unsaturated Fat:

9g
Cholesterol:

16mg
Sodium:

1008mg
Carbohydrates:

47g
Fiber:

5g
Sugar:

10g
Protein:

14g