These easy roasted sweet potato cubes are made with just 5 ingredients and ready in less than 30 minutes. Perfect sweet potato side dish for any meal of the day!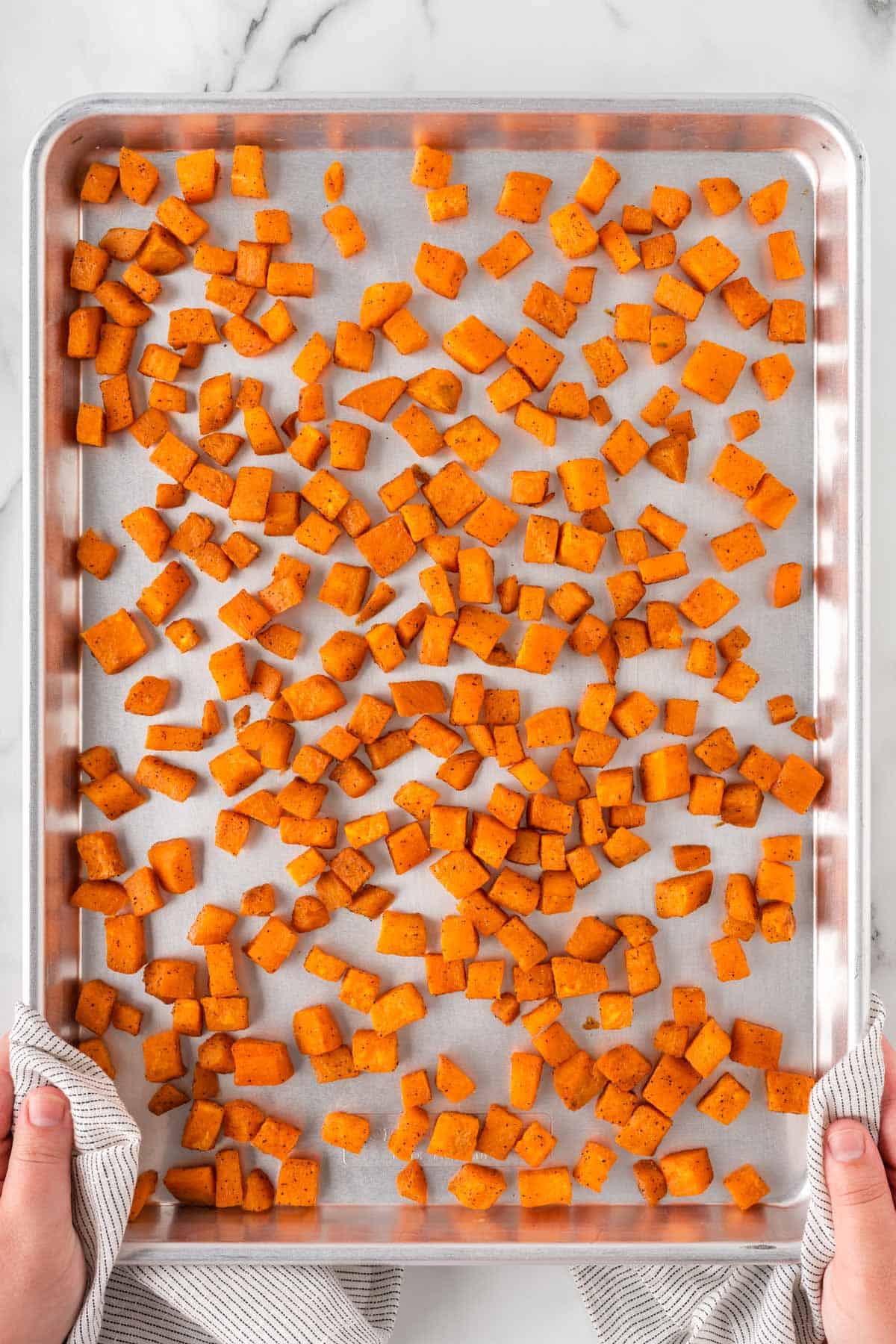 This Roasted Sweet Potato Recipe is my go to side dish!
These easy roasted sweet potatoes are my go to sweet potato recipe. They are the perfect side dish for any meal!
Sweet potatoes are one of my favorite vegetables, and I usually buy a few every week when I'm at the grocery store.
Favorite Ways to use Oven Roasted Sweet Potatoes
These cubed sweet potatoes are great for throwing in cauliflower rice burrito bowls with some fajita veggies and guacamole!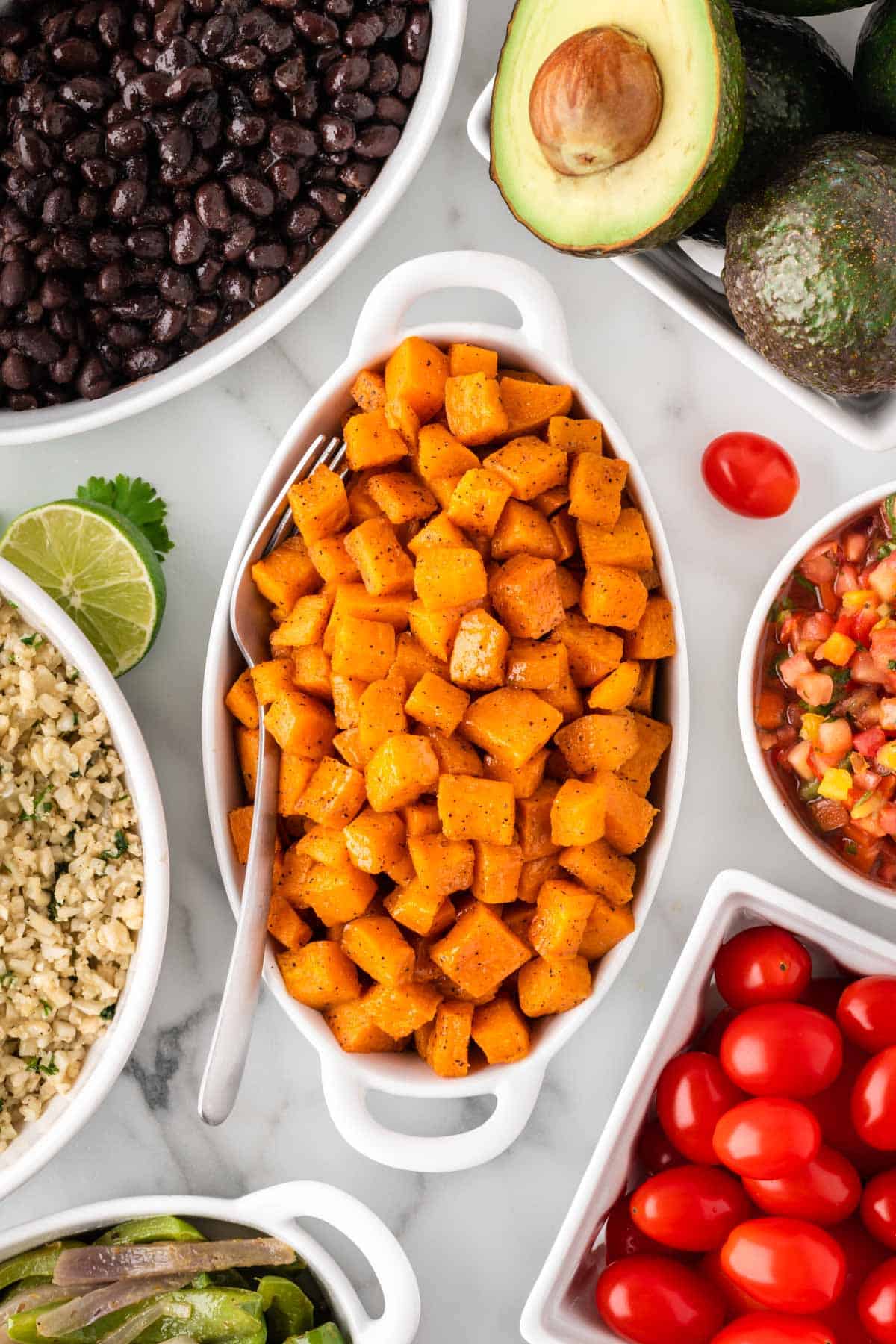 From sweet potato nachos to sweet potato tacos and healthy chocolate milkshakes, sweet potatoes are so versatile and so delicious.
What you'll need for this Roasted Cubed Sweet Potatoes recipe
2 large sweet potatoes
Olive oil
Salt and pepper
Garlic powder
Seasoning for sweet potatoes
Cumin, chili powder, paprika: making a Mexican themed meal? Try these spices on your sweet potatoes.
Garlic powder and onion powder: these basic spices would pair well with just about any meal
Brown sugar and cinnamon: make a sweet side dish by adding brown sugar and cinnamon to your sweet potatoes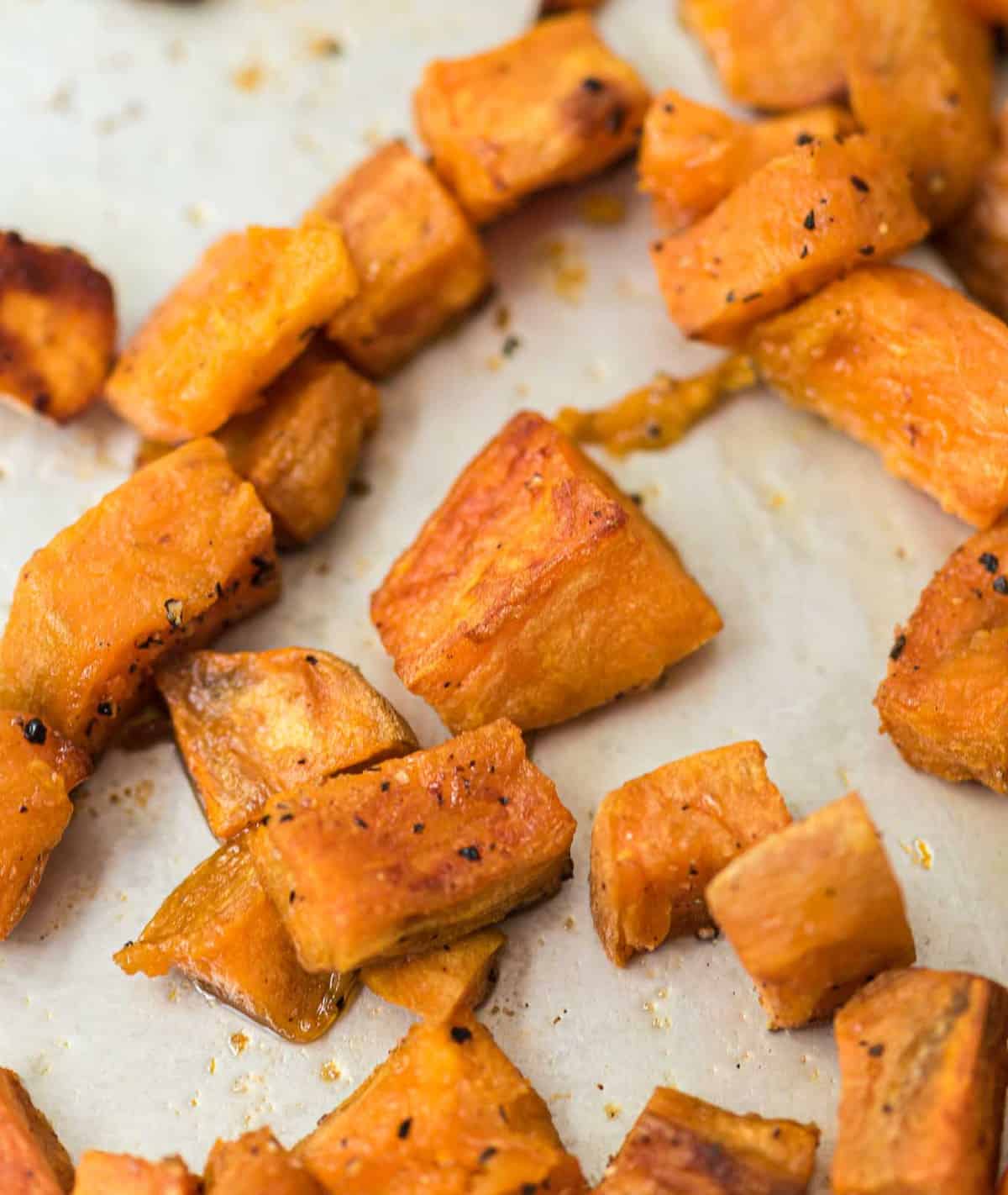 How to roast Sweet Potatoes
Step 1: Preheat your oven to 450 degrees. High heat will help us get those crispy edges on the sweet potatoes!
Step 2: Peel your sweet potatoes and dice them into small cubes.
Step 3: Toss the sweet potato cubes with olive oil, salt, pepper, and garlic powder until coated on all sides.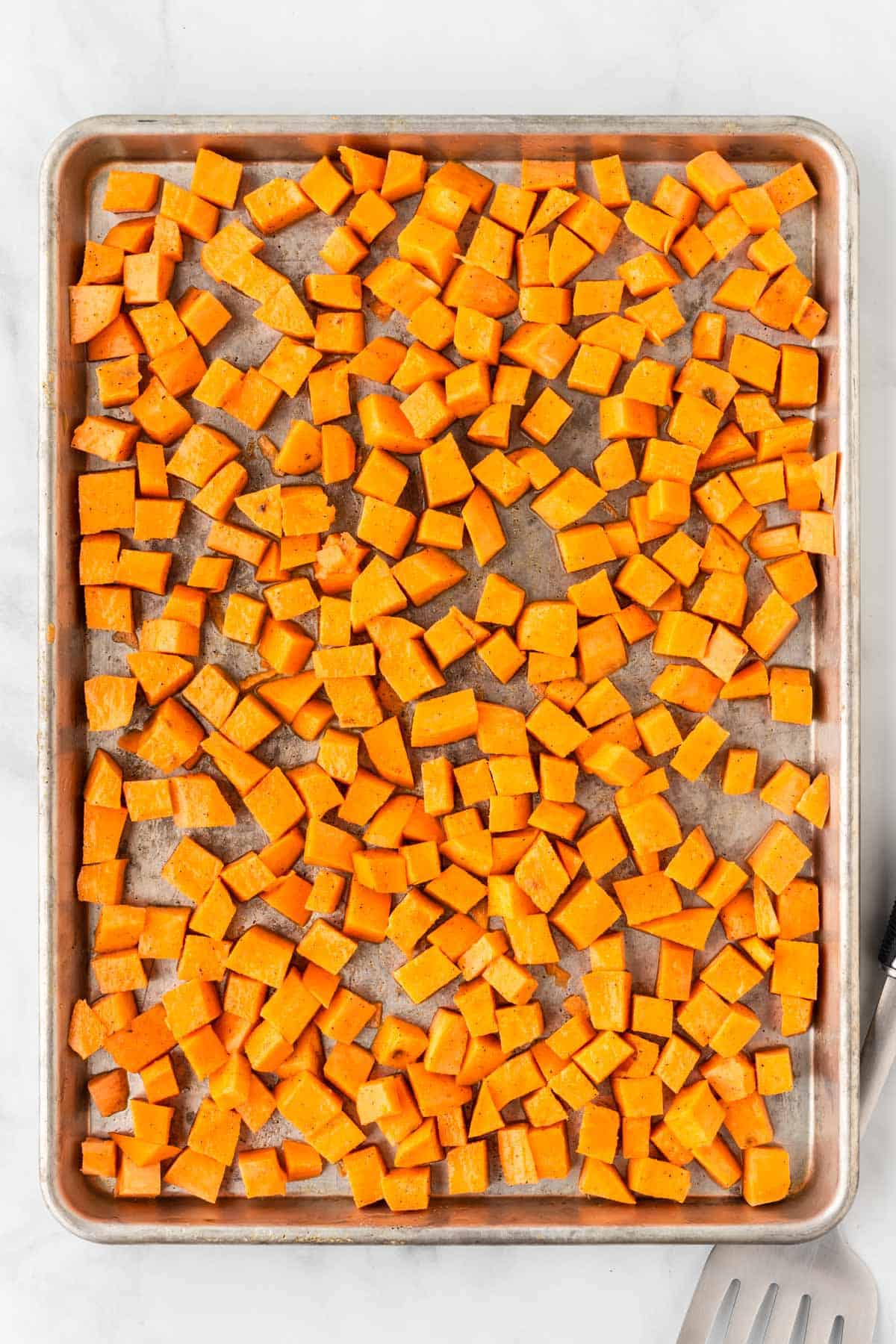 Step 4: Spread out the sweet potato cubes in an even layer on a baking sheet and put them in the oven.
How long to roast sweet potatoes
Step 5: Roast the sweet potato cubes until crispy, flipping every 10 minutes to avoid burning. It should take around 25 – 30 minutes total to roast sweet potatoes at 450 degrees.
How to prepare sweet potatoes
Peel: peel the skin off of your sweet potatoes
Dice: dice the sweet potatoes into evenly sized small chunks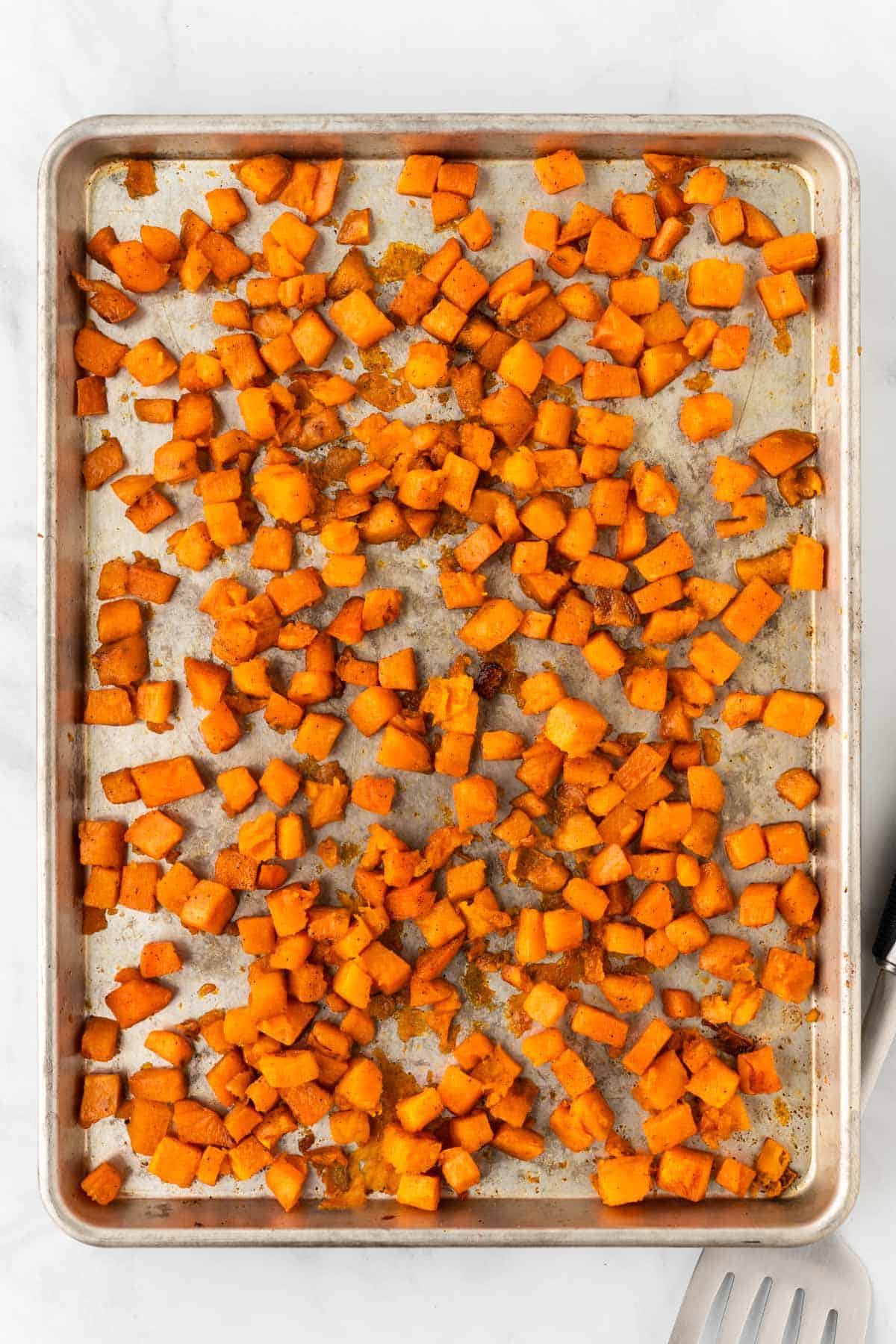 Roasted sweet potato cubes pair well with…
These baked sweet potato cubes are my go to recipe. They make a great sweet potato side dish, or an addition to most any meal.
They are great for tossing in salads, on nachos, in bowls, enchiladas, tacos, you name it!
The spices are a starting point that are mild enough to go in any recipe.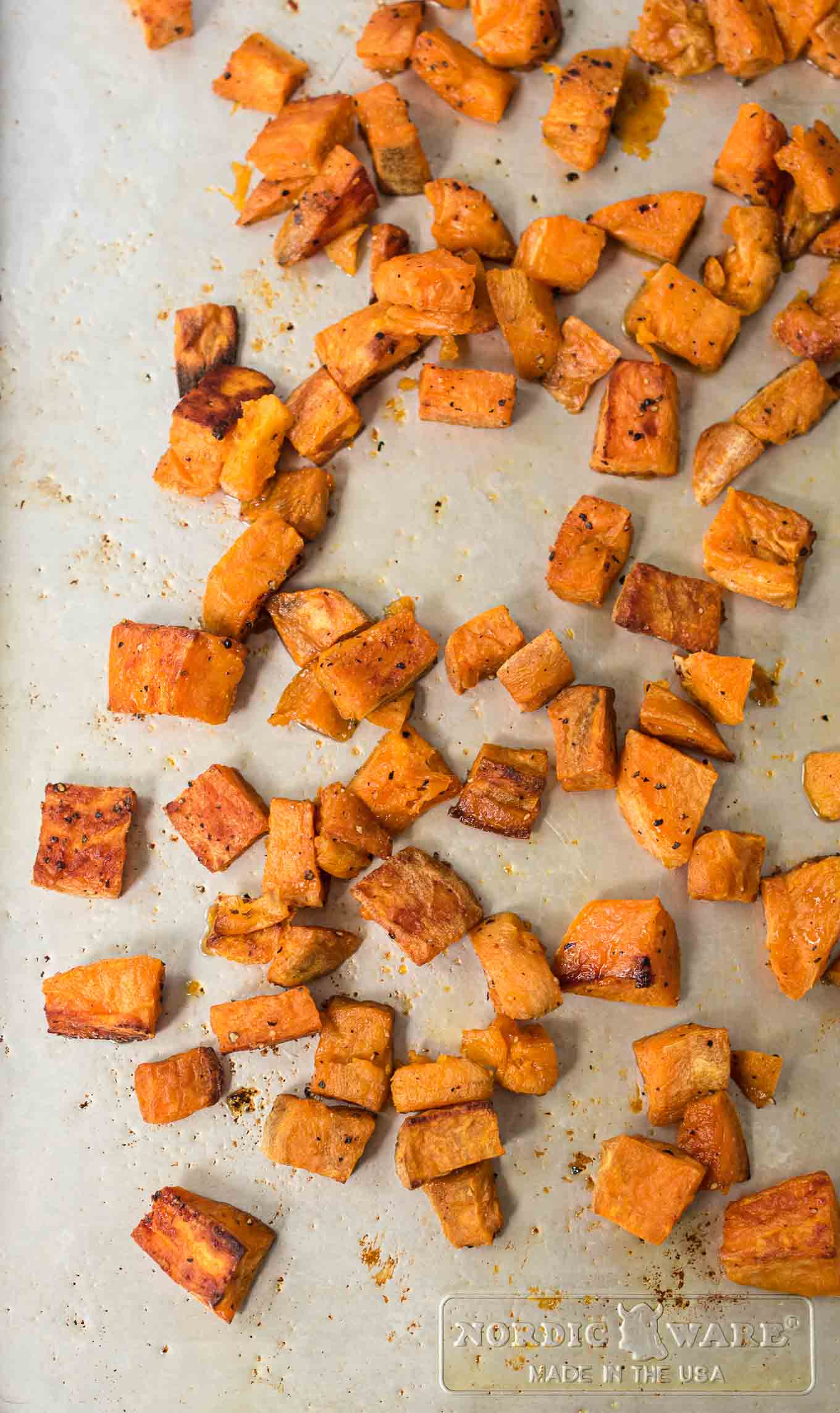 If I'm making a mexican dish, I will add in some chili powder or cumin.
For breakfast recipes, I might add in some onion powder or thyme.
There isn't a meal of the day that I wouldn't eat sweet potatoes!
Oven Roasted Sweet Potatoes storage
Storing: Store leftover sweet potatoes in an airtight container in the refrigerator for up to 4 days.
Reheating: reheat leftover sweet potatoes at 350 degrees on a baking sheet until heated through. You can also use a microwave, but the texture is better in the oven.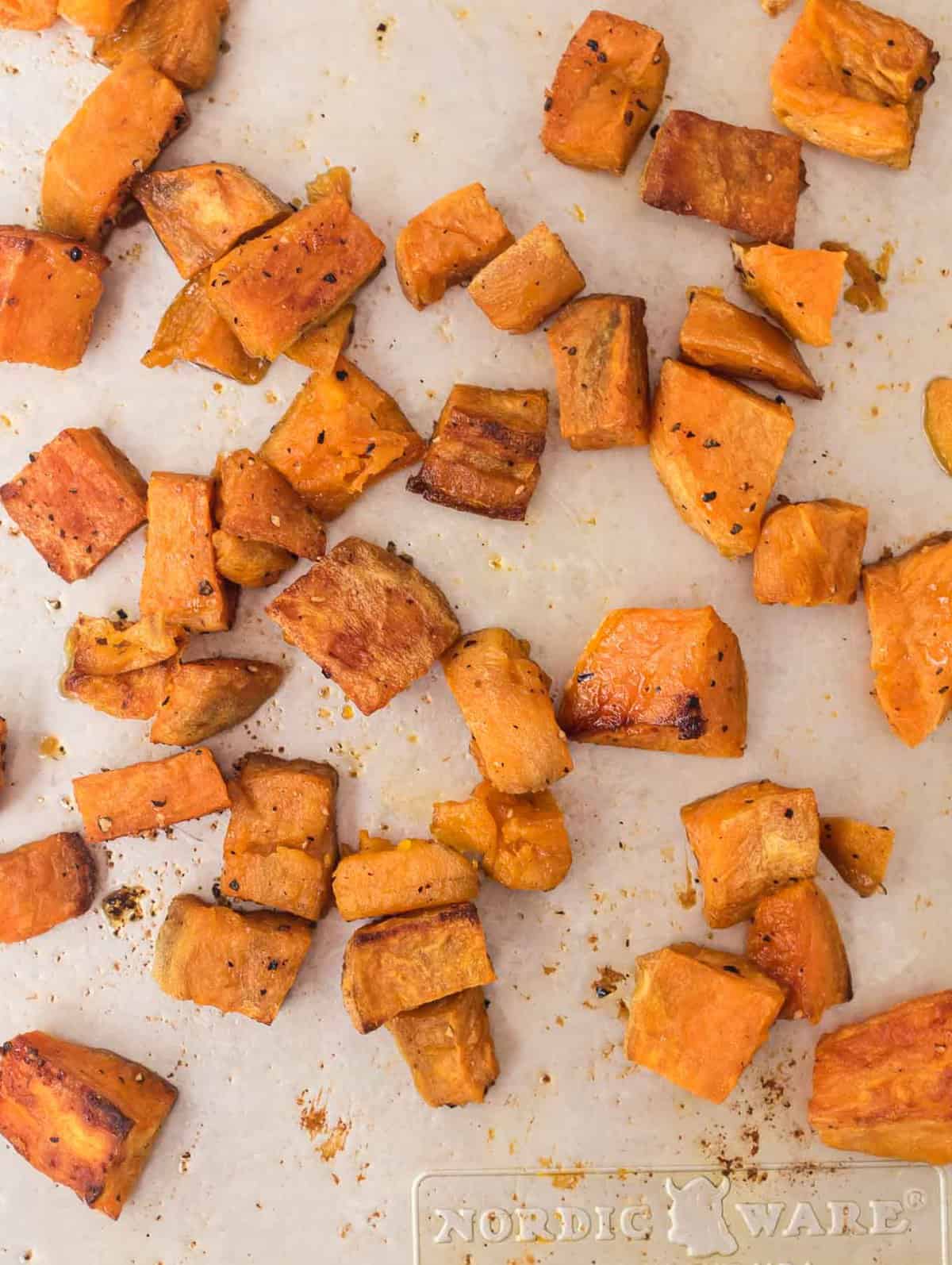 Roasted Sweet Potatoes FAQs
Do I need to boil sweet potatoes before roasting?
There is no need to boil sweet potatoes before roasting them.
What's the difference between roasting and baking sweet potatoes?
When you cook sweet potatoes at a higher temperature (over 400 degrees), this is called roasting. Roasting sweet potatoes allows you to get crispier edges by utilizing a hotter oven.
More Sweet Potato Recipes
Looking for more ways to eat sweet potatoes? Here are some of our favorites!
Did you make this recipe? Be sure to leave a star rating below!
Oven Roasted Sweet Potatoes (Cubed)
These easy oven roasted sweet potato cubes are made with just 5 ingredients and ready in less than 30 minutes. Perfect for salads, burrito bowls, enchiladas, as a side dish, and more!
Ingredients
2 large sweet potatoes, diced into small chunks
up to ⅓ cup olive oil
¼ teaspoon of pepper
½ teaspoon garlic powder
1 teaspoon salt
Instructions
Preheat the oven to 450 degrees
Place the sweet potato cubes on a baking sheet and drizzle with olive oil to coat, then sprinkle on the salt, pepper, and garlic powder. Use your hands to toss and combine the oil and spices
Spread the sweet potatoes out into an even layer on the baking sheet
Roast the sweet potatoes at 450 degrees for 10 minutes, then flip and stir
Roast an additional 10-20 minutes, stirring at least once, until the edges are golden brown
Nutrition Information:
Yield:

4
Serving Size:

1
Amount Per Serving:
Calories:

217
Total Fat:

18g
Saturated Fat:

2g
Trans Fat:

0g
Unsaturated Fat:

15g
Cholesterol:

0mg
Sodium:

166mg
Carbohydrates:

14g
Fiber:

2g
Sugar:

4g
Protein:

1g