The best delicious mashed potatoes with sour cream recipe. Use the perfect blend of sour cream, milk, and butter to make these buttery perfect mashed potatoes! A holiday side dish that everyone will love.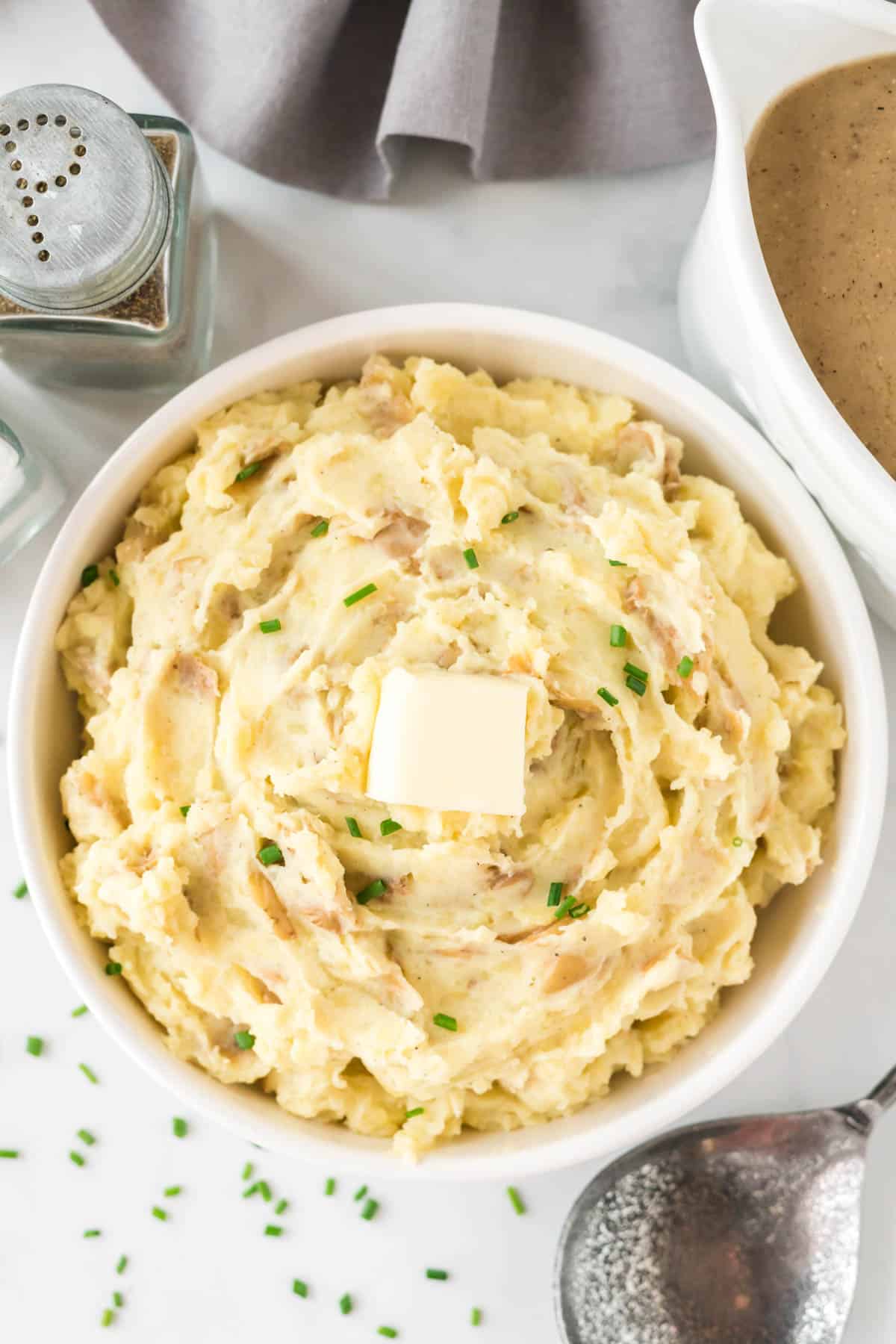 Whether it is Thanksgiving, Easter, Christmas, or just dinner time, these sour cream mashed potatoes are always a hit at the table!
Buttery, delicious mashed potatoes are a classic side dish that just never gets old.
It's the only potatoes besides sweet potato casserole that I want during the holidays.
Using sour cream in mashed potatoes is so delicious. It adds even more flavor and creaminess!
Ingredients to make mashed potatoes with sour cream
baby potatoes: you can also use russet potatoes, red potatoes, any kind you like
vegetable broth and water: for boiling the potatoes
milk
butter
sour cream: the star of these mashed potatoes
fresh chives, for topping
salt and pepper, to taste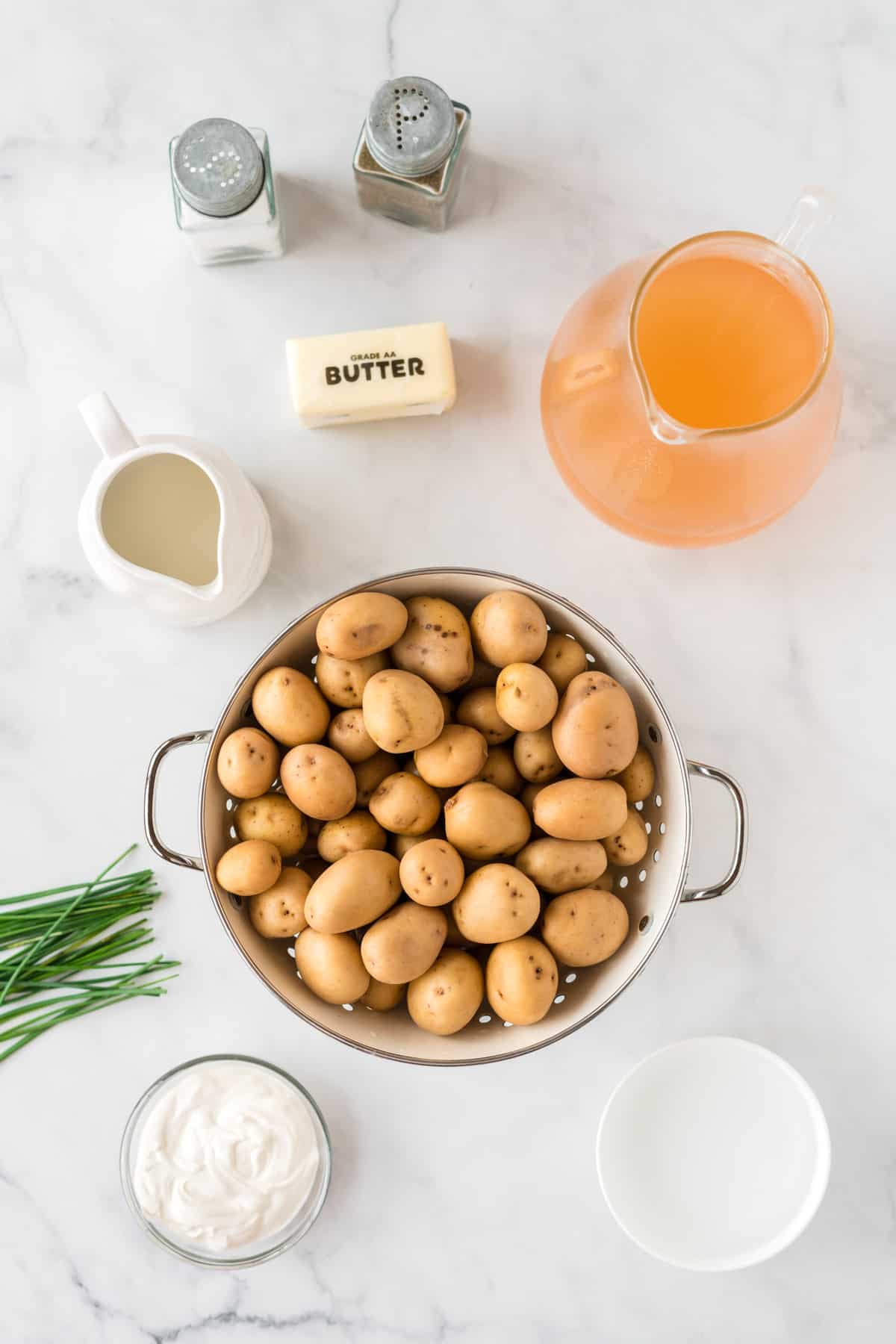 How to make mashed potatoes
Step 1: Rinse the potatoes and scrub off any dirt. Cut the baby potatoes in half, then place in a large pot.
Note: Any potatoes will do, but you may need to cut them up smaller to allow for faster cook time. I like using smaller potatoes for this reason, as I just cut them in half.
I prefer to leave the skins on for my mashed potatoes, but if you do not like skins, you can peel the potatoes before boiling.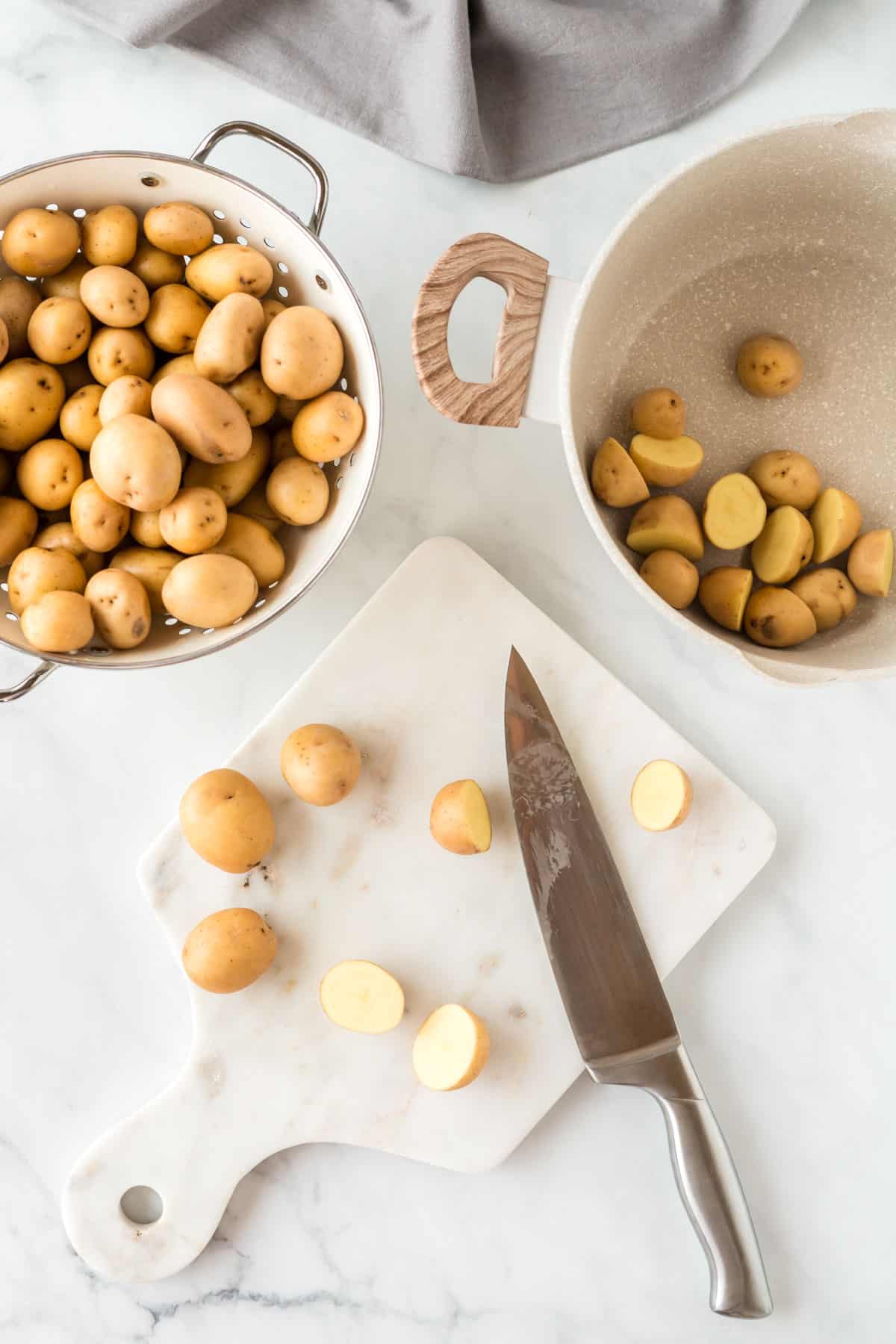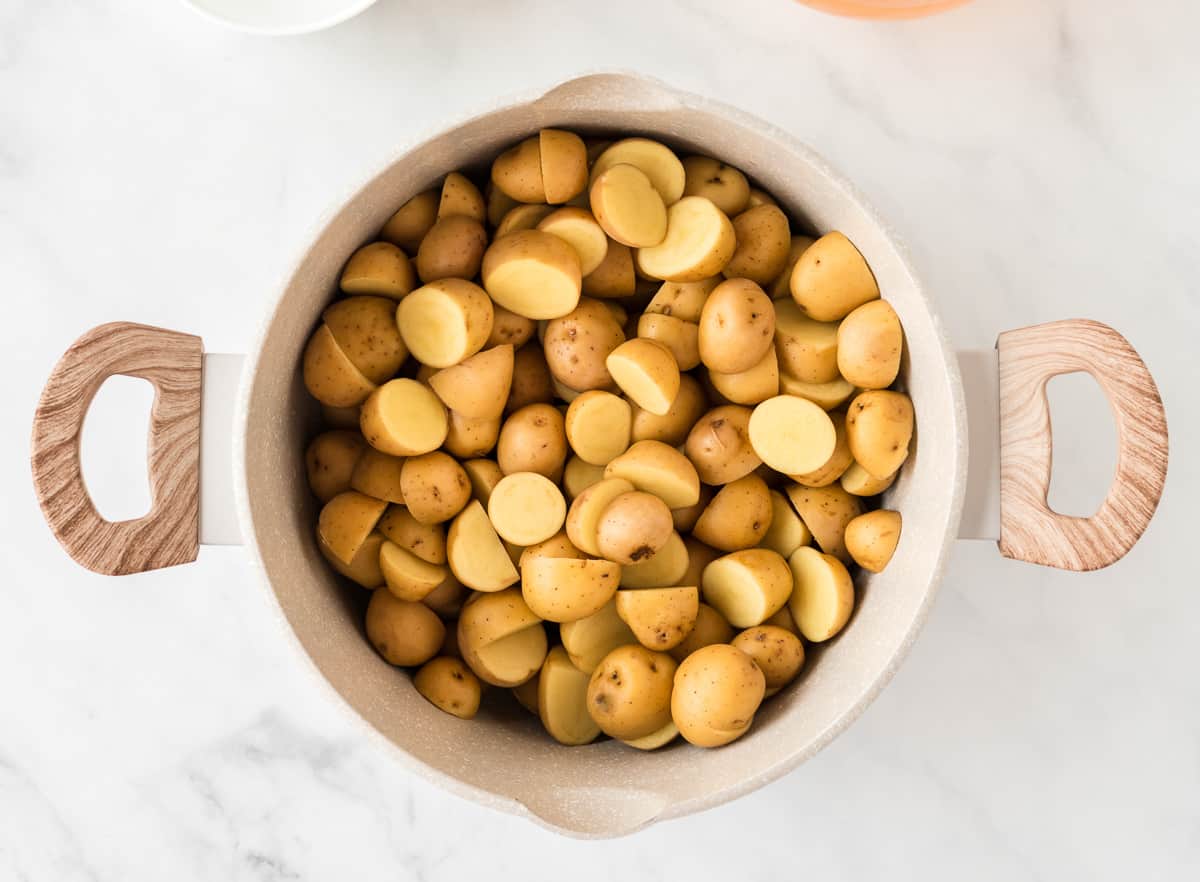 how to boil potatoes for mashed potatoes
Step 2: Pour in the vegetable broth and enough water to make sure the potatoes are covered in liquid. I like using vegetable broth to add more flavor to the potatoes while they cook.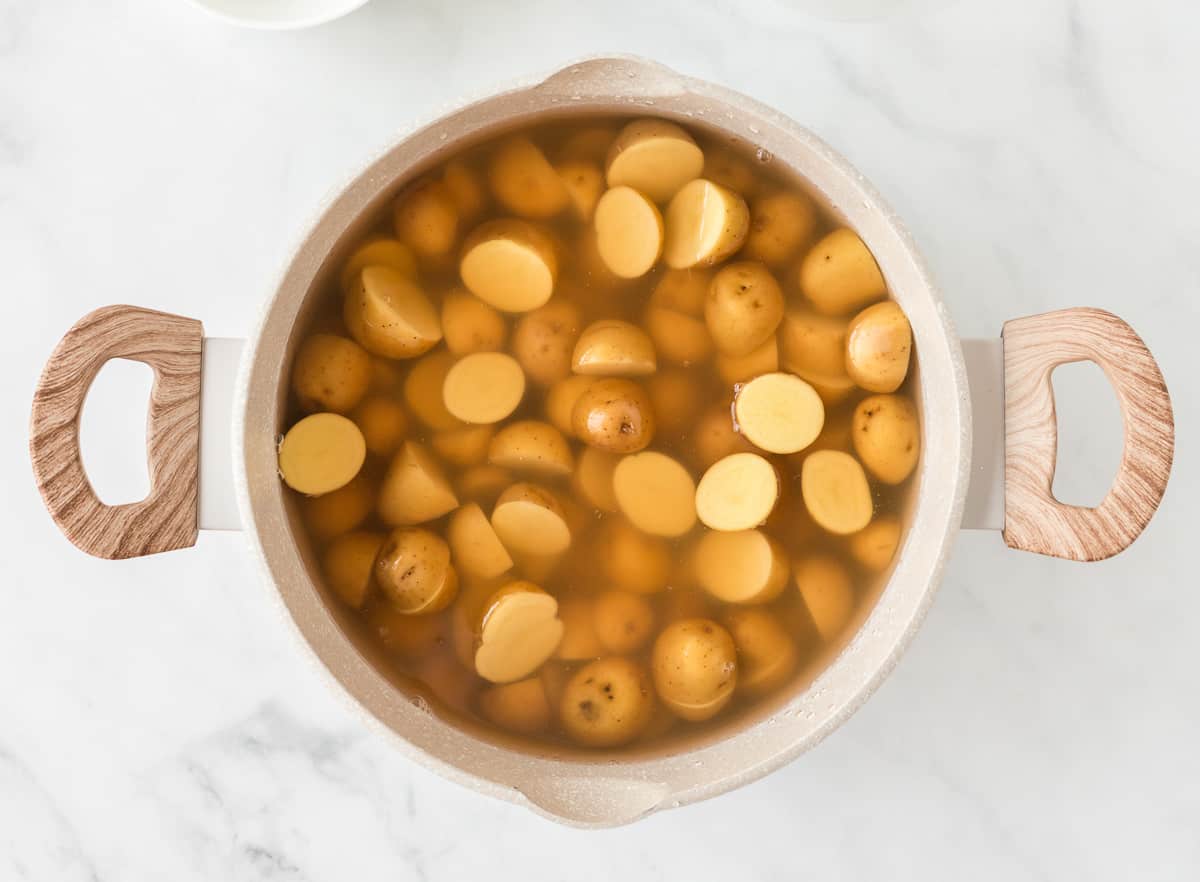 Turn the burner on high and bring the potatoes to a boil. Boil until a fork easily pierces the potatoes and they fall apart.
This time will vary based on the size of the potatoes boiled, for me it took around 20 – 30 minutes.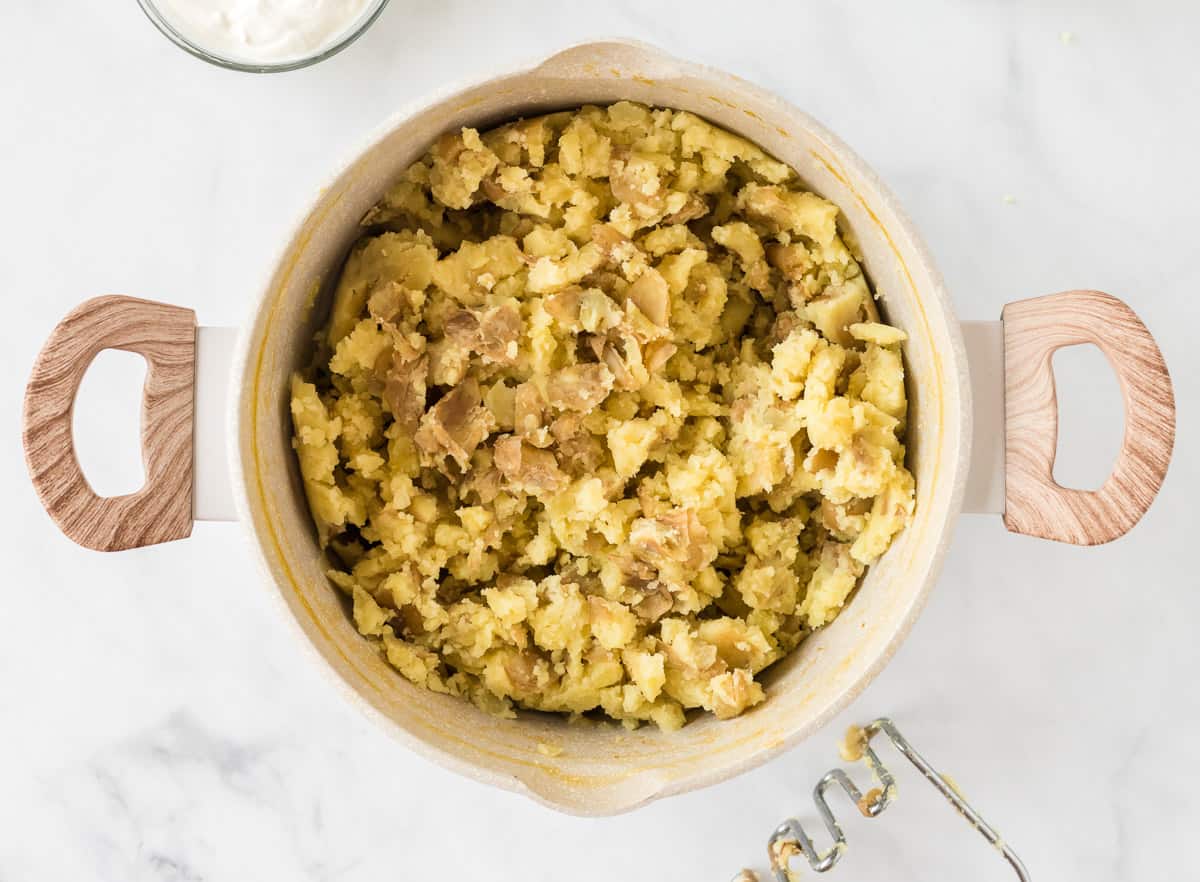 Step 3: Once your potatoes are soft and easily pierced with a fork, drain them. Mash the potatoes, and add the butter, sour cream, and milk. Mash until desired texture is achieved. You can either leave a few lumps, or mash until smooth. It's personal preference.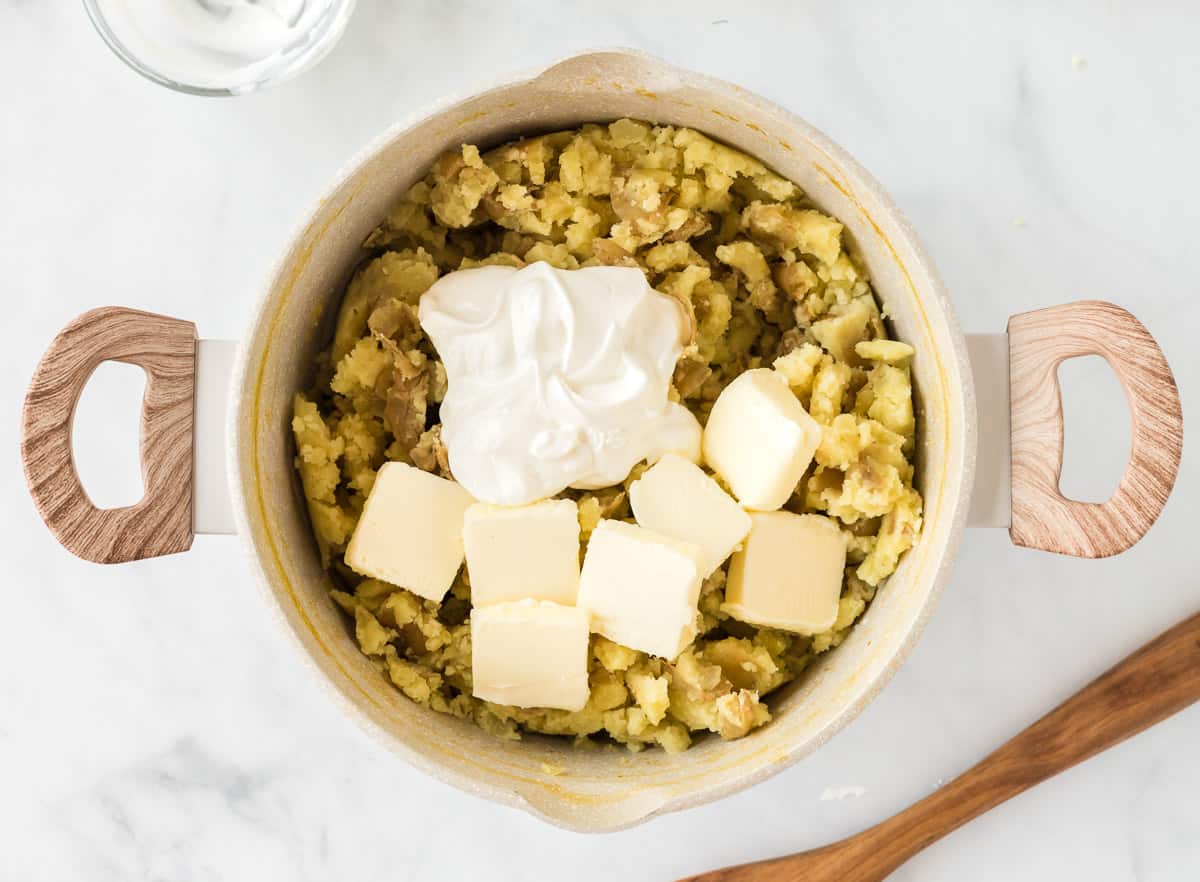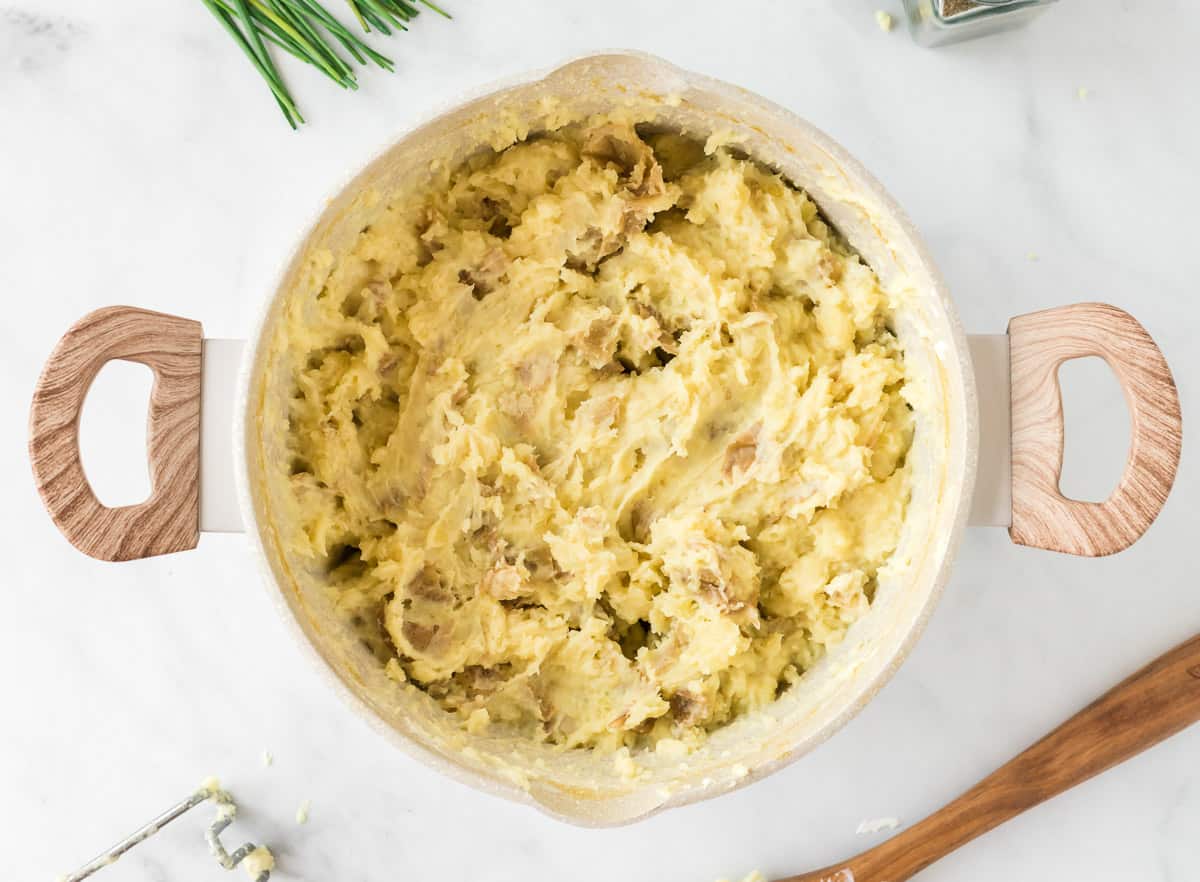 How much salt to add to mashed potatoes
Salting should always be the last step when making mashed potatoes. For this recipe, I did not salt the potatoes while boiling, and used unsalted butter.
I ended up using only around 1 teaspoon of salt mixed in at the end to make them perfect.
I suggest adding salt and pepper to taste a little bit at a time to avoid over salting your mashed potatoes. If you use salted butter or salt your potatoes while boiling, you will need less salt.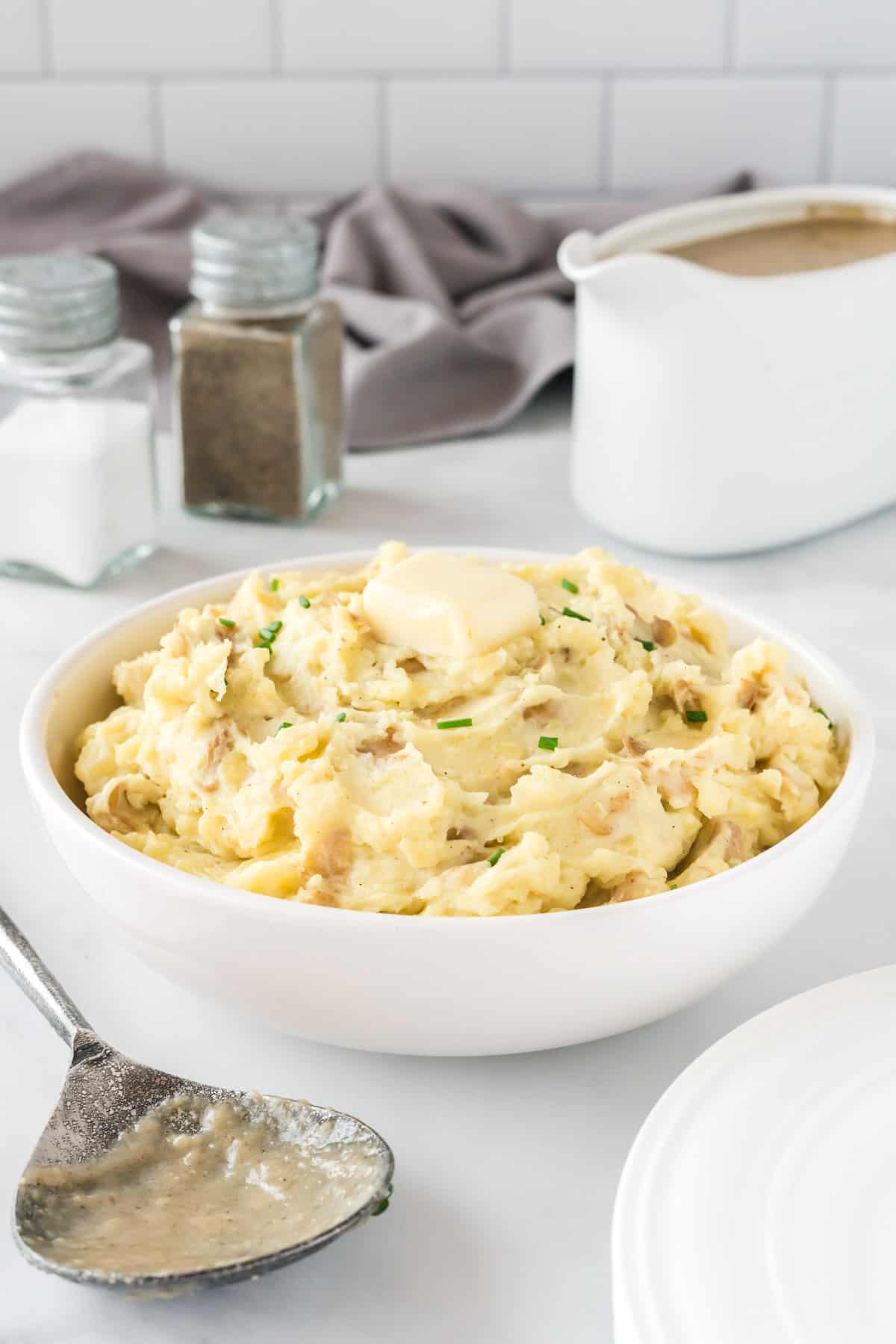 We always serve these mashed potatoes alongside the best vegetarian gravy. It's truly the best gravy I have ever tasted! And it's a must have along with sweet potato casserole, cheesy potatoes, and stuffing.
These sour cream mashed potatoes are the most heavenly comfort food – creamy, buttery, and the perfect flavor!
Make these for your Thanksgiving table this year.
More Thanksgiving Recipes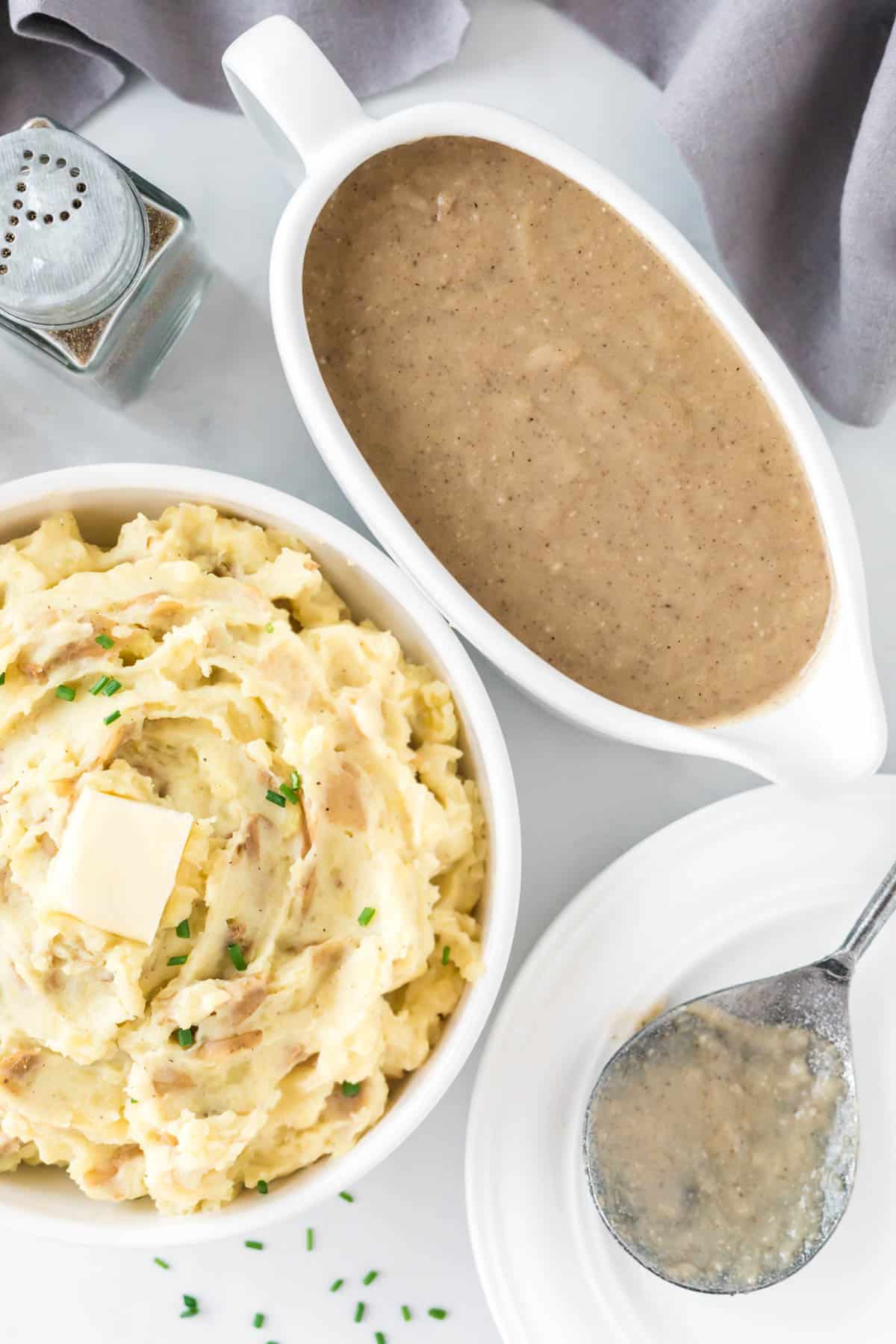 Are you making this recipe? I want to see! Don't forget to tag me on instagram @buildyourbite and hashtag #buildyourbite with your recipe creations!
Be sure to pin this recipe for later and follow Build Your Bite on Pinterest for all the latest delicious recipes!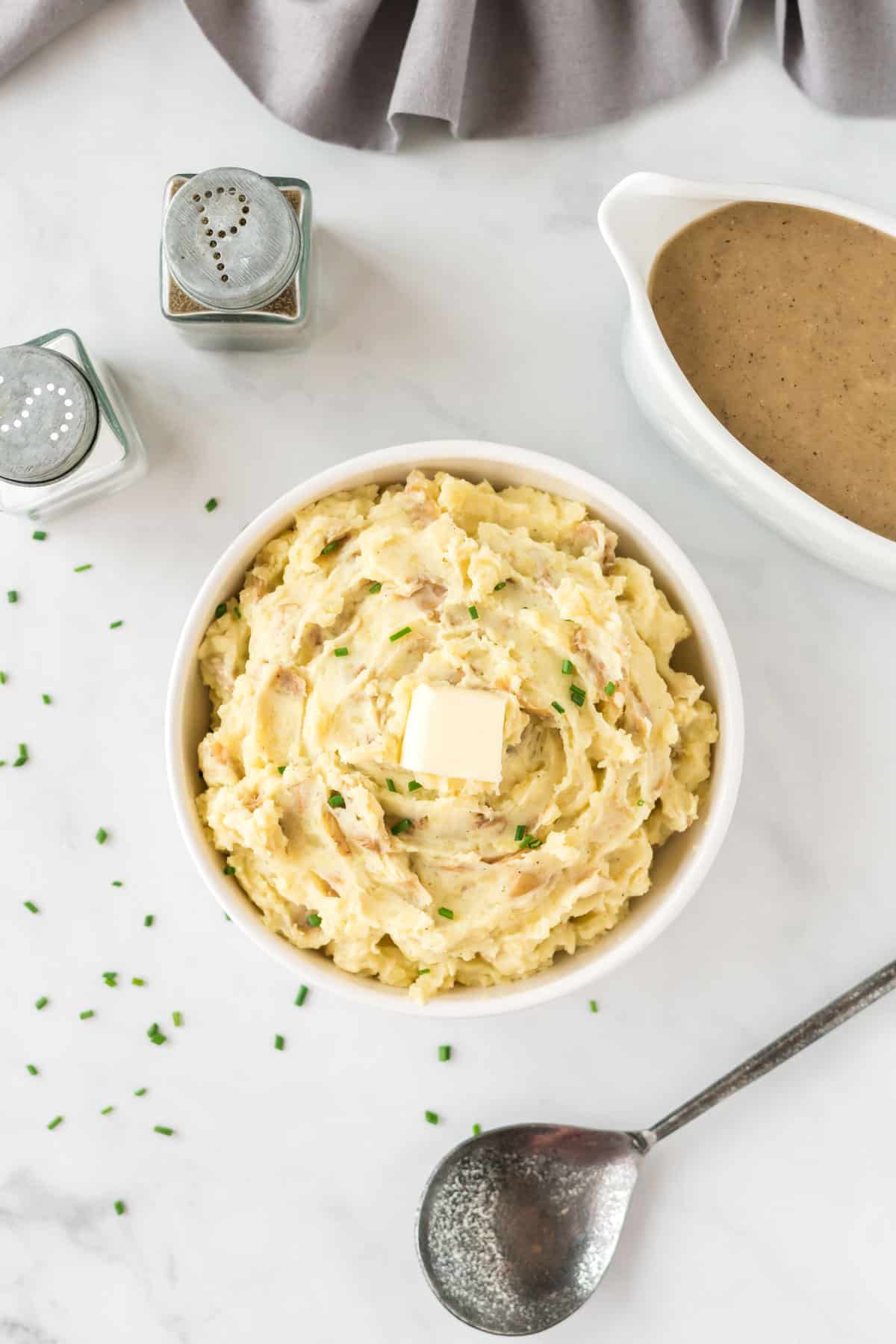 Did you make this recipe? Be sure to leave a star rating below!
Mashed Potatoes with Sour Cream
These easy mashed potatoes with sour cream and chives make the perfect holiday side dish.
Ingredients
3 lbs baby potatoes, rinsed and halved
4 cups vegetable broth
1 - 3 cups water
⅓ cup + ¼ cup whole milk
½ cup unsalted butter (1 stick)
½ cup sour cream
diced chives, for topping
salt and pepper, to taste
Instructions
Rinse potatoes and scrub off any dirt
Cut baby potatoes in half, then place in a large pot
Pour in 4 cups of vegetable broth and enough water to make sure the potatoes are covered in liquid (I used around 3 cups)
Bring the potatoes to a boil
Boil until potatoes are easily pierced with a fork and fall apart
Drain the potatoes then add to a large mixing bowl with the butter, sour cream, and milk
Mash the potatoes until well combined and desired texture is achieved
Salt and pepper the mashed potatoes to taste
Top with chives and butter and serve
Nutrition Information:
Yield:

10
Serving Size:

1
Amount Per Serving:
Calories:

300
Total Fat:

15g
Saturated Fat:

9g
Trans Fat:

0g
Unsaturated Fat:

5g
Cholesterol:

40mg
Sodium:

400mg
Carbohydrates:

38g
Fiber:

4g
Sugar:

4g
Protein:

5g