Sweet potato casserole with marshmallows is a must for any Thanksgiving table. This delicious family favorite features a crunchy pecan topping and marshmallows on top for irresistible flavor!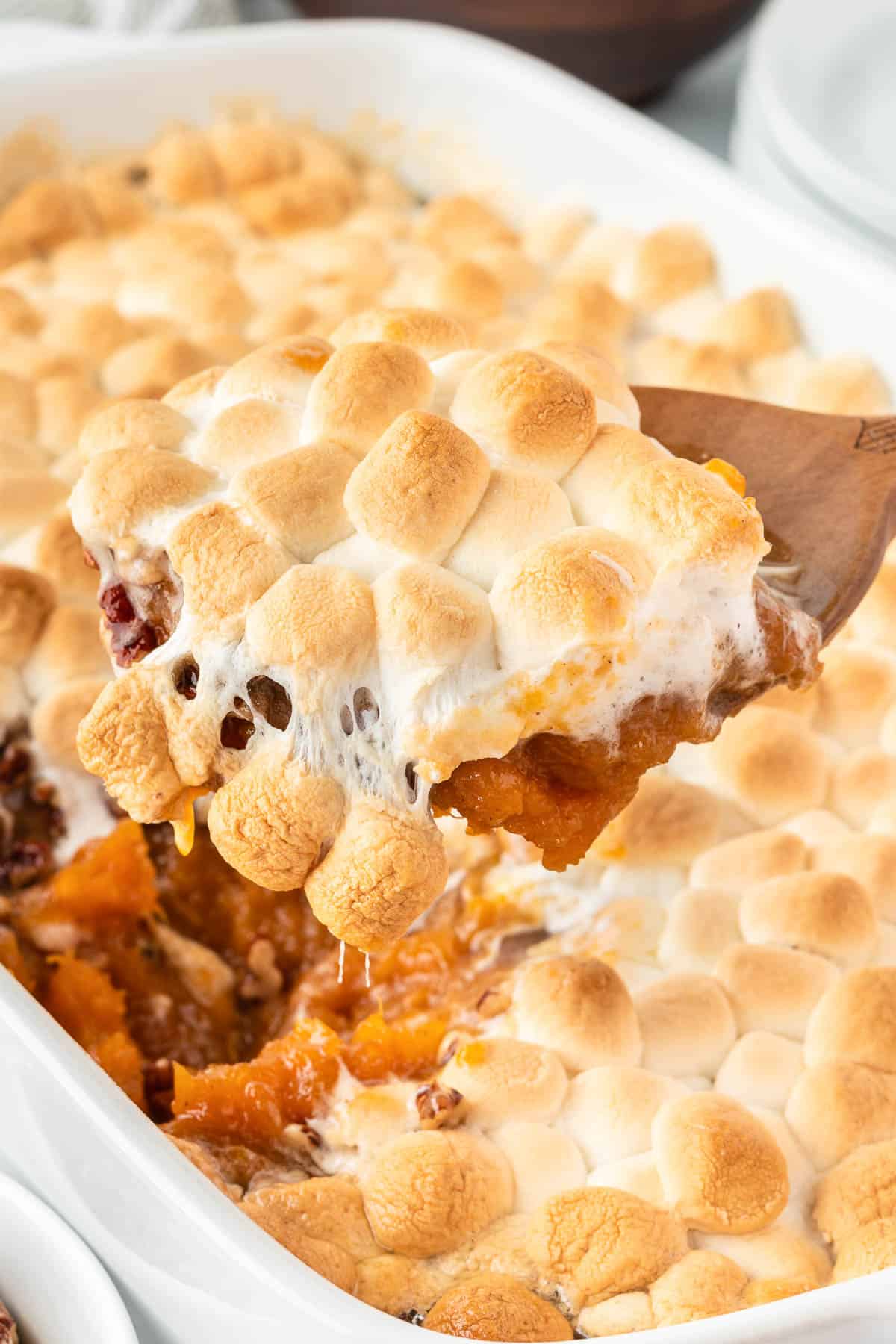 This is the best sweet potato casserole!
This is a classic favorite dish to make for the holidays and it's simply divine. You will definitely be back for seconds!
Sweet Potato Casserole is a holiday must make along with stuffing, mashed potatoes, gravy, cranberry sauce, glazed carrots, and green bean casserole.
Mashed sweet potato filling is topped with a crunchy brown sugar pecan layer and covered in mini marshmallows that are baked to golden brown perfection.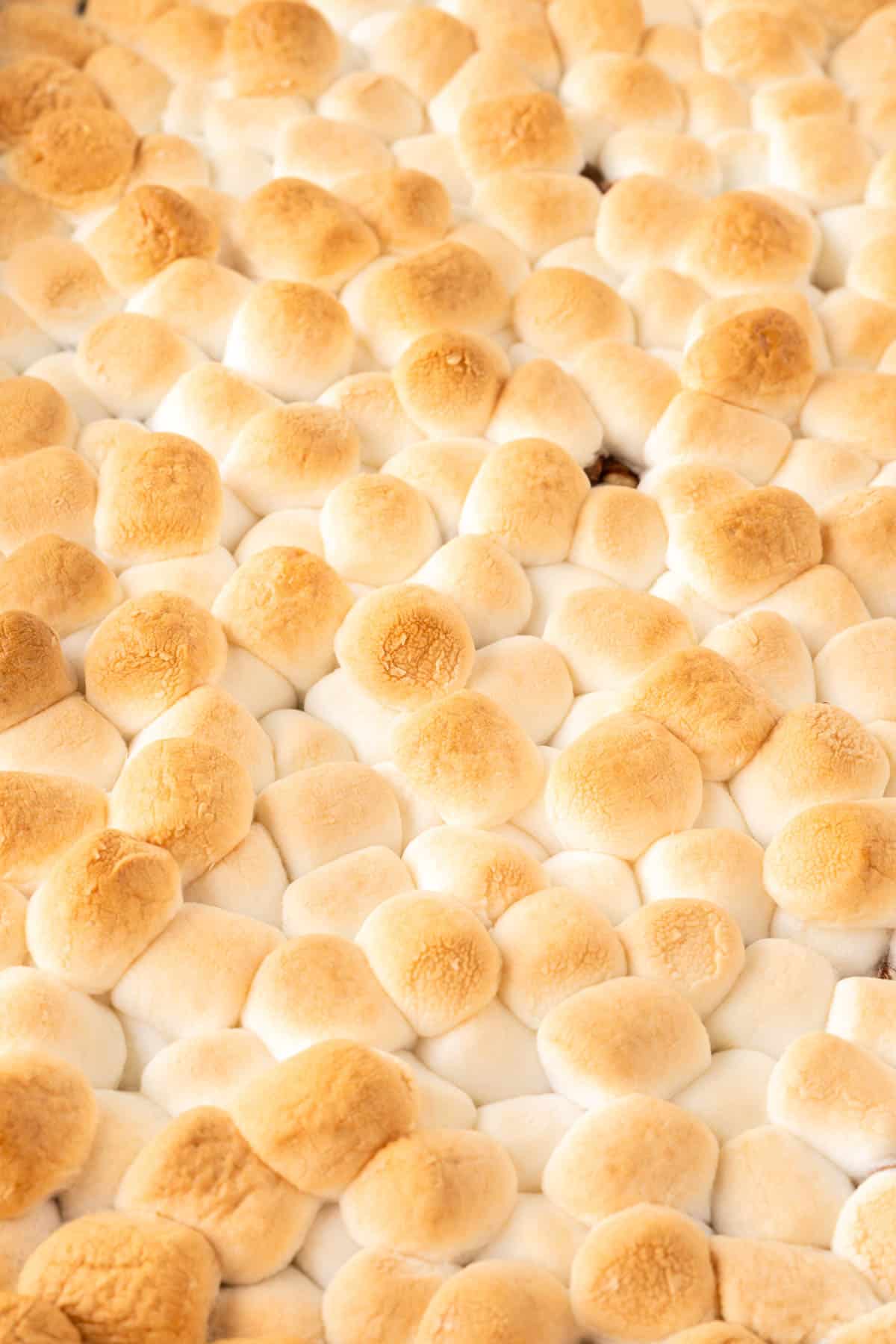 Ingredients to make sweet potato casserole with marshmallows
sweet potatoes
brown sugar
butter
spices: salt, cinnamon, vanilla extract, and nutmeg
all purpose flour
pecan pieces
mini marshmallows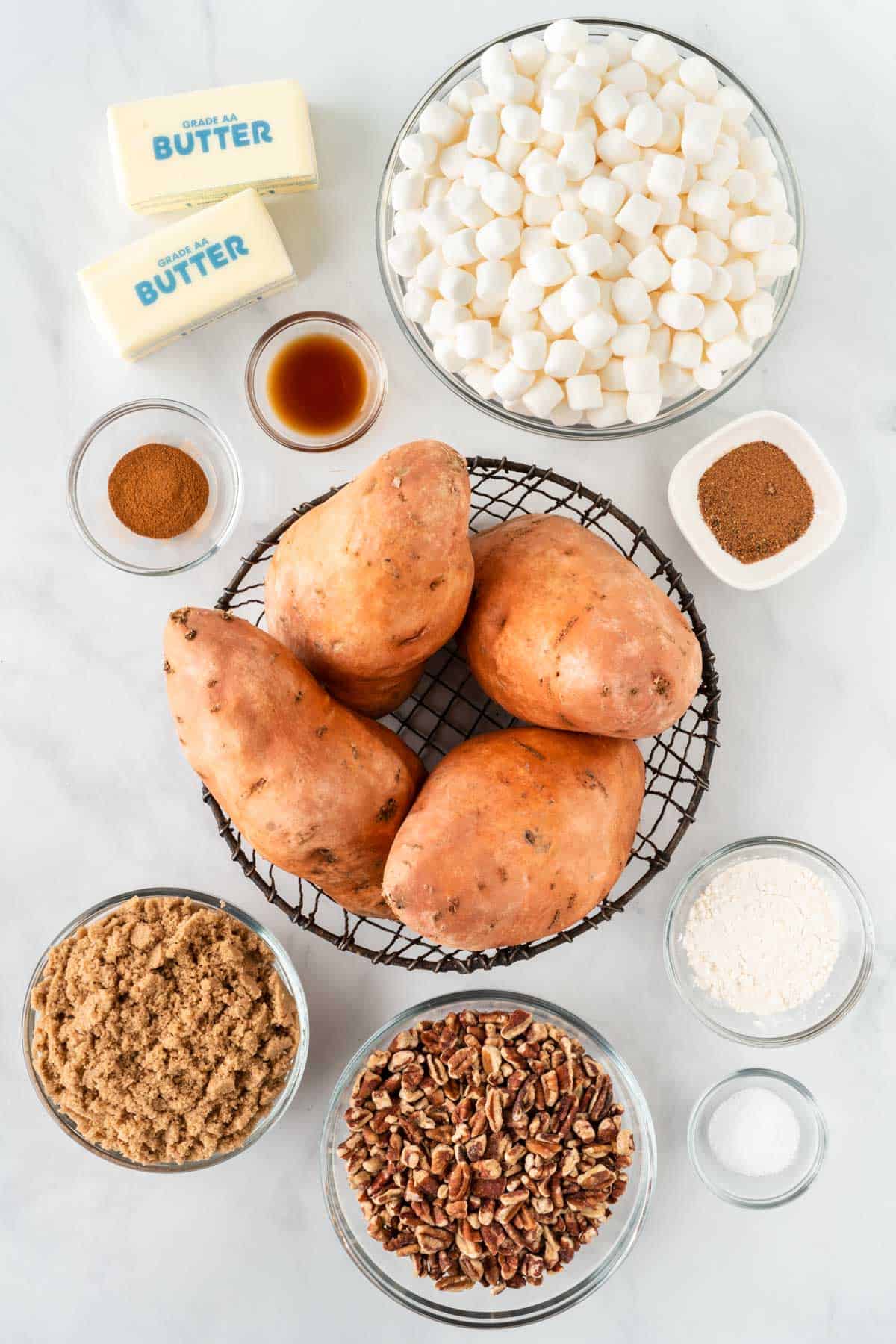 How to make marshmallow sweet potato casserole
Step 1: Prepare the sweet potatoes by peeling them and cutting them into large chunks. Doing this will allow them to cook faster when you boil them instead of leaving them whole.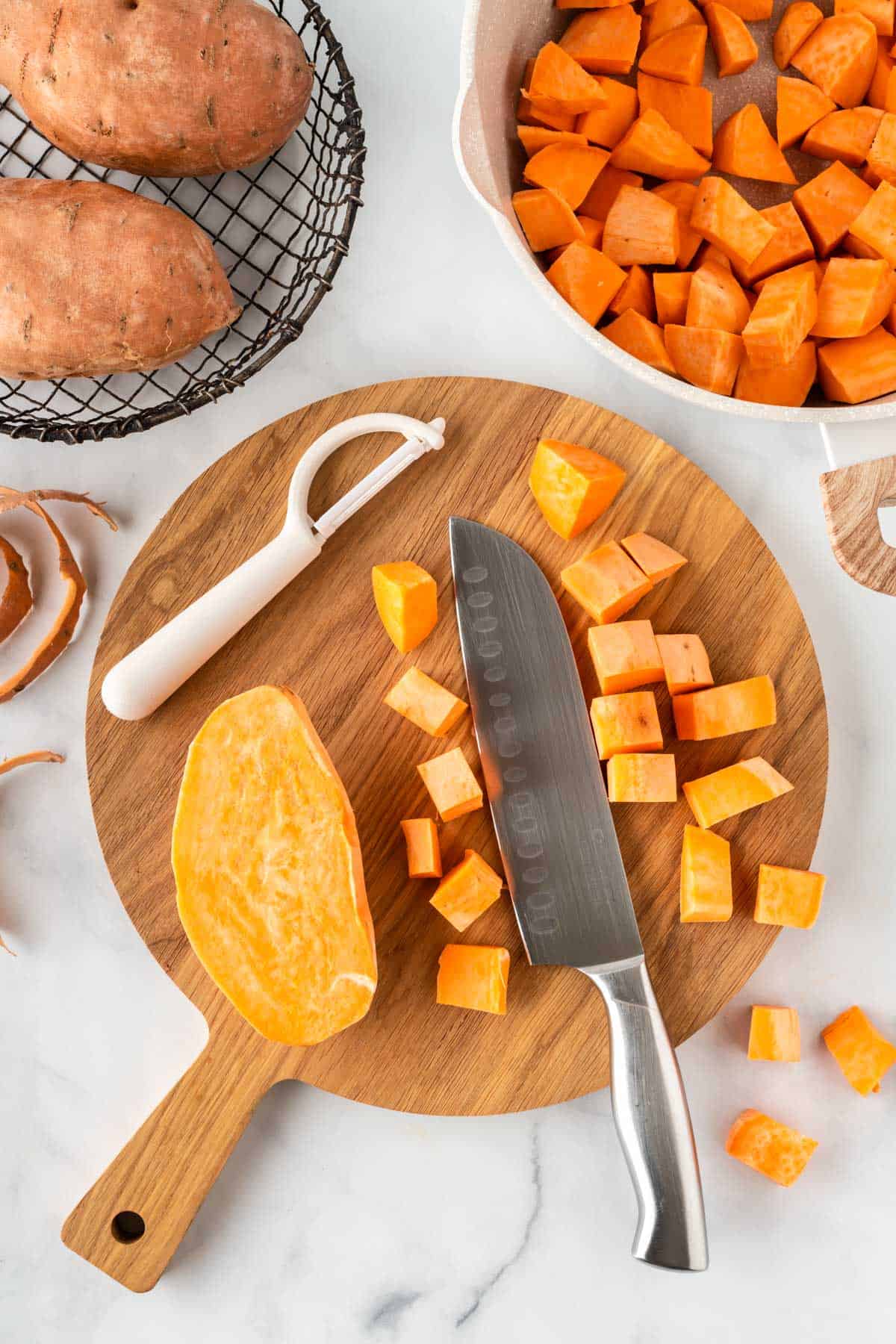 Step 2: Place the sweet potato chunks in a large pot and cover with water. Bring to a boil and cook the sweet potatoes until they are fork tender and fall apart easily.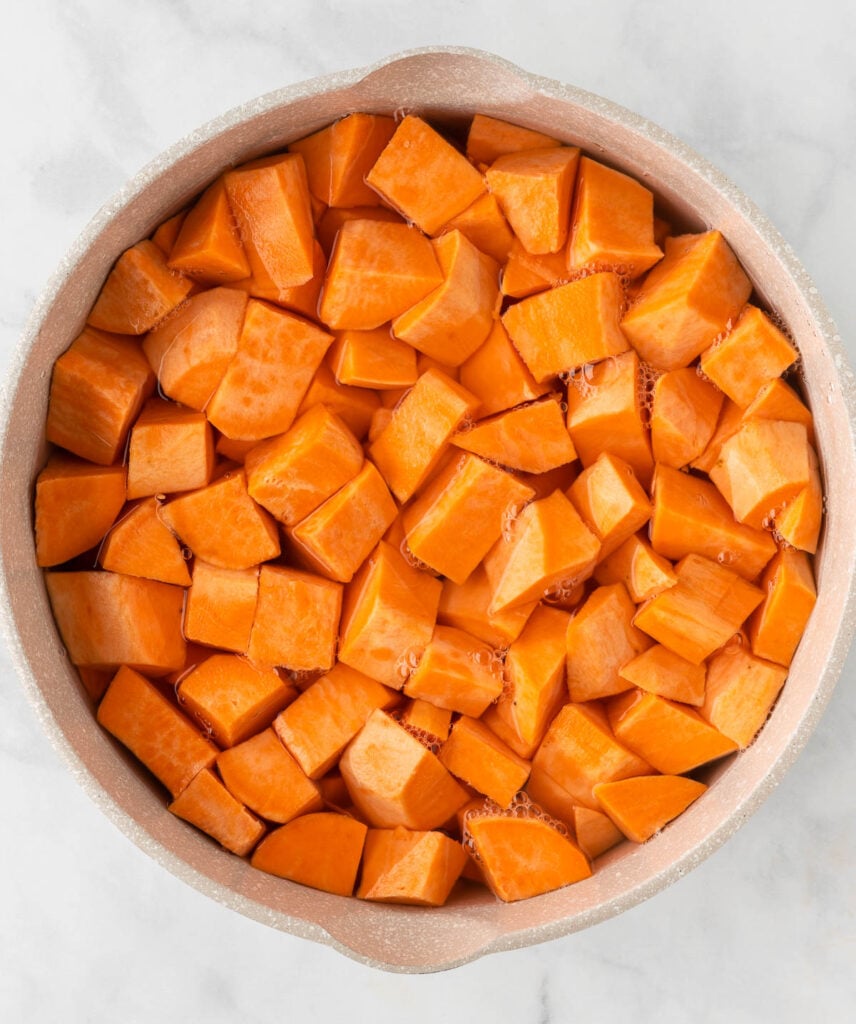 Step 3: Drain the sweet potatoes and add them back to the sauce pan. Mash with a potato masher.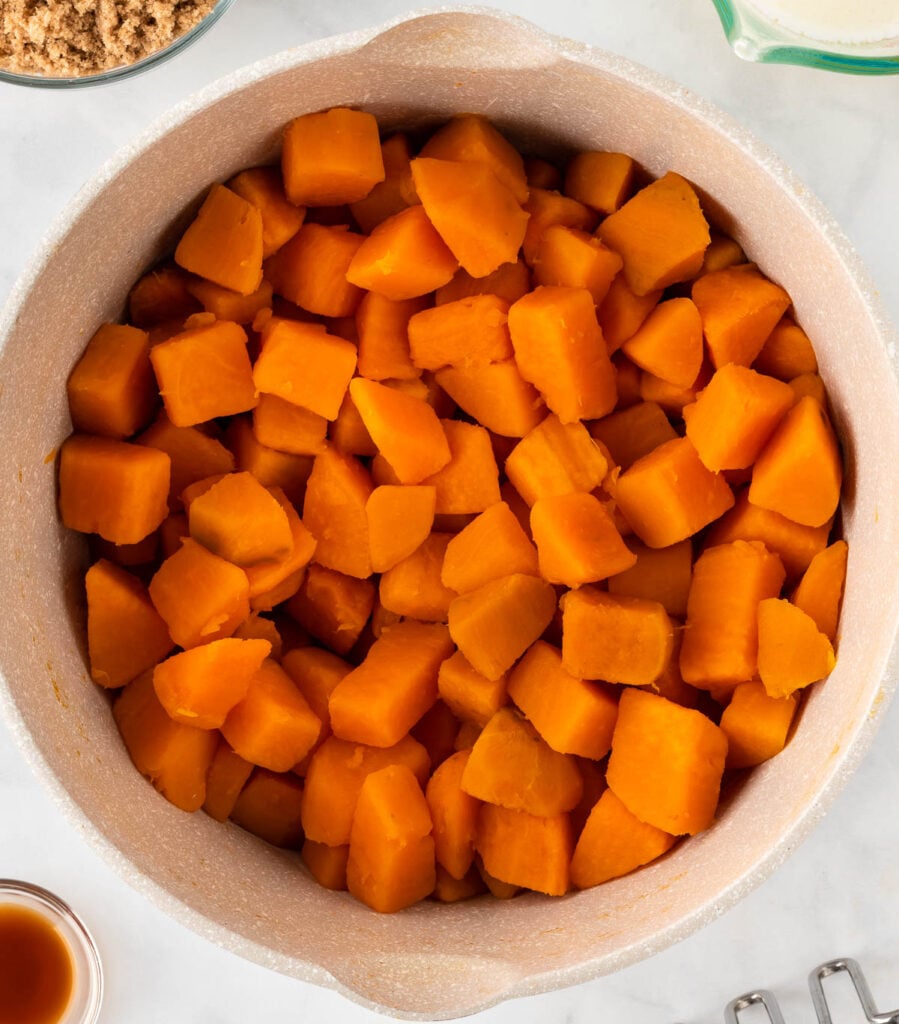 Add the rest of the casserole filling ingredients: butter, brown sugar, salt, cinnamon, vanilla extract, and nutmeg and mix until well combined.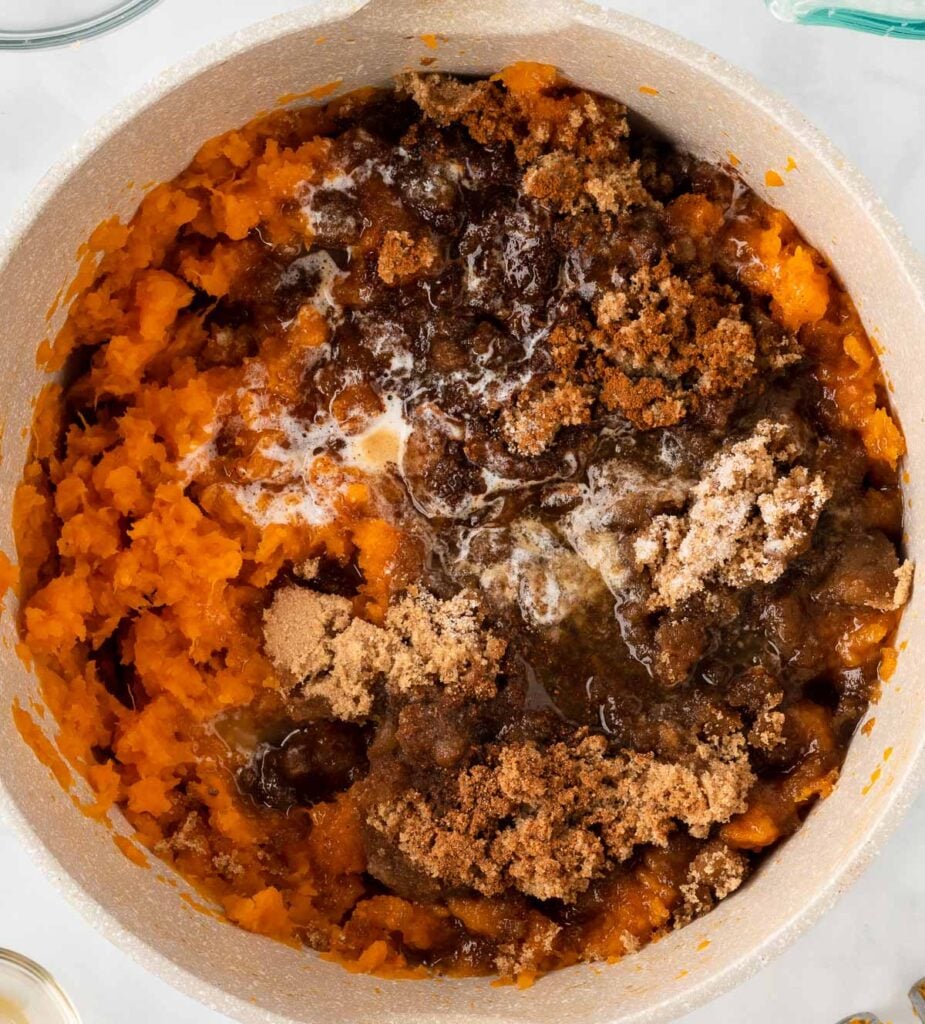 Step 4: In a separate bowl, make the pecan topping for the casserole. Stir together the melted butter, brown sugar, all purpose flour, salt, and pecan pieces until combined.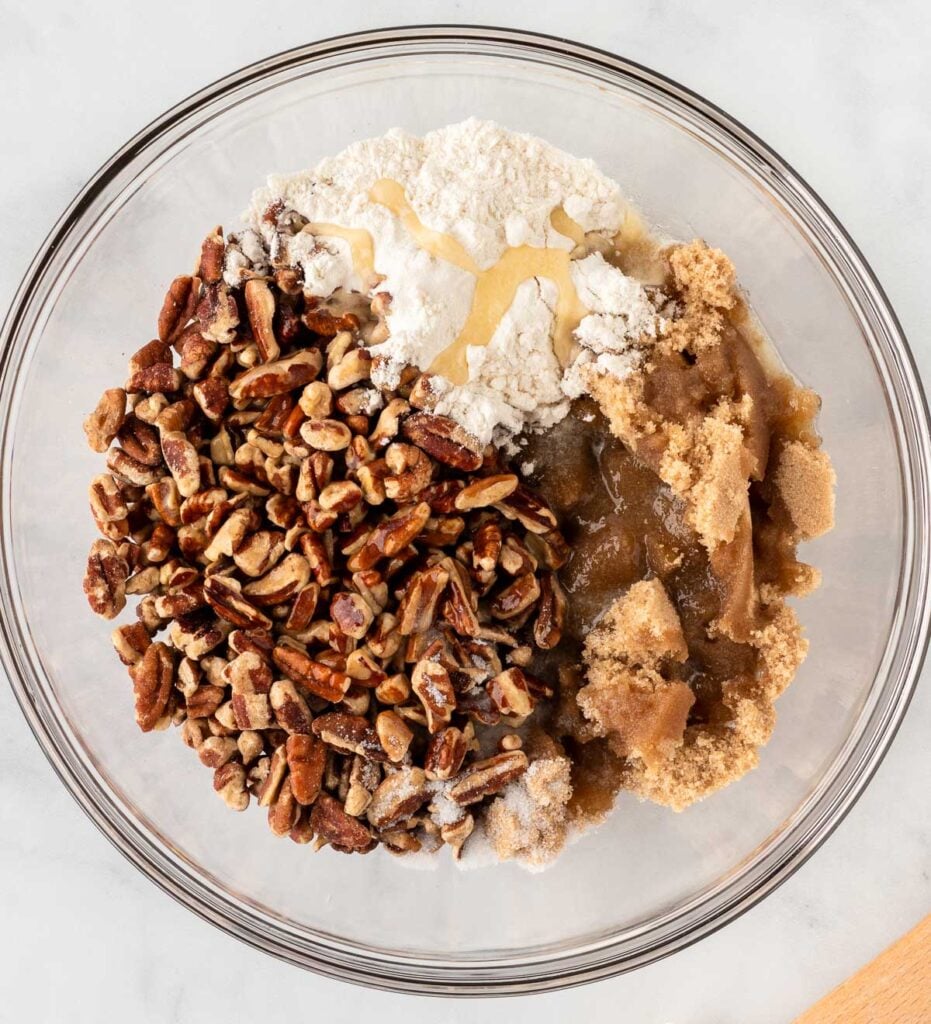 Step 5: Grease a 9 by 13 baking dish with cooking spray. Add the sweet potato filling and spread it out evenly in the dish.
Top the sweet potatoes with the pecan crumble in an even layer.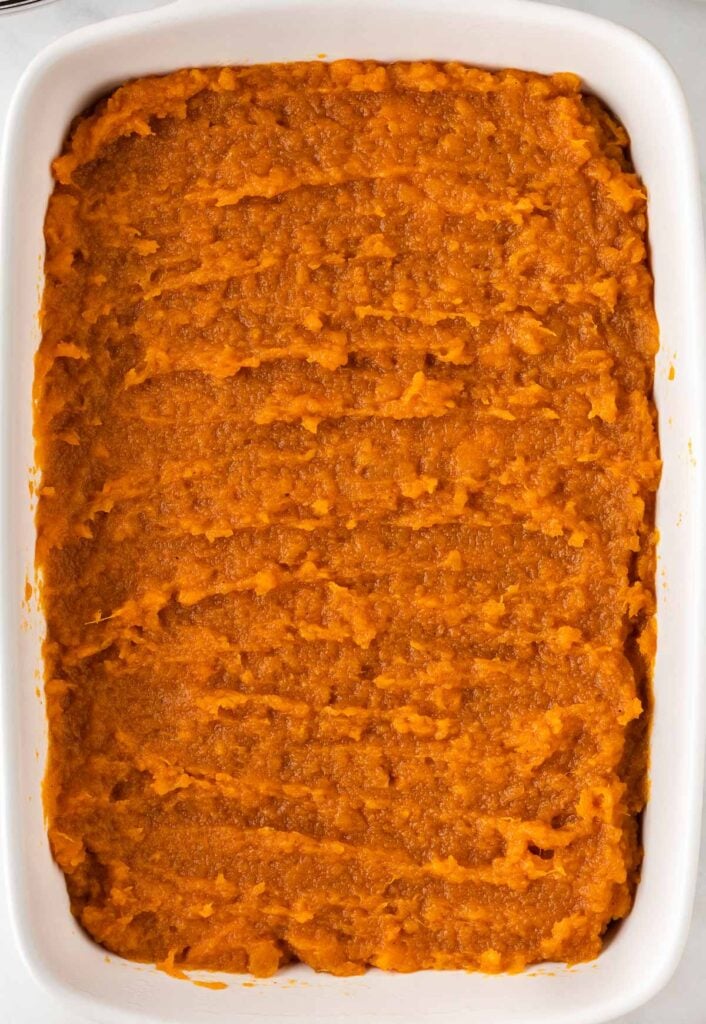 Step 6: Add the mini marshmallows over the pecan topping in an even layer, making sure to cover the entire top of the casserole.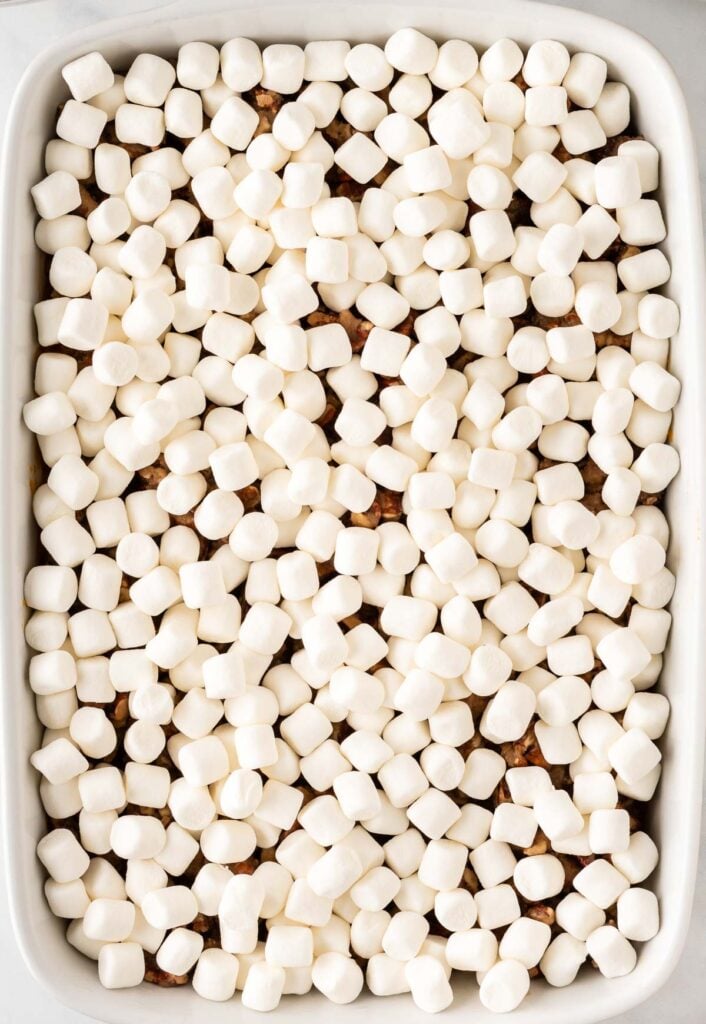 Step 7: Bake the sweet potato casserole at 350 degrees for 25-35 minutes, or until bubbly and the marshmallows are golden brown on top.
We are going for those perfect toasty brown marshmallows that make for the most delicious bite!
Just make sure to keep a close eye on the casserole towards the end to ensure you get a nice toasty brown top without burning.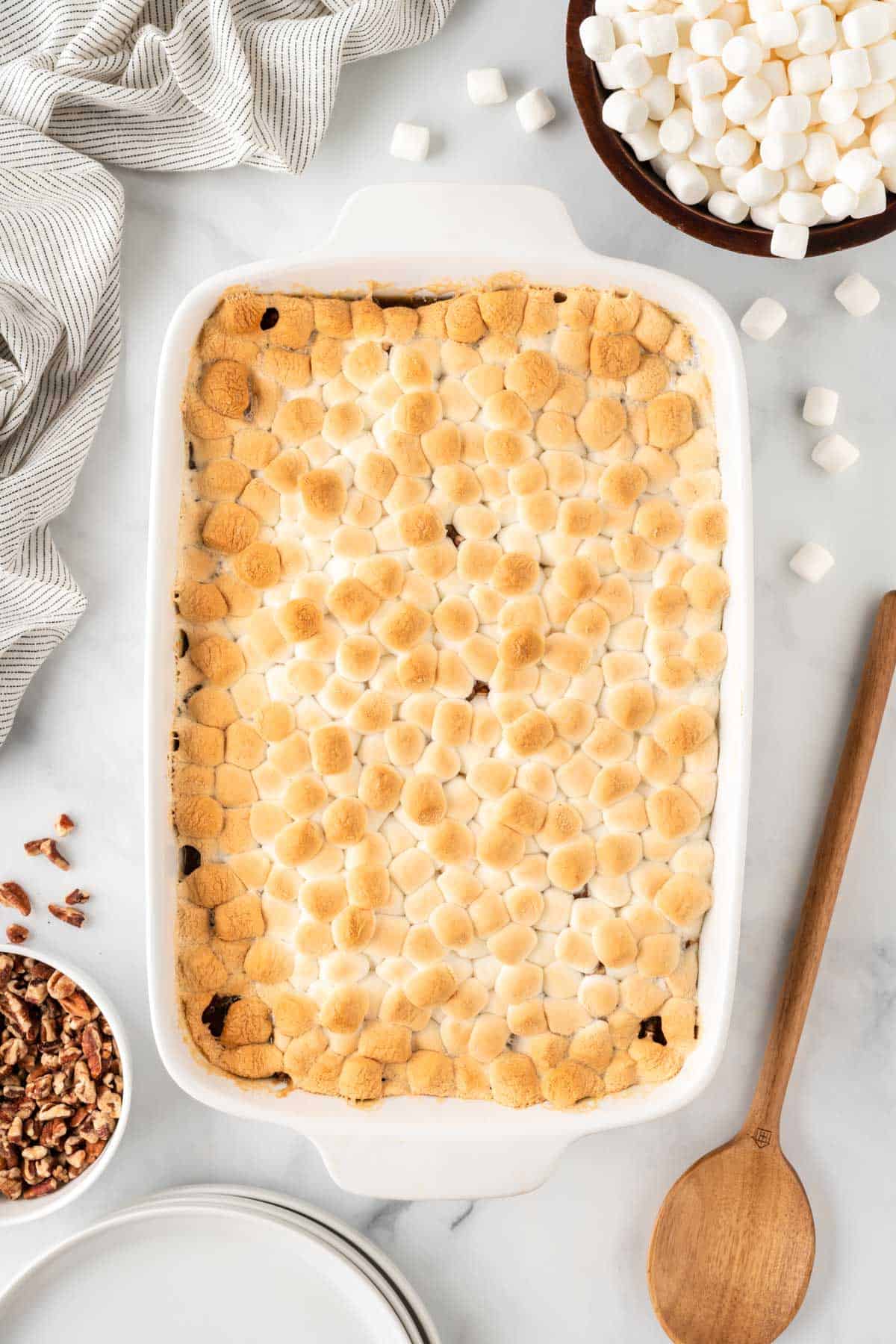 While I used to only be a sweet potato and pecan kinda gal, this recipe changed my mind!
The salty crunchy pecan topping with the sweetness of the golden brown marshmallows is simply out of this world delicious.
My kids love this recipe and think it's so fun to eat marshmallows for a meal!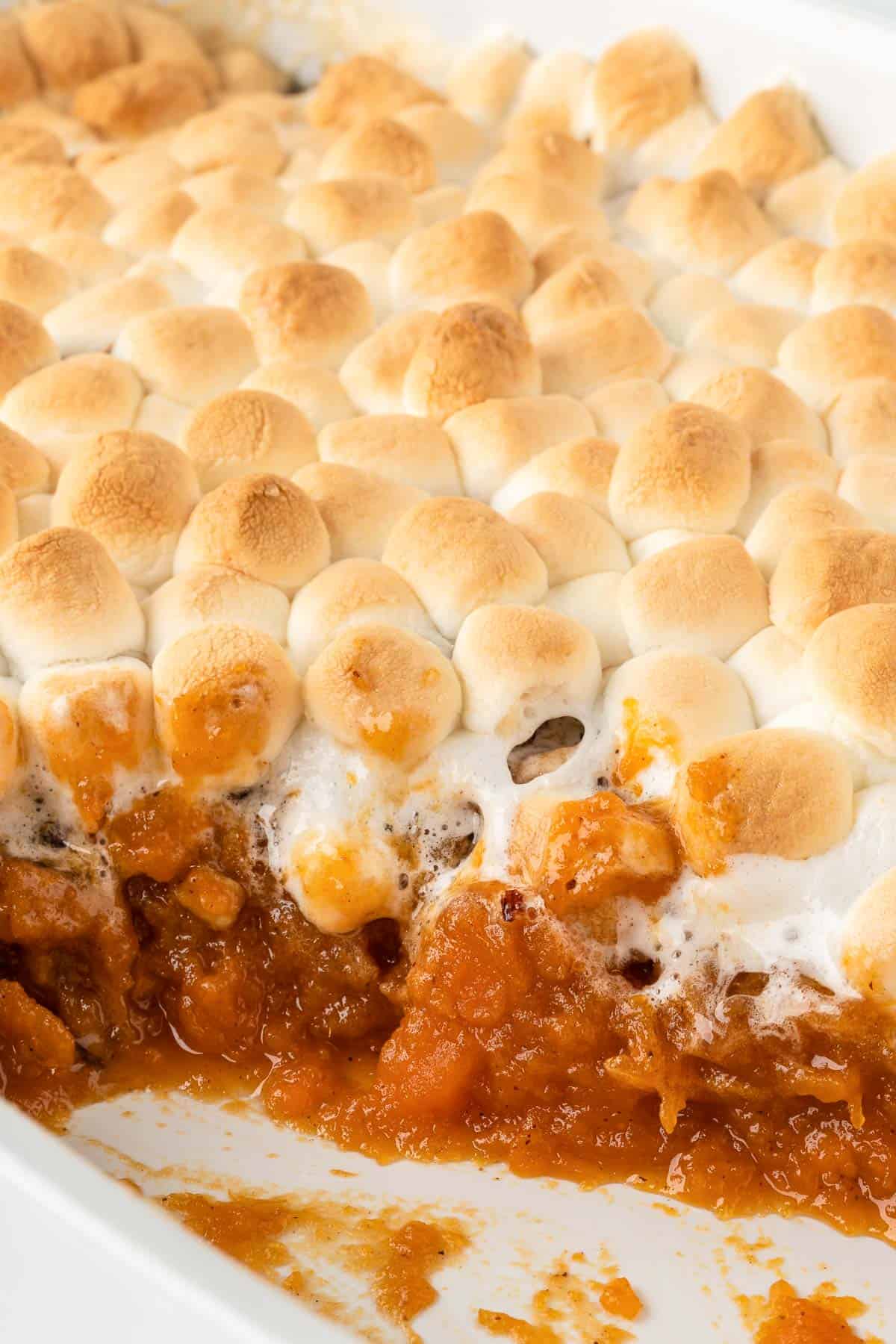 Storing & Reheating
Storing: Leftover casserole can be stored in an airtight container in the refrigerator for 4-5 days.
Reheating: Leftover sweet potato casserole can be reheated in the oven at 350 degrees, or in the microwave until heated through
If you're asked to bring sweet potato casserole to your family's Thanksgiving table, bring this. You will wow them all with your incredible cooking skills!
Sweet Potato Casserole With Marshmallows FAQs
Can I make this in advance?
Yes, you can prep this ahead of time. Make the sweet potato filling, and place in an airtight container in the refrigerator. Once you are ready to bake the casserole, add the pecan topping and marshmallows.
How can I save time on Thanksgiving?
The day before Thanksgiving, I will at least boil and mash my sweet potatoes, or make it all ahead to assemble the next day. This dish is a great one to prep ahead of time.
Are you making this recipe? I want to see! Don't forget to tag me on instagram @buildyourbite and hashtag #buildyourbite with your recipe creations!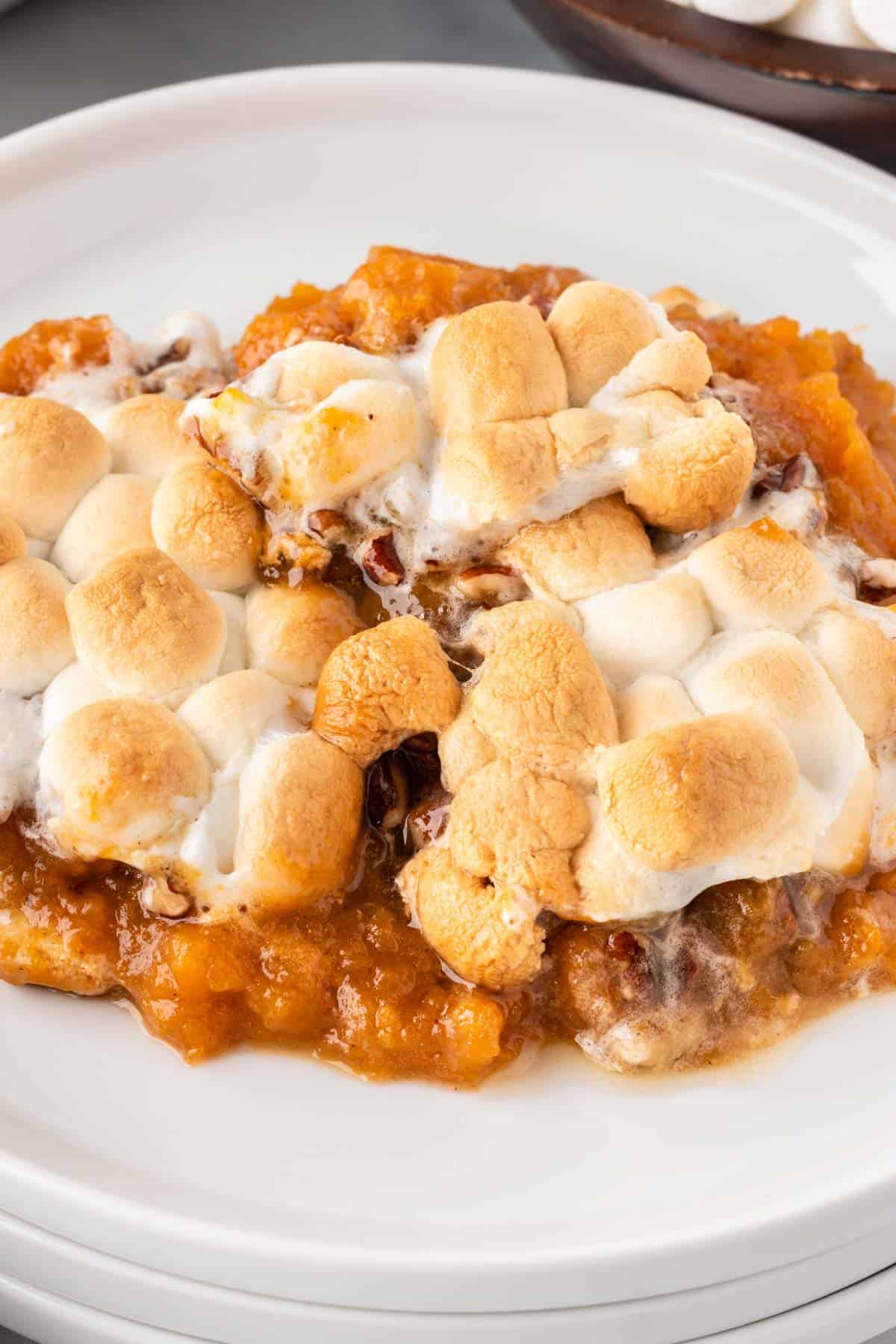 Be sure to pin this recipe for later and follow Build Your Bite on Pinterest for all the latest delicious recipes!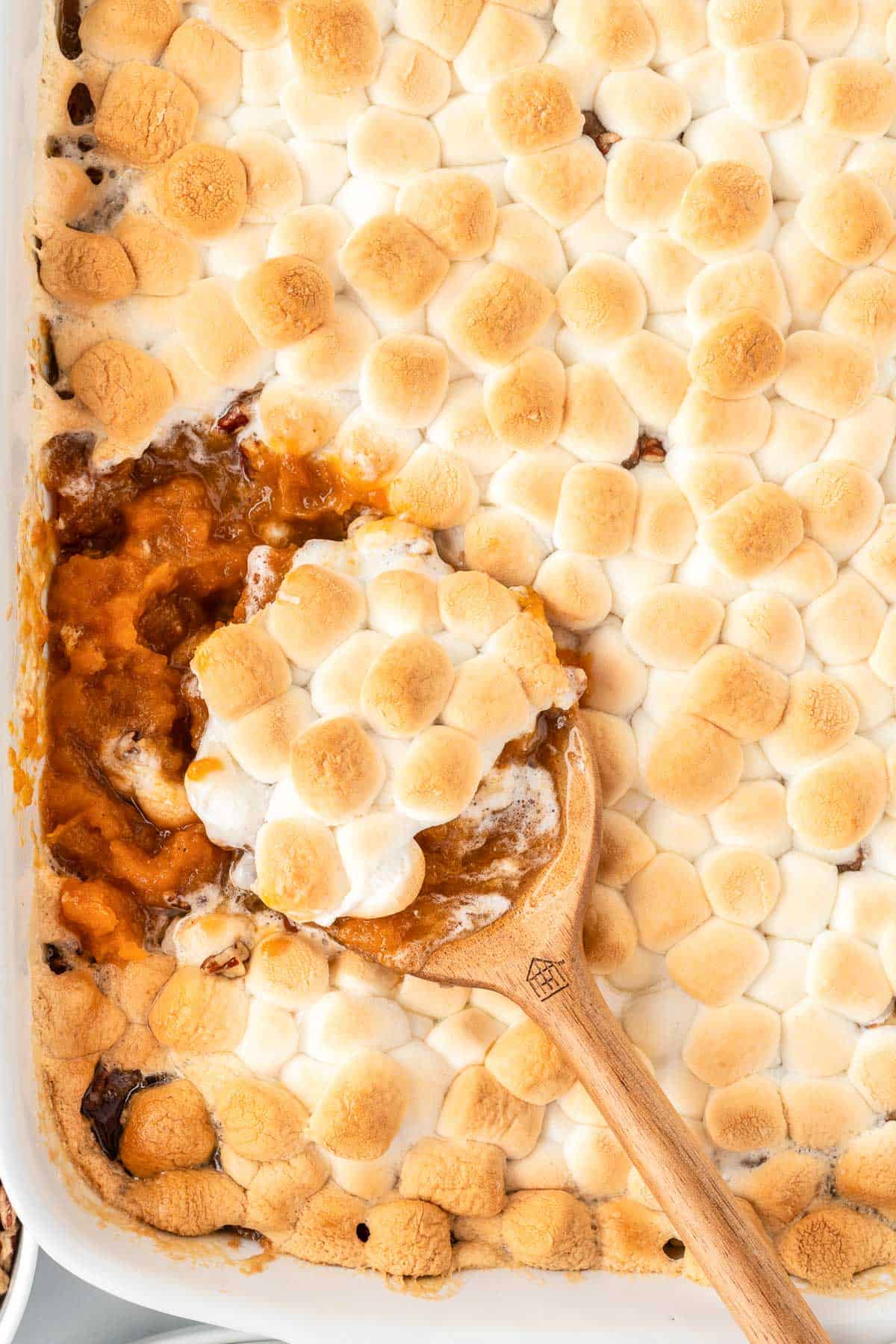 Did you make this recipe? Be sure to leave a star rating below!
You can't go wrong with this classic holiday side dish! It will bring back all the nostalgia of childhood and is sure to impress your friends and family.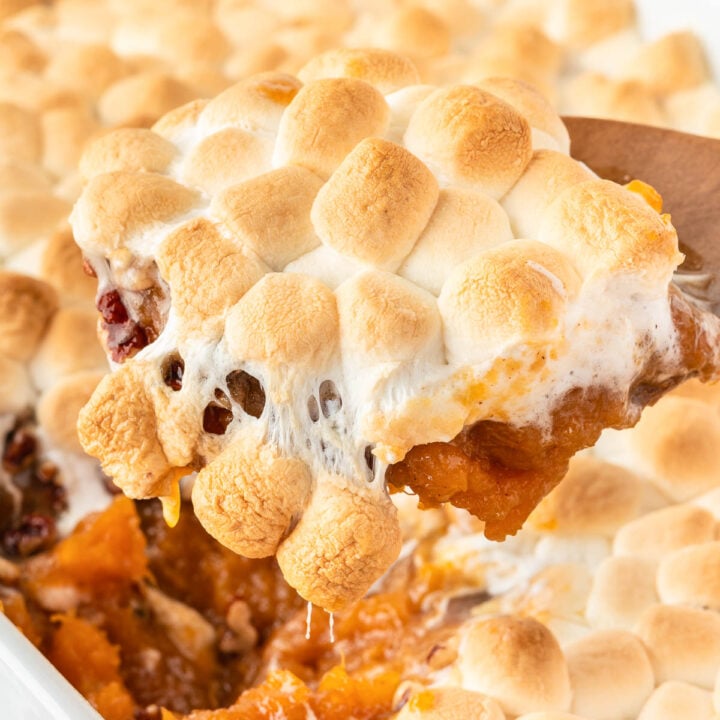 Sweet Potato Casserole with Marshmallows
Yield:
1 9x13 baking dish
Total Time:
1 hour
5 minutes
This classic sweet potato casserole with marshmallows is a must make side dish for Thanksgiving and the holidays!
Ingredients
For the sweet potato filling
4 large sweet potatoes, peeled and chopped into large chunks (around 9 cups worth)
½ cup unsalted butter, melted
1 cup brown sugar
½ teaspoon salt
½ teaspoon cinnamon
1 teaspoon vanilla extract
¼ teaspoon nutmeg
For the pecan topping
4 tablespoons unsalted butter, melted
⅓ cup brown sugar
2 tablespoons all purpose flour
½ teaspoon salt
1 ¼ cups finely chopped pecan pieces
For the marshmallow layer
Instructions
Peel and cut the sweet potatoes into large chunks and place in a large sauce pan. Cover with water and bring to a boil
Boil until the sweet potatoes are fork tender and easily pierced with a fork. They should fall apart easily
Drain the sweet potatoes and add them back to the sauce pan. Mash with a potato masher. Add the rest of the sweet potato filling ingredients: butter, brown sugar, salt, cinnamon, vanilla extract, and nutmeg and mix until well combined
In a separate bowl, make the pecan topping. Stir together the melted butter, brown sugar, all purpose flour, salt, and pecan pieces until combined
Grease a 9 by 13 baking dish with cooking spray
Add the sweet potato filling and spread out evenly
Spread the pecan topping evenly over the top of the sweet potatoes
Add the mini marshmallows over the top in an even layer
Bake the sweet potato casserole at 350 degrees for 25-35 minutes, or until bubbly and the marshmallows are golden brown on top. Watch closely towards the end to get the perfect golden brown without burning
Nutrition Information:
Yield:

15
Serving Size:

1
Amount Per Serving:
Calories:

314
Total Fat:

16g
Saturated Fat:

6g
Trans Fat:

0g
Unsaturated Fat:

9g
Cholesterol:

24mg
Sodium:

179mg
Carbohydrates:

43g
Fiber:

3g
Sugar:

30g
Protein:

2g