A collection of easy and healthy breakfast smoothies for busy mornings. Smoothies are a great way to get a nutritious breakfast in minutes! From a decadent but healthy strawberry cheesecake smoothie to the best green smoothie you'll ever drink, you will love the variety of delicious smoothie recipes!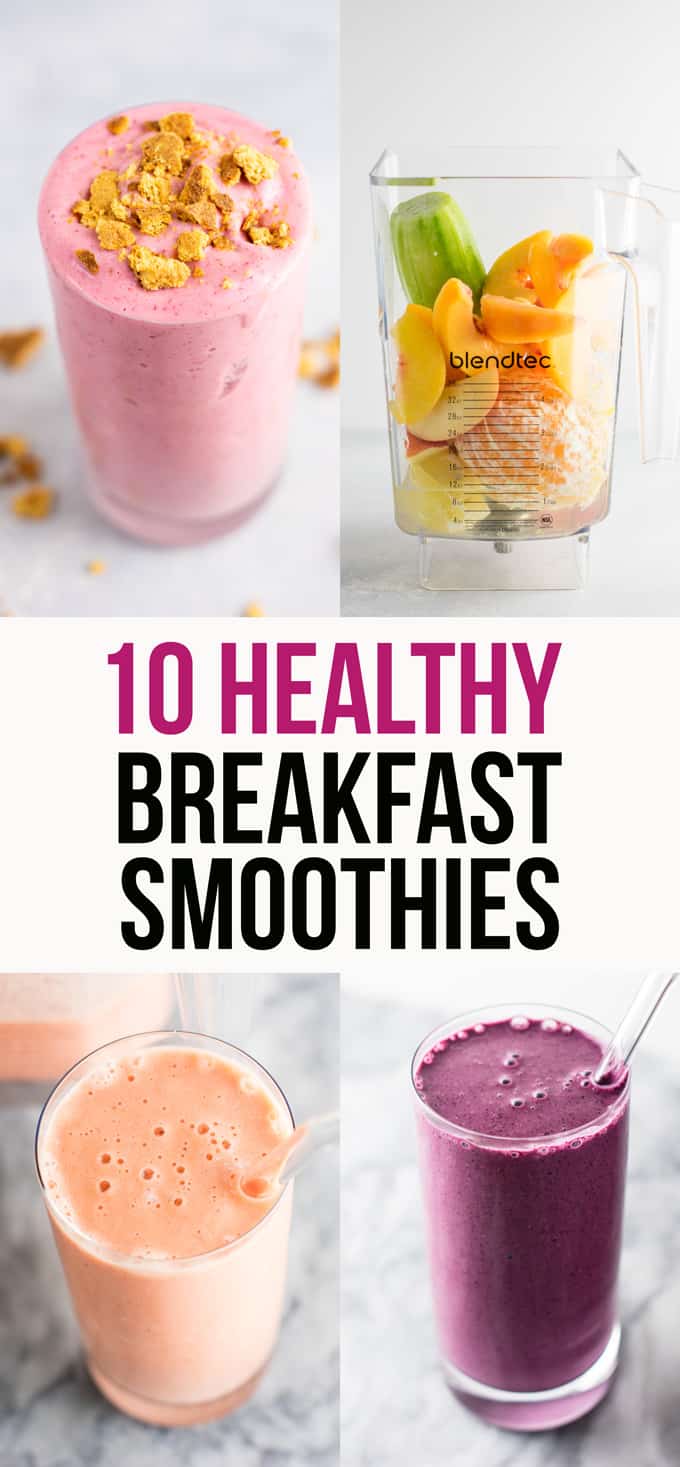 Smoothies are hands down one of the easiest ways to get a well rounded breakfast.
Anytime I am running low on time or just not in the mood to cook breakfast, a smoothie is my go to.
Today I'm rounding up 10 breakfast smoothie recipes that are perfect for those busy mornings.
If you're on a health kick this January, you are not alone!
I try to make a smoothie at least 3 or more times a week, as my two year old loves them!
I can pack so much nutritious goodness into a smoothie and he just loves drinking it through his own straw.
These recipes are just the beginning of all the ones that you could create.
I love how versatile smoothies are, and once you figure out what flavors taste best together, the possibilities are endless!
If you have ever tried a smoothie at home and it turned out bland, or worse, didn't taste good, give one of these recipes a try!
I have definitely made some less than tasty smoothies in my time, but I'm so glad I kept trying before swearing them off.
These 10 recipes are all tried and tested by me, and so delicious that I actually crave them!
I would never turn down a homemade smoothie, even for dessert!
healthy breakfast smoothies
Click on any link to take you to the recipe!
Healthy Breakfast Smoothies
10 easy and delicious healthy breakfast smoothies for busy mornings
Are you making a recipe? I want to see! Don't forget to tag me on instagram @buildyourbite and hashtag #buildyourbite with your recipe creations!
Be sure to pin this recipe for later and follow Build Your Bite on Pinterest for all the latest delicious recipes!